Angel Stadium
Anaheim

,

CA
Anaheim 1 (A1)
Monster Energy AMA Supercross Championship
Despite all the expected hype and drama of the Monster Energy AMA Supercross opener, the Anaheim 1 450SX main event looked like just another day on the farm. RCH/Soaring Eagle/Jimmy John's RCH Suzuki's Ken Roczen took off with the early lead, Rockstar Energy Racing Husqvarna's Jason Anderson gave chase, and no one else could touch them. These two have spent the off-season chasing each other around at Aldon Baker's training complex in Florida, and they made it look just like another day at the office—in front of 45,000 people. We talked to both riders after the race.
Ken Roczen | RCH/Soaring Eagle/Jimmy John's Suzuki |First in 450SX
Racer X: Did it feel like another day at the farm racing with Jason Anderson over here?
Ken Roczen: It did. I felt so solid out there. I just kept clicking those lap times like it wasn't a big problem. That's a big plus point. Then when I saw I had a decent gap I kind of just kept it the same. I saw actually Jason kind of close to me a little bit sometimes. I think I could have had some better lines in some spots. The track was just tricky. It kind of gets pebbly and a little slippery so I just didn't want to go down. I just rode smart and just wanted to get the first one out of the way.
That tweet you had yesterday about it's just another race, there's sixteen more.
There's sixteen to go. We could be smiling right now and then not at the end of the year. That's why it's important to keep a little bit of a poker face on and keep grinding away.
That's two in a row at A1.
Yeah, it feels great, obviously. I just think this year I came into the first race with a different mindset. I knew how good I felt, and I have so much confidence on the bike that it was just a whole different thing.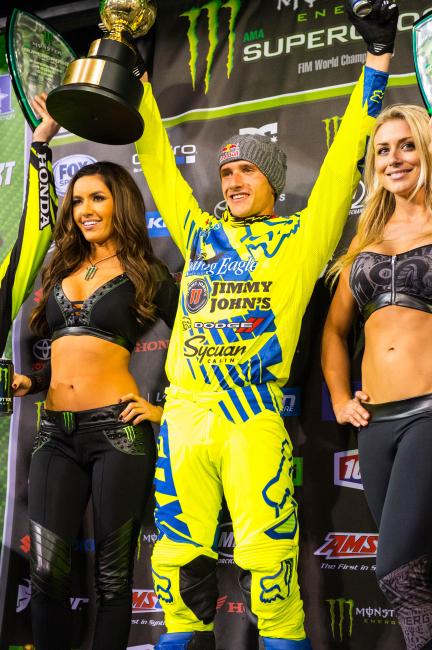 Is there anything you take out of this? Are there still some things to improve on?
I think we're all going really fast right now. My fitness is great. I think it's just important to have good practice days and not go down on yourself.
That heat race looked like it was kind of fun. You got right up on Andrew Short.
It totally was. I was so pumped for Shorty. I came up to his semi after and we were messing around a little bit. I was super pumped for him. It was a fun race.
It looked like you were a little kind to him, though.
I could have totally stuffed him, but why? It's just a heat race.
Is it lights out? Should we just start handing you accolades and everything?
No, there's sixteen to go. We all have good and bad days, so let's just keep going how we did today. Obviously you can't win the championship on the first race.
Jason Anderson | Rockstar Energy Racing Husqvarna | Second in 450SX
Racer X: Awesome job, man! Are you pumped?
Jason Anderson: Yeah, I'm stoked. First 450 race, a podium. I'm really stoked. I felt solid out there the whole main event. Following Kenny, it was just a good race.
How did you even know where you were going to stand coming into this? Did you have any expectations, a number or anything?
I didn't really have expectations as far as number; I just wanted to ride solid and have a good main event. It was good. I got to be behind Kenny. It wasn't one of those gnarly first races where I was battling the whole time. It was cool that me and him just set a pace and were just motoing together. The guys behind us were riding good and you could kind of feel it. Those last three laps were long, but I'm pumped to get it over with.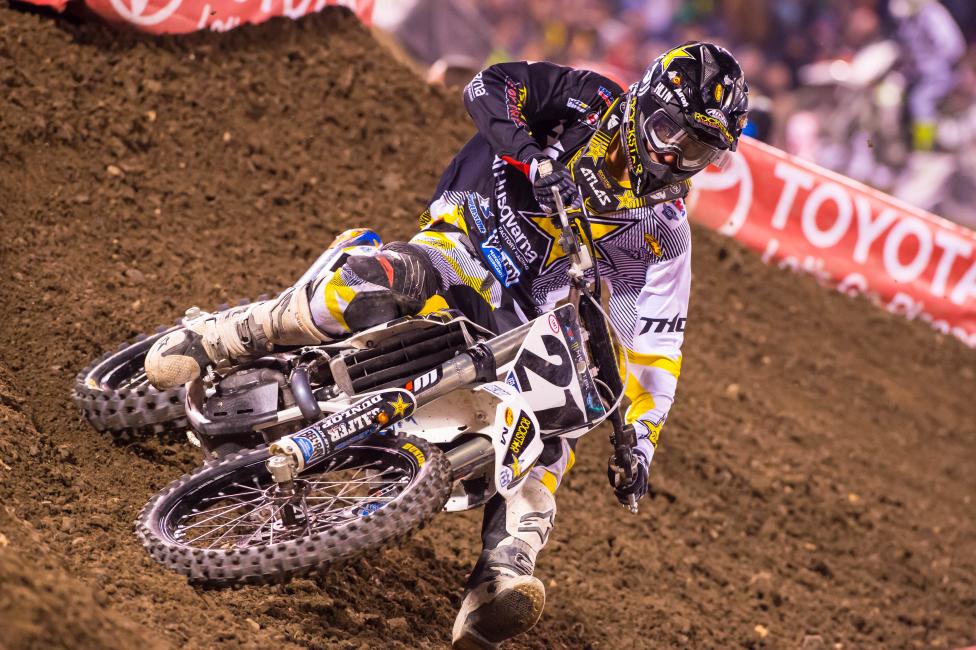 Wasn't frantic, nothing really going on?
It's crazy. That's not like myself. Usually I'm kind of more of the wild one, but I feel like I've been calm all day. Even in my heat race I wasn't too crazy. I came in with a fourth, but I was cool with it. It was good.
I would think normally first 450 race guys are pretty nervous and they get a little tight. You didn't seem to have that problem.
As weird as it is, I wasn't as near as nervous as usual last night. I didn't even feel it, like going out to dinner. It was weird. And then today I showed up and felt normal and calm and just had a good day. Even practice I felt good. I qualified sixth, but still felt good.
Talk about the training program that you guys have going on. You spent most of your time in Florida getting ready for this season.
It was something different for me being in Florida but I think it's definitely paying off. Our training program out there is gnarly. Me, Kenny, AC, Marvin are just grinding seven days a week. But it's cool because we've got a good group and we all vibe together really well. Me, Kenny, AC, Marvin, we all hang out. It's not like you got to the track and then leave and just don't see each other. It's definitely killer and I'm excited about it.
How different was that from your program before?
My program before, the last two years, I had a schedule and stuff, but I'm hanging out by myself. I would do my motos by myself; I would do everything by myself. And when I'm out there we're racing every single day. It's crazy.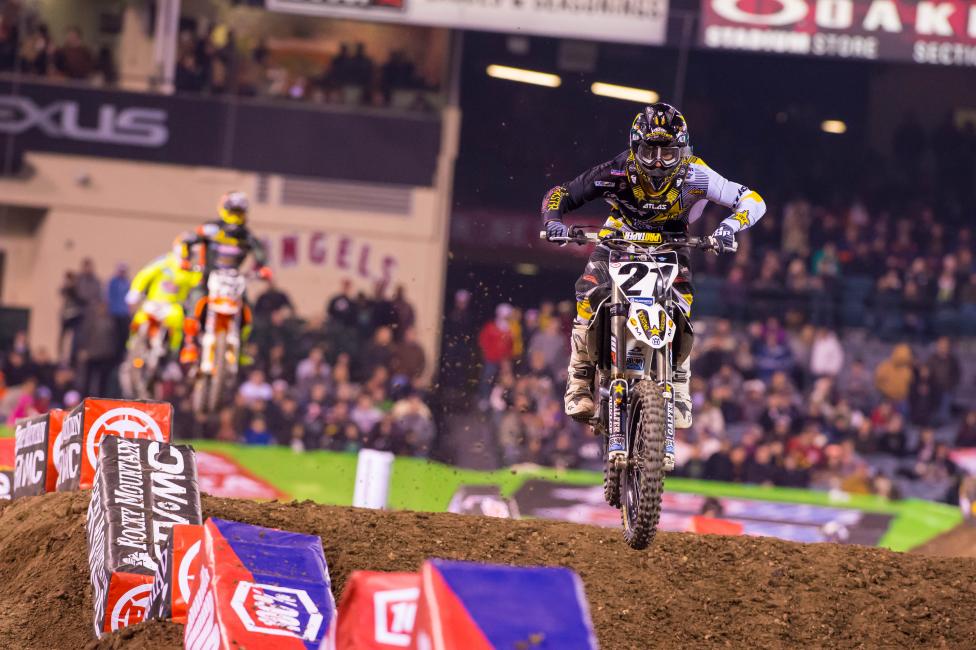 Did it actually help a little bit that it was Kenny in front of you? Did it almost make it more like just a day at the farm?
It was kind of weird, being Kenny and me out there, but it's cool. It's something unique that you don't normally see. Me and him train together. It's kind of like him and RV last year, they were kind of battling. But it's cool. Us two up front, we kind of talked about it all off-season, how cool would it be if it was just me and him 1 and 2. For it to happen is just crazy. It's mind-blowing.
With this training, are there days that are just so hard and you're like, dude, what am I doing? Does it ever get to that point?
[Laughs] Yeah, I question what Aldon does every day! It's different. The last two weeks I've been chilling, but before that we've been going hard. I show up to the track and I'm doing motos and I'm going through the whoops and my arms feel like they're going to fall off. But he has a plan and it seems to have us feeling good on race day, so it's great.
This sets you up good for the rest of the season.
Yeah, it's good momentum, but this class is stacked and a lot of things can happen. It's going to come down to getting good starts and riding solid twenty laps. If I can just keep getting good starts and riding solid, I think it'll be a good series.
Your team and the brand; what's this say for all those guys?
Husqvarna, I think this is their first podium ever in the 450 class [Ed Note: first in thirty-nine years]. For me to do that and pull it off like that, it's crazy. I signed with Husky and I wouldn't say it was a risk because I rode the bike and I'm really confident in it and I feel really good on it, but it's cool to show the public that it can compete at the top level of the sport. It's cool.