One man's pain is another man's pleasure, and one man's junk is another man's treasure. The 2010 season of Monster Energy Supercross was junk for a lot of riders and downright painful for some. It was damned good for Ryan Dungey, though, who avoided the rash of injuries and piloted his Rockstar Makita Suzuki to the title in his rookie season. Dungey was just beginning to carve a rep for solidity that remains to this day. As for the other big names, 2010 was painful. James Stewart, the 2009 champion, missed nearly all of the season with a broken wrist. Ryan Villopoto was challenging Dungey the whole way until a gruesome crash left him with a broken leg. Chad Reed's season was so bad that he broke his two-year Monster Energy Kawasaki contract and looked around for a new home. No one was offering a ride, so he built his own, buying Hondas and Pro Circuit parts and starting his own team, TwoTwo Motorsports. Others had tried this act before, and it usually never worked.
Villopoto had an ace up his sleeve entering the season. James Stewart let trainer Aldon Baker go, and Villopoto won a bidding war to hire him. RV looked lean and mean at Anaheim 1, and stomped the loaded field to take the win. The next week in Phoenix, Stewart led and Villopoto closed in before a small crash. Stewart took his first race win in fifty-three weeks. Then came round three, the first-ever SX race at Dodger Stadium in Los Angeles. It might be the best race of a very exciting season, as Dungey, Stewart, Canard, and Kevin Windham battle for a bit. Then Villopoto comes raging back from ninth to join the fight! Here's the footage. The main event starts at 19:30, and the first ten laps are crazy-intense.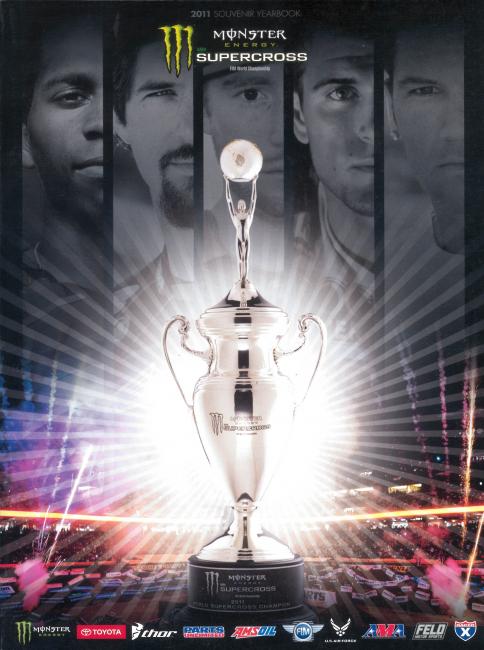 Villopoto ate them all up and caught Stewart. Then Stewart was able to get back away before crashing, and Villopoto took the win. It was reversed the next week in Oakland, when Villopoto had a crash and Stewart won, making it two wins apiece for he and Villopoto. By then, the TV intros were beginning to play up the building Stew/Villo dynamic. Oh, don't worry—there would be many more players.
Reed finally got on the podium with a second in Oakland, and the industry spent the night patting the old lion on the back. It's not inconceivable that many thought this would be a rare, or even final, podium for Reed. Uh, it wasn't.
At Anaheim 2, old "crazy balls" Stewart returned, busting out a quad jump in a rhythm lane and pretty much owning the night. Villopoto was second, although curiously he was just as fast as Stewart in the section with the quad but slower on the other part of the track. Jump for show corner for dough?
Dungey's chain snapped after he collided with Canard coming through traffic, and the champion didn't finish the race, handing over huge points. It was a sign that the season would be much crazier than usual. At round six in Houston, seemingly everyone crashed in the first turn, and old man Windham was left alone out front. Then he crashed violently all by himself, leaving Canard and Dungey to battle for the lead. They literally went across the finish line side-by-side, Canard just edging ahead for his first career 450SX victory.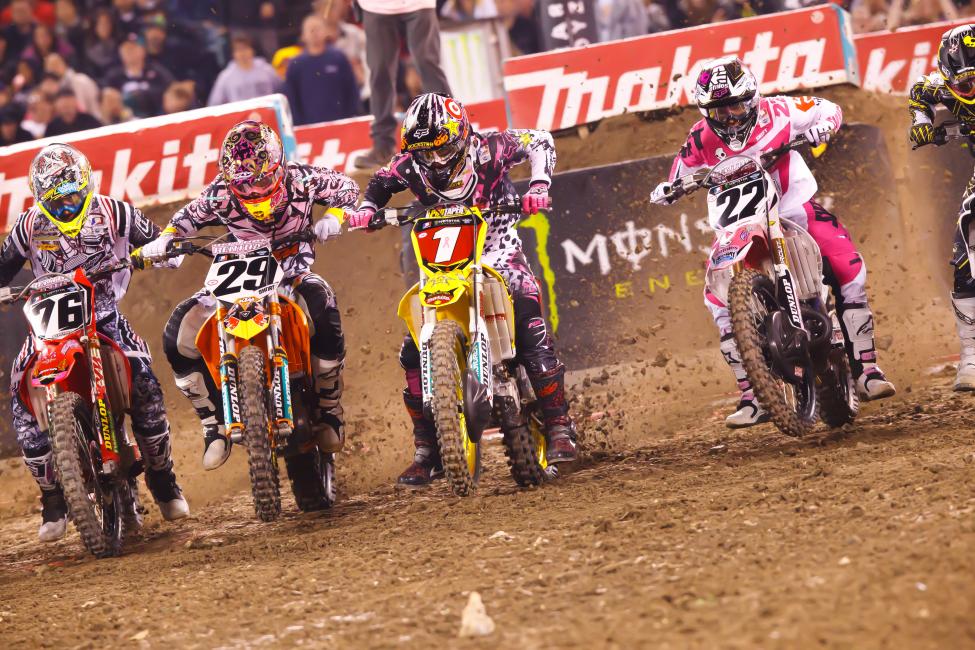 Houston was a disaster for Stewart, who famously landed on our own Jason Thomas while trying to come through the pack. He finished fifteenth. Here's Houston coverage on CBS; go to 39:30 to see the frantic Canard/Dungey battle to the checkers.
San Diego was muddy again, but the rain couldn't spoil a magical night. Reed won in Qualcomm Stadium for the sixth time in his career, the most ever. This was an incredible feat considering he was still essentially a privateer. Maybe this TwoTwo team deal was going to work? Villopoto had a big crash and struggled to seventh, with parts hanging off of his bike everywhere.
"It's emotional," said Reed. "It was only a few months ago that I was contemplating drinking beers in the stands with the fans!" Here's San Diego's coverage.
With seven races complete, Villopoto held a 3-point lead on Stewart, and Reed and Canard were 16 back, with Dungey down 23 points after his chain derailment the previous week.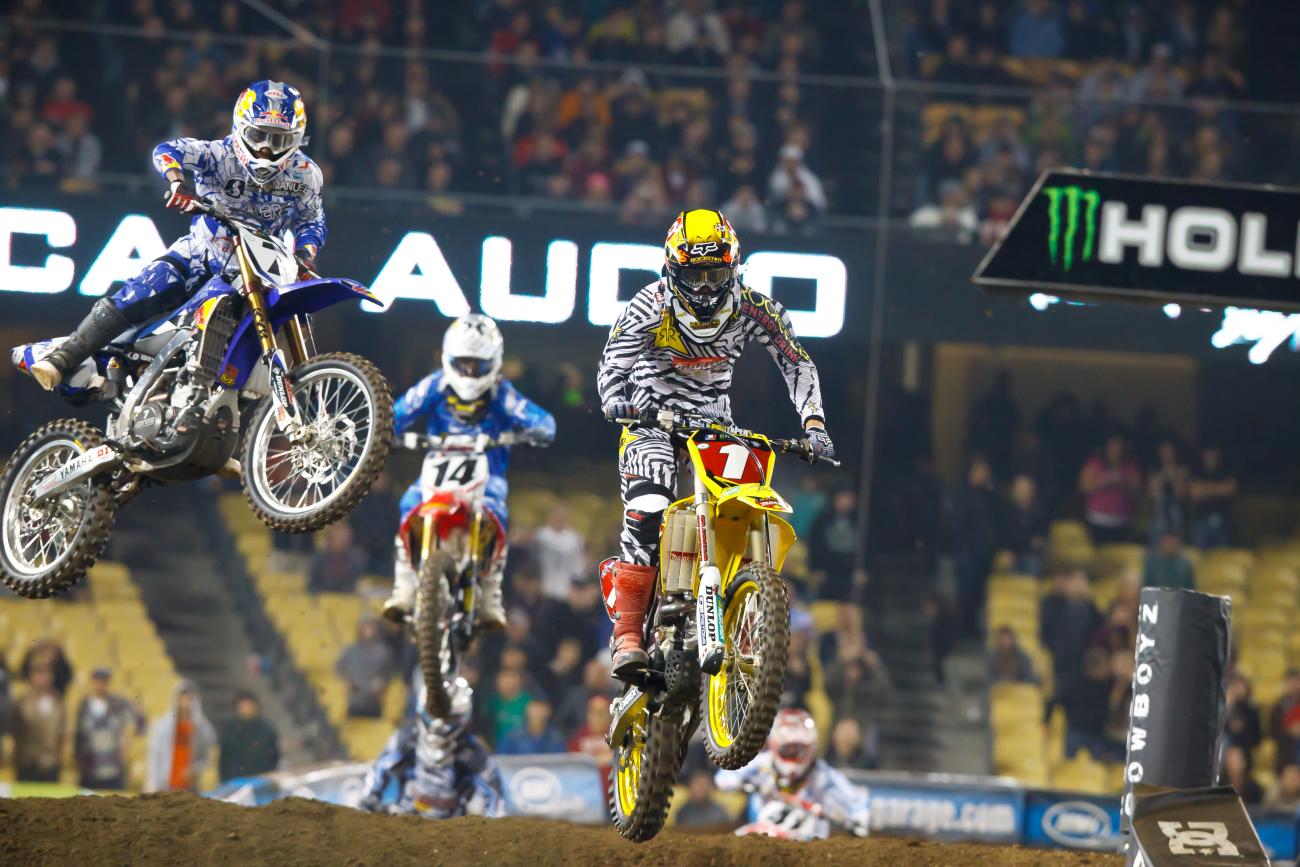 Atlanta appeared as a retro race, with Reed and Stewart out front racing like it was 2009. Villopoto was third but couldn't catch them, and Reed looked ready for two straight wins before Stewart hung a late pass on him. The 70,000 fans on hand knew what was coming next: another Reed/Stewart clash. On the last lap, Reed sliced all the way across the track to try to execute a desperate pass. Stewart, using the regular line on the outside, plowed right into him. It was a classic supercross block pass, which half the fans will say is dirty and half will say is aggressive racing for a win on the last lap. They were down in a heap, and Villopoto raced past to steal the win. Then Reed and Stewart, after getting up, scrapped again into the very last turn. Are you surprised to hear tempers flared between Reed and Stewart again? Here's the Atlanta race; go to 13:30 to watch the pass unfold, listen to the crowd and the announcers going nuts, and drown yourself in the Stewart/Reed rivalry.
Daytona was also a Stewart classic. He jetted out to an early lead and started jumping some crazy stuff, like a jump nicknamed "The Gator Pit." He looked great on the difficult stuff, but then wadded it up huge on a routine jump. Villopoto sailed by to win again over Reed and Dungey. Stewart got back into the race, battered and bruised, and many thought he was showing concussion symptoms as he tried to get back on his bike and fell down. But once he was on it, he started jumping "The Gator Pit" again, even a lap down! He finished seventh. As for potential injuries, well, there was no one to ask, because team manager Larry Brooks had been fired from the team. Err, sorry, "Left to spend more time with his family," as Stewart explained.
Here's Daytona. Stewart's crash happens at 5:00 minutes.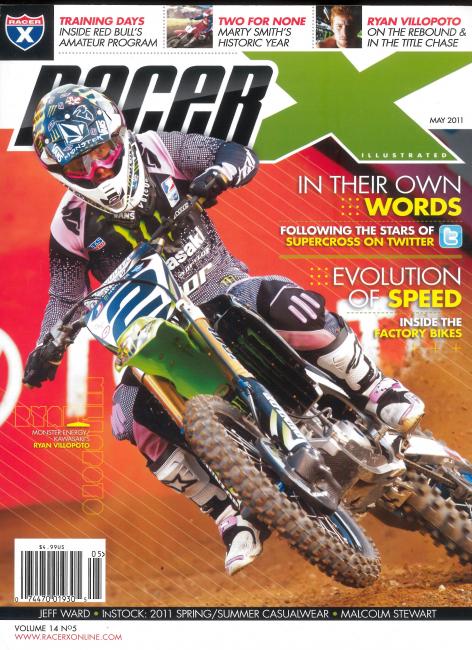 Villopoto erased all talk of luck or gifts the next weekend in Indianapolis when he outraced the field for his third-straight win. Suddenly his point lead was 26. But this season had much more in store, as the Jacksonville race was one of the craziest ever. The culprit? This bizarre, huge, "Super Moon" in the sky that night. Seriously, folks.
Put it this way: Villopoto, the series' leader, didn't make the main event. Read that again! He was taken down in the first turn of both his heat and the Last Chance Qualifier and came up short. Many were handing Stewart the win and 25 points after that, as even Villopoto himself in a TV interview said "I guess I'll leave here with one point." But SPEED's Jeff Emig wisely said, "I'm not assuming Stewart is going to win this. With this crazy moon here tonight anyone can win." Emig was right, as Stewart didn't fare much better, crashing in the first turn of the main event and getting carted off by the Asterisk medial crew. Stewart was credited with eighteenth place, good for three points, which has to make it the first and only time someone made up ground in the standings while also leaving the track on a stretcher.
Canard won the race. Reed and Dungey were second and third. Here's Jacksonville.
Even Villopoto, one of the most mentally strong racers ever, was rocked by this one. He and Stewart collided in Toronto. Stewart took fourth and Villopoto ninth. Dungey won over Reed and Canard, and suddenly Reed, expected to be retired four months earlier, had taken over the points lead!
Oh, you thought Reed vs. Stewart was over? In Dallas, Stewart got out of control in the whoops and took Reed out with him. Canard won for his third triumph of the season, and the points were ridiculously close: Villopoto now over Dungey by 5, Reed by 8, and Stewart and Canard both within 20. Only four races remained and all five had a title shot, especially as Stewart went on a mini run to bag wins in St. Louis and Seattle.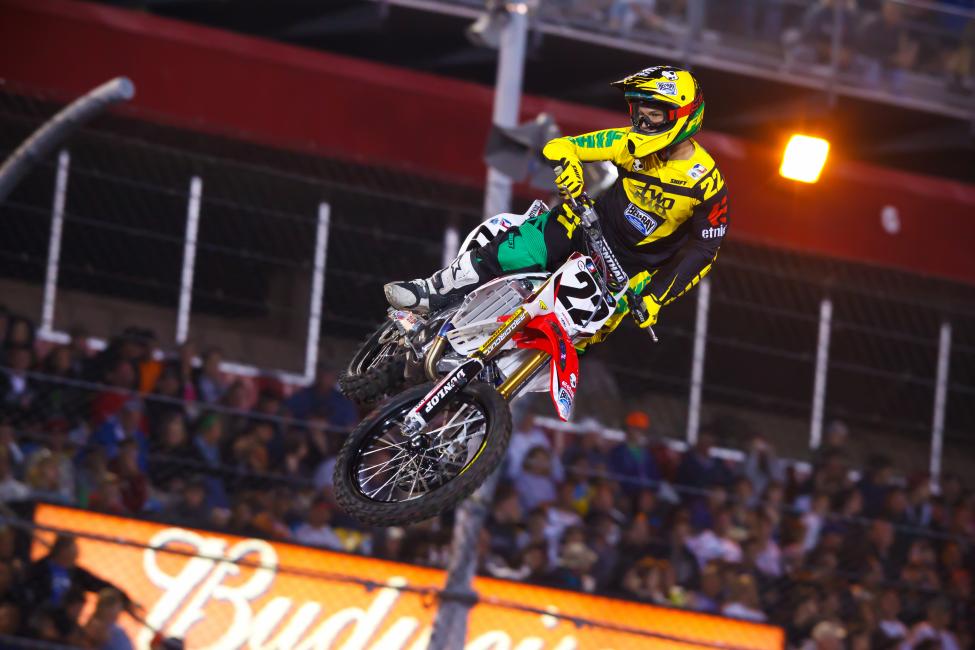 Canard was now unfortunately out after breaking his femur testing for the upcoming Lucas Oil Pro Motocross Championship. Honda gave his works CRF450R to Reed. The title was very much up for grabs between Reed, Villopoto, Stewart, and Dungey, and the next-to-last round in Salt Lake City would prove as the ultimate test. Whichever rider won there would control his destiny for the Las Vegas finale.
Fittingly, all four had a shot to win. Stewart led, then washed out in a turn, and flipped in the whoops—on the same lap! Reed led, but Villopoto stalked him and made a clutch pass to get a huge victory. Reed fought back with everything he had, ultimately coming up just 1.7 seconds short of the win. Villopoto's ride is one of the most underrated ever, an absolute back-to-the-wall, must-win cperformance that saved his season. Now Villopoto held a 9-point edge over Reed going into the Vegas finale.
The Feld Motor Sports group hung huge "Greatest Season Ever" banners all over Sam Boyd Stadium, and while those types of arguments are hard to solve, it's difficult to imagine a wilder and more competitive series than this one. Maybe 1985? Maybe 1990? Maybe 1992? Maybe, but this one was a model that all can be measured by, and it even ended on a high note. Stewart led and crashed yet again, and Kevin Windham, on fire for the night, tried to wheelie over James' bike in the whoops. He went down. Reed and Dungey battled for one last win, with Reed just barely taking it. Villopoto's third was enough to seal the title by 4 points over Reed.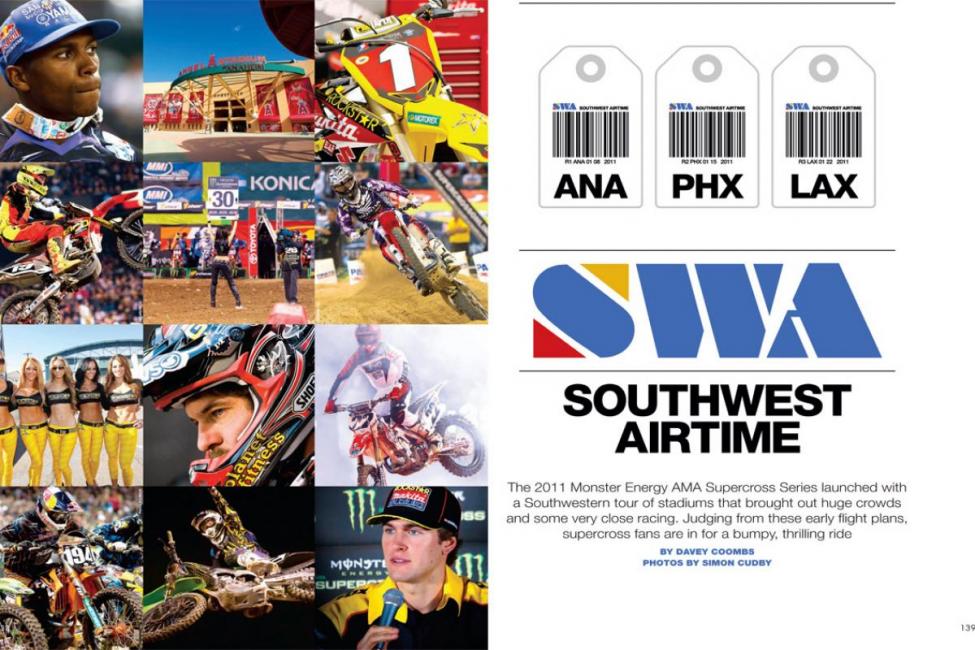 "I really have to thank everyone who made this happen, especially Aldon Baker, my new trainer," said Villopoto. "That was probably the best move I've ever made in my racing career. I knew I had the skills and everything else, but I needed the fitness, and I was able to get that and it paid off. That and everyone on this team, Monster Energy Kawasaki, it takes great people behind you to do this."
Reed gave Villopoto credit. "He won the most races and he deserved it," he said after locking in his second race win of the year. "I think we all left points out there at various times throughout the season, but you live and you learn. I've had a blast this season, so congrats to Ryan, I love that kid."

Dungey was stoic after handing over his title. "It definitely hurts, but we'll work even harder next year and try to get it back," said the 2010 champion, who was 10 back in the final standings.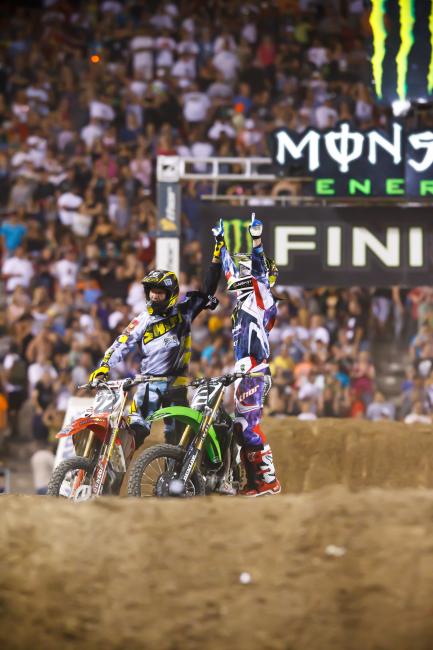 In the Lites classes, GEICO Honda's Justin Barcia ruled the East for his first title, beating his budding rival Dean Wilson. Veteran Ryan Sipes finally broke through for some race wins, which made everyone happy. The West was crazier, as Monster Energy/Pro Circuit Kawasaki's Josh Hansen led most of the season only to crash and break his hand, opening the door for his veteran teammate Broc Tickle and GEICO Honda rookie Eli Tomac. Tomac ended the season with a late surge, but all heck broke loose in Vegas, which was now hosting the final rounds of both the East and West Region, as well as the Dave Coombs Sr. East/West Shootout. In the West final, Tomac got held up by lapped traffic and Tickle edged ahead to win the title. All kinds of conspiracy theories flew as to lappers trying to help or hurt certain riders, but it didn't matter—Tickle was champion. Sipes won the Shootout.
All in all, it was a dramatic season from beginning to end, and one that any other season would have a tough time matching. Those "Best Season Ever" banners? Hard to argue.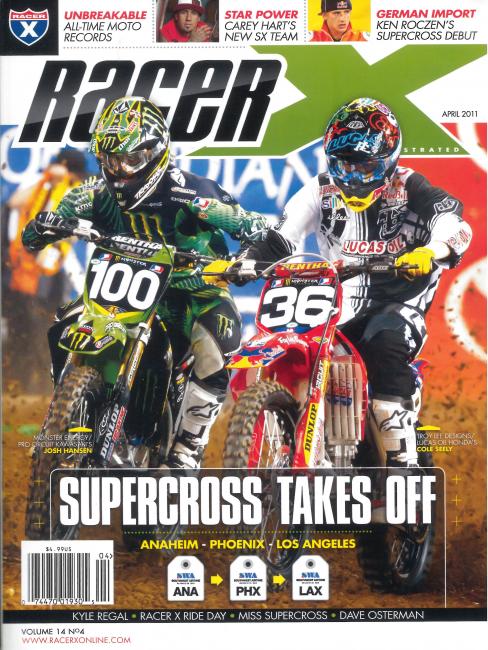 2011 AMA Supercross Standings
Ryan Villopoto 338
Chad Reed 334
Ryan Dungey 328
James Stewart 301
Trey Canard 255
Andrew Short 230
Kevin Windham 207
Davi Millsaps 180
Justin Brayton 155
Nicholas Wey 152
SX Lites East
Justin Barcia 205
Dean Wilson 183
Ryan Sipes 163
Blake Baggett 159
Blake Wharton 125
SX Lites West
Broc Tickle 187
Eli Tomac 181
Joshua Hansen 162
Cole Seely 147
Ryan Morais 138