This season was billed as the clash of the titans. After Ricky Carmichael vanquished Jeremy McGrath's title reign in 2001 and tied one of his most cherished records (a thirteen-race win streak), it really got heated in 2002 between the two superstars. The biggest news was Carmichael leaving Kawasaki for Honda, the brand McGrath once rode for. Carmichael said he made the switch because Honda had superior technology, but no doubt McGrath took it as a direct shot from his former employer.
McGrath was determined to get his title back and stop Honda. Carmichael's work with trainer Aldon Baker was credited for his 2001 improvement, so McGrath knew it was time to step up his training program. The off-season of 2001 was spent talking of how many miles MC had logged on a road bike, how much weight he had lost, and how ready he was. ESPN the Magazine even put together a feature on his renewed focus.
No doubt that somewhere down in Florida, Carmichael was pounding laps on his Honda—until one day when the Honda pounded him. RC went over the bars in the whoops, and the bike tagged him in the rear. Our photo ace, Simon Cudby, was actually there shooting but promised to keep the crash secret. Everyone knew Carmichael came into Anaheim 1 carrying a thirteen-race win streak, but few knew he was also injured.
McGrath wasn't right, either. The King got out front in his heat race and then, suddenly, started falling through the field. Same thing in the main event. He was getting gnarly arm pump and could barely hang on. He finished a lowly thirteenth.
Carmichael was somehow worse, though! In the main, he went over the bars and again hit the ground face first. Here's the video and the crash comes at about the thirty-minute mark. He didn't finish. Clash of the Titans? More like "Crash."
Also on the sidelines late in the 250 main was Travis Pastrana, making a mega-hyped full season 250 debut. He crashed out. Underneath all this hype came Team Yamaha's David Vuillemin, who dominated the main. After a rough 2001, DV showed the speed that carried him to multiple wins in 2000. Mike LaRocco was second.
The series next headed to San Diego. McGrath and Carmichael were still out of sorts, but Pastrana was rested and ready. He nailed the holeshot (and even fist-pumped over the first triple) and tried to take off. Vuillemin was having none of it and got around the rookie. They played chase for the rest of the race. Pastrana stayed closed and even logged a furious last-lap charge to almost get him back, but le Cobra held on to start the year with two wins. Pastrana said, "Vuillemin gave me a riding lesson!"
While Pastrana and Vuillemin were making in-roads on the establishment, similar things were happening in the 125 class. James Stewart began his professional racing career on a wild night at Anaheim. He finished second after a bad start. Chris Gosselaar looked to have the win on lock until a late tangle, and Factory Connection Honda's Travis Preston cruised past the mess to take the win. The next weekend, Stewart won San Diego, less than a month after his sixteenth birthday.
Also of note was Yamaha of Troy's 125 East hopeful, Chad Reed. The Australian had finished second in the 2001 250cc GPs but said all along he'd be even better at supercross in America—on a 250 two-stroke. He nearly proved that by running second at Anaheim 1 for a while before crashing and finishing fifth at San Diego. When 125 East began, Reed was on a YZ250F and practically unbeatable.
Round three was back at Anaheim. Pastrana's new Suzuki teammate, Kevin Windham, finally came to life. The high-flying duo spent most of the night leading and even giving each other thumbs up over the triples. Both the heat and the main looked like a darned photo shoot, with eighteen of the best supercross riders in the world trailing behind. Pastrana and Windham were that fast when things clicked!
Windham would fade, though, but Pastrana looked headed to victory until he hit neutral on a jump and crashed. Vuillemin moved into the lead, but this time LaRocco was close. Late in the race The Rock made a pass, and the fans went nuts in support of the 30-plus-year-old. He hadn't won a supercross race in seven years.
All this excitement was cool and all, but Carmichael finally righted the ship with a win at round four in Phoenix. Pastrana, Vuillemin, and LaRocco were next. Carmichael won again at Anaheim 3.
Then came Indianapolis, one of the most exciting races ever. You can watch it here. Pastrana and Carmichael battled for the lead, with fans going nuts as the two superstars slugged it out. Most figured this was a preview of the next five years of supercross. Alas, it's one of the few RC vs. TP battles ever. Pastrana was making mistakes trying to hold RC at bay, and at one point he bobbled in a rhythm lane and Carmichael shot down the inside. Travis veered over to block him and went down. While the mistake was all Travis', the fans were pissed at RC, anyway. Somehow, through all of this, Vuillemin trailed right behind, and with a lap to go he executed a slick pass on Carmichael to take the lead and the win. The fans adopted the Frenchman as their new hero, while Carmichael got more boos on the podium.
At this point Vuillemin held an 18-point lead in the standings over LaRocco, and Carmichael was still 28 points back.
RC got to work. He won in Minneapolis and Atlanta to mark four wins in five races. At Minneapolis, LaRocco and Pastrana came together, and LaRocco ended up with a broken arm, knocking him from the championship fight. Carmichael started about seventh but still came back to win. Watch it here. The LaRocco incident happens around the 30-minute mark.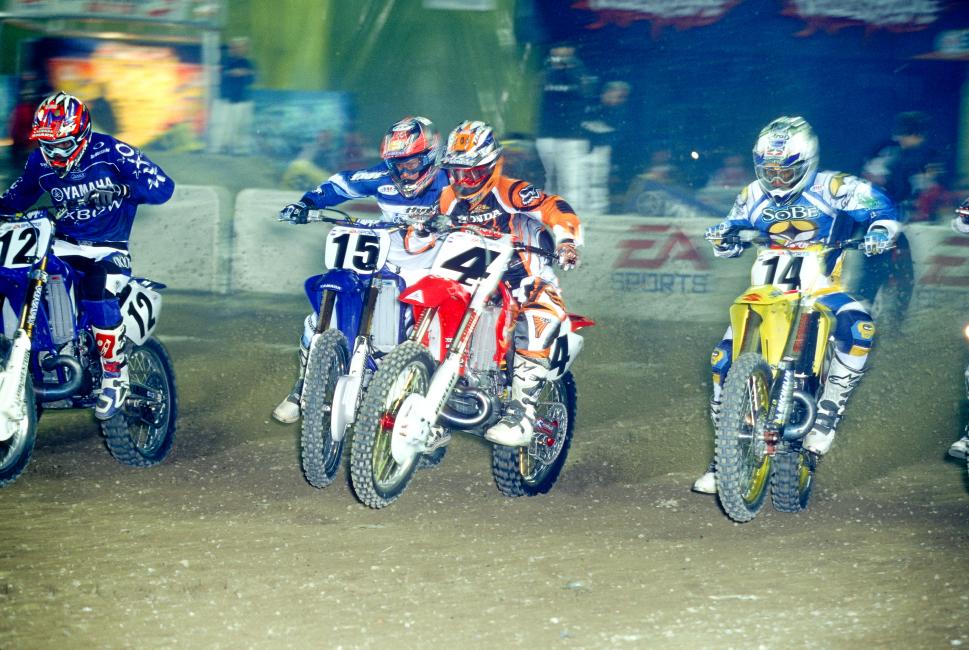 The Atlanta race was headlined by Windham's exit. He seemed to be dealing with burnout all season and wasn't a real contender for wins. Then in Atlanta he tried a crazy quad jump in a rhythm lane and crashed hard. He broke his femur, ending his season. Windham was so burnt out at this point that there were rumors that he was never going to return to racing at all.
Pastrana crashed out of Minneapolis and was beginning to suffer from an illness. Contenders were falling by the wayside. Now only Vuillemin stood in front of Carmichael. In the days before Daytona, DV did a photo shoot in the California hills with TransWorld Motocross' Donn Maeda. He crashed and broke his shoulder.
Vuillemin tried to gut out Daytona, but it was too painful. Carmichael won the race and suddenly was into the points lead despite finishing last at the opener. Here's the full Daytona race.
Vuillemin gamely came back to salvage some points at the race in New Orleans, taking third while riding in extreme pain. Carmichael won, of course. RC kept winning, taking Houston and St. Louis to run his win streak to six, with eight wins in the last nine races.
Next came Pontiac, Michigan, and a classic. Carmichael crashed early, (here's the video, go to the thirty-minute mark), and that opened the door for a variety of contenders to finally snag a win. You could see the pressure to deliver made an impact, because it seemed like a race no one wanted to win. The following riders crashed while battling up front: Sebastien Tortelli, Ezra Lusk, Tim Ferry, and Nathan Ramsey. After all the crashing, Carmichael's Honda teammate Ramsey found himself in the lead despite an early tip over, but Carmichael was on a tear coming from last. Ramsey just held him off, notching the first ever SX win for Honda's new CRF450R four-stroke. It was also the first and last premier-class win for Ramsey.
No worries for Carmichael. He rolled to victory at the final three races in Dallas, Salt Lake City, and Las Vegas. He'd taken his second-straight title and delivered the first for Honda since McGrath's 1996 season. As for McGrath himself, he'd sort out the arm pump problems but never find his old speed. He didn't win any races and only finished on the podium three times. The King made it clear he wasn't going to retire, though, and would be back for 2003.
It was also clear that Carmichael's competition was coming from the future, not the past. Stewart was a sensation in his debut season, taking the 125 West Region points lead early. Then it all fell apart on a crash-filled night in Dallas. Travis Preston again took advantage to take the Dallas win and take the points lead, and it was enough to get him the West Region Championship. It was the first-ever title for the Factory Connection Honda, which is today's GEICO Honda team.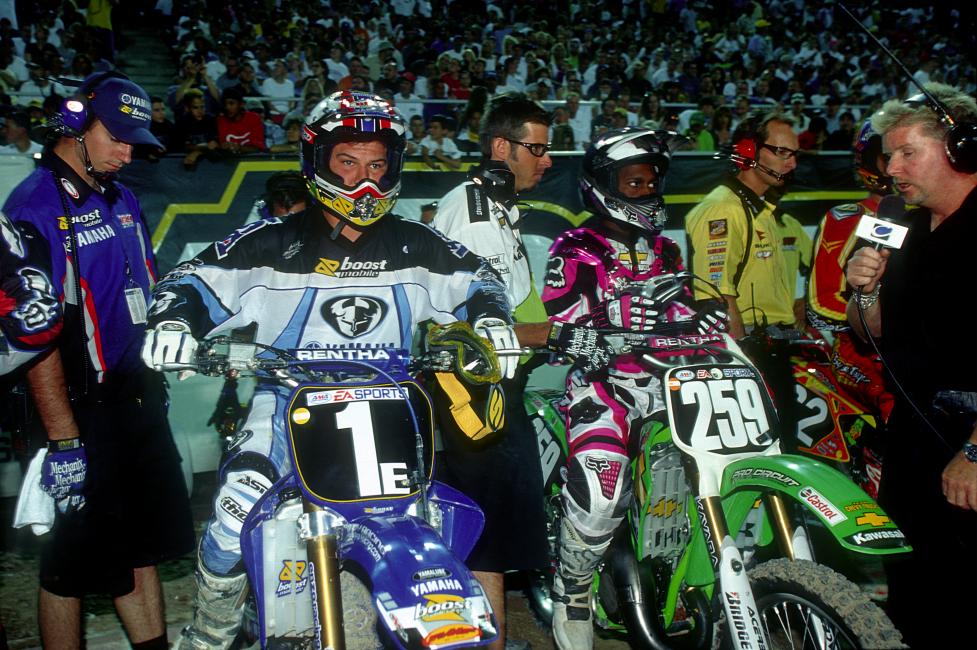 Reed had no such problems in the East. He won the first six races in a row to ice the title. However, what most stuck out was that he wasn't even satisfied with that. I remember attending the Indy Supercross and watching Reed win his first SX race. On the podium he deadpanned, "Yeah, but it's not the 250 class." It was cocky, but when he did move up to the 250s a year later, he backed up his words.
While Preston and Reed were the champions, the world really wanted to see a Stewart versus Reed showdown in the Dave Coombs Sr. East/West Shootout in Las Vegas. They delivered by going 1-2. Stewart got the start and Reed couldn't catch him. It was the start of a racing rivalry that still exists today, over a dozen years later. But before Reed or Stewart could reach the top of the mountain, they'd have to deal with RC.
2002 AMA Supercross Championship
Ricky Carmichael 356 Honda
David Vuillemin 321 Yamaha
Jeremy McGrath 250 Yamaha
Ezra Lusk 245 Kawasaki
Stephane Roncada 232 Kawasaki
Nathan Ramsey 229 Honda
Ernestno Fonseca 192 Honda
Nick Wey 173 Yamaha
Damon Huffman 151 Suzuki
Heath Voss 147 Honda
125 East Region
Chad Reed 172 Yamaha
Mike Brown 120 Kawasaki
Branden Jesseman 101 Suzuki
Buddy Antunez 96 Suzuki
Steve Boniface 91 KTM
125 West Region
Travis Preston 152 Honda
James Stewart 145 Kawasaki
Ivan Tedesco 130 Yamaha
Christopher Gosselaar 128 Honda
Travis Elliott 100 Honda
For previous years in the 40 Years of Supercross countdown, click here.