2015 GNCC Schedule Announced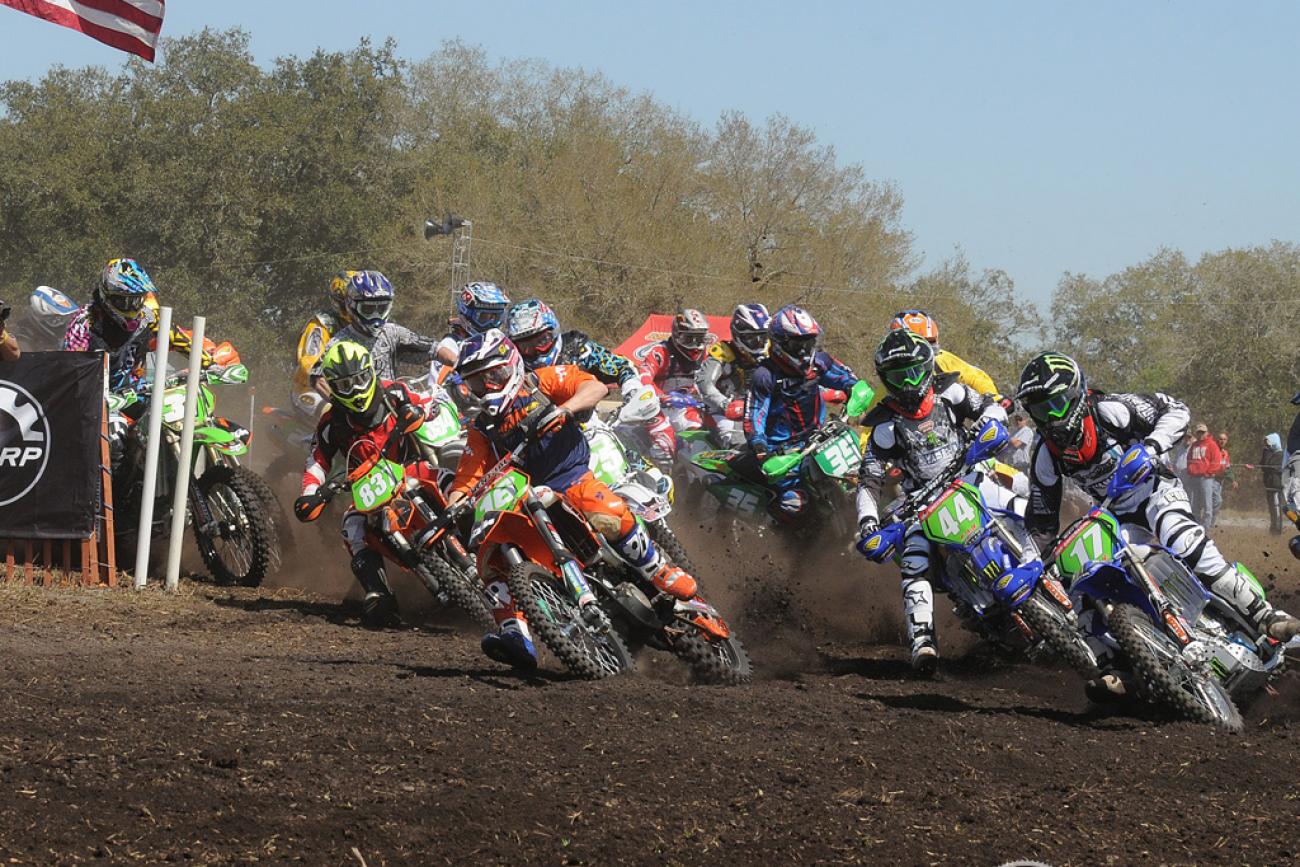 MORGANTOWN, W. Va. - Racer Productions announced today the 2015 schedule for the AMSOIL Grand National Cross Country Series presented by Maxxis, an AMA National Championship. The 13-round GNCC series takes place in nine different states through the eastern half of the U.S., making stops at many of the series' traditional favorites, while adding an all-new venue and making a return to another.
The 2015 GNCC schedule kicks off March 7 and 8 with a familiar location in Palatka, Florida, situated just one hour from the heart of Daytona's "Bike Week" festivities. The all-new Wild Boar GNCC will incorporate the same grueling obstacles that Florida's season opener has grown accustomed to, while adding a new batch of terrain that GNCC has yet to experience.
"The Palatka facility we're going to in 2015 is much different than what we saw the last time we were there in 2004," said GNCC Trail Boss Jeff Russell. "Weather permitting, we will have access to over 5,000 acres of higher-elevated land to race on. And if Mother Nature decides to bring rain, we're confident that this year's track will be solid."
The Wild Boar will also play host to the opening round of the six-race Micro 50cc championship.
Due to the overwhelming popularity of off-road racing in New York, the GNCC schedule will make a second stop in the Empire State in 2015. The Tomahawk GNCC will serve as round six of the 13-race series, taking place at Seneca Highlands in Odessa, New York.
"We've wanted to put another GNCC in the New York area for quite some time, so when the WNYOA folks contacted us about this facility we quickly jumped on the opportunity," said Assistant Trail Boss Barry Hawk. "The Western New York Off-Road Association has an incredibly dedicated group of off-road racers, which has been proven by the success of the Unadilla GNCC. We're excited to bring a new venue to the schedule for 2015."
The schedule welcomes back many of its most seasoned venues for 2015, including The General in Washington, Georgia; Steele Creek in Morganton, North Carolina; Big Buck in Union, South Carolina; the Limestone 100 in Springville, Indiana; Masontown, West Virginia's Mountaineer Run; the John Penton in Millfield, Ohio; West Virginia's popular Snowshoe GNCC; Unadilla in New Berlin, New York; Somerset, Pennsylvania's Mountain Ridge; St. Clairsville, Ohio's Powerline Park; and the Ironman in Crawfordsville, Indiana.
The six-race Side-by-Side championship will begin with The General in Georgia, before heading to South Carolina for Big Buck, then Mountaineer Run in West Virginia, Ohio's John Penton and Powerline Park. The Side-by-Side championship will conclude with the Ironman season finale in Indiana.
"It was a tough decision not to return to Loretta Lynn's this year," said GNCC Trail Boss Jeff Russell. "It has been an iconic stop on the schedule and an integral part of GNCC's success. However, the geographic location being at the extreme edges of our rider base, coupled with the deteriorating trail conditions, calls for us to allow it some time to heal."
Following the season opener in Florida, the Micro 50cc championship will head to North Carolina for round two at Steele Creek, Indiana for the Limestone 100, and then to New York for the Tomahawk and Unadilla events, before concluding its six-round season in Pennsylvania with the Mountain Ridge GNCC.
Information about the 2015 AMSOIL Grand National Cross Country Series schedule can be found at www.gnccracing.com. Stay up-to-date with off-season news and information by following GNCC Racing's official social media accounts through Facebook, Twitter and Instagram.