Retirement. It just doesn't work for some people, and apparently Guy Cooper, team manager for the MotoSport.com/GPI/Honda Crossland racing team, is one of them. We had to know more, so we caught up with Cooper to find out what the deal with his new deal was. When you're done reading the interview, check out this video of the team in action.
Racer X: You're back on the grind, this time as a team manager. Tell us about it!
Guy Cooper: Last year I flew in and watched the team work with a team manager, crew chief, and all kinds of people involved with one rider. This year team owner Chris Crossland came to me and said he wanted one person to be in charge and call the shots and work the budget. I agreed and here I am. I'm still a little bit nervous about the whole thing because of the numbers. Go back to 1984 when my van got stolen right before the first round and I ended up driving a Cutlass Supreme pulling an open three-rail trailer to all the Nationals and ended up rookie of the year. I did that in 1984 on $6,000, and our budget is close to $1 million now for three riders, and you still have to be pretty tight to make that work. Basing a team out of Oklahoma and having a setup there is something that I've always wanted to do. I've got several tracks right there at the house, and Crossland is remodeling the interior of my biggest shop building and insulating it, and it's going to be a full-blown race shop.
That's a bit of a difference between an open trailer.
[Laughs] Back when we rode in the mid-eighties, even into the early nineties, all of us—I don't care if you were Rick Johnson or the privateer that made it into the top twenty—we all had the dream of growing until we were on primetime TV. In the late nineties we started following in the footsteps of NASCAR, their model, and it seems like we've gotten pretty close. You go from selling out stadiums to millions watching at home on television.
Other than the equipment, what's the biggest difference between now and when you were a fulltime racer?
Back then you'd hear things here and there, like maybe Jeff Stanton or Johnny O'Mara had trainers and maybe someone else would mention diet, but really, all of us were pretty green to the idea. Now we've got dieticians, trainers, all kinds of people working with the riders. It's not just running four miles one day, then riding your mountain bike for fifty-eight minutes the next. They break it down, they know exactly what your body is doing, what your heart rate is doing, and they put it together to make a complete program. I don't want to make myself sound like I wasn't in good shape—I rode every day and I enjoyed it—but I wasn't in good enough shape. It would have done me a great deal of good to be on the program that some of these guys are on now.
And I know you said other than the bikes, but these bikes are so good; it's amazing how good they are. In my contract they said I got a 2015 Honda, and I told them my 2014 was all I need. It surpasses what I can do. It's just amazing how good this stuff is.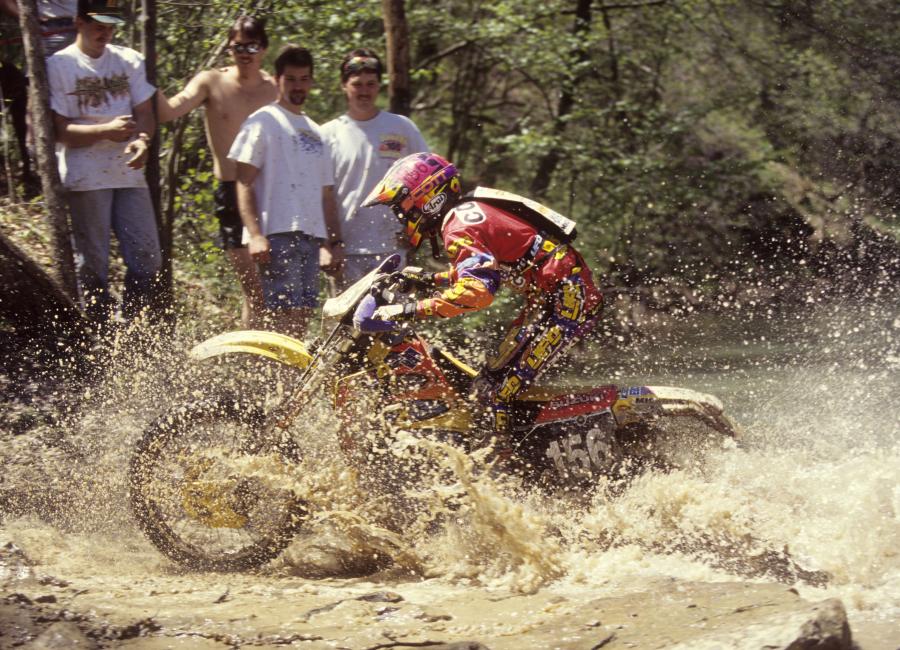 When's the last time you were at a bunch of races in one year?
I went to eight supercross races last year just as a cheerleader, but I haven't been to hardly any nationals. In the last five years I think I've been to three nationals, so it's probably going to be a bit of a struggle for me in understanding how much they've grown.
Are you excited about going back and revisiting a bunch of these places you used to race at?
Oh yeah, I for sure am. It's going to be awesome. We had five of us flying out today getting ready for some suspension tests, and we started talking about different nationals. Everyone thinks Troy, Ohio, was my favorite national because I got my first overall and won three times there, but out of sixteen nationals I won at thirteen different places, so it's a pretty neat deal that there's not just one track I excelled at.
Let's talk about the team. You've got Brett Cue, Colt Nichols, Fredrik Noren, and Tommy Hahn. What's the plan?
Brett Cue is our buddy that just loves to go out and have a good time riding. We've got a bunch of people based out of Oklahoma, and we had to include Brett. There might be the chance we'll try to get him qualified for some races, but for the most part he's our local hero on the social media side. He's also truly a good kid.
We've got Freddy Noren [450 class], and we're thankful to have him. Honda came to us and said they'd give us bikes if we put Freddy under the tent. That was a no-brainer. Whenever Honda is welcoming a rider of Noren's talent and bringing a nice contract along it's a win-win. The only negative, and I don't want it to happen, but I've already been told that if one of the Team Honda riders gets hurt they're going to pluck Freddy from our side and put him on the factory squad. We don't want anyone to get hurt, and we want to keep Freddy under our tent. We like him—he's awesome and he's always smiling. It's refreshing to see a rider with that kind of attitude.
Another kid with a great attitude is Colt Nichols. He's our 250 East rider, and I was worried we weren't going to get him. He's good friends with some Kawasaki folks, and I pushed to get him. A lot of people don't know him yet, but I think a lot of people are going to get to know him real soon. He's got tons and tons of talent. He rides super light on the bike, and when the other guys are struggling and blowing through the stroke, he doesn't even look like he's on the same track. He just skips, hops, and jumps—he's got the natural ability to whip the bike around.
We all know Tommy Hahn [250 class], of course. He's won a national and he's been on the box in supercross, but a lot of people have written him off because he's the veteran and has had some injuries. They think he's not the guy to go out and win a championship, but I flip that totally around—I was 28 when I won my National Championship, and if someone were to have taken me out of the running because of a few injuries, heck, at 12 years old I would have been out. I had a lot of injuries and always came back. You sit down with Tommy, and he's healthy and hungry. I think Tommy has what it takes to stay in there now. I know he's got the talent and I think if he focuses forward he can do well. I think he's underrated.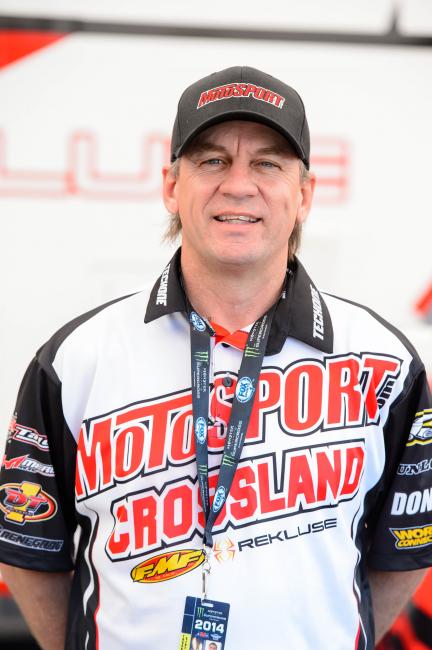 How much fun are you having hanging out and riding with these guys in Oklahoma?
Man, it's awesome. I haven't been riding that much over the last couple years, and it's really enjoyable to get out there. But if I go somewhere else, like even just going down to Trey Canard's and riding down there, I feel out of my element because I didn't build all the jumps. I'm a little sketchy out there, I OJ stuff and go back to my typical panic revs. I don't do as well riding there, but at my place I know it all and I'm just having a blast. I'm hoping the weather holds out and we can get in a bunch of riding before the nationals.
Who's making this all possible?
We've got some great sponsors. Our co-title, Great Planes Industries [GPI], they've come on board so with MotoSport, and [with] GPI we're well on our way to becoming a legit team. It was a team last year, but team owner Chris Crossland had to spend about half a million out of his own pocket. This year, it's still going to cost him some money, but not as much as last year, and we can look forward to landing some sponsors to fill the void we've got right now. Maybe we can even put Chris in an ownership position that's not costing him any money. We've got great support from Honda, PBR MX, FMF, Sunstar, Showa, Rekluse, Novik, Works Connection, Excel, Dunlop, EKS Brand, Kicker, Dubya, Ride365, Honda of Stillwater, Bell Helmets, RK, ODI, Factory Effex, and Proven Moto. We're happy and excited for 2015.