Broc Tickle Headed Back to RCH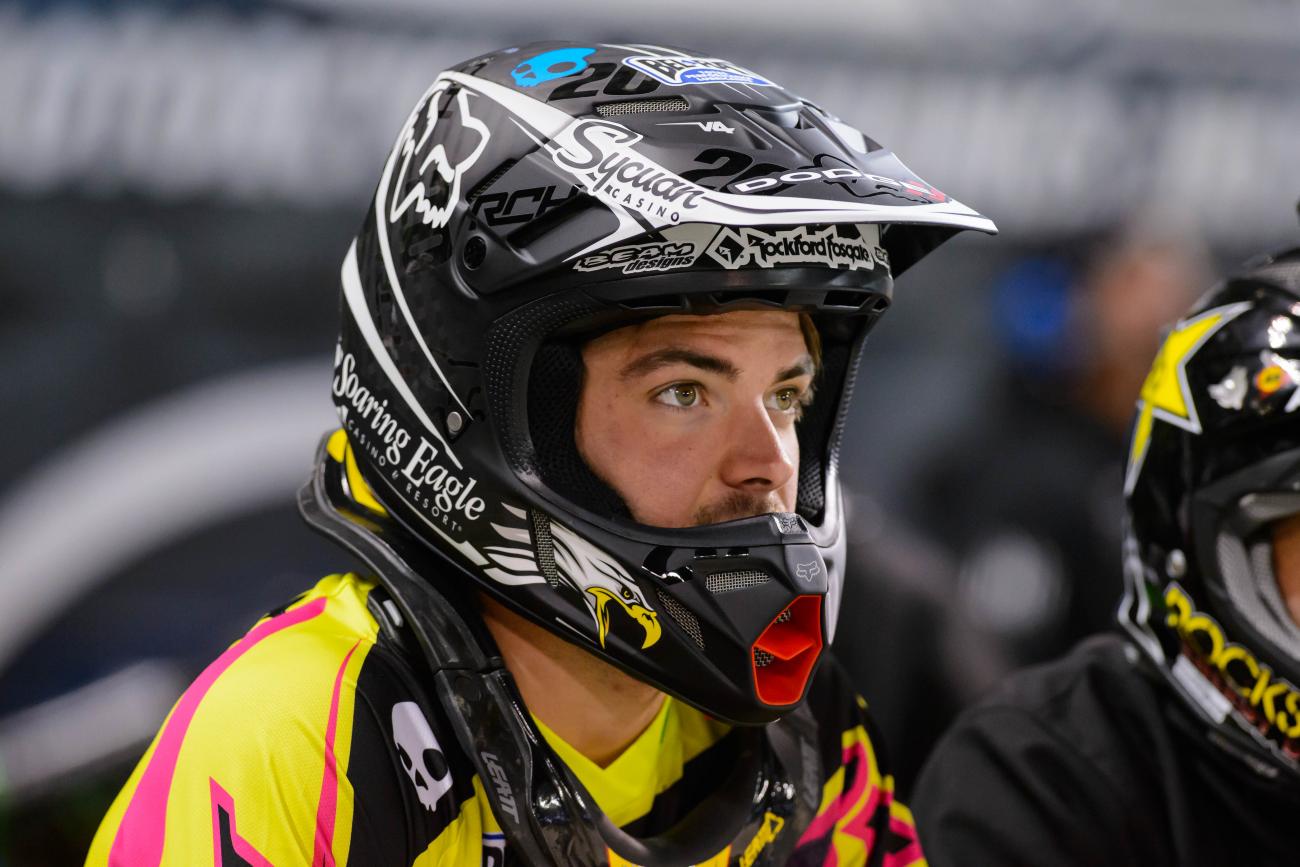 Although the team has yet to announce anything official, it appears that Broc Tickle will return to RCH Suzuki next year. Anaheim 1 will mark the first race for Tickle since suffering a broken back in practice at Toronto earlier this year.
Tickle released the following on Instagram.
Looking forward to a great 2015 year with all the great people involved and all the sponsors that are making it possible @rchracing @soaringeagleresort @jimmyjohns @sycuan_casino @suzukicycles @bel_raycompany @beamdesigns @rockfordfosgate Also stoked to be back with great companies I've worked with in the past and some new great sponsors @thormxoffical @bell_powersports @xbrandgoggles @sidimotousa @justynamstutz @bentley_kyle @vegaskdub @hartluck @rickycarmichael @factory_phill @richie441
Tickle joins the newly signed Ken Roczen on the team.
[Update]
RCH has announced that they have re-signed Tickle for 2015. Below is the official press release.
LAS VEGAS – RCH Factory Racing has re-signed Broc Tickle to ride a second Suzuki RM-Z450 alongside Ken Roczen's No. 94 for the team's 2015 Monster Energy Supercross and Lucas Oil Pro Motocross campaign. Tickle, 25, showed great promise aboard the team's No. 20 machine in 2013 and last season until being sidelined in March following a pratice crash at the Toronto Supercross where he sustained fractures of the T-6 and T-7 vertebra, two broken ribs and a collapsed lung.
Since then, the Michigan rider has fully recovered from his injuries, making it an easy decision for team owners Carey Hart and Ricky Carmichael to include Tickle as part of the organization's 2015 rider lineup, giving RCH a potent one-two punch heading into next month's season-opener in Anaheim (Calif.).
"I'm really excited to be back with RCH for 2015," said Tickle, the 2011 AMA Supercross Lites West Champion. "We've had an awesome two years together and for Carey and Ricky to bring me back after my injury really shows what kind of guys those two are. They stuck with me and kept a spot for me. We were heading in the right direction until I got hurt in Toronto. I'm glad all that's behind us and I feel great. I've been riding and getting ready for the Supercross season for the last month and I'm really pumped with the progress we're making. All of the work the team has done building and testing with Ivan Tedesco over the summer and fall has definitely paid off. The bike is amazing.
"I'm also really excited that Thor, Bell, X Brand and Sidi will be my personal sponsors for 2015," continued Tickle. "Some of the brands I've worked with in the past with great success and some are new to me. I'm looking forward to building strong relationships with all of them and having a breakout year with RCH Factory Racing."
After winning the 2011 Supercross Lites West title for Monster Energy Pro Circuit, Tickle made the jump from the 250 to the team's big bike the following season. A fifth-place finish in the final 2012 Supercross point standings and a ninth-place end result outdoors netted him a new opportunity for 2013 with RCH.
The new combination proved to be a consistent mix for Tickle and RCH, with a solid first season paying off in the form of eighth-place finishes in both Supercross and Motocross season-end points.
Last season, Tickle kick started the 2014 campaign with back-to-back eighth-place finishes at Anaheim One and Phoenix before a pair of incidents in heat races at A2 and Oakland kept him from competing in each race's 450 SX Main Event. From there, the Holly, Mich., rider only finshed outside the top eight once over the next six stops, including a career-best fourth-place showing at Daytona International Speedway before the injury in Toronto.
"I'm very excited to be bringing Broc back for a third year with the team," explained Hart. "He was showing major gains each week last year, leading up to the Toronto Supercross. We're all looking forward to picking up where we left off, and having a very successful year of Supercross and Motocross."
RCH Factory Racing has seen steady progress since Hart and Carmichael formed a joint venture in 2013 and achieved the pairing's first podium finish in April of this year at Metlife Stadium in East Rutherford, N.J. Always trendsetters in the paddock, RCH continues to show the way with unique marketing initiatives and partnership activations, consistently influencing the feel and dynamic of the pit area. Tickle's No. 20 RM-Z450 will showcase sponsorship from Soaring Eagle Casino and Resort, Jimmy Johns, Dodge, Sycuan Casino, Bel Ray, Suzuki and Rockford Fosgate.
"We're glad to have Broc back with RCH for 2015," said Carmichael. "We were really happy with the progress he was making last year. You could see his confidence building as he got better every week. We all know he got hurt in Toronto but, up until then, he put together some solid races and had the finishes to show for it. We're looking forward to having him around this year so he can finsh what he started last season. I know that's at the forefront of Broc's mind, as well."
The 2015 Monster Energy Supercross season kicks off Saturday, Jan. 3, 2015 at Angel Stadium in Anaheim, Calif. The first of 17 races on the 2015 Supercross schedule will be televised live on Fox Sports 1 beginning at 10 p.m. Eastern Time.