The news leaked shortly after the Lucas Oil Pro Motocross Championship concluded—Justin Brayton would be leaving Toyota/JGR Yamaha for BTOSports.com KTM. Brayton's 2014 season was up and down—he scored some of his best-ever supercross rides, but was out for most of the nationals with an injury.
Brayton turned pro in 2002, and cut his teeth in the rough-and-tumble world of arenacross. Over the years, he's had several top rides, including stints with JGR and Factory Honda. For 2015, Brayton is now healthy and ready to pick up in supercross with what he hopes are some more career-high results, aboard a new bike and new team.
Racer X: Justin, 2015 is a new bike and new team for you. You had some career best rides in supercross, but the season ended with injury and you missed most of the nationals. How did this deal with BTO Sports.com KTM come about?
Justin Brayton: Well, it certainly is a big change for me. But I wasn't nervous about it, as I have ridden KTMs before, and with Roger and Ian [Harrison], I knew what they are capable of. Also, the bigger family at KTM, guys like John-Eric [Burleson, president of KTM North America] and the core family that runs the business at KTM, they're all top-notch people. So I knew what I was getting into, and I'm really excited about it. During the summer and fall, I had several meetings with Roger [DeCoster] and Forrest [Butler, owner of the BTOSports.com team], and it was just a perfect fit for me. And with Andrew [Short], all the chips just sort of fell together, and it felt right. Honestly, this is the most right I've felt with a new team, ever. The new bike's really good, and with this machine, we could potentially go into the races with a good advantage come Anaheim 1. So that thought is both really cool and motivating.
It seems like the three KTM teams—the Red Bull team, as well as the Troy Lee Designs and the BTOSports.com programs—are all really working together, and perhaps you're more like one big team. At least that's the impression I get. How does that work?
Oh, for sure. We're really like one big team. I didn't really believe it, but it was something we talked about before I signed. But now that I'm here and in the shop, I can easily see it. Now that I can see it, I can keep going after it, and it gives me confidence. Each of us have our own goals, but we're sharing information and data. It's really helpful and seems to be working well.
Tell me about your choice to leave JGR. How did that go down?
My time there was awesome. I really enjoyed living down in Charlotte. But we had some differences in the racing part of things. When I first moved there, it fit me well, but it seemed something was missing. I was not able to do my work like I wanted to do it. I would say that me leaving, it was totally mutual; I was ready to go, and they were probably ready to see me go. Also, they spent a lot of money on Barcia, and I don't think they had any money left to pay me even if I did want to stay. But it was a really good team and a great experience for me. I met my wife in Charlotte and still have lots of friends there and on the team. Overall, it was all in a very positive deal. Being able to sit in Coach Gibbs' office and talk to him directly, stuff like that is pretty rare and special. Also to meet the NASCAR guys, that was awesome as well. It was just time for a change for both of us.
You are from Iowa, but what's your plan now? Where are you basing your training and testing?
Well, I guess home is Charlotte now. My wife Paige is from that area, and we now have a 6-month-old daughter named Parker. So that's where home is, but I actually have a house here in California. It's actually only about only a mile or so from the KTM shop. I actually bought it when I signed with KTM in 2007, and I never sold it. So we're living out here, and we also have our town home in Charlotte. But we will be here in California for now, but then moving back to Charlotte full-time after my racing career is done. Also, we'll probably go back there during the summer months, but time will tell on that.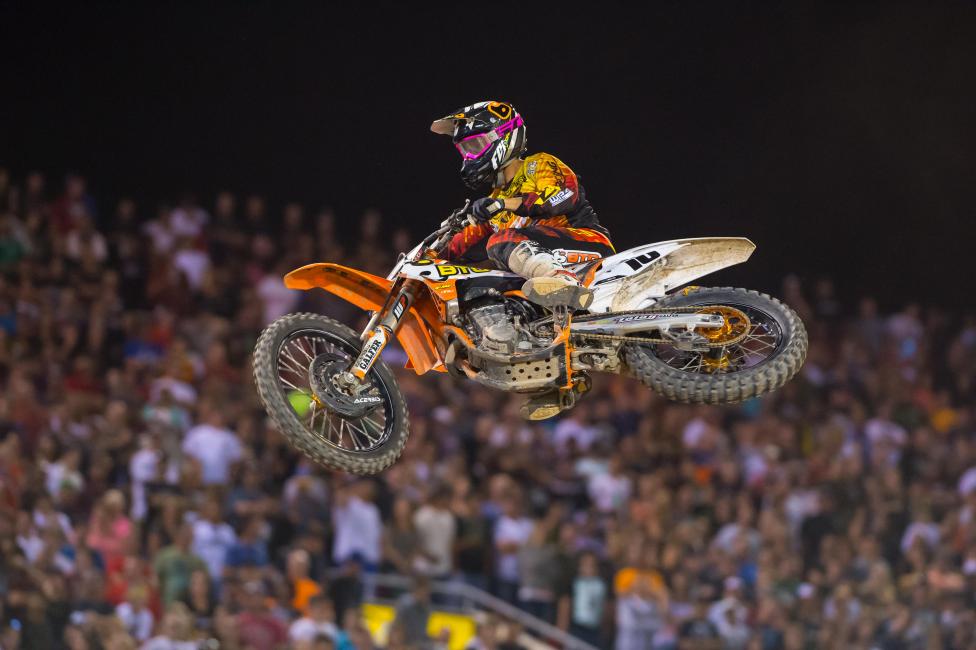 Talk to me about testing. A new bike and new team means lots of new little parts and adjustments to test. How does that go for you?
Testing for me, it's really good. I really like it. But it wasn't always like that. Over the years, and when you are young and you don't know how, it's not fun. But now, the older I get, the more I enjoy it. The better the motorcycle is, the faster and more comfortable I get. There are certainly long days out in the middle of nowhere, but it's worth the work when it pays off. Sometimes you're doing testing until dark, but when you find that one thing—that one setting—it makes it worth it. If you do your work ahead of time, it makes Anaheim that much easier. You can go through a lot of suspension, engine, and chassis testing, but it's nice to be confident in knowing your set-up is spot on.
When I was young, I really didn't know and would just like pretty much pretend to like whatever they put on my bike. But now I feel much better about my decisions and ability to understand what the bike is doing underneath me. If I don't like it, whatever is tweaked, then I have the confidence to say it doesn't work for me. But honestly, this is my favorite time of the year. Everyone is just working hard to make the bike and body better through the testing process.
You've ridden for quite a few top-notch programs. Of all of them, which team tests most aggressively, or moreover, has the most options to review?
I would say that Honda was a lot. They have a lot of little stuff that they look at—small parts with adjustments in millimeters. What I learned most was at KTM though; in 2008 and 2009, we tried so many things. Some worked really well, and some were awful. But that's when I started to really understand how the whole thing works and I become comfortable in my decisions.