The Racer X Online countdown to Anaheim continues. We are going through each of the forty years of Monster Energy AMA Supercross, offering a look back at the events of each season. Today we reached the magical 1993 AMA Supercross season and a changing of the guard unlike anything the sport had ever seen. Even though just two years before Jean-Michel Bayle had turned the world upside down with his invasion of the AMA circuit, nothing compares to the one-man revolution that changed everything.
By the time the launch of the 1993 AMA Supercross Championship came on January 9, everything seemed to be back to status quo. Team Honda's Jeff Stanton was once again #1, having won double titles for the third time in four years in SX and 250 MX. His friend and foil Damon Bradshaw was back as well, hoping to have shaken off the puzzling results of the last round of 1992 at the Los Angeles Coliseum.
Gone was the interloper Bayle, having made good on his plan to leave dirt bikes completely and start working his way up the ranks of what was then a cutthroat road-racing world. This trailblazer's legacy was eighteen AMA Supercross wins, three major titles, and lots of woulda/coulda/shoulda bench races for his fans and foes. He also left a very plain path to global motocross stardom for international competitors, one that would be followed by French disciples like Mickael Pichon, Stephane Roncada, Sebastien Tortelli, Christophe Pourcel, Marvin Musquin, and more, as well as South Africans like Greg Albertyn and Grant Langston, Australians Chad Reed, Michael Byrne, Brett Metcalfe, and even a German kid named Ken Roczen. With a nod to Pierre Karsmakers and Jeff Leisk, it was JMB who showed the next generation the way.
Here's some FLASH TRIVIA for you: What number would Jean-Michel Bayle have worn in 1993 had he raced AMA Supercross?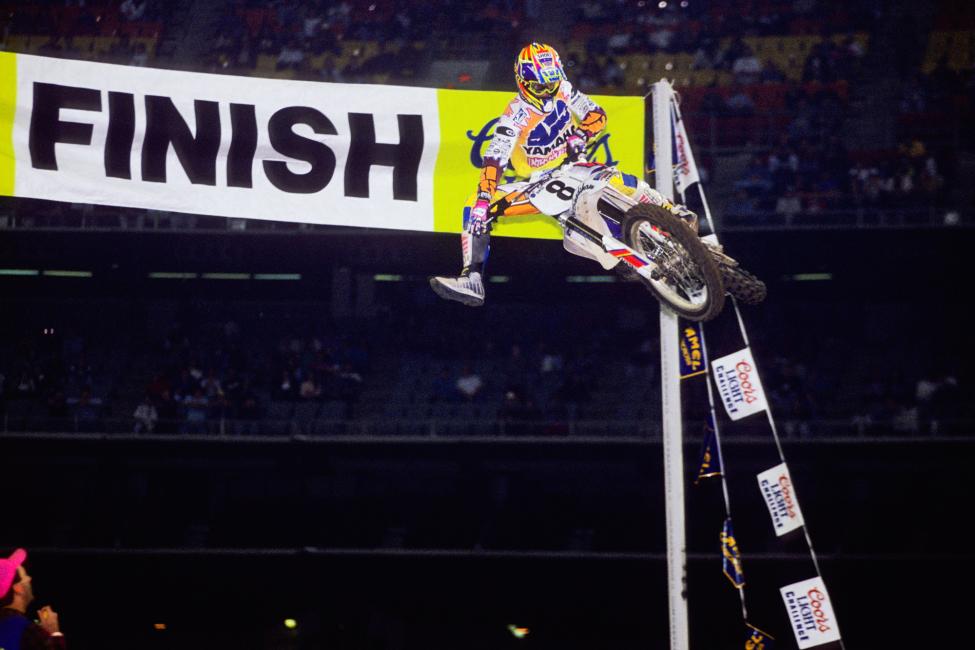 But even the seemingly incomparable Bayle was replaceable, and Honda didn't have to look far to find their man. Jeremy McGrath was already gathering a following of sorts during his rapid rise to the front of the 125 class. Using manual skills he learned while riding BMX to attack supercross jumps, he had won thirteen main events riding for Mitch Payton's Pro Circuit Honda team (which was about to switch to Kawasaki). He'd also spent a month in the premier class the previous season, finishing fifth once and sixth twice.
Still, McGrath was considered a future title contender prior to the 1993 series. In Cycle News' series preview issue, which featured Stanton on the cover, Chris Jonnum wrote, "Many people, including teammate Jeff Stanton, are predicting Jeremy McGrath to be the next big thing… Now 21 years old, McGrath should win more than one main event this season, and he stands a good chance at making the top five in the final point standings."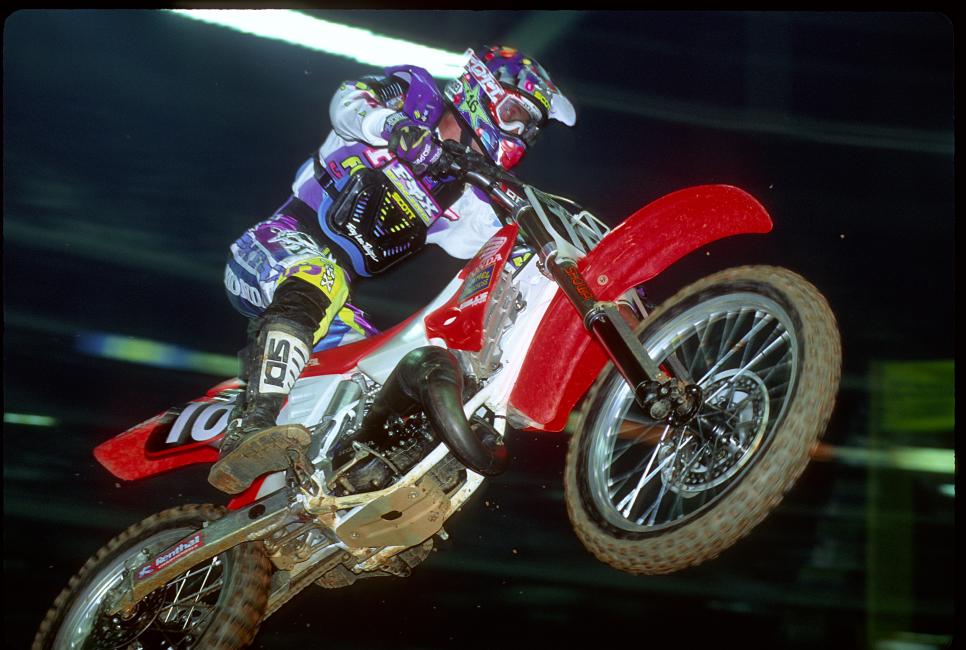 For the second straight year the series started with a win by Team Kawasaki's Mike LaRocco. Riding a Tom Morgan-prepped KX250, LaRocco was feeling healthy and ready to contend after injuring his wrist the previous season shortly after winning Anaheim. On his way to winning, he passed Bradshaw, his Kawasaki teammate Mike Kiedrowski, and rookies McGrath and Brian Swink. Stanton was a disappointing fifth—he nearly got lapped by LaRocco! Here's Dave Despain's race call.
How weird is this exchange between pit report Bob Hannah and Honda's Stanton, the only two three-time champs in series history at that point:
HANNAH: "At the end of this season we might be talking to the only man to win this AMA Supercross Championship four times… Jeff, are you ready to kick me out of the record books that early?"
STANTON: "I sure am. Anytime I can win a championship, I will go ahead and do it…"
It would actually be four more years before someone surpassed Hannah's title total, but it wouldn't be Jeff Stanton.
Oh, and the winner of the 125 Class at Orlando would be Suzuki's Ezra Lusk, who topped newly-signed Honda rider Doug Henry and DGY Yamaha rider Chad Pederson.
The next weekend was Houston, and for the third time in four years it was Bradshaw who beat everyone in the Astrodome. The win was a relief to Damon's team and backers, who were no doubt worried after his knee surgery and the LA debacle. When Cycle News' Donn Maeda asked Damon about it following the Houston win, Bradshaw responded, "I prefer to not even talk about my knee injury anymore; it's not a problem and I am sure people are just as sick of hearing about it as I am talking about it. It won't be used as an excuse."
Suzuki's Guy Cooper was second, Stanton third, and Kiedrowski fourth. McGrath would finish fifth. For the moment, the series points leader was Bradshaw, just as many expected. Here's Houston 1993.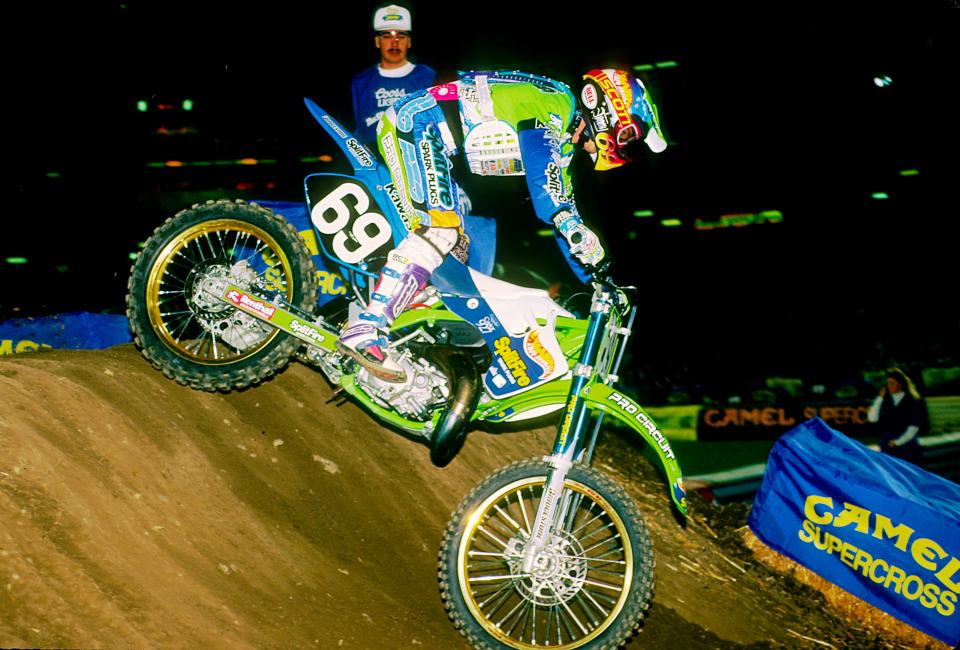 The 125 class winner in Houston was Splitfire/Pro Circuit Kawasaki's Jimmy Gaddis, marking the first win aboard green equipment for Mitch Payton's team, which had switched over from Honda in part because the team decided to sign Doug Henry to a 125cc deal rather than place him in one of Payton's box vans. Pro Circuit has been with Kawasaki ever since.
Then came the 1993 Anaheim Supercross, the proverbial game-changer of a race that still reverberates to this day because, while the hints were everywhere, none of them spoke with the absolute authority that Jeremy himself would from that moment on.
If you think I'm over-selling this moment, check the record books: Within three years Jeremy McGrath had broken the record for AMA Supercross main event wins, sprinting past both Rick Johnson and Bob Hannah before he was a third of the way into his 250cc career. Within four years he would own every record—including most championships in a row, and most championships period, changing the landscape forever, and he was just getting started! We'll get to those things further down the road. But if you're looking for a specific moment when everything changed—when one era of icons including Jeff Stanton, Damon Bradshaw, Jeff Ward, and the already-departed Jean-Michel Bayle ended, and a new one led by McGrath alone started—skip forward to the 34:45 mark of the highlights and watch the overhead pass McGrath makes on his team captain Stanton.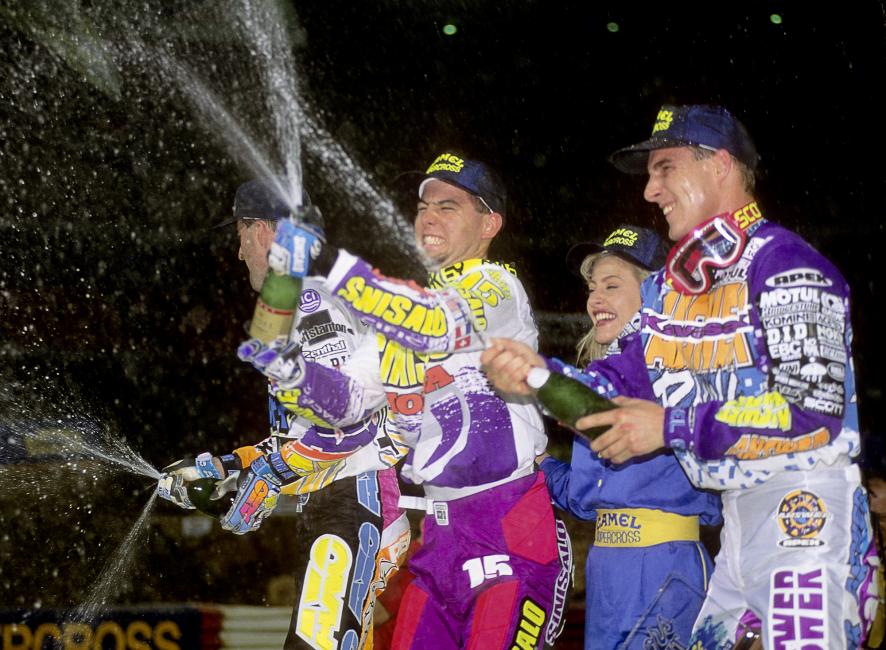 No one at the time could have known that this was the changing of the guard, the exact moment when Jeremy's ascension to the throne as the ruler of the stadium motocross world. Yet Jeremy wasn't completely alone in rushing the old castle—every king has his court. Fast forward to the 41:00 mark of that same highlight clip and you will Mike LaRocco use the same overhead route to go past Bradshaw, who seemed to throw in the towel at that point. Looking back, it was readily apparent that Bradshaw would probably never be the same after his epic meltdown of the previous summer.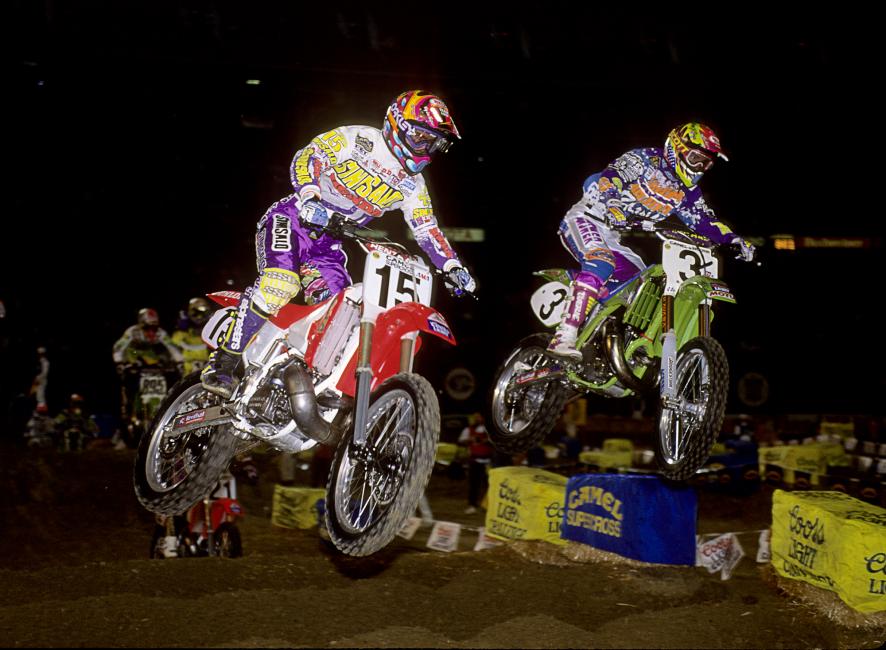 The next race was at Daytona, following the opening round of the AMA Motocross Championship at Gatorback Cycle Park in Florida. McGrath was assigned to race in the 125 class outdoors, and he and his mechanic Skip Norfolk somehow got a CR125 ready in the middle of their 250 supercross streak, went to Florida, and won the race. It was McGrath's first-ever outdoor win, and it seemed to settle the chatter that he was an indoors-only rider.
Conveniently, Daytona was next, and many figured this is where McGrath would finally falter. He did not. No, MC didn't win, but he finished second. The winner was 125 National Motocross Champion and current 500 champ Kawasaki's Mike Kiedrowski, who notched his first-ever AMA Supercross win at the Speedway. He ended Stanton's winning steak there at four straight—Jeff barely made the start when he had a problem with his linkage on the parade lap. Here's Daytona.
McGrath got back up front at the next two rounds. Here's a short clip from Dallas.
Next was Charlotte, which may have set a record for crashes in a dry SX race!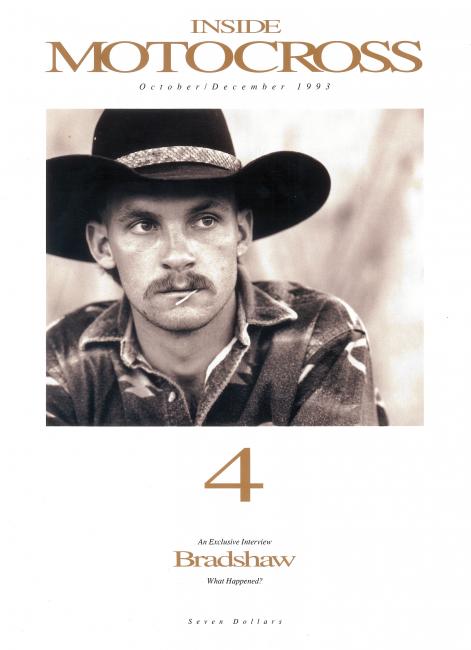 Jeremy would split the Pontiac Silverdome weekend with Kiedrowski, who was up to second in the standings, but unfortunately for him, he was more than a race behind McGrath in the points. Here's a combined look at both of the Pontiac races.
Indianapolis, Pasadena, San Jose—all McGrath wins. That gave him a record ten main-event wins in the sixteen-race series. It also gave McGrath the chance to clinch early, which he did at the Rose Bowl.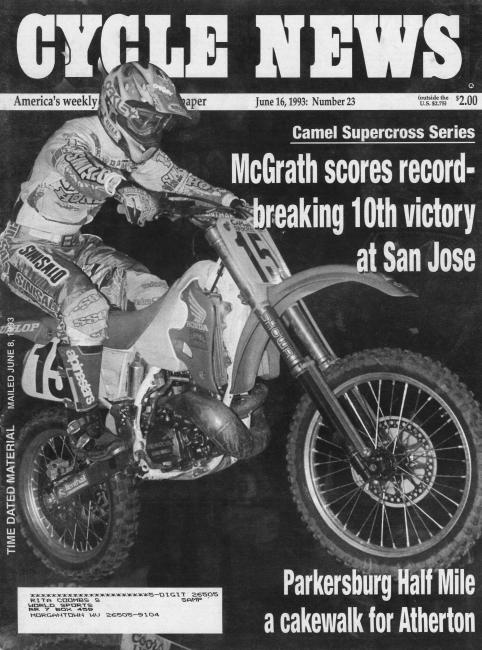 The last race of 1993 was in Las Vegas, now the traditional finale for Monster Energy AMA Supercross. This was the race where McGrath finally got a bad start, giving Jeff Stanton a chance to break away in his last SX race with the #1 plate. McGrath got him anyway, but then he made a very uncharacteristic mistake and pushed the issue too quickly and crashed, letting Stanton get away with his one and only win of the series—and the eighteenth and final win of his Hall of Fame AMA Supercross career.
For Stanton and Bradshaw, their best races were now behind them. For Jeremy McGrath, well, he was just getting started in 1993.
1993 AMA/Camel Supercross Championship
Jeremy McGrath Honda 358
Mike Kiedrowski Kawasaki 301
Jeff Stanton Honda 278
Damon Bradshaw Yamaha 247
Steve Lamson Honda 230
Brian Swink Suzuki 181
Mike Craig Kawasaki 178
Cliff Palmer KTM 161
Guy Cooper Suzuki 155
Jeff Emig Yamaha 154
125 East Region
Doug Henry Honda 239
Chad Pederson Yamaha 155
Ezra Lusk Suzuki 145
Davey Yezek Kawasaki 122
Jeff Curry Kawasaki 117
125 West Region
Jimmy Gaddis Kawasaki 173
Phil Lawrence Suzuki 158
Damon Huffman Suzuki 147
Tommy Clowers Yamaha 113
Pedro Gonzalez Honda 97