Hello, everyone, and welcome to the Rev Up. If you have been following the "40 Years of Supercross" like I have, you recently read about the incredible 1990 season that served as a changing of the guard for American supercross. That year, rookies Damon Bradshaw, Jeff Matiasevich, Mike LaRocco, Mike Kiedrowski, and Larry Ward burst on to the scene to battle Jeff Stanton, Jeff Ward, and Jean-Michel Bayle—until Jeremy McGrath showed up in 1993. Can't wait to read DC's piece on that season!
Twenty-five years later a new squadron of rookie talent lands in the premier class with a ton of promise and hype behind them. Jason Anderson, Cole Seely, Blake Baggett, and Dean Wilson have a ton of 250SX Class wins under their belt as they prepare to battle the established alpha males of the 450SX Class. In 1990, three of the four rookies won main events, with Matiasevich leading the points for a majority of the season. Do we have one or more winners in the 2015 rookie contingent?
Let's take a look at the four new recruits and bench race about their chances in the season to come.
I've had my eye on Jason Anderson for a couple seasons now. When it comes to technical tracks with challenging whoop sections, very few get around the course better. He carries a ton of momentum in between rhythm sections, and his cornering is excellent. Anderson spent 2014 under the watchful eye of Jeff Ward, and I believe it had a very positive effect on his race game. Anderson had no trouble adapting to the KTM (from Suzuki in 2013), and with the 2015 Husqvarna being a vastly similar chassis, I think he is going to be excellent on the white 450.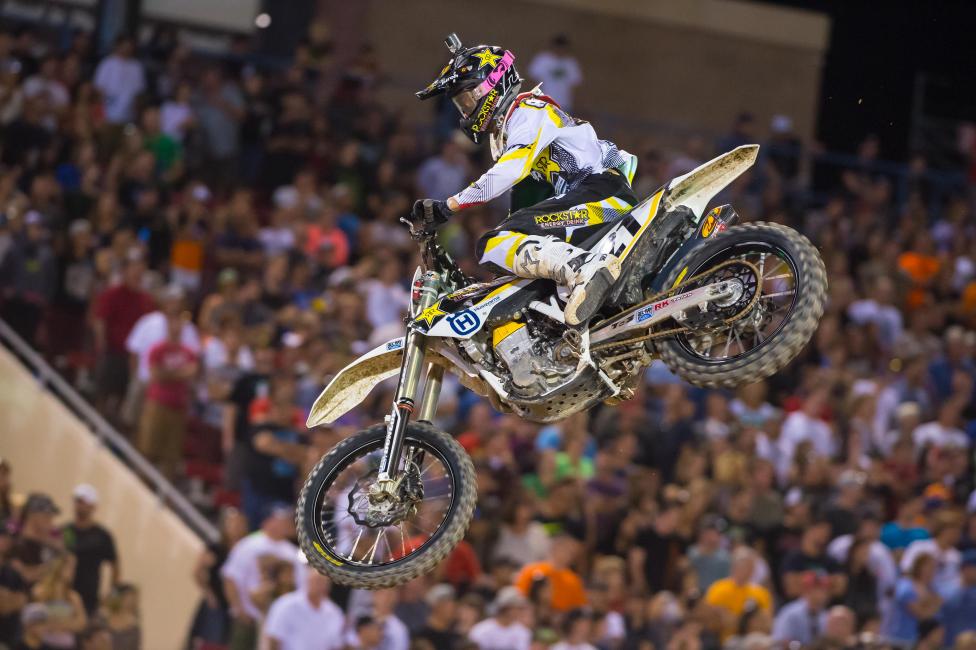 He was the top qualifier at the Monster Energy Cup last October and I really expect the 2014 250 West Region Champion to make an immediate impact in the top five this season. He's fast and super aggressive. Jason Anderson is like the Damon Bradshaw of this group.
Cole Seely may fall into rookie classification by the rulebook, but he has been making main events on a CRF450R since 2011 when he got a top-ten at the Indianapolis round. Since then he has shown progress moonlighting in the premier division with two top-tens in 2012, including a top-five at the Indy round. Seely didn't race any 450 main events in 2013 but made the jump back up last season to score his first 450 podium at, you guessed it, Indianapolis.
Like Anderson, I consider Seely a supercross specialist, and he will be doing the famous #14 proud with his smooth and calculated riding style. Seely is going to be a guy that has the ability to lead some laps on the heels of a holeshot, and I would look for him to be one of the most consistent riders in the field in 2015—rookie or veteran.
A lot of the off-season talk is about how good the new Hondas are, and Seely may be a powerful fantasy pick come Anaheim 1. I compare him to Mike Kiedrowski.
Blake Baggett is hard to place in the twenty-two-rider 450 field this season. Come this summer, in the Lucas Oil Pro Motocross Championship, he is going to be very impressive. That said, I'm unsure of his potential in Monster Energy AMA Supercross in the heavily packed 450SX Class. Blake isn't without supercross skills, as he owns four 250 SX main event wins, the first coming way back in 2010. He may be a top-five or podium contender for the Daytona round, but the opening hard-packed West Coast events are going to put the ultimate test to his bum wrist.
To his credit, he showed some speed at the MEC and things seem to be going well at the test track if you follow him on social media. It will be imperative for Baggett to sharpen his holeshot game, because coming through the pack "El Chupacabra" style won't be feasible in the 450 class.
You just never know how racers will handle the transition to the bigger machine, although Blake's addition to the big-boy class will make the top ten all the more salty. He just needs to stay healthy until he can get outdoors and charge. I consider Baggett the Mike LaRocco of the group.
Dean Wilson is a fairly puzzling anomaly. Aside from privateer Kyle Partridge, Deano will be the tallest rider on the track in the 450SX class, and with the factory KTMs having more of a taller feel, I think Wilson has the chance to get comfortable and really shine in his rookie-season debut. He is loaded with talent. I predict he will steal a lot of top qualifier awards in 2015 and lead his fair share of laps.
Wilson can get frustrated and sloppy sometimes, but he proved at Daytona last year that he can ride a 450 as fast as anyone in the world for a few laps. He'll be in great shape, and it will be interesting to see if his problems with arm pump follow him to the KTM on the 450. Can Wilson win a race this year? It will be a tall order, but if he gets to a track that he can ride comfortably and pulls the holeshot, look out. I love his new-school riding style. Because he has so much flash and talent, I'm calling Wilson the Jeff Matiasevich of this rookie class.
That 1990 rookie class was truly special, and all of them went on to long and successful pro careers. In fact, Mike LaRocco was just inducted into the AMA Hall of Fame. It's hard to accurately compare the new guys to those legends, but the 2015 450 freshmen are solid. They will have to contend with the previous rookies, though, who have shown the same talent and speed. We have seen Justin Barcia, Eli Tomac, and Ken Roczen all make the jump up with success.
As far as the veterans go, the only racer the rookies won't see is four-time Supercross Champion Ryan Villopoto. It's going to be tough for this year's crop of new talent to push past the likes of Andrew Short, Justin Brayton, and Weston Peick. I can already see Anderson and Barcia locking horns. This year's 450SX Class is shaping up to be one for the ages as Anderson, Seely, Baggett, and Wilson join the show.
Don't underestimate rookie tenacity. History shows it can pull off wonders.
Thanks for reading, see you next week.