Tyla Rattray won his first Grant Prix race back in 2004 at the Circuit de Motocros de Catalunya, located approximately seventy miles outside Barcelona. A decade later Rattray was back at "Bellpuig" (as it's called by most), this time as a member of the Monster Energy Kawasaki team, making a stop on a tour across Europe for testing and training with his new teammate Ryan Villopoto. It's an interesting time for Rattray, who comes off an injury-blemished 2014 MXGP season to now partner with one of the world's best motocross and supercross riders. Kawasaki has never won the premier MX1 World Championship with its 450 and is now leaning heavily on the Monster Energy Racing program to make a run at the all-conquering Red Bull KTM organization. Recently returned from his trip to Europe, Racer X caught up with the South African to check in on him and the racing program being so closely watched across the world.
Racer X: Tyla, what are you up to on the uncharacteristically gloomy, rain day in Southern California?
Tyla Rattray: I'm just hanging out at home. You can't really do much in this weather. I'm done with my training for the day, so I'm just relaxing with the family and enjoying this rainy day. We don't really get many of these in California. It's good to have some rain once in a while
It's sort of like a national holiday for us here, isn't it?
Totally. Yeah, it's good to have, and it's good for my garden, too. It needs water.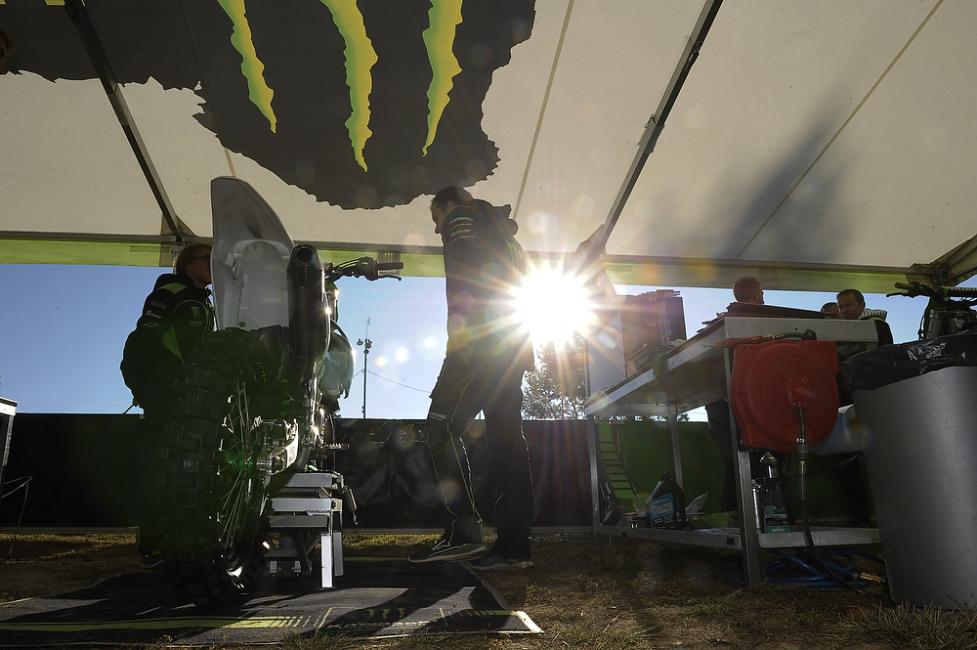 I wanted to ask you about your recent travels. From what I have seen on the web in recent weeks, it appeared that you guys were all over Europe. It all looked really interesting.
Yeah, it was definitely good. We made some good progress on the bike. Me and Ryan did some great testing. We tested on a whole bunch of different tracks. We tested in sand and on hard pack and in loam. I think we have a really good base setting to start from now. Obviously, we'll head back over to Europe in January, and we'll continue to get the bike even better before we go to Qatar at the end of February. The bikes are really good and everything is good to go racing. No complaints. Everything went on the right track when we were over there testing, and we have a great team and a great group of guys around us. It's definitely going to be a great season.
In what nations and on which tracks did you guys test?
We tested down in Spain. One of the tracks we tested at was actually Bellpuig in Spain. That's where I won my first GP in 2004. It was good to go back there and get some riding in at a track that will always be in my memory, you know? So we tested a bit down there, and then after that we went back to Belgium and we did some testing in the sand. We did all the testing in Spain on the hard pack and then went back to the sand to see how the set-up felt there. We had a good ten days to two weeks of testing, and like I said, everything is on the right track. We've got a great team, and all the guys on the team work really hard and it's definitely going to be a season that I'm looking forward to, for sure.
We've heard from the Kawasaki Racing Team that things are going really well with you and that the team is looking at you as a top-five guy in 2015. I know you're honest with yourself. How do you feel? Can you go for top-fives, top-threes, and even wins?
Yeah, definitely. It's good for me to have somebody like Ryan to ride with. The guy is always fast when we are out training, and it's good for me to try and close that gap down when I'm riding with him. And pushing when we do our motos is really important because when it comes to racing you really need to push 100 percent. Obviously you want to try and practice the same way you're going to be racing. I think for me, with riding with him and learning from him and just trying to get faster every time we ride, Ryan is important for me. My speed and everything is looking good, and now the main goal is just to stay healthy during the season. That's going to be the number-one key. I think if I can do that, I don't why I shouldn't be on the podium and running top-fives.
You've been a part of highly competitive, high-profile race teams during your career. What's your take on the Monster Energy Kawasaki Racing Team?
It's definitely a team that wants to win races and win the title next season. They're giving everything they've got. Like I said, they've got a great group of guys who are really professional in everything they do and they're going to be winning a lot of Grands Prix next year, for sure.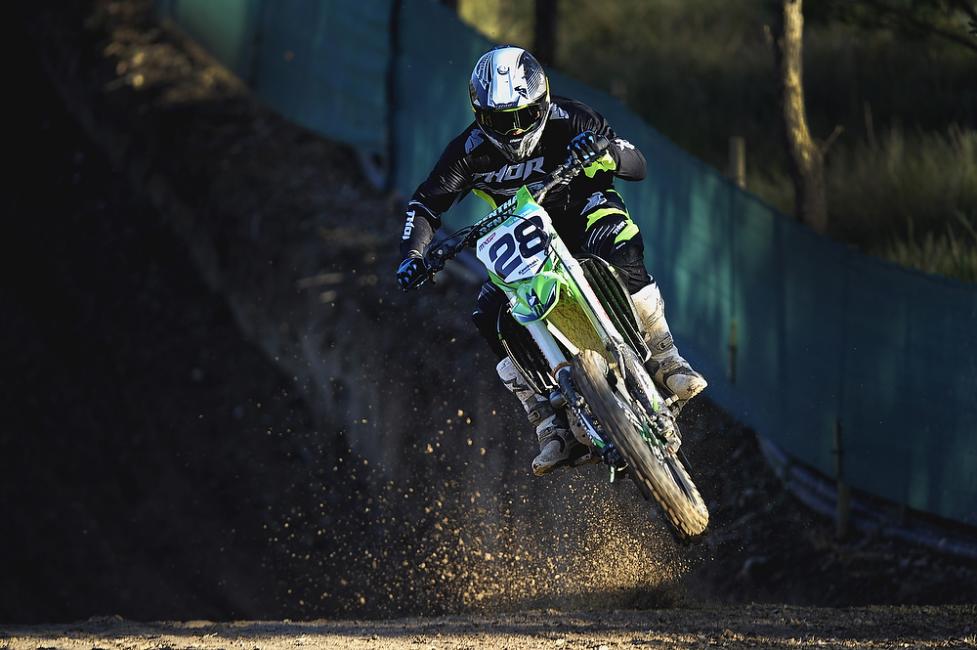 Would you consider the KRT team to be very similar to the factory Kawasaki team here in the United States?
Yeah, I'd say it's very similar. We've got the factory support from Japan and everyone helping out, which is great. At the end of the day it's still a Kawasaki whether it be in America, Japan, or Europe. You want to have a Kawasaki winning around the world. It's great to have a relationship like that with everyone from Kawasaki worldwide. It's a great team, and I think they're going to be winning a lot of races. And hopefully the Kawasaki brand can bring home the World Championship, which would be big for Kawasaki. Obviously, with Ryan going over to Europe this season, it's big news for the racing industry and also for the European guys and Kawasaki Europe. We've got the best program and the best team behind us to be able to get the job done.
I've noticed from recent videos and photos I've seen from Europe that wherever you guys ride there seems to be bands of enthused fans watching. Have you noticed that?
Every time we've been out testing there has been a bunch of guys around watching us testing. When they hear that Ryan is going to be out testing at a track, it brings a lot of people out. It's something that I've been used to. I know what the European circuit is like. I know the different countries and cultures, and it will definitely be cool for him to see the different things in Europe and also around the world, because we go to Qatar and Thailand and Argentina, and we're all over the place. All this is really good for the World Championship.
Not too long ago you mentioned to me that part of your role on the KRT team was to "show Ryan the ropes of Europe." Obviously, you guys are up and running with your testing and training overseas. Has it been going good for both you and RV?
It's all a lot different to America. Going to countries like Italy and Spain, it's just a whole different culture. I think I can help Ryan with that, but when it comes down to riding and training, he's is the one who is helping me out. He's got such great skill on a motorcycle and he's so talented. He's won the last four supercross championships in America and he's won the outdoors, too. Being over here with him, this is probably the most fun I've probably seen him have since I've known him—and that's a good thing. When you're racing you want it to be fun. And he wants to win the championship, and I think he can, for sure. He's hard working and the guy has a lot of commitment, and it's going to be hard to beat that. It's going to be good to watch. When the gate drops in Qatar on the 28 of February, it's definitely going to be an exciting series to watch.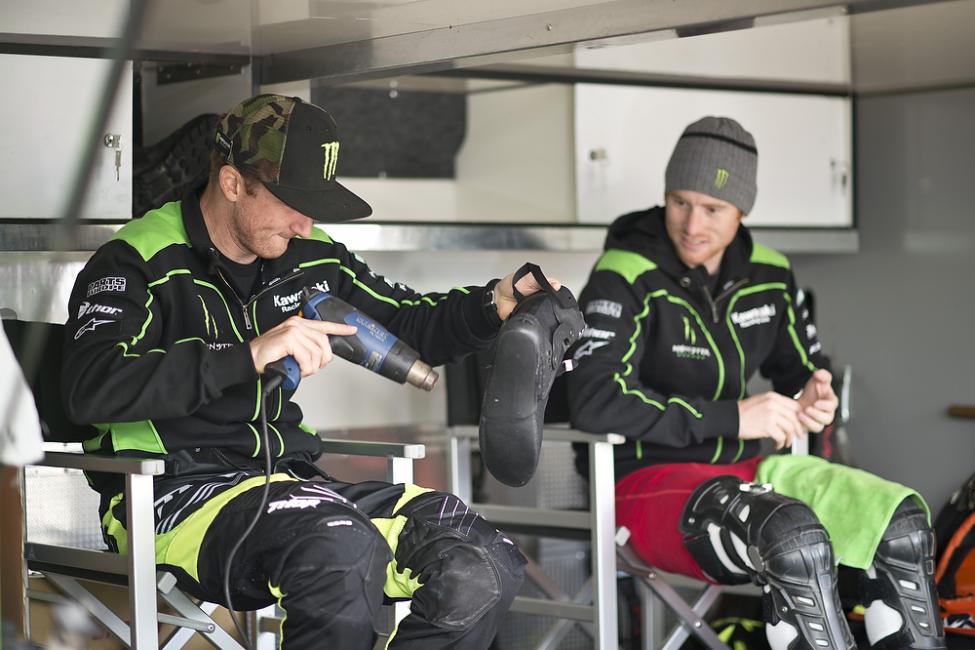 February isn't that far off. When will you go back to Europe to begin put the finishing touches on what will be your GP race program?
I'll go to Anaheim 1 and Anaheim 2 and watch the supercrosses, and then we pretty much head back. It's going to be good to watch the guys and everyone in supercross, but at the same time we're getting ready for the outdoor season in Europe because it starts a lot earlier than it has in the past. We'll head over to Europe at the end of January and just finalize everything and break in the race bikes, and then it's time to go racing on the 28 of February in Qatar.
Will you and Ryan do any of the pre-season warm-up races in Europe?
We don't know yet. If the weather is good and we don't expect any rain or frozen temperatures, then we will do some. You never know what you're going to get in Europe. You don't know if it'll be a bad winter, or it could be an even warmer winter than normal. If it's warmer we will do some, but right off the bat we haven't made the call yet of what races we're going to be doing. We're going to see what the weather looks like, and then we'll probably decide just days before the race. As of right now we're going by the weather. If the weather is going to be good and we have sunshine and a good day, then we'll go there and race. If it's going to be dangerous and frozen, then it's not worth risking it, you know? We're getting ready for probably one of the biggest seasons ever.