With less than a month to go before Anaheim, the weekend's Monster Energy Geneva Supercross marked the end of the major European travel session. Yes, the German Supercross Series is ongoing, but most of the guys who plan to race A1 are headed back to the US with sights set on January.
We had our friends from www.mxvice.com handle coverage of the Geneva SX, and they logged these interviews with Josh Hill, Kyle Chisholm, and Marvin Musquin. Be sure to follow these guys @motocrossvice or head to their website for some great coverage of the European scene.
Josh Hill, 5-3
Racer X: It was a bit of an up-and-down weekend for you, as you seemingly had the speed, but your starts held you back in the main events.
Josh Hill: I holeshot three of the five races, but they just red-flagged one of them that counted. On the second start, #120 on a Kawasaki rolled the start and got a massive jump. There was nothing I could do; he just lucked out on the timing. It kind of ruined my start, but hey, I came from around seventh to second, made a mistake in the whoops, and dropped back to third for third overall on the weekend. I guess I can't really expect much more out of myself seeing as I haven't ridden supercross since Bercy. I haven't had a motorcycle in between trying to figure out what I'm going to ride next year.
Yeah, obviously your schedule isn't ideal at the moment as you don't have a deal yet, and you're doing a lot of travelling. How much time are you getting to prepare for your main goal, Monster Energy Supercross?
Luckily for me, I went and spent a good couple of months training hard and riding supercross every day. Before August was even over I was on the supercross track and putting in laps. I have a fairly good base; I just need to dial in a few things and get testing on whatever motorcycle I'm going to end up riding so I can get a good base setting. I know I can race well, so I'm sure I can handle it. I've been having a fairly successful off-season; I've won a few races and had quite a few podiums.
How do the track and the atmosphere here compare to the other races you have done?
I swear this track is normally bigger; I think they made it a bit tighter this weekend. Maybe they didn't use as much floor space. I'm not sure what it was. It felt like an arenacross; we had the lap times down to thirty-three in practice, so they were fairly short. It just made my bike setup a little bit tougher really.
Do you have anything in the works for next year at this point? If you don't get a deal in place, what sort of plan do you have?
I can't talk about anything I have going on. You know, I have some things that I hope will fall into place and we'll see what happens.
So there is some stuff in the works? Will you be at Anaheim no matter what?
I'll be at Anaheim unless something drastic happens. I've talked to some guys about racing German supercross, but that's if everything really falls apart at a weird time.
Kyle Chisholm, 9-12
Racer X: You had some strong points over the two nights, but overall I'm guessing the results weren't what you wanted
Kyle Chisholm: Yeah, it was tough. I just struggled a little bit all weekend. I struggled with the track and arm pump. There were a lot of ruts, and the track was pretty sketchy. I just didn't ride like myself; I couldn't get a good flow on the track. Yeah, I just struggled. No excuses though. I just couldn't get a good flow going. I didn't qualify well, so I didn't have good heat races. I didn't get good gate picks and the start favored the inside quite a bit.
The track had a lot of ninety-degree turns, which makes it a little bit one-lined a lot of the time, so it's tough to pass and make up time. I just didn't put myself in a good position off the start most of the time. The couple of times that I did, I made a few mistakes; things happen, man. It didn't turn out how I wanted this weekend, but I've got some things to work on, and I'll be able to go home and do that.
Considering how different this is to a typical Monster Energy Supercross track, can you take something from this in regard to bike setup and your riding?
Bike setup—you can get a little bit from it maybe, but the track is a lot smaller, the dirt is much different, and so are the jumps. I try to not worry about the bike setup as much, but it is still a good way to see how it is. It's more just about the gate drop, the racing, and the intensity. You can practice at home, but it is not the same thing as racing—that's the biggest thing to take from it.
What is your plan between now and Anaheim? Are you still trying to secure a deal for next year?
I'm still working on things. There are a lot of guys at home right now that don't have anything; it's tough. So, yeah, I'm hoping that something will come together. There may be a few options, so I just need to get working on that, get training, do what I can do, and be ready for when the season starts.
How difficult does that make it to prepare for a race like this and also the new season?
It's tough. It's so much easier when you've got a good team behind you, good support, and a good bike. You can go to the track, do what you need to do, and train, whereas now I've got to try and put my own thing together. I'm on the phone, email, and trying to make this thing happen. It actually takes my focus away from riding. Hopefully I can get things in place quick—that way I can get to work and enjoy riding.
Will you be at Anaheim no matter what, or are you looking at other options like the German supercross series?
Right now the plan is to be at Anaheim. If it can come together, then that is my plan, but any German stuff is not off the cards if it doesn't come together.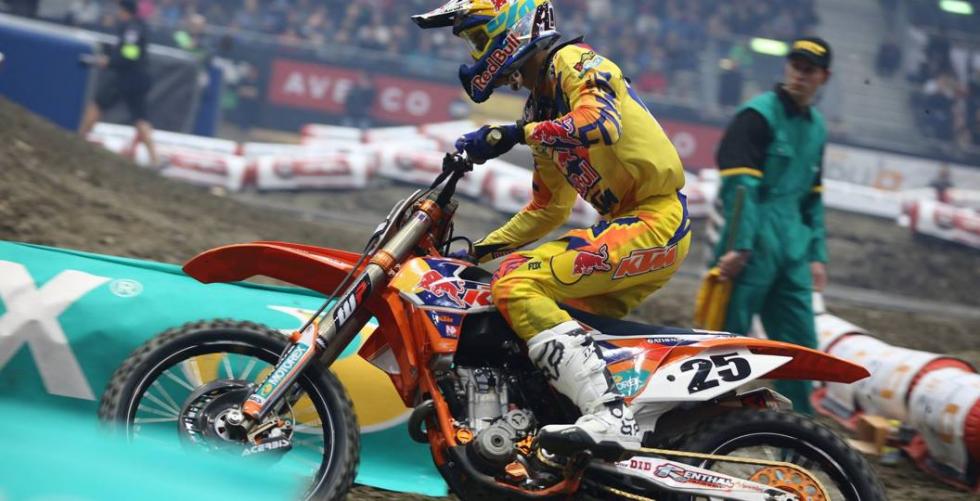 Marvin Musquin, 1-1
Racer X: Marvin, it ended up being a perfect weekend for you. What are your thoughts on it all?
Marvin Musquin: Yeah, awesome weekend obviously, because I won both main events. Friday night was a little rough because my rear brake pedal got caught with some mud so I had to stop. I didn't qualify for the main and had to go to the LCQ, but I made it happen and got the holeshot from the outside gate. I was pumped, you know. I won the main and I actually did the same thing today. I holeshot and raced my own race. That was my goal, because in the back it is so tough and rutted. I focused on myself, my riding style, and the lines. I'm happy—it was great racing.
After a few laps you had a comfortable gap in each main, so did you back it down and play it safe at any point?
Yes and no. I was pushing, but I was safe. I could see behind me where the other guys were. I was riding my own race, so it was awesome.
What do you think of the track here? It obviously claimed a few riders. Was it a little dangerous?
Motocross and supercross is dangerous [laughs]. Obviously with the ruts, the soft dirt, and the tuff blocks on the side, it is easy to make mistakes. It is kind of dangerous and unfortunately we had some injuries to different riders, so I hope they are okay. But, yeah, I liked it.
You often ride the 350F at off-season races like this. What is the thought process behind that decision?
I think it's good. I'm obviously going to race the 250 supercross season. I just think it is great practice; I love the bike and I'm competing against the 450s, so I've got to be on the bigger bike.
Are you already noticing the benefits of working with Aldon Baker at events like this? What are some of the major changes there?
Yeah, I do. I'm pumped. It's new for me to be in Florida with Aldon and the group of riders. We'll see, but I think it's going to help me, and I'm really looking forward to the new season.
Finally, can you take momentum from an event like this? Will this give you a confidence boost when you get back to the USA?
[Pause] Yeah, I do. It is important to do one race like this before the season.