It's time to take a look at 1987 in our ongoing 40-day countdown to the 2015 Monster Energy AMA Supercross opener at Angel Stadium in Anaheim on January 3. Rick Johnson was on top of the supercross world, but his teammate David Bailey and their joint rival Jeff Ward were both primed to go after RJ's #1 plate in the 1987 AMA Supercross Championship.
On January 11, 1987, the entire supercross world was blindsided by the news out of Huron, California. Team Honda's David Bailey, the 1983 AMA Supercross Champion and multi-time AMA Motocross Champion, crashed at a CMC Golden State MX race in practice, breaking his back and damaging his spinal cord. David Bailey was one of the most popular and respected riders the sport had ever known, and his injury was a cruel reminder that motorcycle racing is a dangerous sport. The Little Professor would never race a dirt bike again, though he would later enjoy successes in the Ironman Triathalon in Hawaii, and of course as one of the best TV announcers in all of motorsports, teaming with Art Eckman to cover SX/MX for a variety of networks. He is also in the AMA Motorcycling Hall of Fame.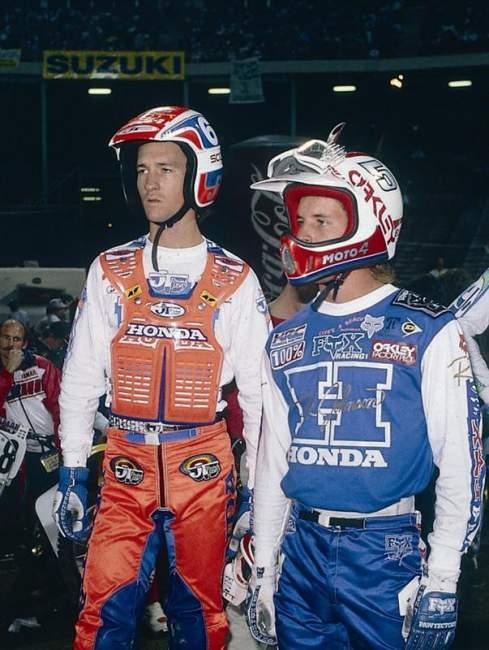 Bailey's crash was the dark cloud that hovered above all, including the ongoing feud between former business partners Mike Goodwin and Mickey Thompson. The dissolution of their working relationship resulted in a clutch of lawsuits, and after a federal judge ruled that Goodwin owed the Mickey Thompson Entertainment Group some $400,000 as a result of the breakup, Goodwin promptly appealed.
In January a federal bankruptcy judge ruled that Thompson would not get the gate receipts (about $600,000) for the previous summer's Superbowl of Motocross at the Los Angeles Coliseum, and that they should be allowed to use the money to repay the banks they had to borrow from in order to promote the race. Goodwin argued that Thompson was trying to force him into personal bankruptcy by putting a lien against the event receipts, after having already filed the previous September for Chapter 11 bankruptcy protection for his company, Stadium Motorsports Corp. Thompson argued that Goodwin filed for bankruptcy just to keep the money away he was owed from the previous judge's decision.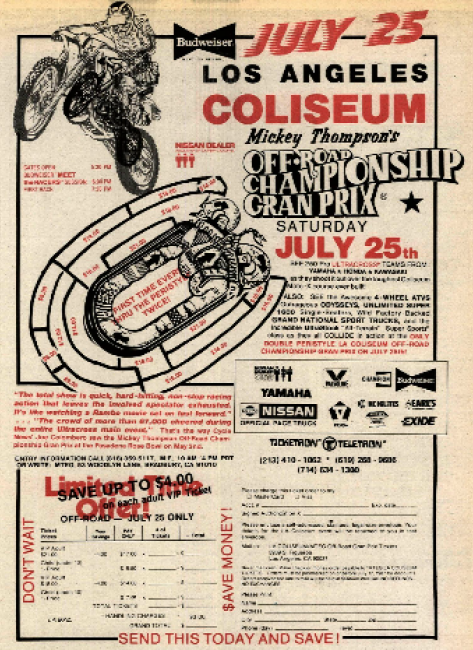 In December, a judge ordered the sale of all of SMC's assets, including the right to promote west coast events like the Los Angeles Coliseum race, which Goodwin founded in 1972. (The eastern races were produced by this point by the partnership of PACE Motorsports and SRO.) And when MTEG and PACE/SRO tried to buy the rights of the western races, Goodwin countered by selling the rights to a California businessman named Charles Clayton. According to Cycle News the price for the rights was $125,000 in cash, plus $500,000 in securities.
It was getting ugly.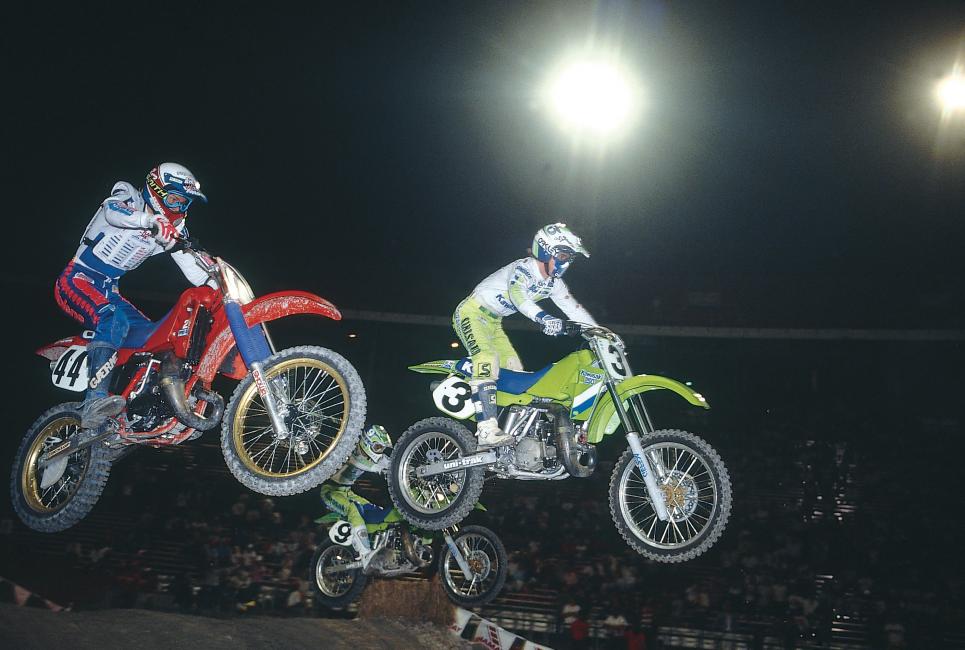 The season began on January 18 at Anaheim. After a tough SX title defense the previous season, Jeff Ward showed up at the opener with more drive than ever, and he put it to good use by winning the opener, and putting his Anaheim troubles behind him once and for all.
"I always wanted to win this race," joked Ward, who famously missed the previous year's Anaheim main event after his throttle cable broke. He beat his teammate Ron Lechien and his '85 title rival Broc Glover, who missed most of '86 with a broken wrist.
As for Johnson, after easily winning his heat race he came up short on a double in the main and knocked himself out. It was a frightening reminder of Bailey's recent crash, especially when Johnson was carried off on a stretcher. He would end up with a slight concussion, and a 25-point hole to dig himself out of.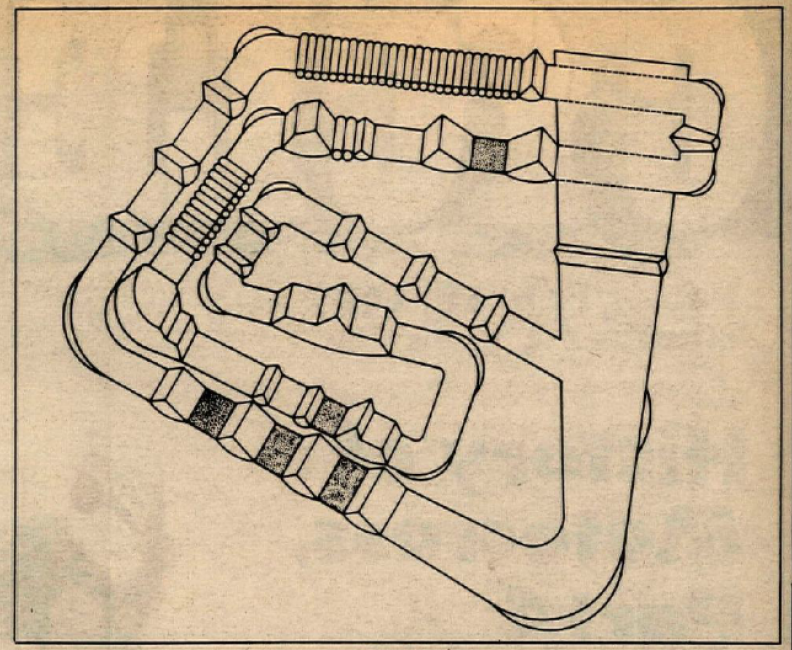 Wardy also grabbed himself a win at the next round at the Astrodome, topping Yamaha's Keith Bowen and new Suzuki rider Johnny O'Mara. Johnson managed fourth. Here's a short clip of the 1987 Houston main event.
Johnson finally put a stop to Ward's winning at his hometown race in San Diego. He held off an inspired Ron Lechien, who was also riding in his home race. Micky Dymond of Team Honda finished third. Ward, mired way in the back after a terrible start, could only muster a seventh. Check out San Diego right here.
But the night would overshadowed by something terrible that happened during the 125 West Region main event. As Honda privateer Kyle Lewis was racing to what would be his first-ever win—not to mention the youngest 125cc race winner of all until James Stewart came along—his father Matthew suffered a heart attack. He was rushed over to the ambulance and then airlifted to a nearby hospital, but doctors could not revive the older Lewis.
Johnson would win the next round at Miami's Orange Bowl, topping Lechien and Ward in a rare race in South Florida. It took place two weeks before Bike Week at Daytona. The winner of the 125 Class that night was Ron Tichenor, but second-place might not ring a bell: Ken Bollmeier, a Yamaha rider from Marissa, Illinois.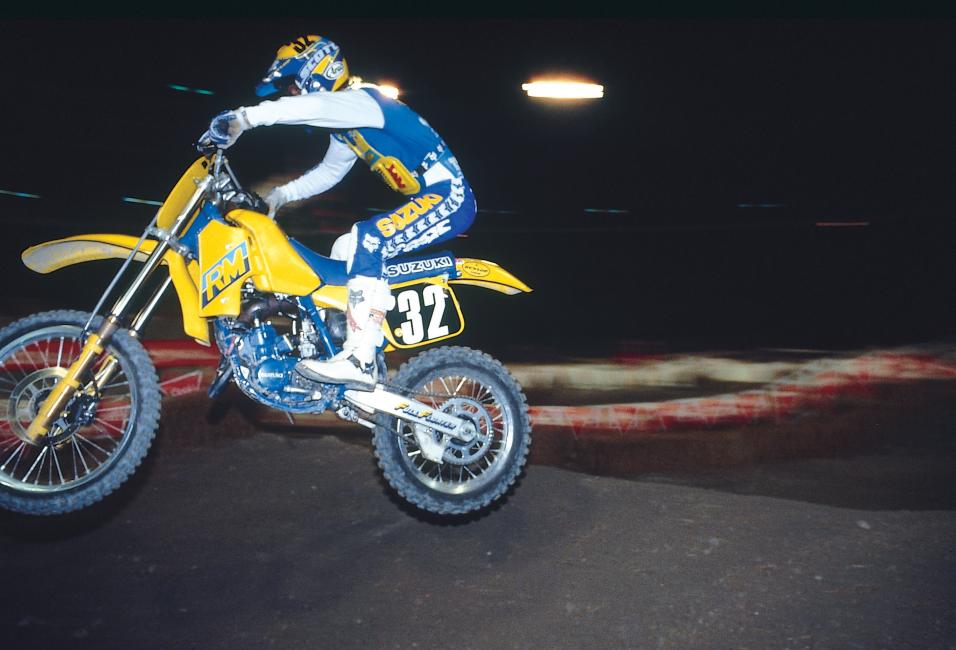 Daytona would mark one of the most surprising wins—maybe the most surprising win ever—in AMA Supercross. A full-on privateer Honda rider from California named Ricky Ryan outmaneuvered a muddy field of factory riders to grab the upset win. Course designer Gary Bailey made several changes to the track to cut out the softest parts, after all four of the team managers for Honda, Suzuki, Kawasaki and Yamaha requested that the race be either postponed or cancelled due to heavy rains. But the race went on, and Ryan, riding a CR250, stepped up with the holeshot. What followed was a series of errors and breakdowns for the championship contenders. First Johnson and Lechien went down off the start, with RJ getting his head caught in between the Kawasaki rider's rear wheel and fender. Ward's bike apparently gargled some water and cut out for a time, leaving him on the side of the track for a lap before he could get moving again. Yamaha's Keith Bowen would pass Ryan halfway through the race, only to have a small rock get jammed in his countershaft sprocket, stopping his bike on its tracks. Even Bob Hannah had a shot on his Suzuki before crashing out.
In the end, Ryan would win by some 12 seconds over two other riders who had never reach a supercross podium before, Yamaha's Jeff Stanton and Suzuki's George Holland. It was only the fifth-ever supercross race for Stanton, a future legend.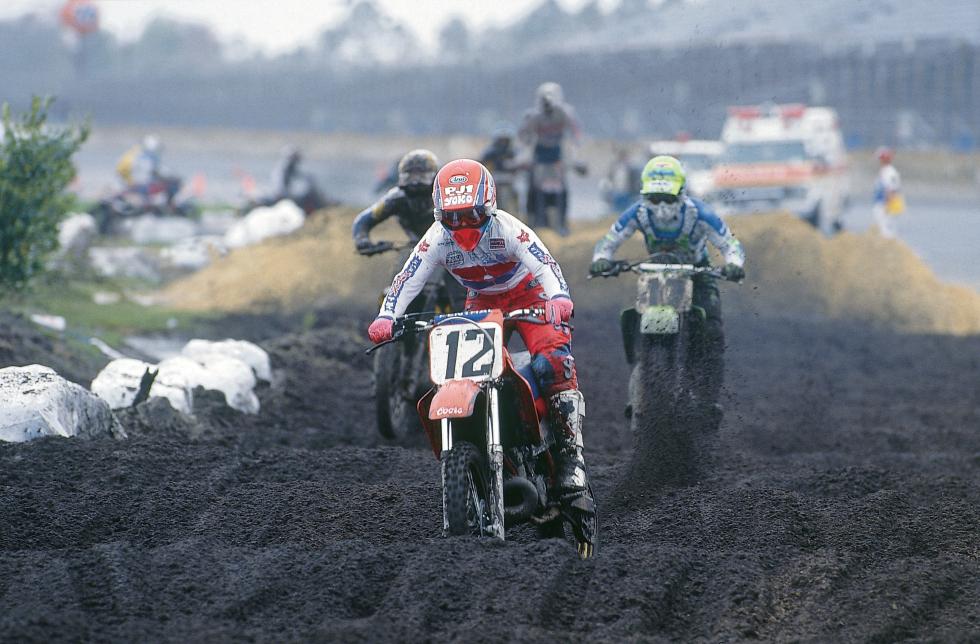 The next three races—two in Seattle and one in Dallas—would go to Johnson, giving him five wins in eight races. It seemed like the popular rider was well on his way to another title. RJ went into the Kingdome three points behind Ward. Here's some of the highlights.
You'll see a second straight holeshot for Florida privateer Jeff Frisz, a solid supercross rider and a great starter, before Johnson and Wardy engage in a good battle that takes shape even as the track begins to fall apart a little with deep ruts on the jump faces. There's also a great mid-pack charge from the old man himself, Bob Hannah, now on a Suzuki as well as in the twilight of his career.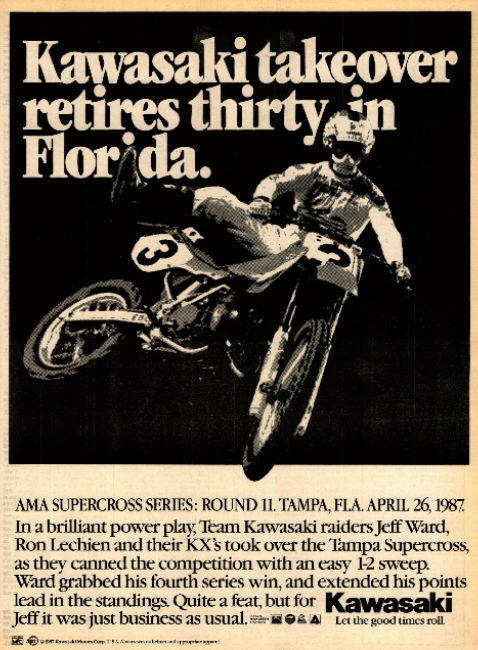 It all went off the rails at the Pontiac Silverdome, where Johnson crashed in his heat race and broke three fingers. He could not finish the race, and he was on a plane headed home by the time Sunday's second day of racing was complete. The Kawasakis of Ward and Lechien seized the opportunity to get back out front, with Ward winning on Saturday night, Lechien on Sunday—his first SX win in two years. Ward left Michigan with a 40-point lead over Johnson, and then he just kept on winning, taking the next two rounds at Tampa and Tempe, where he edged Johnson, who was making a comeback after missing three rounds.
The series also went to New Jersey for the first time with the Coors Meadowlands Supercross in East Rutherford. Johnson would get back on top, and Ward, now soldering on with an ankle injury, would finish a modest fifth.
Johnson still had a 41-point gap to make up in points with two races to go, but Ward's injury gave him a possible opening. That was until the originally scheduled series' finale in Sacramento was cancelled, leaving just one race remaining, at the Los Angeles Coliseum. Ward's points lead was insurmountable now, and he was awarded the title. The Sacramento race just highlighted the craziness of all the promoter drama going on behind the scenes. Here's a story we spotted via the LA Times, filed by legendary scribe Shav Glick.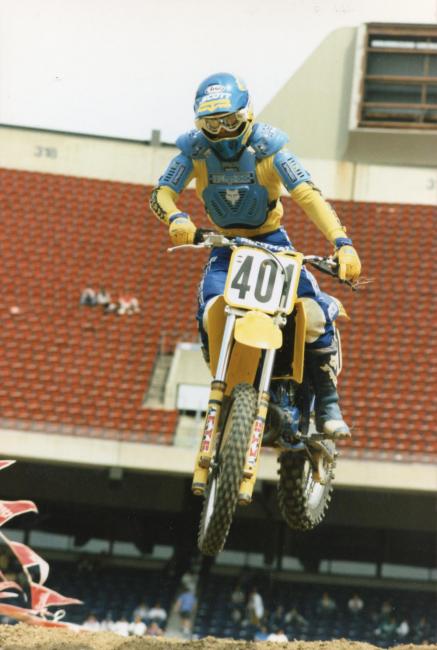 In the 125 class in New Jersey Suzuki's Tichenor clinched the championship by finished second to his teammate Keith Turpin, Tichenor scoring 165 East Region points to 164 for defending champ Turpin. And a local kid named Peter Hitchens, sponsored by his parents and riding his first-ever supercross race, finished third.
"I never thought I could do that!" he admitted to Cycle News' legendary scribe Henny Ray Abrams, then he made sure Henny knew who his sponsors were: "Mom and Dad, Maureen and Martin Hitchens."
And here's something else you don't hear very often today: on the Thursday before the race Suzuki factory rider Turpin graduated from high school back home in Georgia.
"I won the championship last year and it's pretty hard to win it two years in a row," said Turpin in New Jersey. "At least I'm out of school."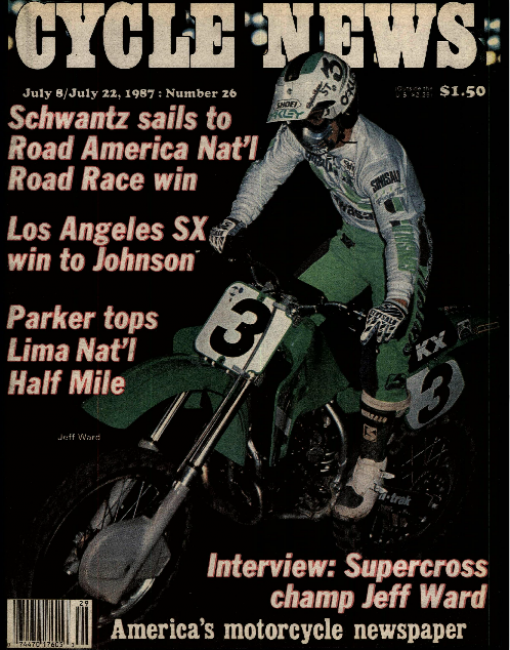 Johnson would win his seventh race at the finale at the Los Angeles Coliseum, and he would do it in epic fashion, crashing in the first turn and then coming from dead last to win. RJ snatched the lead away from Honda privateer rider Guy Cooper on the 19th lap, Cooper having led the whole way to that point. It was about the closest Cooper, soon to be one of the fastest men in the sport and certainly the most bombastic jumper, would ever come to winning a supercross main event.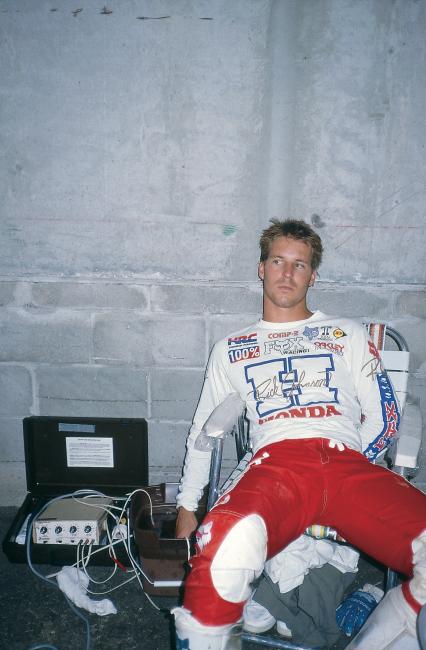 "I wish it had been an 18-lap race, but it still feels great," said Cooper afterwards to Cycle News. "I knew if I didn't make a mistake I'd be in the top three. I'm really proud of myself for second. Rick's a fabulous rider."
Jeff Ward, who also crashed off the start, finished third, with Yamaha's Jeff Leisk in fourth, and another Honda privateer, Ohio's Fred Andrews, notching fifth.
In the middle of June there was a supercross held in Charlety Stadium, the El Charro Stadium Cross de Paris. The promoter imported eleven Americans in the middle of June for a one-off, two-night race—and the nights were Wednesday and Thursday! The overall winner was none other than Bob "Hurricane" Hannah, in what would turn out to be his last-ever indoor win. Future Monster Energy Kawasaki team manager Mike Fisher would finish second, and a barely-known kid from Louisiana would finish third. His name was Trampas Parker.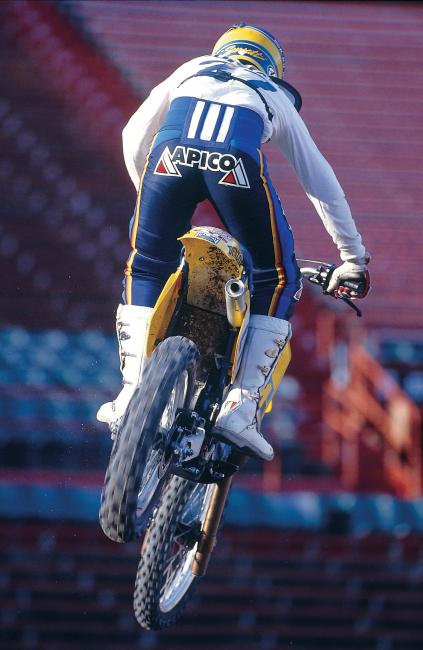 1987 AMA/Coors Supercross Championship
Jeff Ward Kawasaki 280
Rick Johnson Honda 246
Ron Lechien Kawasaki 219
George Holland Honda 210
Jeff Leisk Yamaha 177
Guy Cooper Honda 151
Eddie Warren Kawasaki 151
Keith Bowen Yamaha 150
Ross Pederson Yamaha 149
Jeff Stanton Yamaha 132
125 West Region Final Standings
Willie Surratt Suzuki 142
Robert Naughton Honda 135
Dean Matson Honda 132
Kyle Lewis Honda 121
Mike Craig Yamaha 100