Welcome to our forty-day countdown to the season-opening Anaheim 1 Supercross, which takes place on January 3 at Angel Stadium in Anaheim, California. Each day we're going to work through the history of Monster Energy AMA Supercross, offering a brief history lesson on the legends and heroes of our sport. It's time for 1975, which is when the series started to gain traction.
By the summer of 1975 the writing was on the wall for the old Inter-Am Series. Promoter Edison Dye's international championship tour was losing its significance, and by this point it was down to just three races—Herman, Nebraska; Delta Motorsports in Ohio; and Appalachia Lake in Bruceton Mills, WV. Also, the only true Grand Prix rider participating was Zdenek Velky of Czechoslovakia.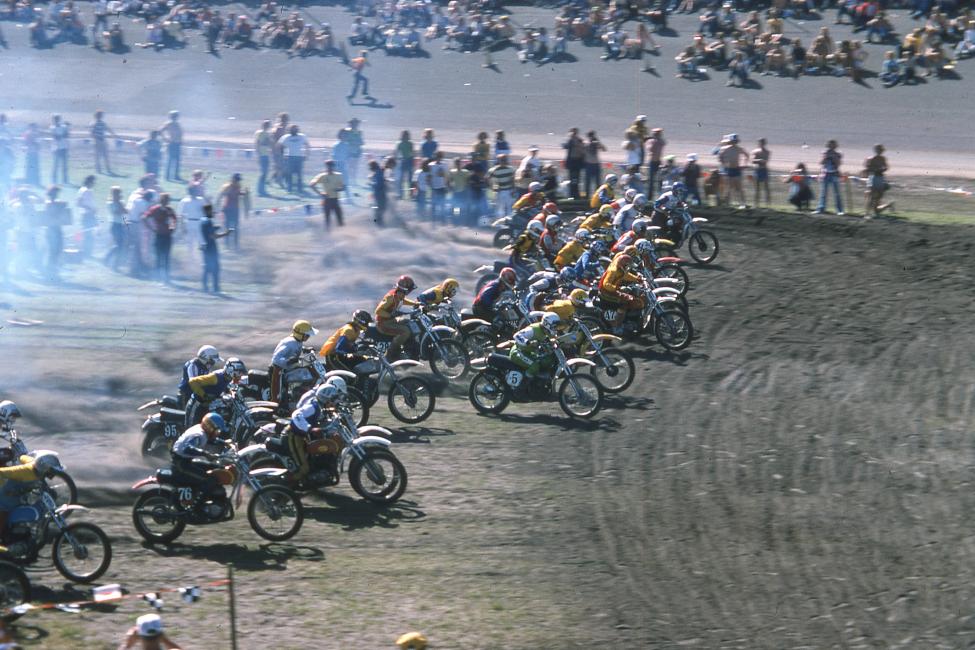 The Yamaha Super of Series of Motocross, on the other hand, was expanding. It now included doubleheaders in Dallas and Houston, as well as its cradle, Daytona International Speedway. There was also the Los Angeles Coliseum event, but promoter Mike Goodwin was still not quite ready to become a part of any new series—at least not until he got more races for himself, and he already had his eyes on Anaheim. And like we explained yesterday, the term "supercross" had just been coined, and within another year that's what this series would officially be named.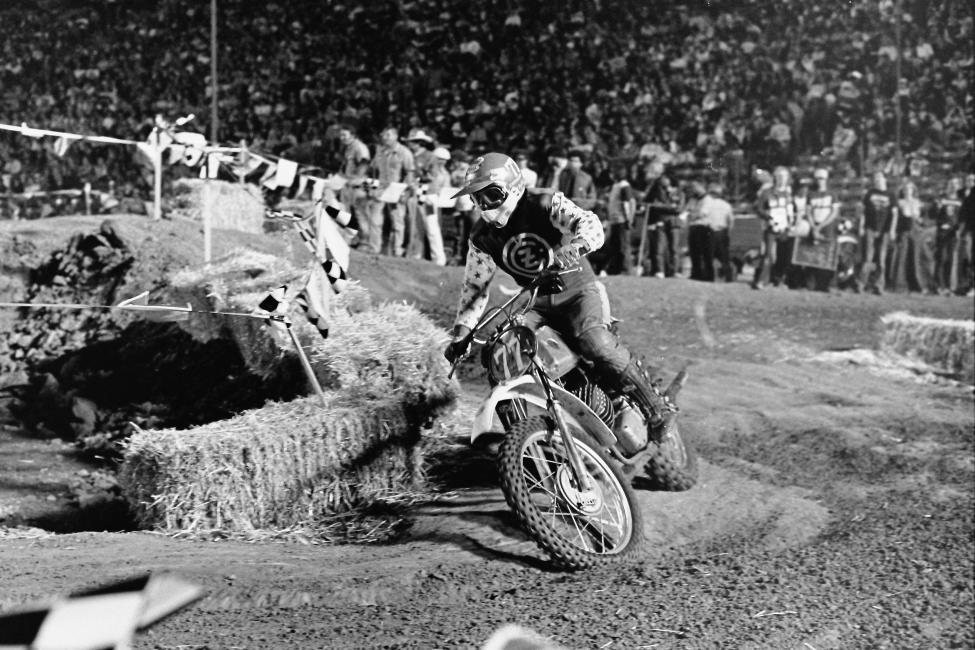 The year 1975 was transitional in a lot of ways. The European manufacturers like CZ, Bultaco, Maico, Montesa, and Husqvarna were being out-spent and overwhelmed by the Japanese brands. For instance, Tony DiStefano switched from CZ to Suzuki and immediately became both the last Inter-Am Champion and Suzuki's first 250 AMA Motocross Champion. Honda, Kawasaki, and Yamaha all had big teams on the AMA circuit, with stars like Tony D., Marty Smith, and Jammin' Jimmy Weinert all emerging.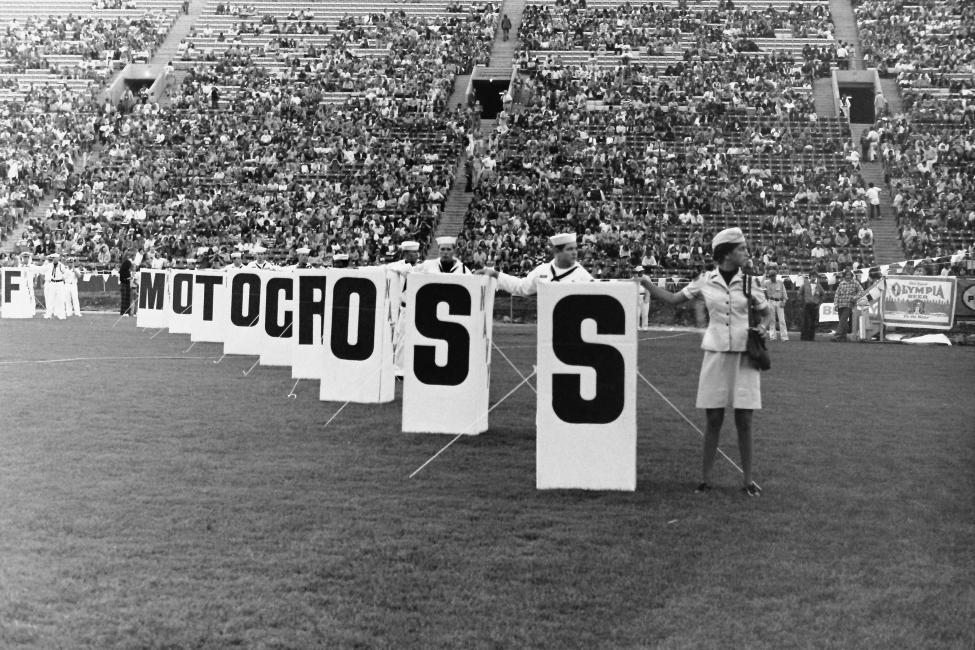 But there was one brand that was a true outlier: Can-Am. Built in Canada by Bomardier, the white bikes were very fast, if not completely dependable. In the hands of capable riders like Gary Jones or Jimmy Ellis, they were very potent, and they really lent themselves to the new style of stadium racing. However, Jones had left the brand after winning the 1974 AMA 250 National title, leaving Ellis with Can-Am's full support. Nicknamed "Captain Cobalt" for his hometown, the Connecticut-based rider was a perfect fit on the 250cc bike when it came to stadium motocross, and he responded by sweeping every round of the series: Dallas in February, then Daytona and Houston in March, and then for good measure he won the Superbowl of Motocross at the Los Angeles Coliseum in July. It was a perfect season, even if it was just four weekends long. Honda riders Marty Smith and Rich Eierstedt finished second and third overall.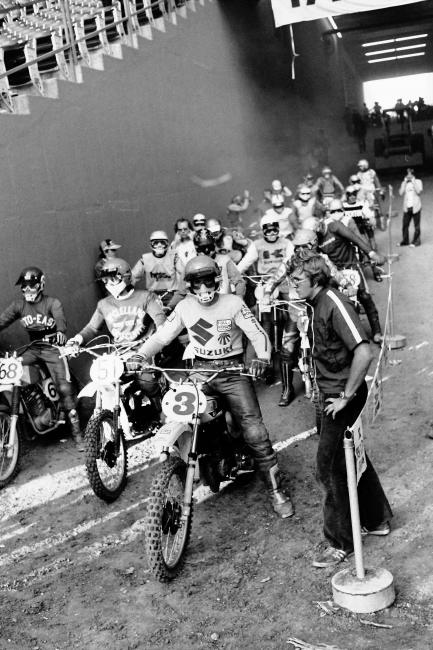 That year was also the last year the 500cc Class was included as a championship class in the series. Winning both Dallas and Daytona aboard a Maico was Steve Stackable, the tall Texan who managed to give the German brand their only wins in the history of this series. He edged out DiStefano, who rode in the 500 Class rather than the 250 he would later be so successful in.
One other thing happened in 1975 that was monumental in the history of the sport: Because Olympia Beer was the sponsor of Goodwin's Los Angeles race, they underwrote the filming of the Superbowl of Motocross. It ended up on television later that year, which marked a major development, with Dave Despain as host and Cycle World founder Joe Parkhurst as the pit reporter. The footage can still be found online right here, including Marty Smith's epic endo off the start of the "Oly" Superbowl when he rode straight into a set of whoops rather than making the left-hand detour just before them that was supposed to be bannered off. Watch it at the 3:00 mark.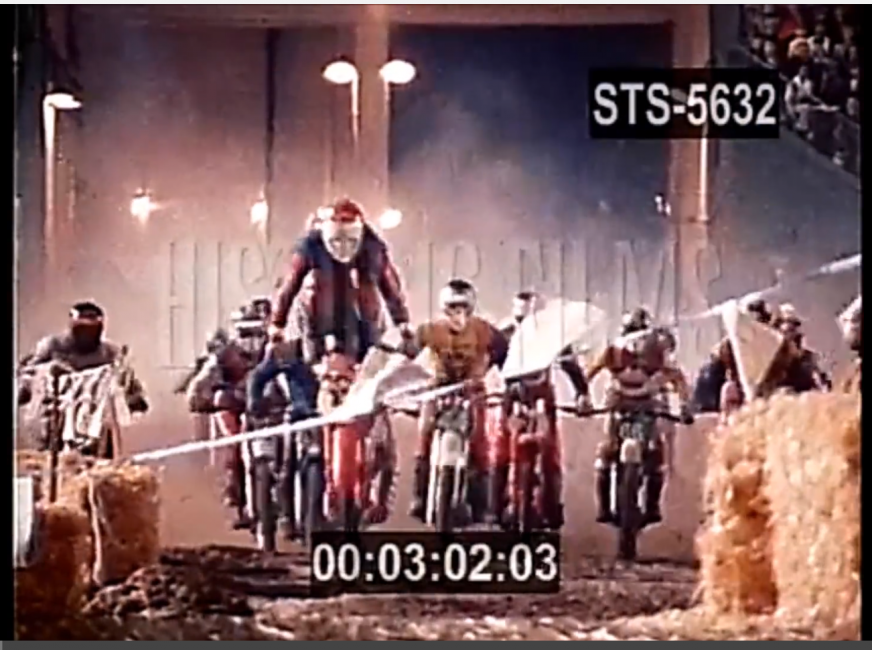 Watching the show, it's not hard to see what the OEMs and sponsors were seeing in supercross: packed grandstands, almost 100 perfect spectator viewing, lots of banner space, the downtown setting, charismatic winners, a very small double-jump at the bottom of the Peristyle Jump, and some whoop-de-doos, hints of obstacles to come later and define supercross even more.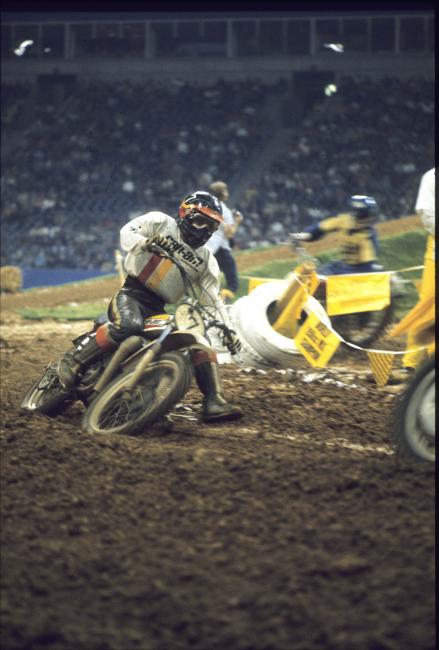 While the 500 Class results are hard to come by, results from each 250 Class race in 1975 can be found here.
1975 AMA Supercross standings
250 Class
Jimmy Ellis Can-Am 450 points
Marty Smith Honda 248
Rich Eierstedt Honda 228
Kent Howerton Husqvarna 210
Billy Grossi Suzuki 200
Marty Tripes Bultaco 140
Gaylon Mosier Maico 120
Jan-Eric Sallqvist Kawasaki 115
Sonny DeFeo Maico 86
Steve Wise Kawasaki 74
500 Class
Steve Stackable Maico 400
Tony DiStefano Suzuki 310
Jim Weinert Yamaha 240
Jim West Maico 200
Gary Chaplin Maico 155
Rich Thorwaldson Maico 150
Peter Lamppu Montesa 100
Gary Semics Kawasaki 95
Jody Foust Husqvarna 80
Pierre Karsmakers Honda 80
Previous: 1974