Nothing was slowing down GEICO Honda's Eli Tomac in France over the weekend. He won everything in sight en route to his first King of Bercy crown. We caught up with him shortly after the race to get his side of the weekend.
Racer X: Brayton led a lap. Good job, Justin. Other than that, it was a dream weekend. You didn't have the fastest time in the first practice; Mookie did. You really need to pick up your game. You were on it. You were feeling it. Obviously the bike changes. The bike was working good on the track. You are good on the softer, stickier stuff. Just one of those weekends, right?
Eli Tomac: Yeah, it was good. The dirt's awesome here. Bercy was always really sticky, but this place was good. There wasn't as much junk in it. Bercy, I had a nail in my tear-off two years ago—stuff like that. It was a little bit sketchy. This dirt was good; you could just push on it. There was nothing really super slick or sketchy. I was super happy with the bike. My practice track at home makes this track feel like a super-mini track. It's good to take this thing here and make sure it can still turn and all that stuff, because it's easy to get too stiff and funky for little indoor events like this. I'm super stoked.
Your starts were on point too, and obviously that's so key.
It's super key for a place like this. I never experienced it, but it would have been a pain to make passes from fifth or so back.
Did you use the same gate again today?
Same gate. It was gate nine every single time. It was a little bit worse today, but I was like, why move? I've gotten pretty much every holeshot, so stay there.
When you have a race like this with Barcia and Brayton, and these guys are good, and you pretty much wiped the floor with them, does it help at all for Anaheim? It's a long way away, but does it help?
It's a long way away, but heck yeah it helps. These are all bad dudes too, so if you can beat them that's brownie points. Honestly, it's good to get race starts. That's something that's good about this place, is you get ten or so starts against really good dudes. It's a good test; see if you can hang on to your bike. Fifteen laps, it's short, but tight tracks like this, it's easy to get tight on. I was able to stay loose and stay comfy the whole time.
The elimination races, all of a sudden it just was you and Barcia at the final one. I was thinking that was going to be a great race, and all of a sudden it was over and it was just two of you.
It's cool when you come over here because the format's different like that. I get super pumped up for the super pole thing. Honestly, I get kind of nervous because you're the only guy out there and everyone's kind of staring at you and you hear the crowd. That stuff's cool, and the eliminations are cool. It's kind of like a one-off joker thing, where maybe you don't have it every time, but honestly I think we should maybe have some of those super pole things in supercross just to spice up the crowd or get people's attention to the race.
The Joker Lane, that never even came into effect when you would take it. You took it on lap seven, you took it on lap ten, whatever.
Yeah, I was fortunate enough to where I was getting gaps on guys early, so I'd take it whenever.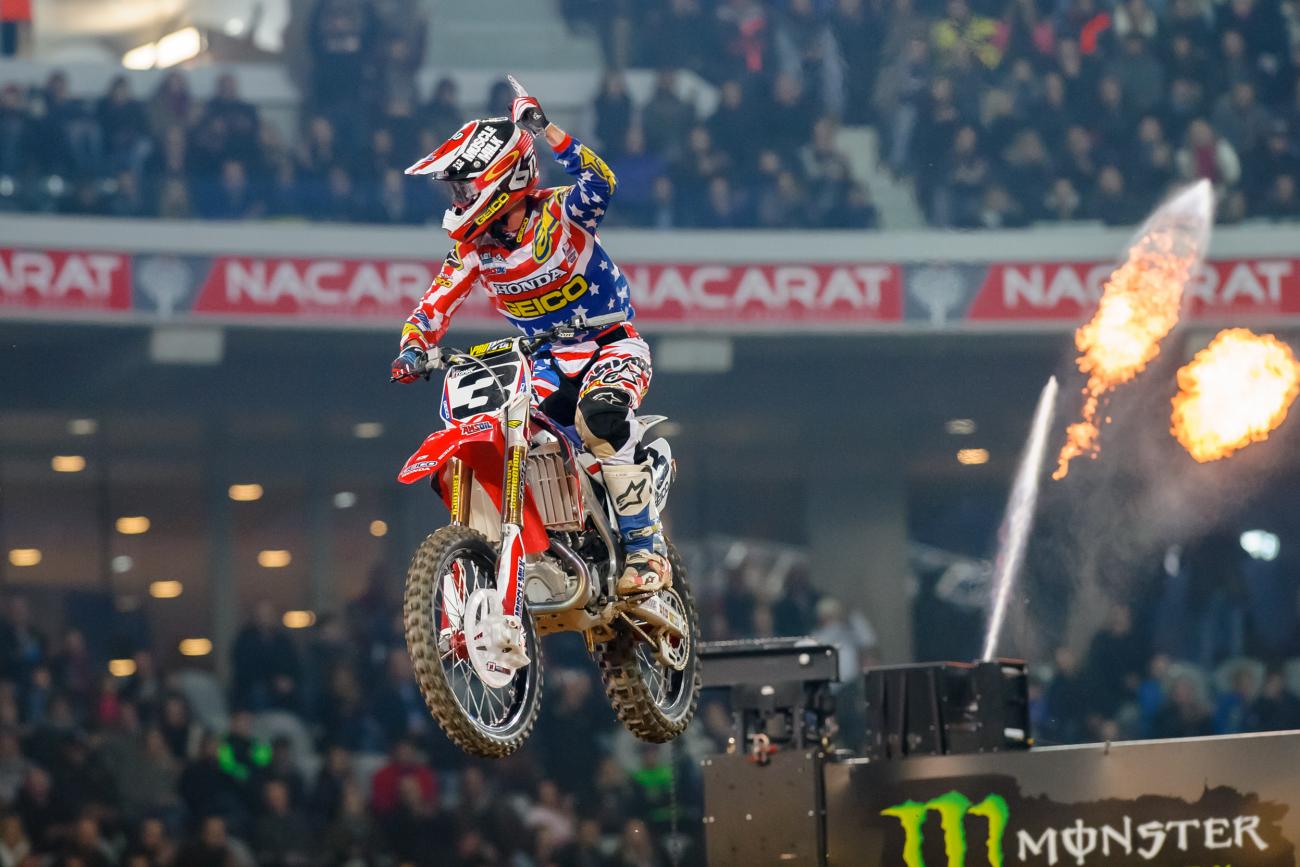 Where did you think you were better than everybody? I thought you were getting in and out of the ruts better than some guys, like really leaning in there. What'd you think? Was there an obstacle or a corner or something like that where you noticed that you really had a good edge?
I guess corners. I was able to turn, and my bike was working through the whoops. There wasn't an area where I was any worse than anyone. I think a combination of turns—turn for dough, whip it for show. My turns, the whoops were good; dragon back was good.
One of those things you told me yesterday, and it really caught my ear, you said, "I feel like I can flow like I did on a 250F." That's probably dangerous for the other guys. What do you mean by that?
Hang it loose and not be like, "Oh gosh, the bike is going to do this or that." Not be worried in the whoops. The bike is all around a good package right now.
You really manual a 250F, when I think of you riding a 250F. You're a bigger kid. You can manual it, and maybe that's what you can start doing with this thing.
It's easy to ride. My bike is easy to ride right now. That's how my 250 was.