Night two here at the Lille Supercross went a lot like night one. GEICO Honda's Eli Tomac crushed the field in practice, the two main events, the Superpole and the elimination races. Simply, he was the man. He wasn't perfect like he was last night though. One huge flaw (caution, sarcasm alert!) was that Tomac didn't lead every single lap of every single race. Nope, BTOSports KTM's Justin Brayton held Eli off for two or three laps in the first main event on Sunday before the #3 made the pass with a slick move on a series of tabletops.
Other than those few laps Tomac was perfect on the weekend and really showed a dominating form. Justin Barcia followed him home in second in both mains (a motor spec change to give him more power no doubt helped compared to a sub-par day yesterday). Barcia had everyone but Tomac covered but the JGR Yamaha rider admitted afterwards that he had to tip his visor to Tomac on some nice riding. But he also added in that he's eager to get another chance at Eli this coming weekend in Genoa, Italy.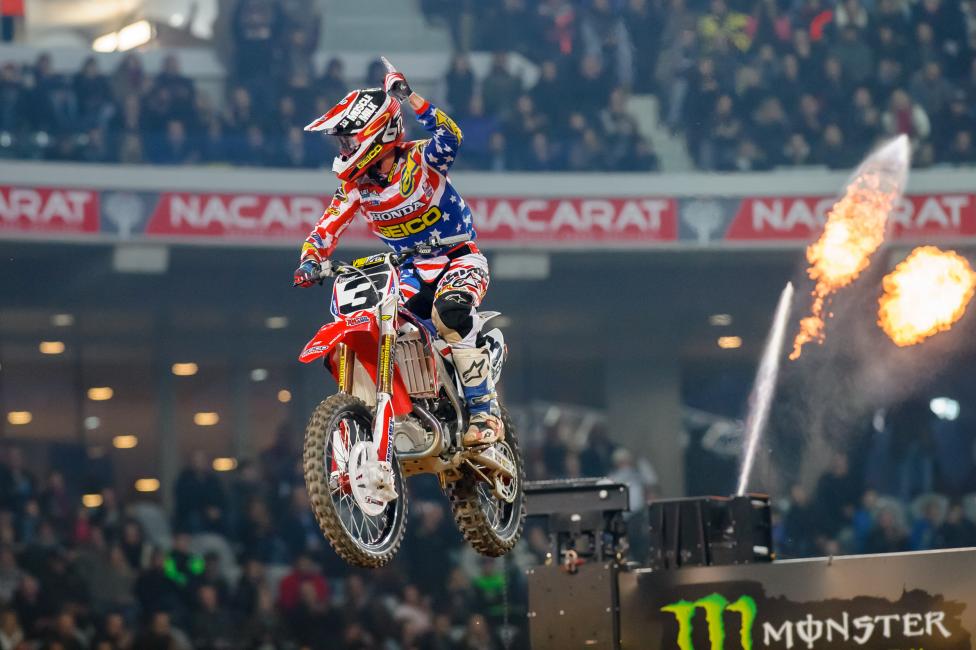 Getting the most improved award was Barcia's teammate Weston Peick who went 3-3 this afternoon but due to some crashes yesterday wasn't able to do better than sixth in the overall standings. Weston commented afterwards that he just more comfortable today in the turns and that anytime any French rider got aggressive with him he just leaned into him.
Malcolm Stewart battled some arm pump on both days but put in consistent rides to end up third overall on the weekend.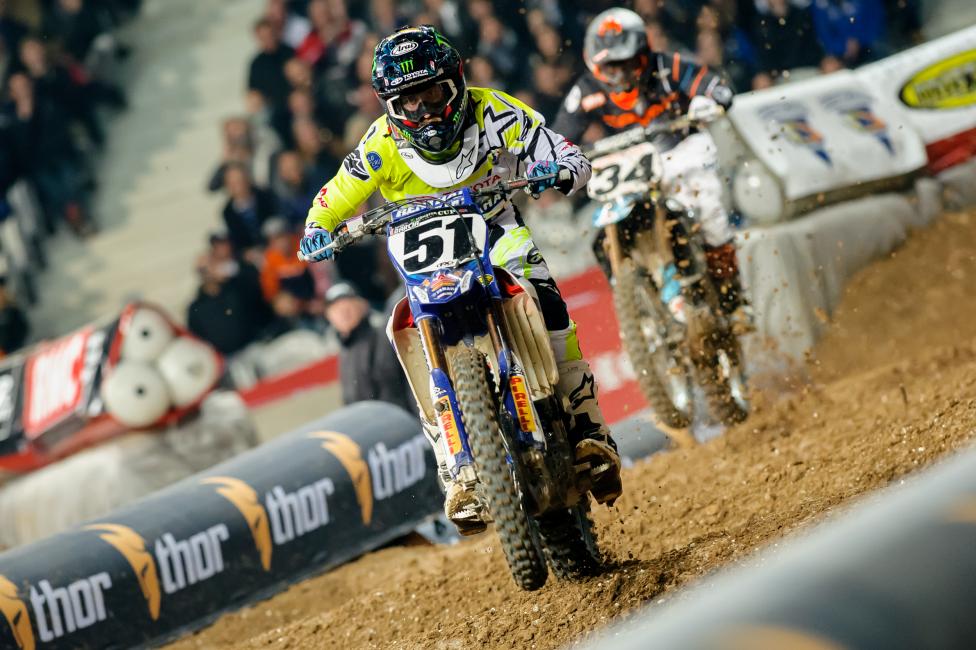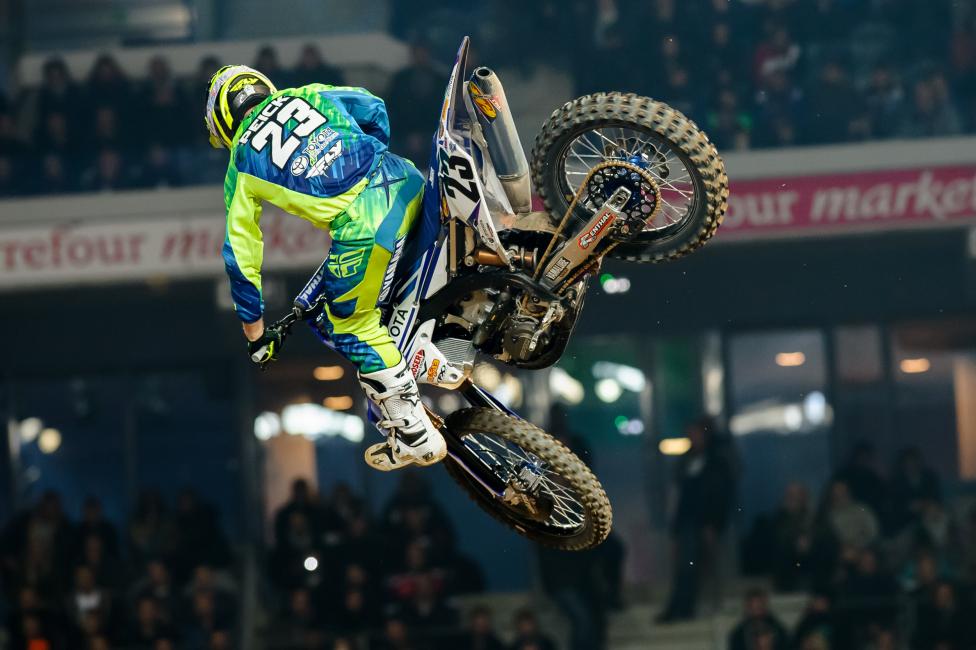 Impressive was French supercross veteran Fabien Izoird who claimed fourth overall and was a thorn in the sides of some American riders with his good starts and speed. Fellow Frenchman Dylan Ferrandis finally stayed off the ground in the final main event and made a run at Peick for third but couldn't make it happen. Ferrandis was fast all weekend but small mistakes held him back.
After Tomac got by Brayton for the lead in the first main tonight Brayton jumped off the track and cartwheeled. He suffered a small injury to his pinkie and elected to sit out the rest of the night. Brayton was fast (he got a second in one main last night) but he crashed too many times to try and win his second "King" title. However, as we heard joked by our friend and Euro scribe Adam Wheeler, Tomac might have been crowed this year's King of Lille, but he really should be called the dictator.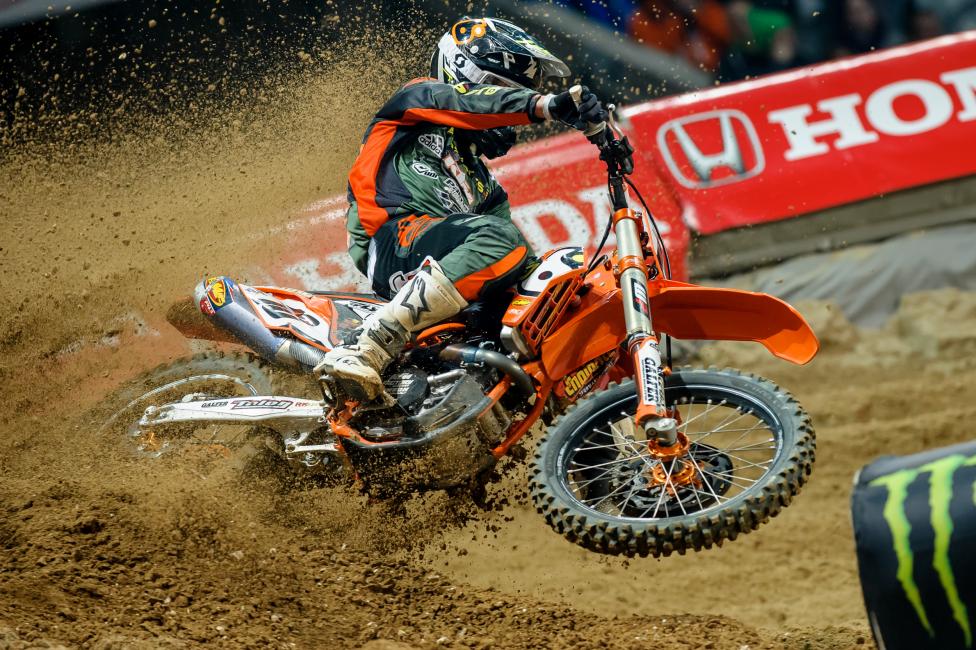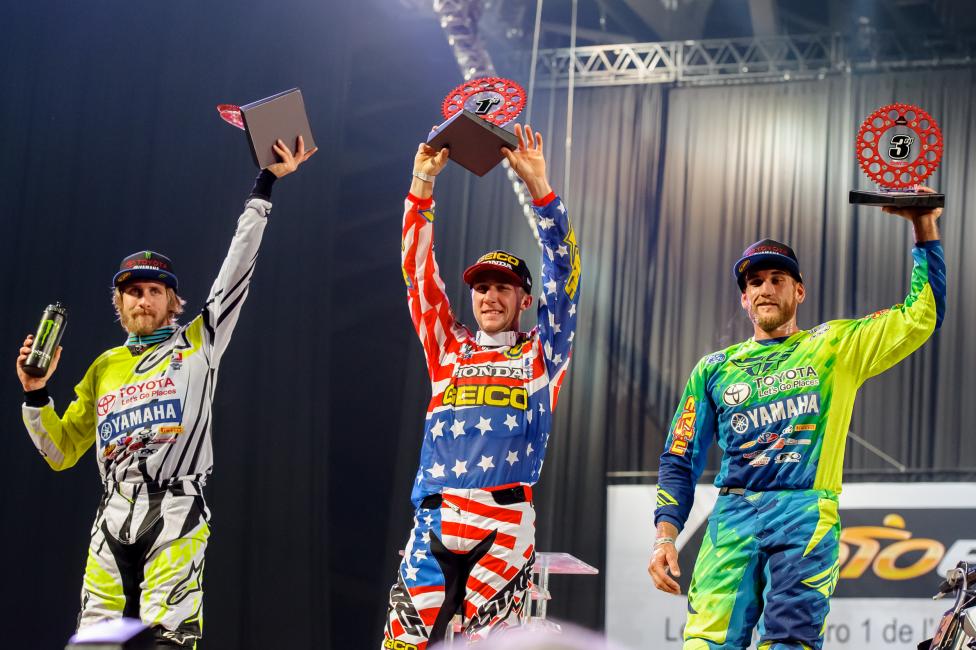 Overall- King of Lille Standings
(Two main events Saturday, two main events Sunday)
1-Eli Tomac 1-1-1-1
2-Justin Barcia 8-3-2-2
3-Malcolm Stewart 3-4-4-5
4-Fabien Izoird 10-5-5-6
5-Josh Hill 6-7-7-8
6-Weston Peick 12-11-3-3
7-Jordi Tixier 7-6-6-12
8-Dylan Ferrandis 12-5-14-4
9-Christophe Pourcel 2-14-9-10
10-Cedric Soubeyras 9-8-12-7