Jake Weimer just got back from a big trip to South Africa, which included a race last weekend. That's the last scheduled race for him, as he still doesn't have anything set for Anaheim in January. But the former Monster Energy Kawasaki rider doesn't plan on giving up either. He wants to be at Anaheim as a racer. We called him yesterday to find out the latest.
Racer X: Okay, first, do you even know where you are in the world, what time zone you're in, what day it is?
Jake Weimer: Well, I'm working on it. I'm getting closer. I know I'm in California, but I'm still working on the time change. I think it's Thursday? I'm getting close, see?
Good! You're at least within twenty-four hours! So how long were you there?
Almost two weeks.
What?
Yeah!
This is much more than just a race, apparently.
Yeah, let me look for sure…yeah, thirteen days depending on how you count the time zones.
So you did a lot more than race.
Well, it's such a long flight and trip—it's way harder than flying to Europe—so you might as well make the most of it. We went to Cape Town and hung out there for a few days, we saw some lions, we went on a safari, we did some media for the event. We did a little bit of everything.
How'd you get invited to this?
There was a group of people behind this, but I knew about it from Grant Langston. They've wanted to do it for a few years, but I guess this year it finally got traction. I heard about it from Josh Hill. His brother Justin was going to do it, too, but he didn't end up going, so I talked to Langston and Johnny Louch, and we kind of just ironed it out.
Were people scared about Ebola? I know it's nowhere near South Africa, but I don't know where your flights had to connect through and stuff.
It didn't worry me because I did a little research, just because you don't know at first. But people were blowing us up on social media all scared about it. There's no Ebola in South Africa. It's like 3,000 miles away from where we were. Hey, they have an Ebola case in Texas, so technically I was closer to it at home than I was by leaving! I guess the risk is with flying, but we were very, very far away from where they have issues.
How was the race?
It was cool, they definitely took care of us. As far as the racing, I think for them it was a huge success. Next year they said they want to have three rounds. I'm happy for them. As far as us Americans going there, we were a little bit disorganized; it's always hard the first time with your bikes and stuff. That was challenging, but all in all it was a great event. I'd go back and do it again.
Does this have any impact on your future, or did you just get a Kawasaki and some parts as a one-off deal?
Pretty much a one-off deal. I've been riding Kawasakis, and Mitch [Payton] was cool enough to let Josh and I bring our suspension over there. I still have a Kawasaki here to ride at home, so that's what I'm used to.
Well, this leads to the next question: Any updates at all for you in 2015? Any ideas? Anything?
No. No. I don't have any more overseas races planned. If something comes up and it's right, I'll do it. I don't have any plans, just trying to figure something out. I'm just going to continue to ride and train. I went on a road ride this morning, so I'm still working. But right now, I'm just trying to work on something for next year. Right now, I don't have anything, but I haven't given up hope yet.
Are you just waiting on your phone to ring, or are you actually working on something already?
Well, all of the above, I guess? There really aren't any spots at any factory teams. I'm going to race, but I don't want to race if I'm not competitive. I want to show up on a machine that's good. That's the biggest hurdle right now, trying to find those pieces where I'm at the races and my bike is good and I'm not stepping on anyone's toes.
This is what people wonder about in these situations: You rode a factory Kawasaki the last few years. How big a difference is that from what you could buy and build yourself? People will say you should get a bike and a pickup truck and go.
You can buy a bike and make it competitive. But that costs a lot of money. For supercross, if you want to be a top-five guy or whatever, you need to have good suspension and spend some money on the motor. And if you're doing all that, you need three sets of suspension and three motors, and that's not even getting into all the other parts. But you need three of everything to have a practice bike and a backup set at the race. I don't think you need a factory bike to be competitive. But, even this kind of bike costs money. I do think you can buy a showroom bike and make it competitive. It's not that difficult.
Is that something you're considering?
Anything is possible right now! I'm trying to figure out all of that. I have no problem doing my own thing, but you have to spend a lot of money. The bike and parts, but you have to get hotels and flights and pay a mechanic. There's always something.
And what do you have to gain from that? Even if you finish well, you would probably be losing money.
It's a tough situation for sure. But I want to race. I want to be on the line at Anaheim 1. The options are kind of wide open. I'm confident I will get something worked out, but I know it might not happen.
Do you have any other deals in place, like gear? Other ways to bring in money?
No, every single one of my deals is either up or will be soon. It's hard to get anything going because you try to make a deal, and they say, "Well, we want to help, but what are you riding? Who are you riding for?" That makes it a little difficult. So I'm trying to figure out where my bike will sit in the pits and then fill in the rest.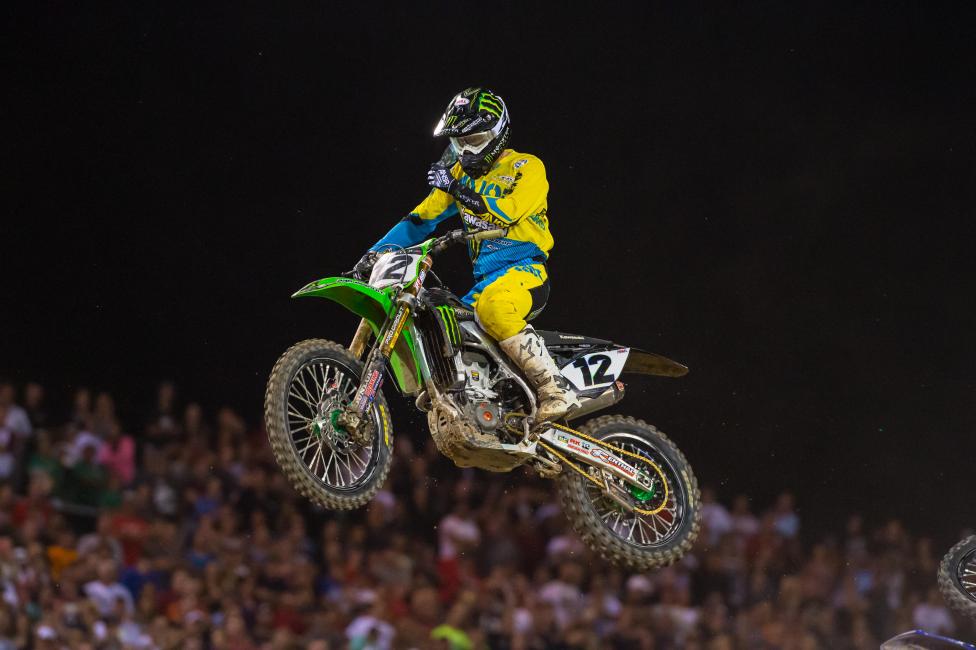 I know the last few years have been tough on you. I think you've even admitted it hurts your confidence. So, how does a deal like this impact you mentally? Fresh start or just a drag because no one is really courting you right now?
There's a bit of both. There's so many questions that I have and I don't know how it's going to work out. But, being in this situation gives you some extra motivation. You try to look at it in a positive way.
Do you feel you even had a chance to show what you could do last year?
Not at all. I rode the whole year pretty much hurt. The first heat race at Anaheim 1, the crash with [Eli] Tomac, I messed up my shoulder, and then it came out at San Diego. Even the year before that, I was hurt. Just how I feel on the bike now, and where my head's at now, I don't feel I've been able to show that potential on the track. But it's up to me to do that, and that's where the hunger and the fire and motivation I was talking about comes into play. I want to be able to show that.
Where were you in December last year? I know you were pumped to be back with your old trainer Randy Lawrence. How do you think you could have done?
It's hard to say. I'm not going to just sit here and be all "coulda shoulda woulda" like that. Let's just say I haven't been able to show what I'm capable of the last few years. I think that I can still be a top-five guy, and I would like to prove that.
You go through these tough times and it hurts mentally. Can you just wipe the slate clean for Anaheim, or will it take time to rebuild?
No, that's the thing about the off-season that everyone tries to do. You try to wipe the slate clean. You do your training and riding to build that confidence. I think once you're in a series, it's tough to go through a rebuilding process. You can do it, but it's tough. The off-season is all about starting from scratch.
Okay, what about a replacement ride? Does that cross your mind?
Yeah, and I've talked to other people about it. Not teams, just people that are around me. They'll tell me I need to train and keep riding in case that happens. You don't want to have to do it that way, but I'm not saying I wouldn't do it. It depends on what situation I get for myself, how much I like whatever bike I'm riding. Then I'd have to think about it. If I'm riding something and doing well, I might not want to take that.
Still with Randy Lawrence as a trainer?
Yeah, I'm going to meet with him right now. We're still working as if I don't have a problem! [Laughs]
I guess you can't change your situation, but you're doing all you can on things you can control.
Yeah. I've put myself in this situation, so it's up to me to do something about it. I want to race, and I'm going to continue to work and do what I can.