Sam Boyd Stadium
Las Vegas

,

NV
Monster Energy Cup
Monster Energy Cup
If you weren't surprised or impressed by Justin Hill's performance at the Monster Energy Cup, you're either dead, don't follow the sport, or haven't seen the race yet. Normally a 250 rider, Hill jumped up to the 450 for the MEC and took second in the first two main events while gapping a field full of superstars. That isn't supposed to happen, which is why we've named Hill our Unsung Hero of the week.
Racer X: Justin, what the hell was that?
Justin Hill: #justaguydoinmyjob [laughs].
You're a 250 guy riding a 450 with a new team on a new bike. Are you surprised at how well you did?
I wasn't surprised; I was pissed off after the first two races. I wanted to beat Trey [Canard] in both of those. I was pumped coming into the third race, though, because I knew I had a shot at the overall, but then I crashed real hard, got ran over, got up, crashed again. It sucked. But overall, it's not too bad. I rode good and did what I wanted to do, which is show that I can ride a 450.
Well, not to say you shouldn't do well, but your performance was one of the surprises from the weekend.
Well, the way I look at it is that you had guys who were expected to win, like Justin Barcia for example. He's won it before and I thought he was going to be really good and really hard to beat. And Chad Reed, Ryan Dungey, and all these past champions, especially with [Ryan] Villopoto not racing, I thought they were going to be all fired up. But it didn't turn out that way. Jason Anderson was going really fast—he rides a 450 really well—but he just got a little squirrely and had some bad luck. I just look at it like I was a surprise only because there were so many guys there who were supposed to win. I'm not bummed out that people are surprised; I wasn't expected to win. I came in as an underdog, but I didn't want to leave as an underdog.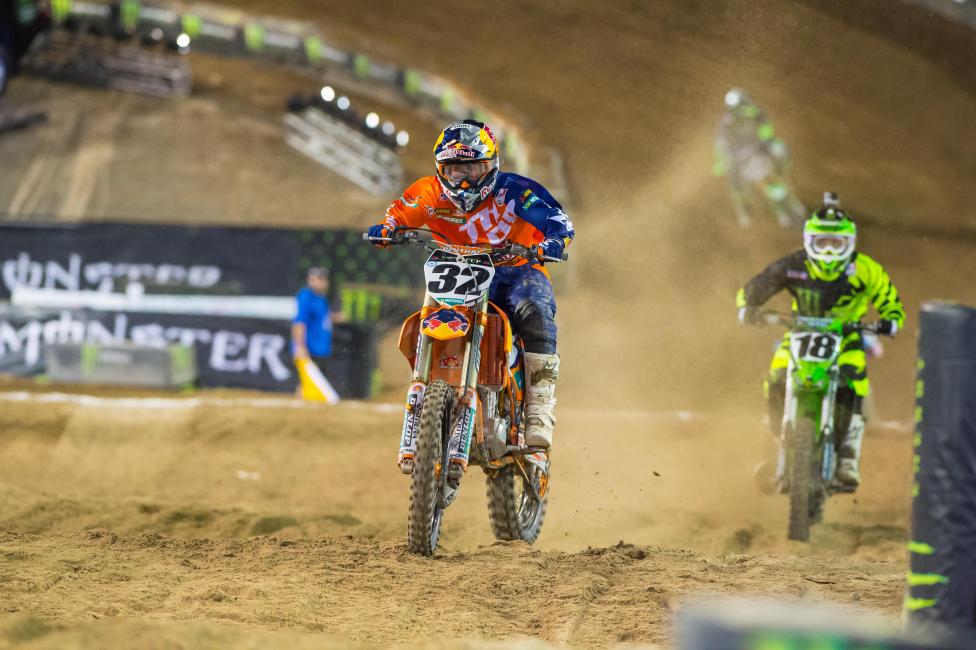 How much time do you even have on the 450?
About two weeks. I rode the 250 at Straight Rhythm and then went to the 450. The first week I was just messing around getting used to it.
Take us through that crash. It looked like you got clobbered pretty hard but you still got up and got back in it.
I'm pretty messed up; I'm walking a triangle walk right now. Trey and I just got together at the end of that long straight. We actually ran into each other like four times before that. We were hammering it out! I didn't want to let him walk away with it, and he didn't want me to not let him walk away with it.
He wanted that truck and the million!
I know! So at the end of the straightaway we landed off that roller, and they had watered it right there. They kept watering it, which wasn't cool because it was obviously like concrete. I don't even know why they watered it. We didn't have a sight lap, either, so you go out and you don't know what to expect. So Trey and I were battling and he tried to cut my line off, and obviously I don't want to run into the back of him, so tried to hit the brakes a little. When I shut down it was watered and slick, and I just lost the front and got run over. My whole right side got ran over. My knee got twisted pretty bad and it still hurts, but my second crash, in the rhythm section, was worse. My clutch lever was bent straight up from the first crash. All day long I was pretty good in that 3-3-3 rhythm, and I was timing it with the clutch, old-school style like Jeremy McGrath and Johnny O. So I went into that rhythm and didn't have good access to my clutch lever and I clipped it a little bit landing after the first triple and couldn't grab my clutch lever, so I just tried to stab the gas in the belly of the jump. I was in third. I'm always a gear tall, and in that case it didn't help me at all. I left the jump with no pop and cased the second triple real bad, went straight into an endo, bailed off, and slammed into the next one. I went from real good, to this sucks, to this really sucks. But I'm pumped that I got up mangled and still caught a few guys and gave it 110 percent.
So, overall are you happy or bummed?
I'm a little bit of both. The money would have been cool, but I'm not afraid to work, so I think I'll be able to make money. I'm not worried about it. I don't plan on slacking off, and I'm going to take advantage of every moment I have, and I think teams like that, so I think I'll have good job security. Mainly, I just wanted to go into the night and show everyone that I can ride a 450—I feel like I've always been a 450 guy—and I think I did that. I was definitely going for the win, but even though that didn't happen, I think I put in a good showing on the 450. I'm bummed because I'm sitting here trying to walk around and I can't really, but I'm pretty excited that I showed what I could do. Plus now I don't think Roger [DeCoster] will bat an eye if I want to race some East Coast races on the 450, which I really want to do.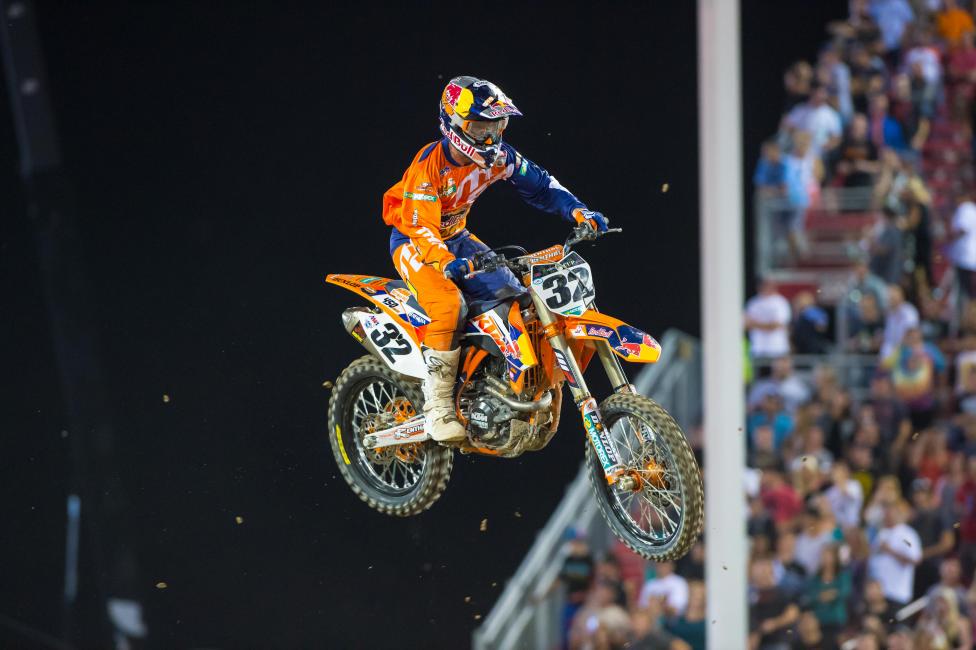 You definitely got your point across in those first two races.
Yeah, the 250 Class is a stepping-stone and I don't want to be a career 250 guy. To have everyone know that I can ride a 450 is what I was hoping for.
I interviewed you before the race and you said that it's extremely tough one to win, and whoever wins it is a badass. You almost won…
So I'm almost a badass. I was really close to being a badass, but I handed the badass title to Davi [Millsaps]. But he's already a badass anyway, so whatever, it's cool.
Does this ride make you feel like you've got your competition covered next year in supercross?
No, but I did well last year with Pro Circuit, and I think the field was probably a little thicker then. We had Dean Wilson, Cole Seely, and Jason Anderson, and those guys are all gone now. I won races then, and I think I'm better now and have learned a lot more. So my confidence was already there. The Cup is a bonus for sure, but I'm pretty confident going in no matter what. It was cool to go out and do well and have my other competitor [Cooper] Webb, who I think is going to be good and will be the guy I have to beat, not do as good. That's a good confidence booster. My job is to win that West title, and that's what my goal is. I don't want to stay on a 250 any longer than I have to, and if I win I'll get kicked out of that class. I want to go kill this West Coast series and get kicked out so I don't have to ride a 250 anymore. I want to get kicked out of the peashooter class so I can get on a big bike.