Sam Boyd Stadium
Las Vegas

,

NV
Monster Energy Cup
Monster Energy Cup
BTOSports is your number one source for all of your motocross parts, gear, accessories, and apparel. BTOSports.com is a motocross company that is truly dedicated to the sport and to the customer. Proud sponsor of your Racer X Podcasts and the BTOSports.com KTM race team.
The fourth annual Monster Energy Cup went off this past weekend in Las Vegas, Nevada, under somewhat cool conditions (for Vegas anyways). This race replaced the US Open that ran inside the MGM Grand Garden Arena for a decade or so, and when it first started I loved the idea of trying something new. I'm all for change in the sport of supercross, and the MEC offered just that with its radical format, new ideas, and of course, the one million bucks that Feld offered if any one rider could sweep all three main events.
The event has always been good, but this year it lacked some excitement. I think part of that was the track—it was horrible. I get that the guys want to try some new stuff, like not having whoops, but if you want to see what an easy and non-challenging track looks like, just take a gander at Saturday night. There was a pretty gnarly 3-3-3 section that only two riders attempted on press day, but they made it easier for race day and everyone was doing it. Other than that, there were only a few doubles and some flat straightaways. Going into the stands is still cool though.
It was great that the crew ditched the no-work-for-two-years-in-a-row, split-start thing, but the new start this weekend was ridiculous. It was way too short. If you qualified well, you got an inside gate pick and then an automatic good start in the main event. Then the simpleton track kept you up near the front. And then repeat.
Want proof the track was easy? There was one second difference between first place and seventeenth place in qualifying. Seventeen guys on the same second! I love parity, but the riders and bikes are too good today to think an easy track is going to help racing out. It's got to be tough and force riders into errors; that's what makes thrilling racing. And I don't mean massive crashes as errors, just small stuff that adds up to tenths, and then adds up to great racing. I hope next year we see a bit of a revamp of the track design/obstacles to get some excitement back.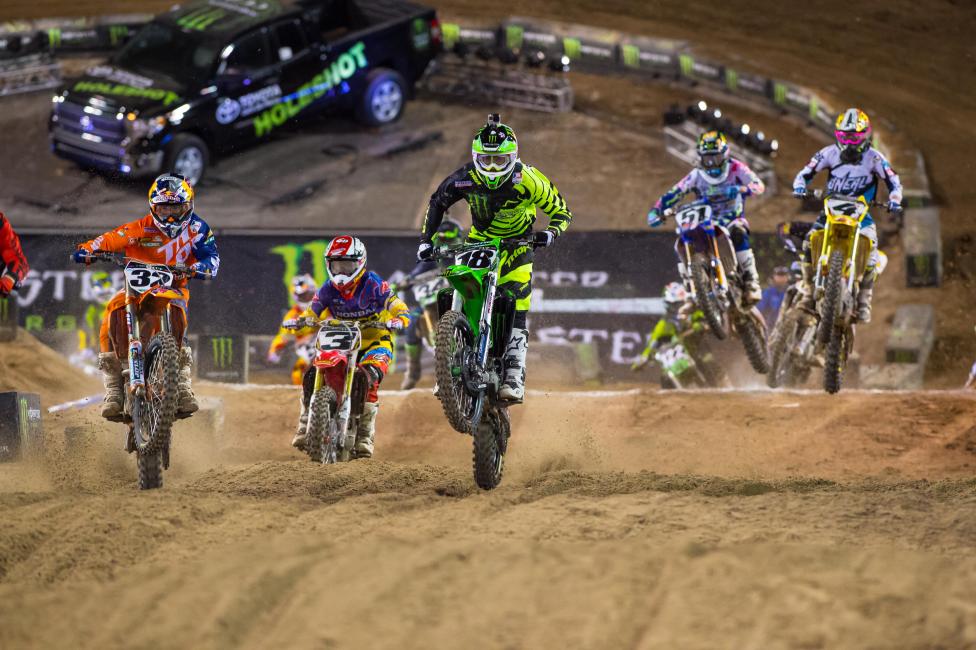 I was going to go on and on about how the Feld folks need to adapt some or all of the MEC stuff to some or all of the sixteen rounds of supercross that they promote, but I just figured that my column from last year would do…or the year before…or the year before that. Here's what I wrote last year, and I stand behind every word of this again this year:
If you listen to any of my podcasts or a read this column, then you know I've long believed that supercross needs a change. We've done the same thing for too long and haven't adapted to the different bikes and riders in the same way that other sports have taken a look at things and made changes. Name a mainstream stick-and-ball (or puck) sport or even a motorsport and you'll see different formats, rules, point systems—you name it and organizing bodies have tried to change it. But us in supercross, despite having four-strokes pushed on us by an inept (at the time) AMA rulebook, we've changed very little.
Main events are twenty laps, it's 25 points for a win, 22 for second (and so on), top four in the heat go to the main (or top nine in recent years), and the 250s (125s) do fifteen laps. Heck, the triples have been sixty-five-ish feet for the longest time while horsepower has gone up and up. We don't change! We just trot out the same old format week in and week out, and most of the time we get the same results and factors that determine race winners or supercross champions.
With splintered organizations for years (AMA Pro Racing and then the AMA, Feld, previous supercross promoters, and the FIM, whom the promoters were forced to team up with when they thought AMA was leaving—and anyone else I forgot), there wasn't one group or person that could really look at some coming changes with a full focus. Drug testing, cc rules, GPS technology, and formats were all sort of forgotten about while everyone was fighting to gain control of the sport. It's unfortunate, but there is light at the end of the tunnel. The different bodies in control (AMA, FIM, Feld Motor Sports) have, in the words of one high level insider, "never gotten along better" and can hopefully focus on moving this sport to a new level racing-wise, entertaining-wise, and marketing-wise.
So, with that, why not try a Joker Lane at some races? What about changing the point structure? What about adding points for the holeshot, fastest qualifier, or for laps led? Maybe a chase-style format where only the last six races count towards the title? What about giving all forty riders in the field points so that those who don't make a main event can still point to an overall series finish for their potential sponsors? Try some different main-event formats (like at the MEC) at some races so fans can see if there are any different results and riders that can shine a little more in one format versus the other? What about more dirt brought in and more floor space used at some of these venues?
I'm all about the MEC changes, and I've been told that Feld is indeed trying to get some of these things implemented into the regular supercross series. There's talk of changing things up because now everyone is more on the same page than ever before. And to that I say "Hallelujah!" You don't need to take what we have and trash it, just add to it. Here's the best part: If it doesn't work, we can always go back to what we've been doing for forty years.
Ok, we're back! The only rider we've seen collect the million bucks was Ryan Villopoto, who then proceeded to make sure that everyone knew it wasn't really one million dollars because of taxes and a choice between a one-time payout of $500,000 or twenty years of $50,000. That's Villopoto being Villopoto at his finest, I do say. In my last conversation with him a couple of weeks ago, I called him the unhappiest multi-millionaire ever and I think he liked that.
Regardless, RV's out—he's now more into Belgian waffles than triple jumps—and for this year's edition we didn't have the star power of past years. Not only did we not have Villopoto there, we didn't have Ken Roczen (new bike) or defending champion James Stewart (#provisionalsuspensionproblems) on the line. The riders that were there had more questions than answers. Just look at this line-up of top guys and try to pick a winner out of this group:
Davi Millsaps: On a new bike and hasn't had a gate drop for seventeen months. Yes, you read that right.
Trey Canard: Has never raced the Monster Energy Cup before and hasn't raced a lot of supercross in the last year—only five races to be exact.
Eli Tomac: An up-and-down supercross season (mostly due to injury) with his best finishes coming on tracks that are soft and have traction, which is the exact opposite of the MEC track. Besides, there was a chance that Tomac would show up with Solva suspension on his never-ending quest to get his CRF450R to work the way he wants it to.
Justin Barcia: Just back riding after some big surgery on his ankle, and he's on a new Yamaha, which is not like his Honda. Going to take some time here.
Chad Reed: I wasn't thinking Reed was going to do much as I know he's ridden his bike just one time since the last national at the end of August and that was at the MXoN. I couldn't put him in the "not going to win" category fast enough when he said this: "I'm only here because I have to be here."
See what I mean? This left Ryan Dungey standing there as the obvious choice to win this thing. Whenever there are questions and things are in flux, there's always Ryan Dungey standing there as someone that can win at any time. He's so solid that he makes redwood trees look flimsy. He has very few flaws, and with so many question marks around the other dudes, this race appeared to be Dungey time!
Ryan was just ok. Not sure what happened to him or what he thought, but qualifying seventh on this track was just the start of a so-so weekend. An eleven-minute main event isn't Dungey's strength because he doesn't wow with speed and aggression; he comes on stronger later. At least he didn't have to shift his bike in the air this year!
With apologies to the winner Davi Millsaps, the real story from this race was Trey Canard and his two main event wins, coming oh-so-close to winning the million bucks. Canard was onto Millsaps in the third main was faster in my opinion, but there just wasn't anywhere to pass. He clipped a Tuff Block about halfway through and went down. And with it, the million bucks went bye-bye.
Canard was still in position to win the overall if he passed Malcolm Stewart (which I think he would've been able to do), but he rode in on Stewart in the flat corner and went down again. If you're counting, that's how a million bucks goes to $100,000 and then that goes to third overall. The entire press box had the life sucked out of it when Canard went down.
Canard spent Friday night at a local Vegas hospital when his wife Hannah developed some stomach pains and they thought she was suffering from appendicitis. Trey didn't get much sleep and stayed with Hannah for most of the night before they released her. Makes his finishes even more impressive, right?
Davi Millsaps, everyone! I hope everyone enjoys the latest incarnation of The Duke. He's had more lives than Mr. Magoo and probably more surgeries than Wile E Coyote should've had. Millsaps hasn't raced in seventeen months since knee surgery and approximately 739 different foot surgeries kept him out of the outdoors in 2013 and the entire 2014 season. He's gone from the can't-miss-kid-coming-out-of-amateurs to overpaid, malcontent at Factory Honda to the "Hey look, he's actually trying" JGR Yamaha rider to "Wow, he's really training and working hard" at Rockstar Energy Racing Suzuki. And when you have talent like his, a little bit of work goes a long way. His battle with Trey Canard (sound familiar?) at Anaheim 1 2013 was the stuff after-school specials are made of.
Millsaps won the MEC with some smart riding after Canard made his mistakes. Every time he got out on the track, he got a little better. He told us on the Pulpmx Show that he didn't touch his bike all day and just focused on riding. His riding surprised the crap out of me, and I'm impressed that he's kept up the motivation to get back to where he was in 2013.
The Monster Energy Kawasaki team of Millsaps was positively glowing after the race, and why not? Villopoto left the team late, which left the guys in a bit of a lurch, and some of them have heard through the grapevine that they're not going to win shit without Villopoto riding for them. Well, they're one-for-one without RV, and they have a right to stick their chests out and be proud of what they've done. They're showing that although Villopoto had a lot to do with all those wins, it wasn't all him.
Let's take a look at the results, shall we?
1. 18 David Millsaps; Murrieta, CA; 8-3-4-1 - The Duke did indeed deliver a big treat to his team and his fans this past weekend. A couple weeks ago on the Pulpmx Show I laughed when co-host Kris Keefer said that he thought Millsaps could win three races in 2015. Now who's laughing at whom? As usual, I prove once again that I'm a great prognosticator.
2. 3 Eli Tomac; Cortez, CO; 9-4-3-2 - Guess what? Tomac's now got KYB suspension on his bike. Judging by his overall finish, it looks like it works pretty well for him. In case you're counting, this is the eighty-third suspension change that Tomac has made on his CRF450R in two years.
3. 41 Trey Canard; Edmond, OK; 10-1-1-8 - I think Canard's going to stick with the KYB suspension on his bike going forward from here. Just a shot in the dark, I know.
4. 5 Ryan Dungey; Belle Plaine, MN; 16-8-5-3
5. 34 Malcolm Stewart; Haines City, FL; 21-7-9-5 - Malcolm showed up on his Seven-gear-themed Honda, and if he was any closer to his brother James's Yoshimura Suzuki truck, he would've been under the tent. I found this set-up very weird, as most teams don't really want a bike around if it's not the same brand and not on the team. I don't know if Mookie's rides will get him anything, but he joins riders like Josh Hill, Jake Weimer, Kyle Chisholm, and Christophe Pourcel as talented guys who were left with no chair once the music stopped.
6. 32 Justin Hill; Yoncalla, OR; 22-2-2-18 - Yeah, he crashed out of the third main, but what a first couple of mains Hill had! A 250SX rider put it to the 450 guys with a pair of runner-up rides. Wow. That was awesome.
7. 21 Jason Anderson; Rio Rancho, NM; 26-15-7-4 - Jason Anderson qualified as the fastest rider. Read that again and realize that it was this kid's first time (that I know of) on a 450 supercross track. [Ed Note: He won in Sweden the weekend before MEC at 24MX Supercross.] I might have to re-think this "How's Jason Anderson going to do?" question that I've been getting. It's not that I thought he would suck or anything, but qualifying fastest definitely opened my eyes. We can work with speed, right?
8. 12 Jacob Weimer; Rupert, ID; 26-10-10-6 - Weimer was back riding for Mitch Payton, and his third moto was pretty decent. After the race he was talking to the guys from Crossland Racing for a long time. They need a rider and he needs a ride—maybe there's something there for him.
9. 51 Justin Barcia; Pinetta, FL; 28-6-6-16 - Barcia qualified second, which was great for his debut JGR/Toyota Yamaha ride, but he went backwards in the main events after some good starts. Coming off surgery, he hasn't been riding the Yamaha that long, but there's no other way to put it—he wasn't the Bam-Bam we're used to seeing. The good part is he has two months to work on things, and no one will remember this race if he does well at Anaheim 1.
10. 4 Blake Baggett; Grand Terrace, CA; 34-5-8-21 - Baggett did the one thing that "people" say he's going to do on the bigger 450 and that's crash out. It's too bad that the crashes will be what's taken from this race, not that Baggett was pretty good in his other two mains, which marked the first time he's raced a 450 on a supercross track.
11. 15 Dean Wilson; Wesley Chapel, FL; 37-9-14-14 - After the race I was talking to Dean on Facetime and asked him why he was underwhelming. He told me to not write about him, that he wasn't there, and that nothing happened.
12. 29 Andrew Short; Smithville, TX; 40-12-11-17 - Pirelli had some yellow tires for the JGR and BTOSports.com guys. When I saw that and Short's two different colored day-glow boots, I thought that he had maybe lost his mind.
13. 10 Justin Brayton; Cornelius, NC; 41-17-17-7 - Brayton's entire day was jacked after qualifying poorly. His third moto was, according to Jason Thomas, because he picked an inside gate position that someone had given up because it was rough past the starting gate.
14. 75 Joshua Hill; Yoncalla, OR; 41-14-16-11 - I was surprised Hill didn't do better, but he qualified eighteenth, so what was he supposed to do? The gate picks are tough.
15. 23 Weston Peick; Wildomar, CA; 43-21-12-10 – Surprisingly, Peick had to ride the LCQ to get into the race. Little bit of a tough debut for the new JGR/Toyota Yamaha team. I spent some time before practice talking to owner Coy Gibbs, and he's really something. I continue to be amazed and befuddled by him.
16. 17 Cooper Webb; Newport, NC; 44-13-19-12 - Webb also had to race the LCQ to get in. Although the sheets say he was on a 250F, I know better than to trust the sheets. Never trust the sheets. JT said he was on a 450.
17. 24 Brett Metcalfe; Lake Elsinore, CA; 45-18-18-9 - Metty is on a privateer effort right now and told me he's going to ride the first few supercrosses on his own and see how it goes from there. It's been a while since Metcalfe was on a supercross track, but he looked ok. Is he going back to Canada for the summer or not, though?
18. 122 Dylan Ferrandis; France; 47-19-15-13- Look here! The Frenchman, fresh off his MXoN-winning ride, shows up for his first American supercross and performs pretty well. And by pretty well, I mean not having to ride the LCQ like so many other top dogs.
19. 22 Chad Reed; Dade City, FL; 51-11-20-20 - Reed skipped the last moto after he crashed out of the second main event. I was hoping to see him at the Circle Bar at Hard Rock, but he was in bed.
20. 16 Zach Osborne; Chesterfield, SC; 52-16-21-15- Osborne debuted his new Husky ride and raced the 350. I really like the looks of those Huskies; those things are pretty sweet.
21. 33 Joshua Grant; Corona, CA; 52-20-13-19 - Who had Grant—who's been on the TwoTwo Kawasaki for a little while now—not qualifying inside the top eighteen, having to race the LCQ, and then putting in these finishes? A little bit of a surprise, no?
22. 981 Austin Politelli; Menifee, CA; 66-22-22-22 - Politelli got in when Cole Seely crashed out in practice, and at least he made himself some money, although he went down a few times and got beat up.
Thanks for reading. I appreciate it. Email me at matthes@racerxonline.com with your thoughts on this MEC, what you would put into supercross, and whether or not you enjoy reading these columns.