Sam Boyd Stadium
Las Vegas

,

NV
Monster Energy Cup
Monster Energy Cup
We're not supposed to have favorites, but Zach Osborne is one of our favorite riders. Sorry. He's a motorcycle enthusiast through and through, and he'll race any place at any time. As proof, he'll compete at the Monster Energy Cup this weekend—his debut race on his new Rockstar Energy Racing Husqvarna—and then head to Argentina to race for the U.S. Trophy Team at the International Six-Days Enduro. Around all that, Zach and his wife just had their first baby!
Here's an interview with the only racer who might actually get some sleep in Las Vegas this weekend.
Racer X: There's a lot of stuff to talk about. You're going to be racing Monster Cup. You're going to be racing a Husky for the first time. You're going to race on the 350. You have a new baby. There's a lot going on right now.
Zach Osborne: Yeah, a lot of change for this season. Really happy with the way things are going so far with the team, Rockstar Energy Husqvarna. I'm looking forward to a couple of new beginnings and some good racing this season.
How long have you actually been working with these guys and riding this bike?
I've been on the bike a total of eight days now, so probably be nine or ten by the time we get to the race. I signed the deal in May, so it's been a long time coming to get here and get to working with the guys and stuff. I'm happy with the way things are going. It's a great team and a great atmosphere and I'm pumped.
Have you raced Monster Cup before?
I did Monster Cup last year, but it was a night to forget, really. I qualified sixth and then had three unfortunate events in all three main events. I think I got dead last. I think I went 20-19-20 or something like that.
Dead last!
Yes!
Was that your debut with the number 16?
It was. That was kind of the way my whole first year with the 16 went, so we're looking to turn that reputation around here pretty quick.
I'm sure you're not looking back at 2014 saying, "That was awesome." It didn't go your way.
No, it was a rough year. Just a lot of, well, first of all a collarbone injury at A2 and then a thumb injury at the first outdoor. It just kind of ruined my season. I started off good with two podiums, and I was really prepared and ready to race and had some unfortunate events and it just ruined my year.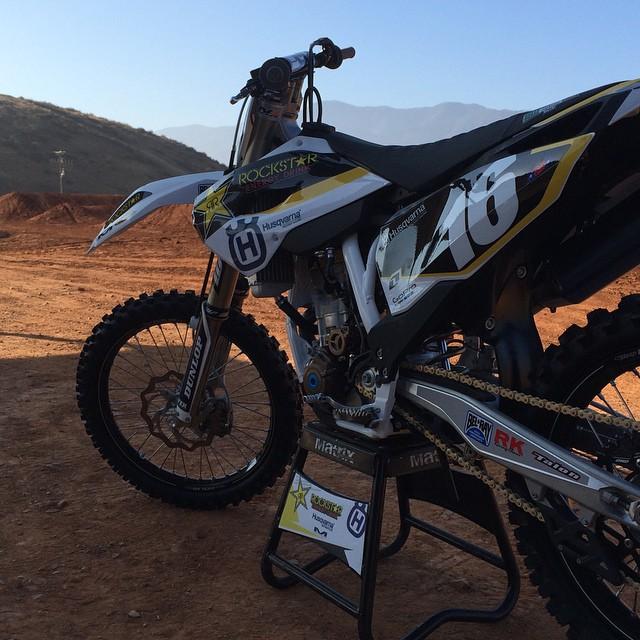 So you're making the transition here to these guys. You rode Japanese bikes most of your pro career, but you did ride KTMs back in the day, so you're back on a European bike. Is it in any way familiar or helpful at all?
I would say just to be back around people I know, even though not on the team there's not so many people I know, but in the company, our shop's in the warehouse, so to be back around some people that I know from back in the day is good. Also, just the feel of the bike is still quite the same. Obviously a lot more advanced and different, but at the same time there are some similarities, and I'm already pretty comfortable with the bike and my surroundings.
Explain this to me: Is this a KTM with white plastic, or are there actually some differences? We just had a 450 shootout where guys said the bikes actually didn't feel identical. What do you know about that?
There are quite a few differences, and eventually it'll be more different than it is now. Obviously it's a plastic sub frame; that's a huge difference. There are some differences in the frame that not so many people know about. Little nit-picky changes, but on our level, if you know what you're doing and know how to test, you would know pretty quick that there are some differences. So it's definitely not a KTM with white plastic, and it's going to get further and further away from that in the years to come, but the bike's really good. The adjustment has been super easy; we haven't even actually changed one thing from the day I started with the bike. I'm really happy and I feel good going into this weekend. I don't want to get too far ahead of myself and layout some big expectations, but I think it will be good. I really enjoy the 350. It's actually probably one of my favorite bikes that I've ever ridden to this point in my career. It suits my style pretty good, and you can really ride it hard and not be so scared of it like the 450.
We're long past the point of wondering if the 350 can compete at this level. It's proven itself. Do we even need to talk about this?
I would hope we're past that, man. [Tony] Cairoli kills it every year on it. That should be plenty enough.
And at this race [Marvin] Musquin's done well on a 350, Roczen's done well on it in supercross. It should be fine.
Like I said, it's one of my favorite bikes I've ever ridden, and that's no exaggeration; I really like the thing. It's a bike where you don't really have to work that hard to ride it, but at the same time it's not super powerful like the 450 and won't get you in trouble if you're not careful. I think, in my eyes, it's even better than what I had initially anticipated.
You're going to be back on the 250 in supercross. Can you win supercross races? Is that going to happen?
It's going to happen. I should have won some races last year and even the year before. Last year was a loss for me completely. I think this year I have a little bit of…maybe I have my back against the wall a little bit. I tend to operate pretty well in that situation. I think it's going to be really good for me. Everyone has a huge amount of enthusiasm to put Husqvarna back to what it once was. I think a supercross title and some wins would definitely be a step in the right direction.
You say your back is up against the wall. Is this a one-year deal? Is that why?
No, I have a two-year deal and they're not putting any pressure on me, but I feel like that. I had a not so stellar 2014 even though I had some good rides and stuff. I want to do good, and I want to prove myself again. As a lot of people say our successes are quickly forgotten in this sport. I just need to bring myself back to the top. It's all for me. I think I have a good infrastructure around me this year to put me on the top step.
You're racing the ISDE still though, right?
Yeah.
How does that fit into the timing of all this? Do you just jump over there real quick, race, and come back? Or are you actually going to do some off-road work or testing while you're at it? How do you do all that?
No, I actually rode my off-road bike a while back. It had to ship on September 1. So I had to get permission to have a day to go and ride it a while back. The testing of the bike and everything is done; it's already there and ready to go. I will just have to go there and do my best. But I think the way it was when I rode it, we have a good setting and I'm confident that I'll be good to go for Six Days.
You actually just told me that you signed the deal in May, which most people always lie about, and your old team actually let you get a little ISDE testing in. So it sounds like they were pretty cool, and you were pretty cool about how that ended with GEICO Honda.
Definitely. It was no hard feelings at all. They actually offered me another year, but I wanted a little bit of more security than one year and an opportunity on the 450 in the event that I win the title this year. So with the baby coming and everything, that kind of weighed a little bit on my decision, but at the same time I was looking for something different. I kind of found everything that I wanted and needed at Husky.
Yes, the new baby! How are you managing that too?
Yeah, October's been busy for me, for sure. New baby on October 3. My wife's been a trooper taking care of the baby without me being there. I can't really say enough about her being by herself and not having me there. But she understands and realizes that it's part of my job. I was there for the first few days, but then I had to come out to California. She's just rolling with the punches right now!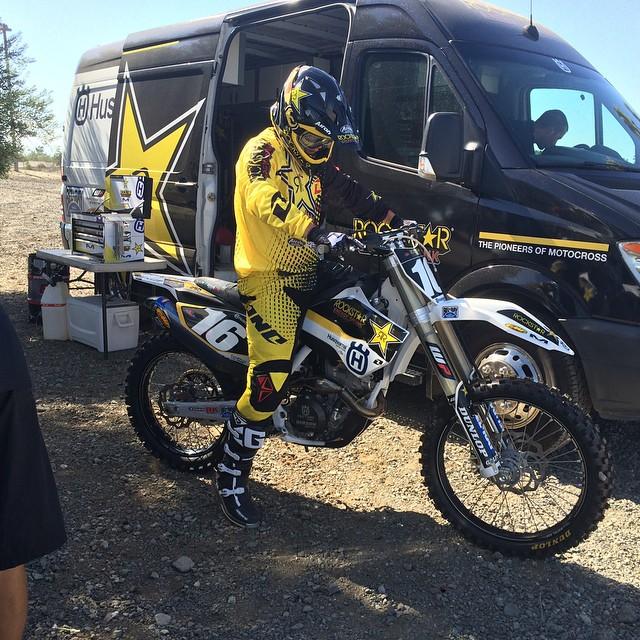 It is brutal. When you get back you're probably not going to sleep for a week. You're going to owe her a lot.
I am. I actually have to go down to Six Days on the Saturday after Monster Cup, but then I'll be in like the triple doghouse out in the middle of the field, not even in the backyard anymore.
Well, I'm impressed. You haven't faked an ankle injury or said that you broke your pinky or anything like that. You're doing your duty.
For sure. That's not me at all. At the end of outdoors I came back to the last few races simply because I was well enough to ride and I owed that to my team. That's definitely not my deal. If I'm healthy and I'm capable, then I'm going to be there to race. That's my job and that's what I do. Definitely, my wife's been super-understanding, in recent weeks especially!
Okay, so, I know you don't want to talk it up, but this year you'll probably do better than last place, you think?
Definitely. I was super pumped last year! I qualified sixth and I was looking for big things. Then the first race I came together with [Tyler] Bowers and it broke my clutch off. We didn't even go down, but broke my clutch off. Then the second race [Jake] Weimer and I tangled on the second lap. We were both up in the top five and went down. Then in the third race I crashed all by myself on the start and that kind of ended it. So, I'm definitely looking for better than a 20-19-20 or whatever it was last year. We'll see!