Ferrandis To Make U.S. Debut at MEC
Sam Boyd Stadium
Las Vegas

,

NV
Monster Energy Cup
Monster Energy Cup
French Motocross of Nations standout Dylan Ferrandis will make his U.S. debut this weekend at the Monster Energy Cup in Las Vegas, NV. Monster Energy's Eric Johnson caught up with him earlier this week to talk about his debut.
If American motocross fans didn't know too much about Dylan Ferris prior to the conclusion of the 2014 MX2 World Championship, they sure know about him now. On Sunday, September 28, 2014, at the sandy Kegums circuit in Latvia, Ferrandis, together with teammates Gautier Paulin and Steve Frossard, dominated the Motocross of Nations for Team France. For the 20-year-old Team CLS Kawasaki Monster Energy rider, the fantastic MXoN result put an exclamation mark on an already successful season. Dylan Ferrandis won the opening moto of the MX2 title fight and would then race on to score sixteen additional podium finishes before ending up fourth in the final point standings (only Jordi Tixier, Jeffrey Herlings, and Romain Febvre were better). Like all the rest of the Grand Prix riders, the MXoN would have spelled the end of his '14 motocross campaign. However, the stunning victory in Latvia earned him more than worldwide acclaim; it earned him a plane ticket over to sunny Southern California, and from there, a four hour drive over to Las Vegas, Nevada. And it will be there, in the big neon glitter that will backlight the whole affair, that Ferrandis will make his debut in American supercross when he lines up behind the gate for the Monster Cup. Like many French-born racers who came before him, supercross has been a siren song for Ferrandis. And with the help of his boyhood idol Chad Reed, Ferrandis will fulfill a dream on Saturday night when he roars down the start straight and drops into the sold-out Sam Boyd Stadium. Prior to making the trek over to Vegas, Ferrandis, along with CLS teammate Thomas Covington, made the rounds in Corona, California to visit some sponsors and check in with some industry friends and colleagues. And that's where we ran into him.
Racer X: Dylan, I know this is your first time being in America. Have you been able to get out and check in on the Southern California MX scene?
Dylan Ferrandis: Yes. I just saw the Kawasaki track. I've also just seen the Suzuki track. Wow! I'm really interested by American motocross life, so I look at all the websites and magazines and all that. It is awesome to be here and see these things in person.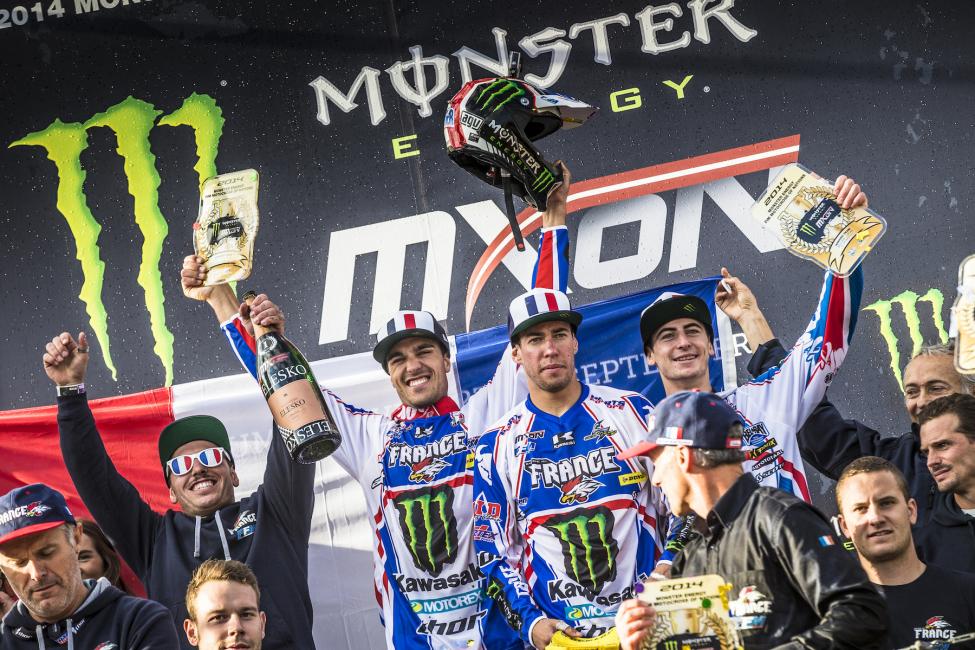 What made you decide to come over here to the U.S. and race the Monster Cup?
For me, if I had the choice, I would race the Monster Cup and then I would the West Coast for supercross and then I would come back to Europe for the GPs. In Europe, they think supercross is too dangerous for us, and that's why they don't want me to do that. Three months ago, though, I said, "I want to make it to the Monster Cup." The team told me, "Okay, okay. We'll see. We'll see." After a while they forgot about it and didn't want to pay for it, but I rode good at the 'des Nations and the boss of the CLS team said, "Okay, you made such good results at the Motocross of Nations that I'll give you a present and pay for your ticket to the Monster Cup." Yeah, so everybody knows that I wanted to come to the U.S. to race and get some experience. It's more for fun. If you come here the first time for a championship, it is not easy. Now I come for fun. If I make a good or bad result, I don't care. I want to prove what I can do and it's only for fun and to learn.
Five years ago, Gautier Paulin won a moto at the Motocross of Nations and placed third in the MX2 World Championship. He then flew to America to contest the opening rounds of the Monster Energy Supercross series. I remember interviewing him after one of the main events at Anaheim, and your story sounds pretty similar to his! Have the two of you spoken about all this?
Yeah, yeah, yeah. It is the same for us. America is the dream. Perfect tracks and perfect conditions. For him, he starts to get a little older. For me, I can try and do what I want.
What bike will you ride, and what team will you work with at the Monster Cup?
I will ride a bike from Chad Reed. I don't know exactly what kind of bike. I don't know if it will be a stock bike or the bike Chad normally rides. I really don't know. I just know that I have a Kawasaki 450. I'll take my suspension and my handlebar over to the Monster Cup and I will see. I'm just looking to ride.
Have you met Chad before?
The first time I met him was in Latvia. In Latvia he was in our truck and we helped him, so he will help me for Monster Cup. That's the deal.
Have you raced any supercross events before?
Yeah, I raced Bercy on an 85, so that was many years ago. I raced a 250 three years ago. In the last two years I didn't make it, though. One year I broke my femur, and last year I was between contracts so I couldn't make it. For sure, this year, I will try and make it to Bercy. For me, motocross is work. Supercross is only for fun. Supercross is really fun for me.
I'm sure you've seen videos and magazine articles featuring all the supercross races that have been held over in Las Vegas. Are you excited to race there?
Oh yeah! Sure! I think in the last ten years I have watched all of the supercross, all the motocross, all the Monster Cups. Motocross is my life. In Europe, I dream of going to America. I love motocross, and I know this Saturday is going to be crazy. With the big stadium and the big track, I love it. And I really enjoy being here for this race. I know it's for fun, but, for sure, I will give it my best to try and make a good race. There will be pressure, but I like pressure. When you have pressure, you feel like you are alive.