The 2014 Racer X 450 Shootout wrapped up last week and we had some surprising results. An eclectic cast of test riders gave us some great feedback and some good insight into what each bike did well and where each bike could improve. Because there just wasn't enough time to include all this information in the wrap-up video, we have compiled all the notes for you to look through and get a better idea of how each rider came to their conclusion at the end of the day.
Our test riders included Dave Castillo, a former professional racer and current stunt man. Dave still hauls the mail and knows how to feel what a bike is doing underneath him. Sunny Garcia is a former World Champion, an icon in the surfing world, and an avid motocross fan. His racing experience is limited, but his passion for the sport is unrivaled. Paul Perebijnos is a former championship-winning mechanic for Pro Circuit and now works at Answer/Pro Taper. Perebijnos is also a former pro racer who still goes fast. His understanding of bike setup and function is invaluable to this test. Grant Langston is a former World Champion, National Champion, and 250 Supercross Champion; his credentials speak for themselves. Charles Castloo is a very capable pro level rider who now works for Tag/ONE Industries. Ryan Newton is a former pro racer.
Our overall results and individual scores:
Honda: 1,1,1,4,4
Suzuki: 3,2,1,4,3
Kawasaki: 4,3,2,1,4
KTM: 3,5,3,2,5
Yamaha: 5,2,5,6,2
Husqvarna: 6,6,6,5,6
Below is a compilation of the comments from each rider, good and bad, for each brand:
Honda
"Very good. Turns into and out of the turns very well. Feels very light. The cockpit is comfortable. Love all three mapping modes (all are usable and all are different, but not a huge difference). The engine is very smooth. It revs up a tad quick and is a little weak on torque and power. It's very user friendly and can be ridden aggressively or mellow…engine is a little weak, so it helps to be more aggressive. Worst fork of the group by far. Went four clicks stiffer on fork, three stiffer on low speed in rear and three faster. Helped but still don't like the fork."
"Motor was strong on the Honda. Very unique with the three map settings. This is great as the track changes throughout the day. I preferred the aggressive setting, which pulled hard throughout the gears from top to bottom. Good spacing between gears. I thought the CRF had the best brakes. I could grab more front, entering turns, and still not lose the front end. Bike had a comfortable, soft feel where in seconds I felt right at home. Bike handles well in all situations, especially under braking. Sets up great for turns and really easy to put it where you want. Smooth, stable feel and it hooks up."
"This bike surprised me. Feels super light, nimble. I could get furthest forward on this bike, which is great in turns."
"Very open cockpit. Felt like I sat 'in' the seat too much… steep transition from front to rear. Overall very comfortable, though. Very usable power. Easy to ride, confidence-inspiring. Good clutch feel. Fork had a dead/vague feel. Dove too much on corner entry. Good front wheel traction. Tends to under-steer or knife."
"Ergos felt perfect. Power was good in #2 setting. Suspension a little soft up front. Very strong front brake, but a little grabby. Bike turned really well and I felt best on this bike."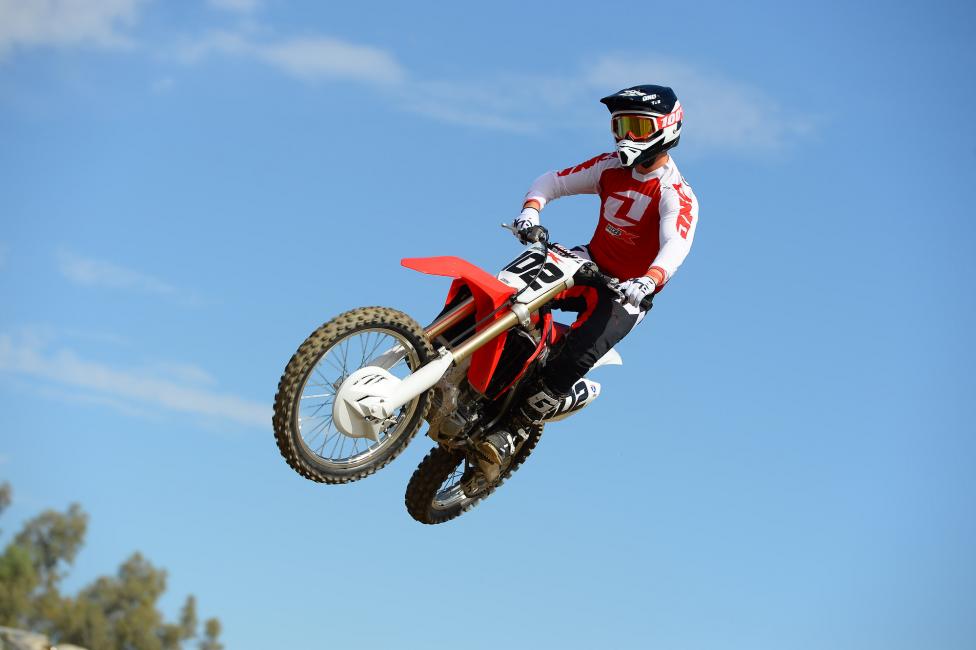 SUZUKI
"Ergos comfortable. Clutch lever felt far out. Front-end felt stiff. Suspension was firm, overall. Turning was really good. Motor was abrupt but really strong. Brakes were good all around."
"Neutral cockpit but feels a little rear-end high. Easy to get over front-end in turns. A bit cramped when sitting. Great bottom-to-mid on the engine, but it signed off a little early and hit rev limiter. Clutch pull is soft but doesn't disengage as aggressively as I'd like. Turning is great. Slid forks down in clamp for better stability…felt a little unbalanced with too much weight on the front at first."
"Seat wide in back. Pretty dang good bike! You can ride it hard or mellow and be comfy. Cockpit is very comfortable. Turns really well and goes right where you want it too. Engine is strong, linear. No big complaints on this bike. Very good traction. Brakes were good. Suspension worked well…doesn't blow through and works well together. Clutch feels a little weak. Suspension is a little harsh initially, but fixed it with clickers. Kawi fork feels more plush. Shock is good."
"Races are won in the turns, and this bike turns like a dream!"
"Great power all-around from bottom to top. Smooth transition. Tracks really well through choppy stuff. Tranny works really well…no notches and hooks up well. Braking was great…allowed for a smooth transition entering turns. Front-end felt light and worked well under braking. No complaints with the handling. Bike hooks up well and very comfortable. I was able to get in and out of turns quickly, and could put it wherever I wanted and cut out of ruts to miss square edges.
KAWASAKI
"Comfortable initially. Shifter/brake pedal seem short. Bike felt long and tall…not necessarily a negative. Suited me well at six feet. Never tried the lower peg mounts but I think I would have liked it. Great feature. Engine was great, especially on the aggressive map. Initial hit was more useable compared to older Kawis. Forks felt a little stiff but were great after I softened them up. It felt a little unbalanced after the change, but the feel entering corners was better. Need more time to get fork dialed in."
"Ergos felt good. Clutch felt good. Suspension was firm but plush initially. Motor was strong but very smooth. Shifting was a little notch-y. Brakes were just right."
"I liked this bike best because it does everything either good or amazing. I felt very comfy on it. With all the adjustability and the fork, is amazing; plush, yet it doesn't blow through or bottom. Engine is very strong; only KTM felt stronger. Easy to ride and be lazy…just use the power, which is how I ride."
"Great all-around bike. I felt like I fit best on it…I'm 6'3" so that is important."
"Good engine. No major hit down low, but super strong through mid and top. First and second gear seemed a little short, but third and fourth were great. I tried to spend as much time in those gears as I could. Braking not as good as the Honda but felt stable and easy to get set up for turns. Handling was good but a little twitchy through tight turns."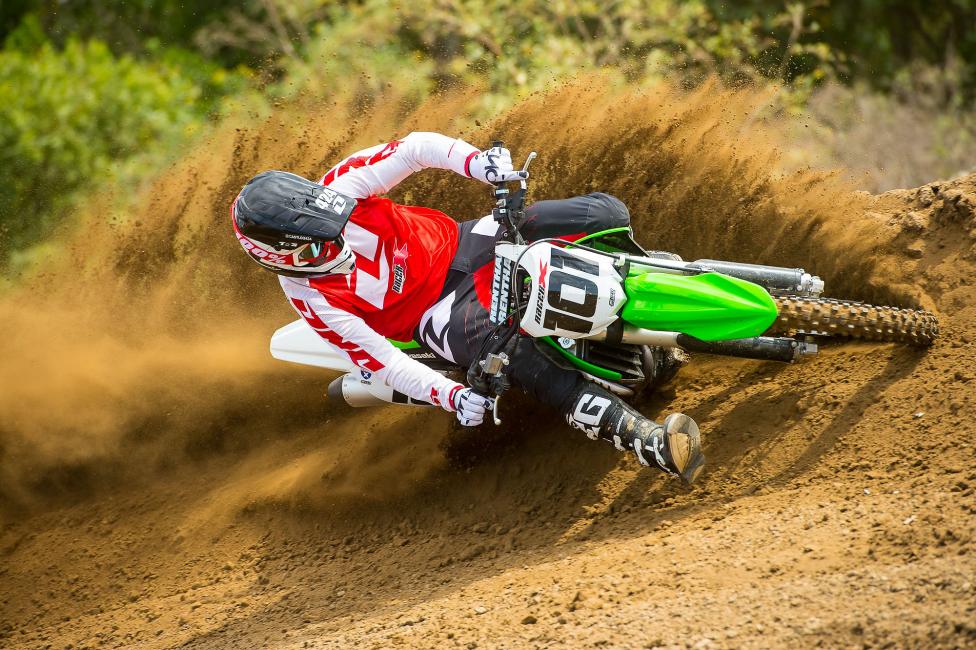 KTM
"I felt too tall for the KTM and the Husky. They are both good bikes with a lot of cool parts and features. I just couldn't get comfortable on them. I'm 6'3" and this bike didn't fit me."
"Most powerful motor of the group. Suspension felt soft and spongy. Brakes were really strong. Bike felt big but in a good way. Didn't notice the shifting because I rarely had to shift. Bike turned really well."
"Brake and clutch levers felt fat. Comfortable cockpit. Tip-on rear brake pedal is too small, making it hard to get to sometimes. Great engine package; very strong but still ride-able. Hydraulic clutch is awesome. The suspension worked well and tracked straight. Front brake is exceptional. Handling was pretty good… not as comfortable as the Honda but still felt okay."
"Strongest engine of all. Hydro clutch, Brembo brakes and electric start are class-leading. Cockpit is very friendly. Feels skinnier than the Husky and engine mapping feels better. Shock is soft and dead but is easily fixed with clickers. I loved all the power."
"Motor is really strong off the bottom, felt like I could run a gear higher everywhere and it would pull it. First and second gear seemed too short, but I was able to run third almost everywhere anyway. Brakes were epic, and the bike tracks well under braking. The suspension is very soft and comfortable feeling, easy to put it where you want. Very light and small feeling under you. I was surprised by how well the bike turned and stuck in a rut, and also how well it tracked exiting turns."
YAMAHA
"Great all-around bike. So plush in the chop… a pleasure to ride."
"Really easy to use power, and the suspension felt the best. Brakes needed a little more power. Very easy bike to ride."
"Cramped feel. Seat-to-peg distance felt short. The frame and the front of the shrouds felt very wide…made it hard to get my foot out in front through corners. Short shifter/brake pedal. Tracks well in bumps. Stays planted. Good straight line stability."
"Cockpit is too tight. Bike feels way too wide and has no happy balance in corners. Also had worse traction of any bike front and rear. Engine is loud through the airbox. Power is OK. Mid-range seemed weak. Bike feels solid and reliable but I just never felt comfortable on it."
"Super fast in a straight line. Probably the fastest bike. Seems to break traction though. Bike felt a little hard setting into turns. Felt like it was breaking loose and knifing a lot. Bike felt pretty wide and rigid. Lots of head-shake on the front-end and the rear broke loose a lot. Turning was good, but lost the front-end a few times coming out of turns. Bike felt a little heavy laying it over."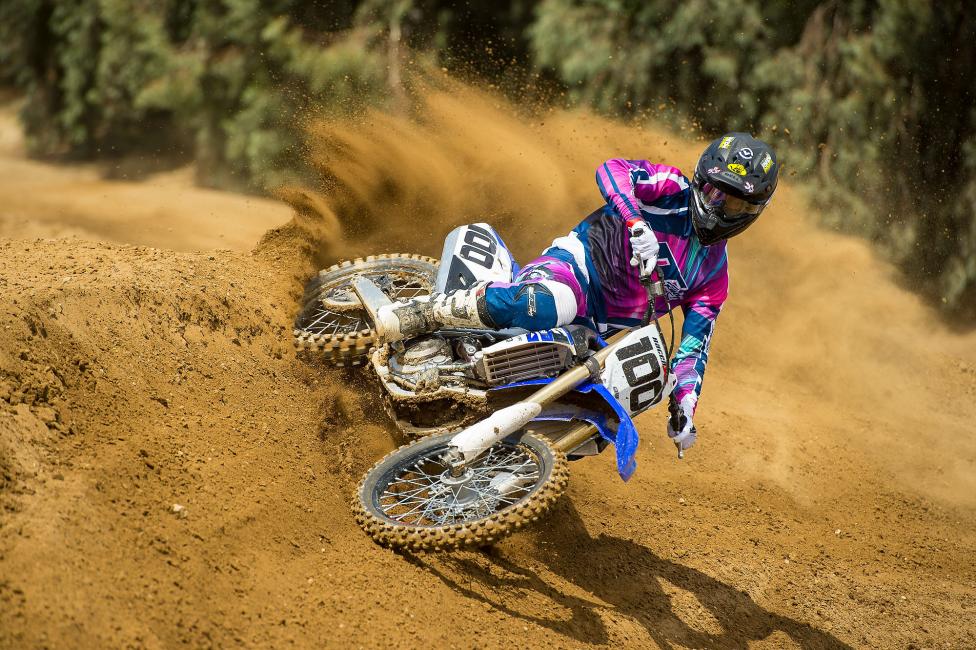 Husqvarna
"Thought this bike would be the same as KTM, but it seemed a little different. Hard to put my finger on what was different. For me it was too cramped and tight in the cockpit."
"Suspension felt better than the KTM, but the motor didn't pull as long or as clean."
"Felt comfortable when sitting but cramped when standing. Levers are thick. Slippery seat; hard to stay forward in turns. Strong engine. Revs to the moon! I preferred standard mapping over aggressive setting. Busy feel in the front-end. Felt much more comfortable when we lowered the rear end."
"Didn't do anything to impress me, but it also didn't do anything badly. Again, love the electric start/hydro clutch. Front fender is a little weak and bouncy. Shrouds feel wider than the KTM. Brakes are great. KTM engine and chassis just felt better to me for some reason."
"Motor was strong on the aggressive setting. Second gear was short on the standard setting and third never had enough. After the switch to the aggressive setting, it bridged the gap. I could pull third almost everywhere, just like the KTM. Braking was okay…little harder to set up your turns. Front end kept diving a bit. Handling was good through the chop and on straights. Very comfy feel for me. Does break loose on acceleration through rough stuff. Bike turned well, had to be more patient through the turns and with acceleration."