Fairplex
Pomona

,

CA
Red Bull Straight Rhythm
Red Bull Straight Rhythm
We haven't seen Yoshimura Suzuki's James Stewart at the races in a while (and we still don't know what his status will be for official FIM sanctioned races in the future yet), but you could imagine him as a fairly safe bet to contend in a race like Red Bull Straight Rhythm. In a battle of sprint speed, whoops, scrubbing, and skills, JS7 is still plenty fast, and he emerged as the first ever winner in the Open Class.
Along the way, he had to out do his brother Malcolm, who was actually faster than him at times throughout the day on Saturday. But James came through, topped Justin Brayton in the finals, and then did this interview.
Racer X: You're obviously well adapted to the event; you were part of the test run a year ago. What are your thoughts?
James Stewart: Honestly, it was night and day different than what it was down there. It comes down to racing. I think Malcolm should have beaten me that second run. He made a mistake over there, but it still comes down to you've got to do whatever you had to do to win. I messed up big time with Hanny and I had to throw it down through the whoops. But to me, it's a great event. It's nice to be able to do something a lot different and have a good time. There's a couple cool things that Red Bull's done and it's different. For us it definitely helps us prepare for next year. Having a rhythm section, there's a lot of things we learned today so it's good.
Talk about coming out of the gate that way and then sort of getting close to guys at the end of the sand right there. You get really close because you're coming back together. It's really heads-up and you're handlebar-to-handlebar.
It is. A lot of people say there's kind of a one-off race, but to me if you race supercross you can tell there's a lot of things you get to learn [from this]. I believe it's more hectic racing head-to-head than it is with twenty other guys. The crowd's only focused on you. You win or you go home. You've got one chance to get it, where supercross you got twenty laps. So it's definitely good. I haven't won anything in a long time, so it feels good just to win.
In practice everyone was playing with looking at different lines. Did you think people were going to start pulling stuff out of the hat today, and did you have anything in reserve?
It was weird because I lost that one with Hansen, I lost time in the beginning, and somehow I still figured out how to go faster than I have all day. I think the team managers kind of told those guys, "Hey, we've got to race in a couple weeks, we've got a season here, don't get hurt, don't get busted up." And that jump he was kind of doing, I say it gave him a 25 percent chance that he was going to make it. If you didn't make it, it was way slower. I think a lot of guys just said forget it. I wasn't going to hit it.
Did you have any close calls?
Yeah, the one with Hansen I had a close call. I ran it too hard in the wall and almost doubled in. It's weird, it's like when you charge up into that you lock it up and the bike's bottomed out. It's like trying to hit brakes on ice, you just slide up. So I had that one. The whoops I was solid all day, but they definitely closed it down. Yesterday I felt like I was pretty good, and they closed it down on me in practice. Actually, for a while I didn't think I had a chance to win it. I was pretty slow for a while!
The way the format worked during practice, you and Malcolm were kind of going together all the time. Would it be better to rotate it a little bit so you're going with different guys?
No, not really. He was third, but he was tough. He was definitely the toughest one. So I think it helped him. But this little punk, he went up like five notches between practice and the race! He went way faster in the race than we did yesterday. I got him. I'll pay him back.
I thought it was interesting, though, because being your brother, nobody knows how fast you are better than he does, but he wanted to throw down. He wanted to beat you.
Yeah, and when we practice he tries me. He'll go down to 49, I'll go to 48, he'll go to 47, I'll go to 45. So I think he learned that and in practice yesterday he was just kind of hanging back. He knew if he went faster, I'd just go faster. So he kicked me in the nuts that first race when I saw him out. But I got it down. Big brother still knows how to win races.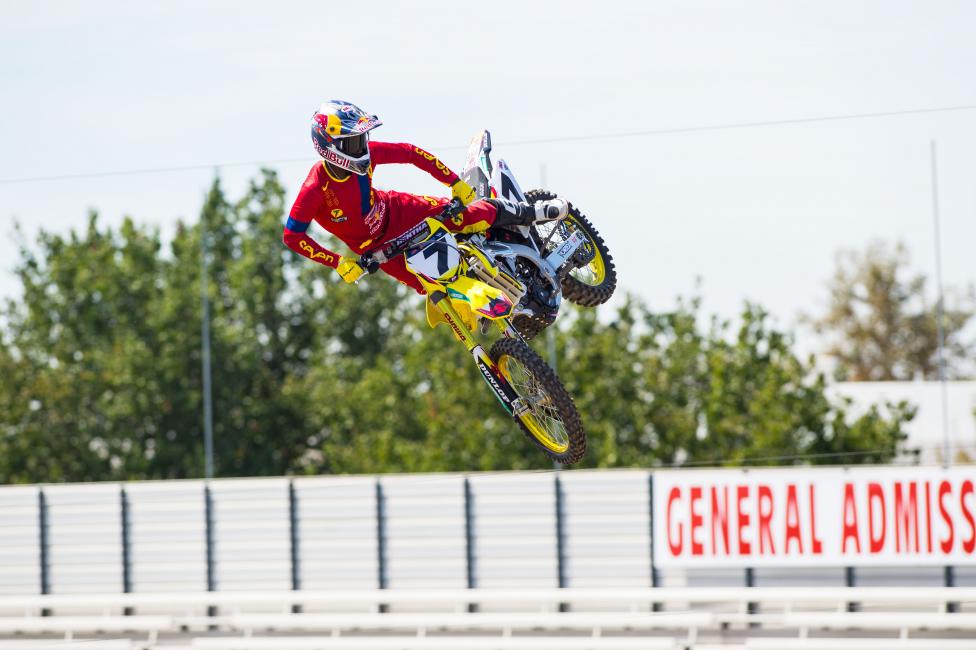 It probably still would have been you and him in the finals if he was on the other side of the bracket.
Yeah, it was weird. I thought he would be on the other bracket since he qualified fourth. But it was good. I'm kind of glad I didn't have to have him in the finals; I got through him earlier.
Was than an emotional moment for you, to have to race your brother.
When we put on the helmet, not really. But it was cool to see the reception of the fans. I've never really felt that before. Kind of when we held hands going down the fans gave us a standing ovation. Never had that with another rider before, so that part was cool. After I won it was definitely kind of emotional. It was almost like after racing him, and I knew how fast he was going and we would meet in the semi. It was almost like I forgot about the final and I had to step it up again for that, but it was cool.
What did your dad say?
He hasn't said two words to us the whole time! He's getting on a plane going back. I think obviously he wanted Malcolm to do good but I think he knew big brother would pull it out of the hat somehow. He's got to be proud; two of the fastest guys here for sure. It's nice to be able to do it.
You're basically his sponsor today. He's got the Seven bike, Seven gear...
I give him my gear, that's it. He figured his own stuff out. He's got more sponsors coming up this weekend. I'm not his sponsor. I gave him free gear like I've given some of my buddies. If they want to show up and race this, technically I sponsored them too.
Is he going to get a bonus?
He kept saying I was splitting it [the winnings] with him, but he said, "If I win I'll split it with you." I was like, "Hmm…I ain't doing it!"
He was trying to get you to give into that off-chance that he beats you.
If he won, of course we'll split it, but I'm good! You're a privateer for a reason. You've got to get up there. It's nice to be able to see him step it up for sure.