Roughly a year ago it was announced that Swedish motorcycle brand Husqvarna had joined forces with KTM and would operate alongside the Austrian motorcycle manufacturer. With its new backing, it didn't take long for Husky to start building a heightened presence in America. It didn't take them long to start winning, either—Husky-mounted Andrew DeLong wrapped up the Kenda AMA National Enduro Championship over the weekend in Indiana. It's a big win for both the brand and 23-year-old DeLong, which is why we decided to ring up DeLong for this week's Unsung Hero.
Racer X: Congrats on wrapping up the Championship Andrew, this is a big one!
Andrew Delong: Thanks! This is my first National Championship and I'm pretty ecstatic about it. I don't even believe it yet. The further I get down the road I think it'll sink in more. Before the season I'd only ridden the bike twice before the first race which was tough; the season was a work in progress the whole way through. We kept working and got it dialed about halfway through the season and after that I got my first win and strung together some podiums and another win.
Why didn't you ride much before the season?I didn't have a bike! They got me my Husky three days before the first race. I had a 450 but I didn't have a 350, which is what I ended up riding the whole season.
With KTM and Husky coming together, there had to be some uncertain times for you, as far as your employment was concerned.
I was party of the old Husky, and with the new situation they ended up letting almost everyone go. I thought I was going to be let go too but they actually kept me on, as well as my mechanic. That was an uncertain time, but other than that everything has been really good.
You were on your way to an XC2 GNCC Championship last year but you got hurt. Tell us about that.
I pretty much won every XC2 race up to the fifth round where I had a bad crash and got a concussion. I came back and won, but then I was helping put on an Enduro with a local club I belong to and some guy was going backward on the course and hit me head on. It shattered my hand and broke my foot and I had to get nine screws and two plates in my hand. They also had to reconstruct my third metatarsal and my knuckle. I had about five months of therapy to where I could make a fist again.
So after going through all that does it make this championship even sweeter?
Yeah. It seems like every time I've gotten close to winning a championship it would always elude me because something stupid would happen, like breaking a bone or missing races for other stupid reasons. This year my whole goal was to just make it through the season without getting hurt. I've been doing that and it feels good.
So winning the championship this season wasn't even on your radar at the beginning?
I was just trying to get through it! My boss, Andy Jefferson, told me that my first year was just to ride and have fun with while learning the ropes of riding a bigger bike. So that was my goal, just to have fun with it but then about halfway through Charlie Mullins got hurt. That stinks, but it's part of racing. We nailed down a win and were really close to the points lead and realized we could win it. So we did a bunch more testing, got the bike to where I felt really comfortable with it and dropped the hammer.
Does it feel good to reward Husky's faith in you by delivering them a championship?
Yeah. It feels awesome that they kept me around and I'm glad they let me prove myself. I'd like to have a relationship with Husky like Mike Lafferty had with KTM for twenty years. I'd like to be on Husky for the rest of my life. I'm a loyal guy and my goal is to stay with Factory Husqvarna as long as I can.
Other than winning the championship, what was the highest high of your season?
I think probably getting on the podium and the Snowshoe GNCC this year. It was my first ever XC1 podium and it was huge for me to be up there with Kailub Russell and Jordan Ashburn. I'd actually been overtraining during the week and I didn't know it. I had to back off on it because I was so rundown at the races that I wasn't getting the results that I wanted. So then I'd go train so hard during the week and push at max heart rate every day. It ran me down, and when I took a break I got that podium!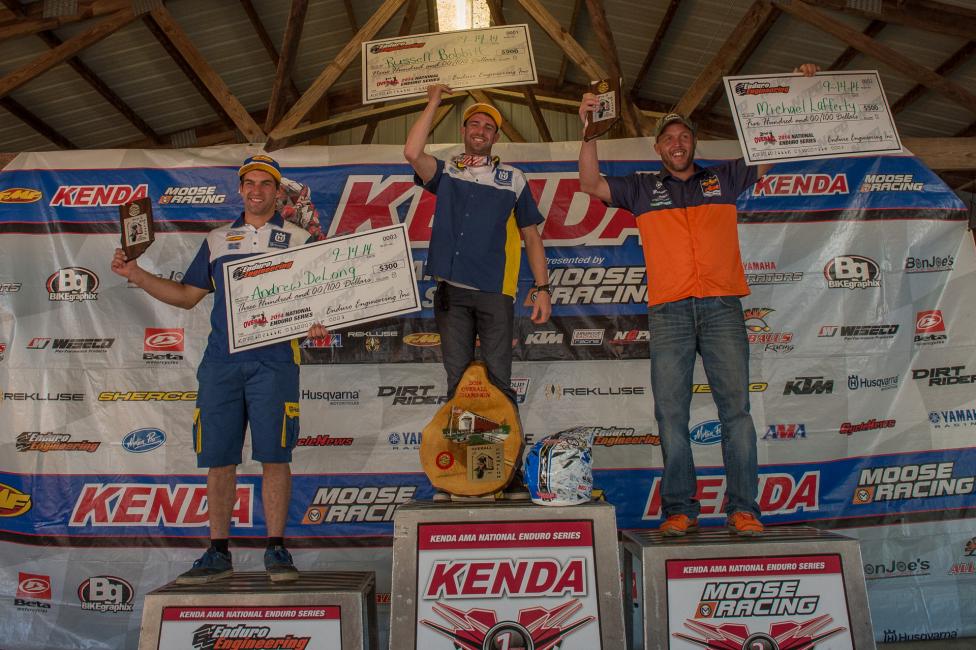 You didn't totally come out of nowhere, but your rise to the top has been pretty sudden. Is there anything in specific you can attribute it to or would you disagree and say it hasn't been sudden?
I never grew up racing at National events. I just raced locals until I was fast enough to start winning them. Then I came to the Nationals and slowly worked my way up but was never really within striking distance of winning. Then all of a sudden I put in a lot of work. I had this opportunity and I knew I needed to take full advantage of it. I see a lot of people who don't take full advantage of their opportunities and they miss out on a lot. I trained my butt off, rode, learned a lot and took riding classes with Rich Lafferty. I improved everywhere and I was ready for the season.
Wow, you don't often hear professional racers say they take riding classes!
Well it's not an everyday thing. Rich Lafferty is one of my good friends and he helped me with technique and some little things that I was missing. I wouldn't have found those things without him. It was good to have someone tell me what I was doing wrong, and I'd say that was the turning point for me.
Who else helped you win this championship?
Factory Husqvarna, Moose Racing, my family and friends, Bel-Ray Oils, FMF, DT1, SuperB, Ride PG, Rad Wheels, Motorcycle Superstore, Dunlop, Enduro Engineering, Pro Taper, Rekluse, Motion Pro, Zip Ty Racing, and TM Design Works.