Russell Seeks Second Straight GNCC Title This Weekend
MORGANTOWN, W. Va. -This Sunday, the 2014 AMSOIL Grand National Cross Country Series presented by Maxxis, an AMA National Championship, makes its return to the Mountain Ridge Trail Riding Park for the first time since 2011 for the Car-Mate Mountain Ridge GNCC. While the return to Somerset, Pennsylvania's rocky terrain has been highly anticipated this season, all eyes are on Factory FMF KTM's Kailub Russell as he looks to clinch his second career GNCC National Championship at round eleven.
Russell heads into the weekend with a four-race winning streak behind him, where he sits with seven total wins for the season. But perhaps even more impressive is the fact that Russell is also gunning for his twenty-first career victory, where the 24-year-old could potentially tie two-time GNCC Champion Scott Plessinger for fifth place on the All-Time Bike Overall Wins List. With two additional rounds remaining in 2014, Russell has the chance to solely break into the top five before the season is over.
Rocky Mountain ATV*MC/N-Fab AmPro Yamaha's Josh Strang has made his way into the second place position in the championship standings, surpassing an injured FMF/KTM's Charlie Mullins, who won the last Mountain Ridge GNCC in 2011. While Strang is out of the championship hunt this season, the 2010 GNCC Champion is progressively working his way toward a race-win this season. Strang sits with seven-podium finishes behind him but the Australian native has yet to finish better than third in a race thus far.
N-Fab AmPro Yamaha's Jordan Ashburn sits in fourth in the championship standings with two podium finishes this season. Ashburn has been one of the most consistent riders inside the top ten, but the Tennessee native struggled at the last round after coming back from a big crash at the beginning of the race. KTM Support rider Grant Baylor, who currently leads the XC2 Pro Lites championship standings, has been successful in challenging the overall leaders with two second place overall finishes thus far. Baylor sits only 14 points behind Ashburn in fifth overall, where he looks to continue improving his rank in the remaining rounds.
N-Fab AmPro Yamaha's Paul Whibley currently sits sixth overall in the championship standings with just one podium finish this season. The two-time GNCC National Champion finished a strong second at the 2011 Mountain Ridge GNCC, where he looks to continue his success in the rocks this weekend.
Raines Riding University/Atlas Cycles' Ricky Russell sits in second place in the XC2 Pro Lites Championship but after a hard fought battle for the title, Russell will miss the remainder of the season due to injury. The Washington native announced this week that he had surgery on his wrist and is looking forward to recovering for the 2015 season.
XC2 Pro Lites rookie Trevor Bollinger currently sits third in the class standings, with one victory behind him. RideMPS.com/AMSOIL Honda's Layne Michael sits in the fourth place spot after missing the last round due to injury, and Maxxis/KLIM/DirtWise KTM Race Team's Jesse Groemm rounds out the top five.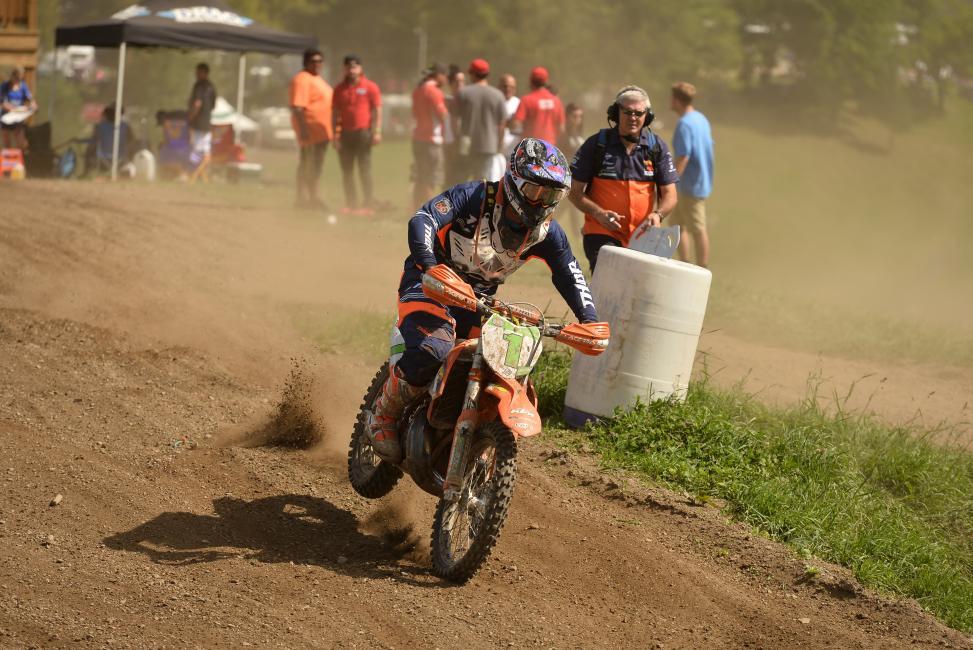 With an almost-perfect season thus far, Factory FMF/KTM's Kacy Martinez wrapped up the WXC Championship four rounds early at Snowshoe. Martinez will look to continue her dominance in the final three rounds, where she tops Ohio's Mandi Mastin, who sits one point ahead of N-Fab AmPro Yamaha's Becca Sheets in the championship standings.
Youth bike racing will take place Sunday at 8 a.m., followed by amateurs and Women at 10 a.m., while the top amateurs and pros race at 1 p.m.
Adult (12+) gate admission is $20 for the full weekend and $10 for kids (6-11). Kids five and under are free. Local racers are invited to compete at this event, as GNCC Racing offers classes for riders of all skill and experience levels. The amateur racer entry fee is $40 and riders can sign up at the track.
Tune into RacerTV.com on Sunday at 1 p.m. EST to catch LIVE coverage of the Pro Bike race at round 11. For more information on GNCC Live coverage, visit www.racertv.com.
Stay up-to-date with exclusive content from the AMSOIL GNCC Series by following the series Facebook, Twitter and Instagram.
Previous Round Results
Can-Am Unadilla GNCC
New Berlin, New York
Round 10 of 13
Saturday, September 7
XC1 Event Results:
Kailub Russell (KTM)
Thad DuVall (HON)
Josh Strang (YAM)
Chris Bach (HON)
Andrew Delong (HSQ)
Paul Whibley (YAM)
Takeshi Koikeda (HON)
Jordan Ashburn (YAM)
Ryan Sipes (KTM)
Adam Bonneur (KAW)
*Overall National Championship Standings:
Kailub Russell (263)
Josh Strang (186)
Charlie Mullins (180)
Jordan Ashburn (166)
Grant Baylor (152)
Paul Whibley (137)
Andrew Delong (134)
Ricky Russell (117)
Chris Bach (108)
Steward Baylor (102)
*Indicates that the Overall National Championship Standings will determine the 2014 National Champion.
XC2 Event Results:
Grant Baylor (KTM)
Trevor Bollinger (HON)
Nick Davis (KTM)
Ricky Russell (YAM)
Ian Blythe (KTM)
Michael McGinnis (KTM)
Callan May (YAM)
Drew Torrance (KTM)
Phillipe Chaine (KTM)
Jesse Groemm (KTM)
XC2 Series Standings:
Grant Baylor (262)
Ricky Russell (233)
Trevor Bollinger (210)
Layne Michael (127)
Jesse Groemm (119)
Callan May (115)
Shane Hufford Jr (114)
Sam Evans (104)
Chris Douglas (99)
Nick Davis (90)