After eleven years with Honda, Troy Lee Designs announced last week that they had signed a multi-year deal to move to KTM. The agreement will likely see TLD as the factory 250 team beginning in 2016. For next season, though, things will remain the same—TLD will compete in the 250SX West Region and the Lucas Oil Pro Motocross Championship. Tyler Keefe has been behind the helm at TLD for nearly five years, serving as team manager. With so many changes coming next season—Cole Seely is leaving as well—we rang up Keefe to see what exactly the change to KTM means and much more.
Racer X: The big news right now surrounding the team has been the switch to KTM after eleven years with Honda. What's it like to be with a different brand after all those years?
Tyler Keefe: Honestly, it's a huge change. Like you said, we were with Honda for eleven years and had a lot of success with them. It was a great partnership that we learned a lot from. I think it's at a point now where we kind of need to take a look at the big picture—being competitive in supercross and motocross and getting wins is what we want to strive for. We feel that KTM has a lot to offer for our program. Working with Roger DeCoster and Ian Harrison and Jon-Erik [Burleson] and their entire crew is something we can build our program off. They have a great group of technicians and mechanics down there. In the big picture, [it's] building our team and trying to mimic what they have and be as successful as they are.
Roger is one of the greatest minds in the sport. How much involvement will he have with the team? Will it just be a consulting role?
Roger is an icon in our sport, and Ian has a lot of knowledge as well. It's truly the entire team they have down there that is going to help build us and make us even better. With Roger being involved… it's really just a whole team atmosphere in how they can help us, and the knowledge they have and working with them.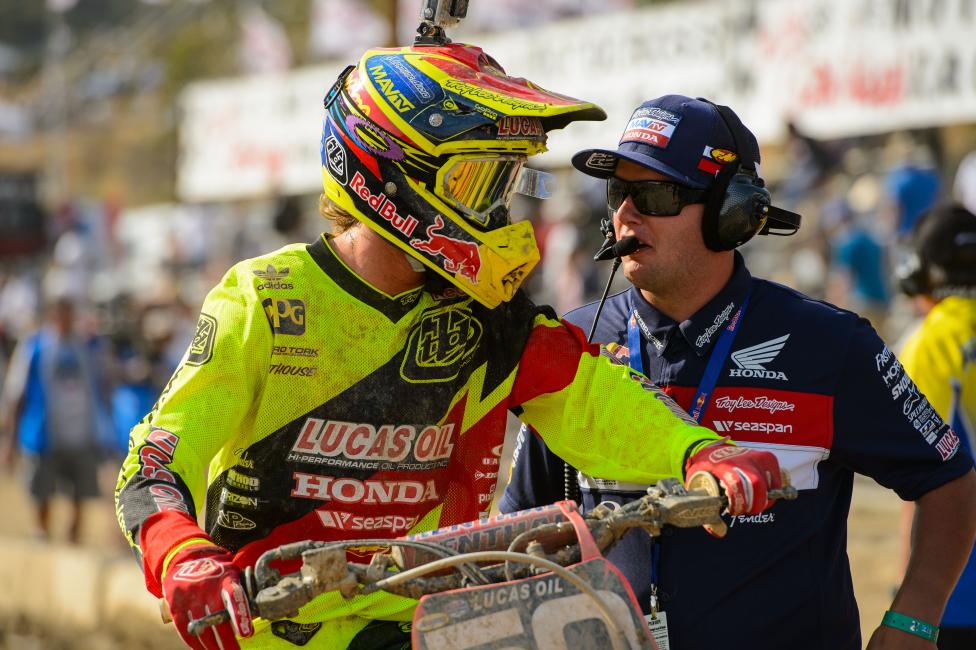 Is the plan for TLD to move into the factory role for the 250 team in the future?
Yeah, that was a big discussion. For 2015, we will be doing the same thing—just West Coast [in supercross] and 250 Class outdoors. In 2016, we will be moving to the East Coast in supercross. So we will have a full fleet of 250 guys for East and West and 250 outdoors.
That is another big change for the team. Does planning for that start now?
Basically, the five-year plan is ending in 2015. So our new five-year plan will start in 2016. That is when we decided "Hey, lets take this.' We would be able to ride at Lucas Oil Stadium [Indianapolis, IN], and Lucas Oil is a big sponsor, so they would be happy to have us race there. So it just made a lot of sense, but we also didn't want to jump too soon and not be successful. I think this last year we were pretty successful on the West Coast, and hopefully we have the same results this year, and then we can build off that into 2016 and hopefully be competitive on both coasts.
We spoke about a year ago for a story on the rise of the team. Looking back, is this something you could have imagined?
It's happened so quick. It feels like the last five years have been rolled into one really long year. It's been cool to see the growth of the riders. And we really have to give it to Troy. He's the believer and the guy who dreams for the stars and makes it happen. We kind of have that same theory with the team—we dream big and if it happens we are on cloud nine. With the results from Cole [Seely], and Jessy [Nelson] stepping up, and Malcolm [Stewart] rode well, and Shane [McElrath], they all rode really well. Outdoors started out really well, then we kind of hit a rough patch, but then we picked it up back at the end. The team has come a long way, and it comes back to all the crewmembers working together and building a successful program. It's not just one person; it's the entire team that makes it happen.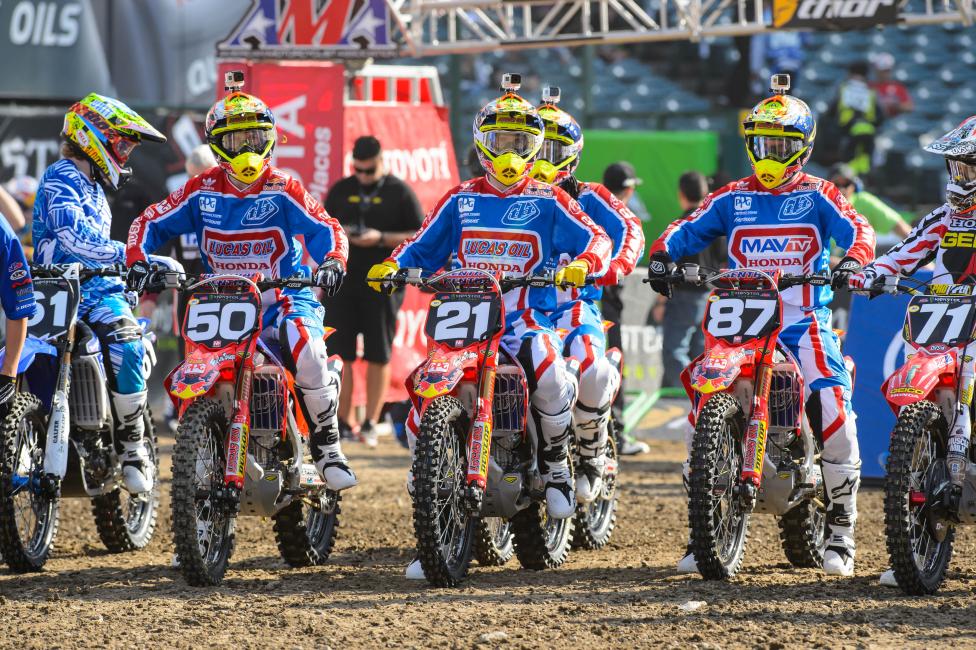 Another big change this year: after five years with the team Cole Seely is moving up to the 450 Class and has signed a deal with factory Honda. How do you replace him? And how tough is it to see him leave?
Personality wise, Cole is amazing. I'm truly going to miss him. The whole team is going to miss him. Results wise, he was always there, super consistent… he was amazing. That's all I can say about Cole as a rider and a human being. He represents the company great, and I'm really happy we could keep him in TLD gear to keep that family relationship going. To replace him… I don't think really think you can really say you're going to replace him. I think it's just, let's try and find the best match to take his place. We've had Jessy Nelson for quite a few years now—coming up through amateurs as well—and he is going to kind of take that next step, and we are adding another guy onto the team that has some experience, and it will be Shane McElrath's second year. I'm really looking forward to the team we have for 2015, and really excited for it. I think the biggest thing is surrounding yourself with good people, and the riders have to fit well into the program. If they're happy, they're fast.
Jessy really seemed to develop a lot this year. What did you see in him that made you think it clicked for him?
We've seen glimpses of it since he turned pro—even when he was an amateur. He's had a couple years of injuries, but we've stuck behind him and he's stuck behind us, and I think we both believe in each other. It's good to see it's paying off. Him staying healthy is what's key. You always see that he has the speed, he just has a few things to work on, and I think he is going to be really, really successful.
Shane is coming off an injury-prone first year. What do you think he needs to do to take the next step?
I was very happy with his rookie year in supercross. He had some speed. He did have string of injuries. It wasn't anything crazy, but it did keep him off the bike and away from training. So we were always a little behind in outdoors. But he has the speed, he has the talent, and worth ethic. We just need to stick behind him and keep working with him, and I think top-five, podium in supercross, and just grow on that. I think top-fives are realistic, and I wouldn't be surprise to see him up front battling for podium positions.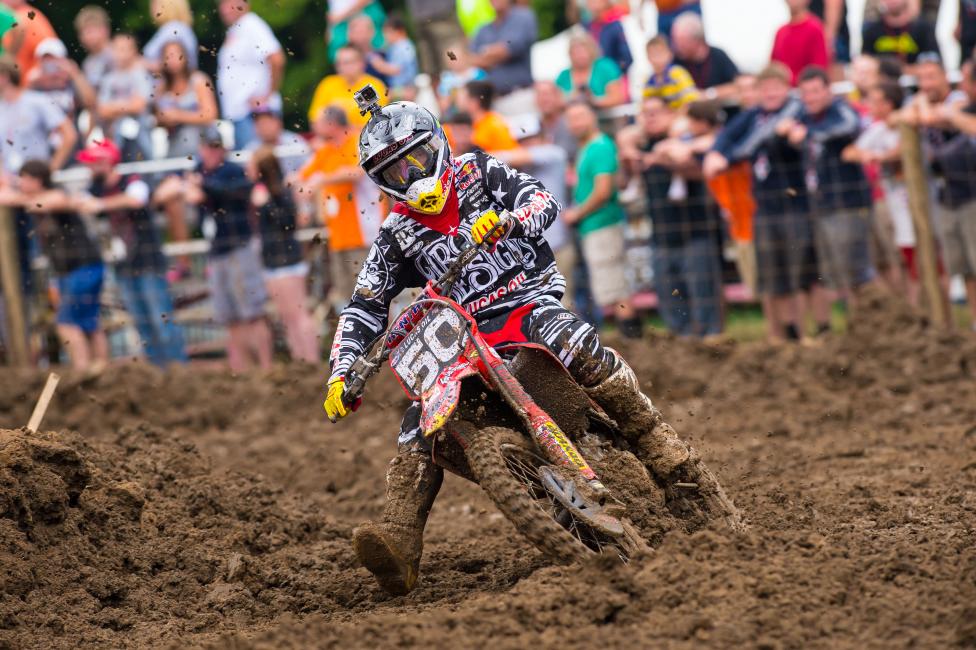 On the amateur side, you recently added Sean Cantrell. How is the amateur program going, and do you see either he or Justin Hoeft moving up soon?
With Justin Hoeft, we picked him up in 2013, and in '13 and '14 he had some injuries. This year, some random stuff happened—he hit a downed bike—and he had a rough year. If everything goes right in outdoors for him… that was kind of the plan coming into this year: if he was healthy and did well, we would hold him back and have him do outdoors in 2015. We just have to make sure he's in shape and has the speed and confidence to go out there. If he's ready and we feel he's ready, then we will move him up for outdoors. If not, we will hold him back to when he is ready.
I'm very happy to have Sean Cantrell. I've been watching him the past year, and I'm looking forward to watching him grown and move to the big bike and see how he adjusts.
TLD has always been known to be patient with riders and really let them develop. It's not a year-or-two thing with you guys. Does that speak to the personality of the team?
Troy is really big on wanting it to be a family and sticking with these guys. One crash can take these guys out for six months, or they can be behind the eight ball because of an injury or something. If we sign them, it's because we believe in them, and if [we] believe in them, we are going to stick behind them and give them a fair chance to be successful. That's kind of the motto Troy and the whole team [follow]. We have to stay supportive with the riders during the hard times and the good times. If they blossom, out of respect they want to stay with us because we stuck behind them.