Hello, everyone, and welcome to the Rev Up. The 2014 Lucas Oil Pro Motocross Championship wasn't the wildest or most dramatic in history. However, it was outstanding! In the end, we saw two very special championship stories, and in each of the twelve rounds of racing we saw raw-boned motocross action. This week I wanted to skim through the series and touch on some poignant moments.
First off, the return to Glen Helen was a huge success. A gnarly track, huge crowd, and surprise winners made the season opener just beam with positive energy. It was nuts. I mean, in the first moto of the year Toyota/JGR Yamaha's Josh Grant busts out a holeshot (The first of many from JGR) and wins the series opening moto by six inches. The second moto was perhaps even more jaw dropping, as Yamalube/Star Racing Yamaha ace, and eventual series champion, Jeremy Martin, goes out and blows everyone away. Bad. Like, a twenty-five-second lead ass kicking!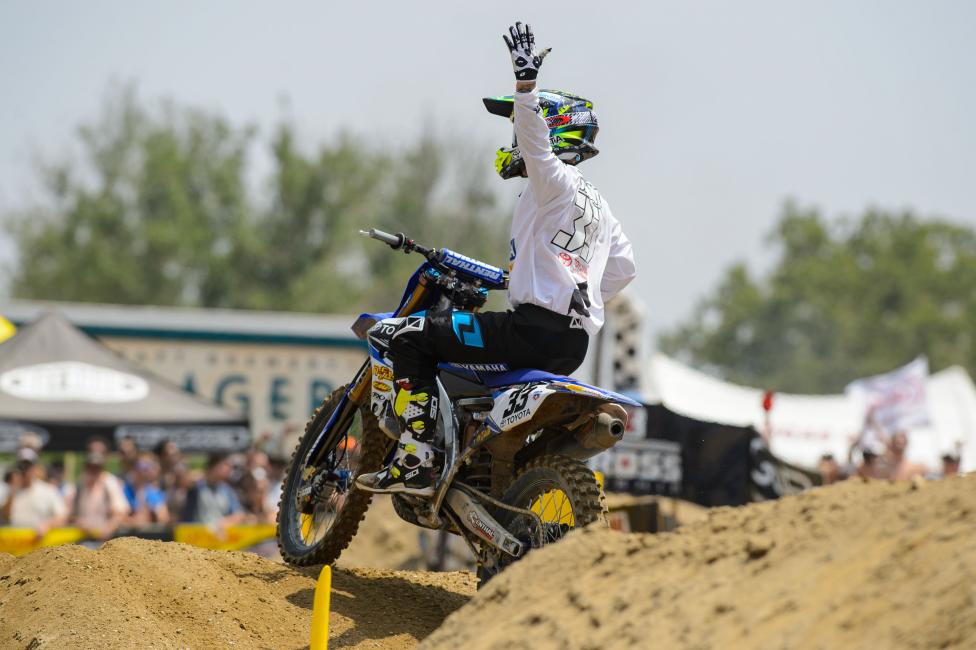 The next three rounds at Hangtown, Lakewood, and High Point saw things really spice up. While Red Bull KTM's Ken Roczen was establishing himself and creeping away a bit in the 450 points, the 250 Class was on fire. Martin's opening beat down faded a bit, while Monster Energy/Pro Circuit Kawasaki's Blake Baggett went on the charge. The pivotal round in the series, in my opinion, came at RedBud, where Martin put his head down and decided that it was going to be his championship. Bad luck struck the PC guys for about the eightieth time in 2014, and not even Martin's arch nemesis/teammate Cooper Webb could stop him. Martin was gone.
There were some other very cool stories in the 250 Class—Christophe Pourcel most notably. Any time a racer stops racing for as long as he did, it is very rare for them to win again. He was a qualifying and holeshot machine, but just didn't have the steam to win a moto until he finally got one at Unadilla. The most "European" of our tracks, go figure. But he's good at everything, not just the "European" tracks. He's a different cat, but I love watching that guy ride. I liked his effort and his story this summer.
Down the stretch the Dungey versus Roczen battle really heated up and a lot of us—ahem, most of us—were guilty of searching for drama. I sure as hell thought it would happen, but it never really did. Those two raced each other cleanly and fiercely all the way down to the final moto of the summer. Showmanship, sportsmanship, and integrity still have a place in our sport and that is damn good. I still would have liked to see a brake check, or a beeline block pass...something.
Twelve rounds and all of those great stories, but the most special one to me arrived at the season finale in Utah: Trey Canard. The Oklahoman races with AMA permanent number 41 because that's the number his Dad raced with. Canard lost his father in an accident when he was young, and I don't know how people find the strength to deal with something like that. It's staggering to imagine the heart and the will Canard has in his chest. He overcame it.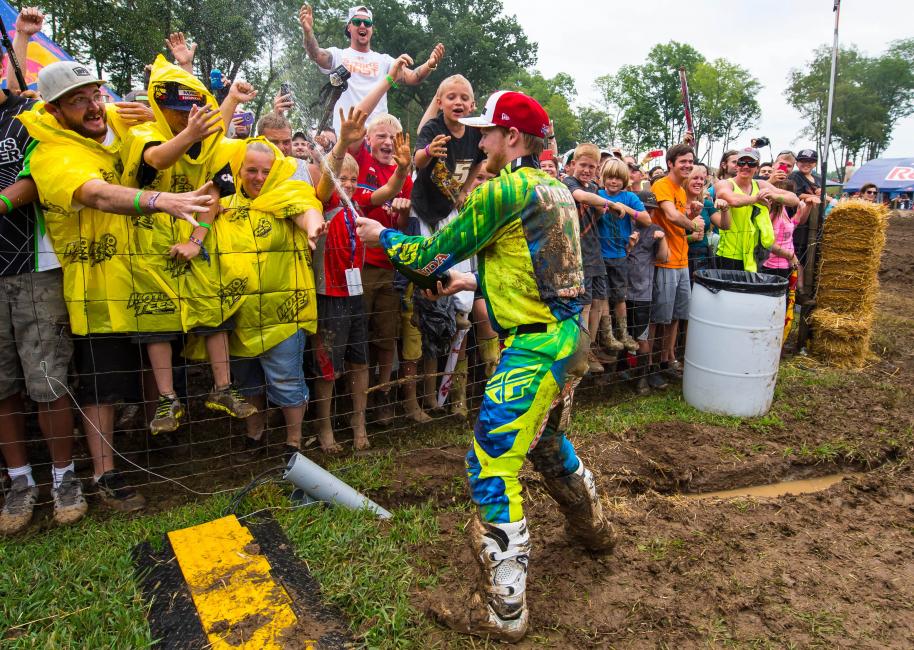 Then came the broken femurs, broken arms, and broken back. He overcame it. Trey was strong for the full outdoor national season. And, not only did he stay healthy, he went 1-1 to close out the year. After all of the hoopla about the Honda not working or being fast enough, Canard sure made that CRF450 look good with two holeshots and two dominating motos.
It just tugs at my heart and inspires me greatly. Trey Canard.
This is a great time in our sport. There are so many happy faces at the races, and with live television, large crowds, and incredible competition, it's just pumping right now. It's crazy dangerous, and the bikes are getting faster instead of the other way. The riders are getting more talented, and what we are seeing on the racetracks is astonishing. I use that word as infrequently as I use the word amazing, but when I watched Roczen and Dungey hitting sections elbow to elbow for twenty minutes straight, I was just like, "Wow." It's been a great summer, and the 2014 Lucas Oil AMA Pro Motocross Championship had it all. Even an awesome mud race! Super pumped to be a passionate fan of this sport. I can't wait for 2015. It's going to be even better.
Thanks for reading, see you next week.