By Racer X Staff
Before the 2014 Lucas Oil Pro Motocross Championship slides off into the memory ditch, let's look back at some moments that inspired all.
The Woodsman: It was pretty awesome seeing Ryan Sipes back in action at High Point, supporting the #bigtankmafia. A few weeks later his old Rockstar Energy Racing KTM team picked him up. His podium in the mud of Indiana—which is about the closest race to his home and also the closest to the new roots he's putting down in GNCC racing—was cheered by all.
Freddy Noren at Indy and Utah: A good start is key in a mud race. Fredrik Noren stalled coming out of the gate in Indiana's second moto, started dead last, and made it all the way to eighth, passing the goggle-less Ryan Dungey on the last lap. He passed NEARLY HALF THE FIELD on the first lap, and was in twentieth place at the end of lap one. After getting caught up in an ugly off-the-starting-gate crash with Chad Reed, Andrew Short, Johnny Moore, Killy Rusk, and more in Utah, Noren was amazingly back in twenty-seventh at the end of the first lap. He'd charge to ninth place, which was three better than Andrew Short's also impressive ride. His 10-9 scores helped him in the points… Oh, what the heck. Let's make a category here:
Freddy Noren in general: From as honest-to-God privateer as it gets to earning a factory ride with Team Honda Muscle Milk and finishing tenth overall in the series? Yeah!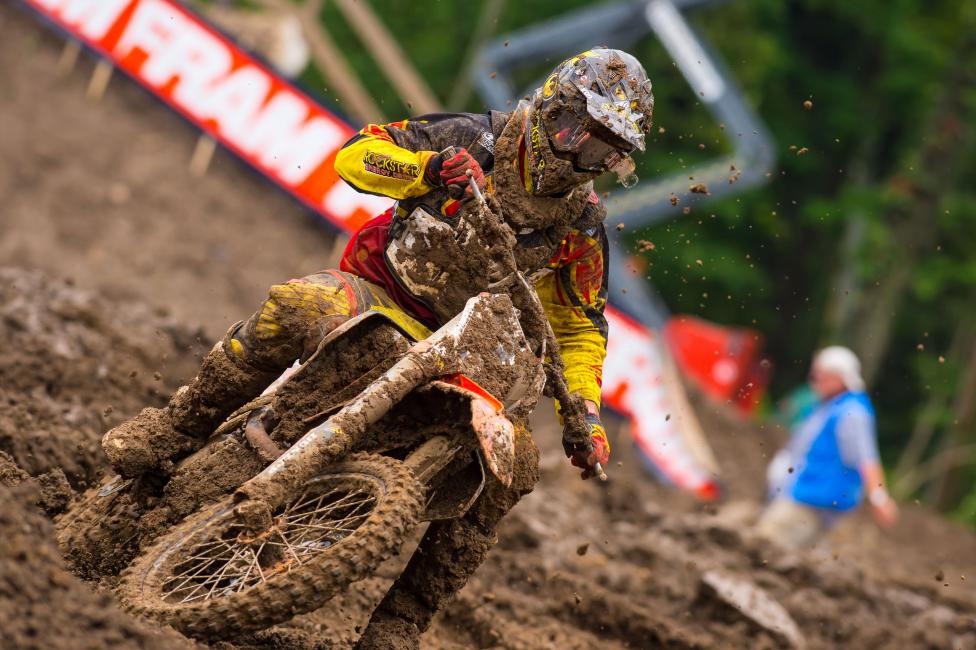 The (Stop) Watchman: We still can't figure out if Christophe Pourcel's season was amazing or disappointing (look for an argument about this to break out in the comment section below), but we know his qualifying performances were incredible. With two minutes to go in the final session each weekend, he'd log one good lap. Nine times out of twelve it was the fastest lap of any 250 rider.
Fast-cciotti: Newly crowned Canadian 450 Champion Colton Facciotti wanted to show America what he could do in a Utah guest ride with Lucas Oil/Troy Lee Designs Honda. He was in dead last at the end of the first lap in the first moto and finished sixteenth, passing twenty-four riders along the way. But he was in pain after the moto and started coughing up blood. He passed twenty-four riders after dealing with that! Most of us would just have passed out.
The other privateers: Sean Collier, PJ Larsen, and Tommy Weeck had some good rides early on. These dudes are far from full-time racers anymore, but in this game, once you're fast, you're fast forever. Speaking of…
Comebackers: Christian Craig and Tommy Hahn were retired, but they came back and showed they've still got it, too, with each fighting their way into the top ten at one point on 450s. Well done. It was also good to see Michael Byrne back at the races as a racer in a quick appearance with Discount Tire Racing/TwoTwo Motorsports.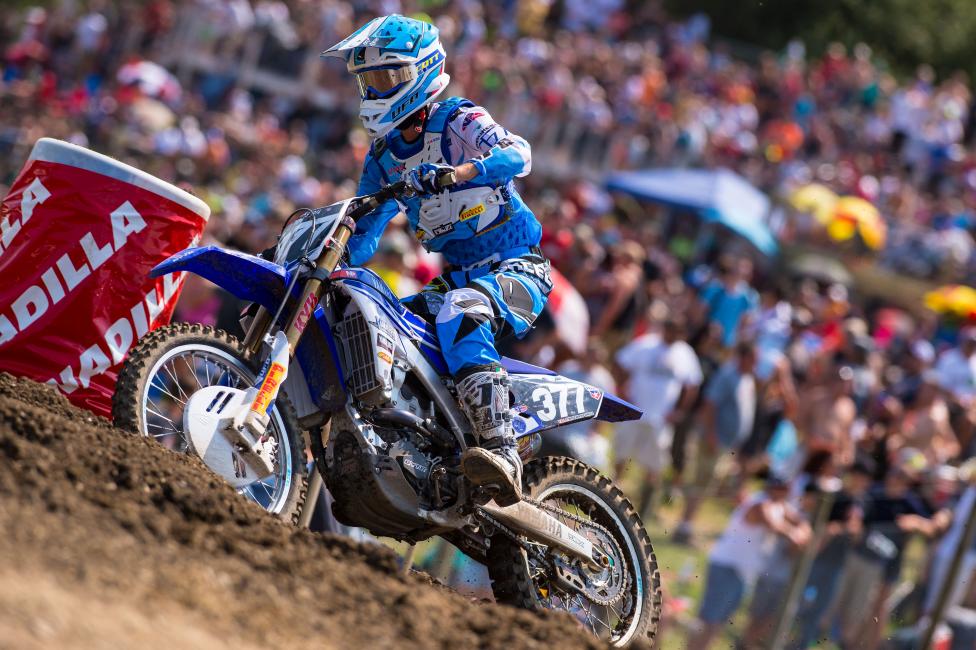 Freestyler: On the other end, Jarryd McNeil had never raced motocross at all in the U.S. (He did race in his home country of Australia and won titles). He's more known for his outrageous whips in the freestyle scene. He raced his first ever national at Washougal. After bashing up his radiator in practice, he scrambled to find one and ended up renting one for $150 from a privateer and went out and qualified. He went 29-23 for twenty-fifth.
Honesty policy: At Indiana Quinton Camp won 250 practice and then admitted he cut the track and his time was not correct. He coulda' been a legend!
Josh Grant: In a loaded 450 field Josh Grant's win in the return of the Glen Helen National was impressive and inspiring. Score one for the local guy and a spoiler. In the second moto JG went down early, stopped to get his bike straightened, and came back to fifteenth. Grant was all heart there.
Hats Off to You: In Washougal Tevin Tapia forgot his helmet eject system (a mandatory safety device) in the second moto. His dad jumped into action, borrowing a bike from some random kid and tearing back to their pits, which happened to be as far away from the start gate as possible. They were literally parked right next to the exit gate. He came back with another helmet that was legal, but the pack was already gone. Tapia threw on the helmet and was able to charge all the way up to twentieth, taking the Hard Charger award. He went 18-20 for twentieth. T-Tap told us that was the best he rode all year.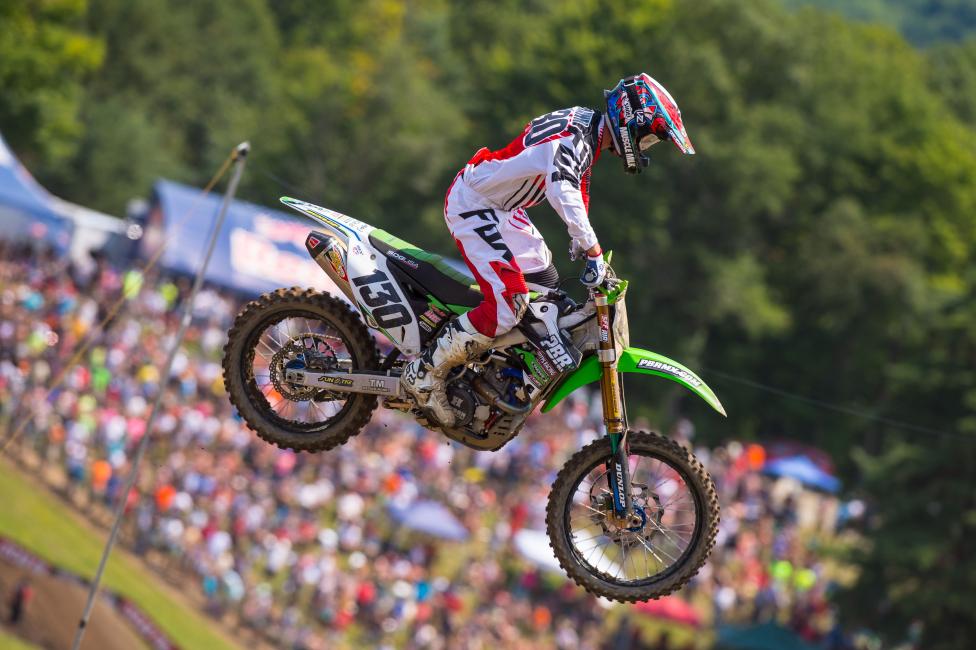 Melting Pot: There were eight foreign-born riders in the 450 main at Utah: Ken Roczen (Germany), Fredrik Noren (Sweden), Colton Facciotti (Canada), Paul Coates (England), Evgeny Mikhaylov (Russia), Chad Reed and Brett Metcalfe (Australia), and Franklin Noguera, who may have became the first rider in the history from the Dominican Republic to score an AMA motocross point when he finished nineteenth in the second 450 moto!
Trey's Turn: Is Trey Canard beginning to inherit the "Everyone wants to see him win" mantra from Kevin Windham? He was getting huge—no—HUGE cheers late while leading Indiana's second moto. But what about that elusive overall? Before Utah Canard and his longtime mechanic Brent Presnell made a bet that if he went 1-1 Presnell would let him shave his head into an "Oklahoma Mohawk." After Trey won his first national since 2010, Team Honda Muscle Milk got out the clippers!
Long Haul: How about Andrew Short's entire season? He scored 9 points in the first three motos of the year and then did his normal rock-solid thing to come back to score sixth in points. At age 31 he had one of his best years ever.
The Replacement: Attention all teams: All Brett Metcalfe does is put your bike in the top five against the best in the business. Nothing else to say.
The Drive: Kyle Chisholm had a good deal to race the CMRC Canadian Nationals for Rockstar Energy Yamaha, but he still wants to race in the U.S. So he was spending his own money and driving to the off-weekend American nationals in his old Toyota and doing well. Finally, he faced a Saturday/Sunday doubleheader on Unadilla weekend and won on Sunday up in Canada!
Whoa, we're up to 1,000 words already? This was a fun season. Tell us about your good memories below.