Crawfordsville, IN
Indiana
Lucas Oil AMA Pro Motocross Championship
BTO Sports is your number one source for all of your motocross parts, gear, accessories and apparel. BTOSports.com is a motocross company who is truly dedicated to the sport and to the customer. Proud sponsor of your Racer X Podcasts and the BTO Sports race team.
A brand new track is always exciting to go to (unless it's Lake Elsinore). Knowing that, I was pumped to head to Crawfordsville, Indiana for the penultimate round of the 2014 Lucas Oil Pro Motocross Championship. I have been to this track before (although it was years ago—2000 for the GNCC), and was looking forward to a great day of racing. The press day Instagrams and videos did nothing to dampen my enthusiasm as I boarded my plane Friday morning.
But then the rain came Saturday morning. What was a 40-percent chance of scattered showers turned into a 100-percent chance of downpour for a couple of hours starting around 7 a.m. We didn't get much rain after 11 a.m., but the damage was done. The Indiana National at Ironman MX was now going to resemble the GNCC races more than a motocross race—the race was going to be a mudder.
The fans still came out in impressive numbers, but it was definitely not a great debut for the track. To steal every athlete's favorite phrase these days, "it is what it is." Or maybe it was what it was? The real heroes on this day were the goggle guys, and I consider myself a part-time goggle guy as I do some work for EKS Brand. So, yeah, I guess I'm calling myself a part-time hero.
The real debate for goggle guys and riders was whether to use roll-offs or tear-offs. If there isn't any rain falling, most riders will opt for laminate tear-offs, which you can stack twenty-one, and some goggles allow for twenty-eight. Anymore than twenty-one, though, and it starts looking like you're looking through a (Mario's) fishbowl. Roll-offs are great for the rain and standing water (because water finds its way in-between laminates), but when there's no water and the mud is sticky, laminate tear-offs are usually the way to go.
It really boils down to some dumb luck as to whether or not a rider's goggles system of choice works or not. Eli Tomac had to pull in early both motos for new goggles because he got splashed badly. Kenny Roczen ran roll-offs in both motos and never had to take them off. Dungey tossed his goggles early in the second moto, and I have to believe it was a bit of the reason why he struggled. The guys that I prep goggles for had some good results with only laminates (Ben LaMay and Fredrik Noren) and never had to take their goggles off. Kyle Cunningham, another rider that wears EKS, had to stop in the first moto for goggles when he got doused. Some riders, like Noren, just don't like roll-offs and won't wear them no matter what, so they roll the dice with tear-offs and a little mud visor on top of the goggle frame in the hope that the water falls on top of the laminate tear off and not in-between.
Part of being a motocross champion, and in some respect why I think so highly of a rider who's able to win an outdoor title, is that it takes so much talent, skill, and perseverance to end up with the number one plate. As a former mechanic I appreciate and have witnessed the wear and tear two motos take out on a machine. It takes a very good team to make a bike last twenty-four motos in all temperatures and conditions. And as far as a rider, yeah, they also have a bit to do with it. A rider who wins the motocross championship has to be in amazing shape, be able to ride all surfaces, get good starts, and generally speaking, has to be gnarly.
That's why the mud this weekend was, to me, perfectly fine. Some people on Twitter or message boards were saying that it sucked the mud ruined what was shaping up to be a battle royale between Ken Roczen and Ryan Dungey, as we had seen The Dunge narrow this points gap to 7 from over a moto deficit. Coming into Indiana, it was set to be all-out war for the 450 title.
What was 7, though, turned into 20 with a couple of great rides for Roczen and struggles and poor results for Dungey. Roczen, and really all the European-raised riders, put on a how-to-ride-mud clinic out there. Roczen got the all-important start in both motos, and had he not fallen in moto two, might very well have gone 1-1. More on the second moto winner Trey Canard later, but for now Roczen has basically secured this title. With one race left he would have to go 6-7 if Dungey goes 1-1, and Roczen's worst finish has been a fourth. So, yeah—I like Roczen's odds to pull this off.
When we see Roczen with the number one plate after this weekend in Utah, we can talk about how the mud race completely changed the outcome of this series. Roczen rode the slop great and Dungey didn't, but to me motocross IS the mud (and blood and tears as well, if you listen to Larry Huffman), and just because we haven't had a true mudder for a while doesn't mean they don't all count. I'm perfectly fine with a mudder deciding this title.
We all talked about Canard and his great second moto win at Unadilla last week, and how we wanted to see if this suspension change from Showa to KYB was going to be the trigger for him to take his riding to a higher level. We all agreed that this weekend was going to be the test. And Canard DID win the second moto in another great ride. BUT it was so muddy and sloppy that the suspension question, in my eyes anyway, was not answered.
Or maybe it was. Any reader of this column knows that most of the riders out there are head cases, so maybe Canard's confidence was through the roof with the suspension change and he just thought he could now win. Is it that simple? Well, not always (for example no matter how hard the twenty-fourth place guy "thinks" he can win, he's just not going to be able to. And please notice how I left out any rider names so as to not create any Internet storm again), but there could be something there. The conditions were so bad that suspension performance didn't matter all that much out there. Either way, though, Canard won again, and that's a good thing for him and the Honda guys.
We were talking about goggle prep earlier, and I have to note that Canard busted out something he had seen Japanese rider Akira Narita do in Japan one time, and that was wear TWO pairs of goggles. Yes, you read that right. Canard wore a regular pair of goggles with laminates OVER TOP a pair of goggles with roll-offs mounted. Shortly into both races he reached up and ditched the "top" goggles and went on his merry way. Like I said, you can weigh your options for roll-offs or tear-offs when it comes to mud races, or YOU CAN JUST WEAR BOTH LIKE TREY CANARD DID. AND HE WON. (Kudos to Scott goggle man John Knowles for being part of this move).
Jeremy Martin is your 2014 250 National Motocross Champion, kids. Like it or not, Martin deserves this title and stamped his ascension to the top of American motocross with a great first AND second moto ride. But Matthes, he finished fourteenth in the second moto. Yes he did, but that was because he fell while near the front. It took him forever to get going, and he eventually picked up his bike not too far in front of leader Joey Savtagy and looked to be in danger of being lapped. Who could blame him for just cruising home? He had clinched the title after moto one, his place in the motocross record book forever etched, and his bank account just grew by six figures. And it was muddy. Just cruise around and bring it home, right, Jeremy?
Uh no. Martin got on the gas and pulled away from the lead group. At times he was the fastest guy on the track and showed no mercy in fighting to the very end. He came from twenty-third or so to fourteenth and never got lapped. That didn't stop the officials from waving blue flags at him every chance they got, though. Golf claps for Martin on his ride when it didn't mean anything and no one was really watching.
From the very first moto of the year to the twenty-second, there was no doubt that Martin was THE guy. He fended off past champions like Blake Baggett and Dean Wilson and past world champions like Marvin Musquin and Christophe Pourcel to win this. VERY well deserved in my eyes.
And it's no coincidence that Star Yamaha hires perhaps the best pure 125 specialist ever to manage their team in Steve Lamson and the team comes away with its first 250 (125) national championship, is it?
Jessy Nelson of the Lucas Oil/TLD Honda team was in danger of just being "one of those guys," as his first two years of pro have seen him put in some good rides here and there, but there were also a lot of eighths to tenths as well as some injuries. These kinds of results leave you just a number of dudes who are all around the same speed. It's not a slam on Nelson or anything like that—he's obviously highly skilled on a dirt bike—but there hadn't been too many of those rides that leave you with a feeling of, "hmmm, we might have something here…"
But earlier this year Nelson led Lakewood's first moto for a good twenty minutes before finishing second, and in Indiana he finished the deal with a wire-to-wire first moto win. It was his first win as a professional, and he almost went perfect on the day, as he also got a great start and led the second moto for a while. I thought he was going to pull off the sweep, but then he fell a couple of times; that was it—an eighth was the best he could do.
But still… with this win and the Lakewood ride you begin to see that Nelson could be something special here. A rider just doesn't "luck" into a moto win or lead as many laps as Nelson has. Any rider on the line can pull a holeshot and lead a lap. But Nelson led the majority of one moto and won another, and with that knowledge I believe he can do it again.
Nelson has been in Florida for the past nine weeks riding with Roczen and the injured Adam Cianciarulo, and has been a sponge just soaking up the things that those guys are doing. Also, trainer Aldon Baker is there showing him the ropes, and the book on how to win is right there. Jessy is seeing how the sausage gets made (or titles if you want to be less gross), so hopefully he takes what he's learned and keeps building in 2015. I like a guy who spends his own money (he mentioned on the PulpMX Show that his experience is leaving him broke, as he has a place in SoCal and rents in Florida), invests into himself, and takes the hard way to try and make it. Combine that with talent and you usually find yourself with a nice career.
Let's take a look at the results, shall we?
250 Results
1. 25 Marvin Musquin; France; KTM 250 SX-F; 3-1 - Hey, look here. Marvin won his second national in the last three races with two great rides. And he's got a very good chance at finishing second in the points with a good final race. The Martian has come a long way from recovering from a second ACL reconstruction in the early season. Calm, steady riding with some great line selection got him the win.
2. 43 Joseph Savatgy; Thomasville, GA; KTM 250 SX-F; 4-3 - I wrote about 'Joe-Dawg' last week getting six straight top ten finishes. Well, make it eight with these rides. A few weeks back I wrote about how team owner Bobby Hewitt had one 250 ride open on his team next year and that Savatgy was in the running to get it. I'd say these last few races should seal the deal, and I'd look for Savatgy to be back.
3. 50 Jessy Nelson; Paso Robles, CA; Honda CRF250R; 1-8 - You don't expect me to write more about Nelson, do you?
4. 377 Christophe Pourcel; France; Yamaha YZ250F; 9-2 - On the first lap he had to stop for goggles, and he didn't look like he was in all that much of a rush. Then he calmly got back out there and earned a share of the Hard Charger award for charging from fortieth to ninth. Second moto he rode terrific to end up all over Musquin for the win at the end of the moto. You just knew that Pourcel was going to be great in the mud.
5. 37 Cooper Webb; Newport, NC; Yamaha YZ250F; 6-5 - Decent day for Webb, who told me after the race that he really wants to finish runner-up in the points (he's two back of Blake Baggett), and that he really thinks the big difference between him and Jeremy Martin this year has been Martin's start consistency.
6. 15 Dean Wilson; Scotland; Kawasaki KX250F; 8-6 - Decent day for Dean-O in the slop, as he didn't get great starts. Every time I talk to Wilson he throws in how he's too big for his bike and he's doing the best he can. Hey man, Ron Lechien won a 125 national title while weighing 185lbs.
7. 55 Alex Martin; Millville, MN; Yamaha YZ250F; 7-7 - Great job for the Ewok Warrior with two solid finishes. And he beat his brother! Alex told me that he's always been the more talented Martin but just hasn't been able to show it until now (calm down, kids. The Martin brothers joke around with each other a lot). I don't know if you've noticed, but the battle for top ten in the points between A Mart and Wilson is officially on. I'm sure Dean cares a lot…
8. 19 Jeremy Martin; Millville, MN; Yamaha YZ250F; 2-15
9. 17 Jason Anderson; Rio Rancho, NM; KTM 250 SX-F; 5-10 – Oh, what could have been. Anderson stuck his front wheel into a berm on lap one of the second moto while in third. Generally speaking the dudes from New Mexico, like the Johnson brothers, Tedesco, and Ryan Clark, absolutely suck in the mud, but Jason did not. He was fast! Who knew?
10. 4 Blake Baggett; Grand Terrace, CA; Kawasaki KX250F; 14-4 - Terrible first moto for Baggett. He just couldn't get it going out there after a crash. Second moto was much better for the Chupacabra, but he was powerless to stop J Mart from clinching the 250 title.
11. 32 Justin Bogle; Cushing, OK; Honda CRF450R; 12-9 - Congrats to Bogle, who was the highest placing GEICO Honda guy on the day. By my count the team blew up four, maybe five motors. Shades of Pro Circuit at Southwick in 1998!
12. 21 Cole Seely; Newbury Park, CA; Honda CRF250R; 10-13 - If there was one guy that I think would struggle at a motocross mud race, it would be Seely. But the SoCal SX kid stuck it right up my stovepipe with two pretty good rides.
13. 87 Shane McElrath; Canton, NC; Honda CRF250R; 15-11
14. 188 Christopher Alldredge; Powell Butte, OR; Kawasaki KX250F; 16-12 – It was the rookie's second national, and considering the conditions, it was a good day for him with decent results. In case you're wondering, RJ Hampshire of the GEICO Honda team had, along with the rest of his team, a terrible day in the mud. Some of it was his doing, and some of it the motorcycle's fault.
15. 425 Nick Gaines; Ringgold, GA; Kawasaki KX250F; 11-30 - I asked someone who the heck Nick Gaines was and was told he was a yet another amateur kid making his pro debut. That eleventh is solid, and now it looks like I'm going to have to keep track of another kid (I have trouble remembering my own PIN code).
16. 142 Cole Martinez; Rimrock, AZ; Kawasaki KX250F; 13-31 - Heartbreak for Martinez. He scored a career-best thirteenth in moto one and was running eleventh in moto two when his bike let go.
17. 71 Zachary Bell; Cairo, GA; Honda CRF250R; 27-14
18. 202 Mike Stender; Germany; Honda CRF250R; 17-19 - Despite the way-American name, Stender is actually from Germany and raced his first American race in Indiana. Welcome to America, Mike! Roczen told me that he knows Stender and raced him on 80s, but didn't get a chance to talk to him at the race.
19. 410 Jace Owen; Mattoon, IL; Honda CRF250R; 33-16
20. 353 Kody Kamm; Kenosha, WI; Honda CRF250R; 23-17 - Kody Kamm from Kenosha kan't be kept kaptive!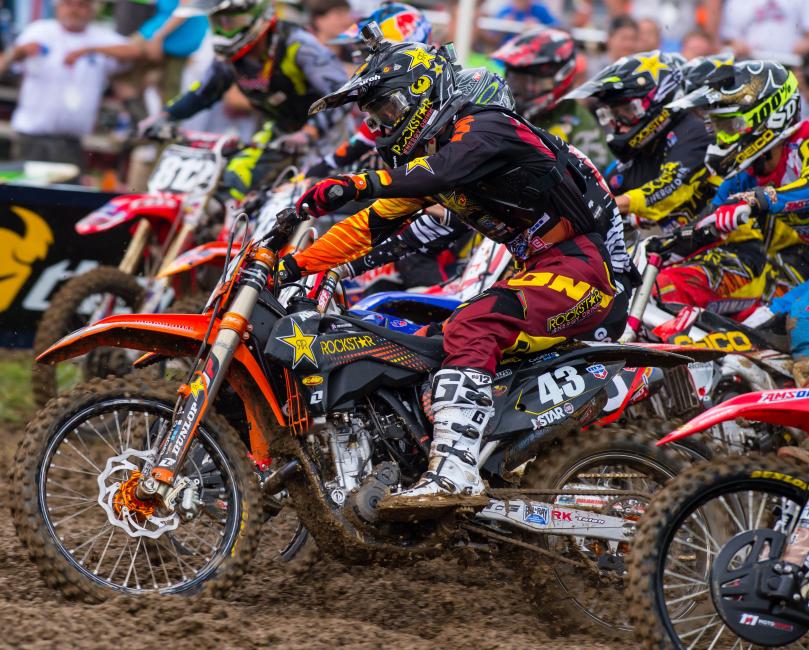 450 Results
1. 94 Ken Roczen; Germany; KTM 450 SX-F FE; 1-2 - Things had gotten so bad for Roczen that he told me that he'd "stayed away" from social media during these last few weeks.
2. 41 Trey Canard; Edmond, OK; Honda CRF450R; 3-1- TWO GOGGLES BRO!!!!
3. 5 Ryan Dungey; Waconia, MN; KTM 450 SX-F FE; 2-9 - I thought Dungey did a fantastic job to limit the damage to his points deficit in his first moto ride. He fought hard to get into second. That's what made his second moto so baffling. He just never really had it, and late in the race, with a very valuable point on the line, Freddie Noren just rode past him—very unlike Dungey in a strange moto for him. I think he should've maybe pulled in for goggles while he was at the tail end of a big pack of guys.
4. 39 Ryan Sipes; Flaherty, KY; KTM 450 SX-F; 10-3 - I wrote last week that it was good to see Sipes get some results because he's a great rider and should be placing better. Well, is this good enough for me? A terrific third in the second moto for Sipes. After the race he said that he's "talked" to some teams about a possible 250 supercross comeback next year. Uh oh…you hear that? I smell a comeback!
5. 29 Andrew Short; Colorado Springs, CO; KTM 450 SX-F FE; 8-4 -Short's never that great in the mud, but he was this weekend. There isn't anyone who beats the Short drum like me, and I've even been impressed by him lately. Nine points in the first three motos of the year, and he now sits sixth overall. Seriously, this guy is so solid he makes a brick poop house look wobbly.
6. 22 Chad Reed; Australia; Kawasaki KX450F; 7-6 - Reed's best race of the year and a steady one with decent starts, no trouble, and a solid result. After the race we talked for a while about a whole bunch of topics that would get me fired and him in trouble if I printed them out. It's good to have Reed back!
7. 3 Eli Tomac; Cortez, CO; Honda CRF450R; 4-10 - Tomac was very fast and was somehow NINE SECONDS faster than anyone else in qualifying. I'm serious. Anyway, Tomac had bad goggle luck both motos and had to pull in, and he crashed three times, I think, in the second moto. Had he gotten the starts we might be talking about a 1-1 day for ET, but instead he didn't get to go to his home (the podium) this weekend.
8. 33 Josh Grant; Riverside, CA; Yamaha YZ450F; 12-5 - Grant wasthirty-eighth or thirty-ninth after the riders came by the finish the first time, so his climb up in the muck to ninth was a nice comeback for him. And the other Toyota/JGR Yamaha rider Justin Brayton twisted his knee in the first corner of the first moto and called it a day right then and there.
9. 80 Fredrik Noren; Sweden; Honda CRF450R; 9-8 - Noren didn't use his start hook in the second moto to try and get some more weight on the rear tire in the mud, but it backfired when he stalled coming out of the gate. He was dead last. And then he passed eighteen riders on the first lap (!) and Ryan Dungey near the end to get an eighth. And because of his first lap heroics he was out of the RC Hard Charger award as well (the award counts position starting from the end of the first lap. He passed too many guys before that!).
10. 44 Matthew Goerke; Sun City, CA; KTM 450 SX-F FE; 6-11 - Goerke's gotten tenth overall a ton this year. How do I know? Because in Pulpmx.com fantasy motocross you get double points if you correctly guess the rider in the 450 Class who gets tenth. This week, finally, I picked Goerke, and bingo, bango I finished second this week.
11. 40 Weston Peick; Wildomar, CA; Suzuki RMZ-450; 11-7 - Peick never did one lap in practice. Not one! He was seeded right into the motos because of his top-ten points standing, but his team must have thought he would get his points standing pick instead of fortieth because otherwise, why wouldn't they have made him go out there? It was bizarre for sure. I asked Peick on Twitter why he didn't do one lap at 75 percent to at least try and get inside the top twenty instead of fortieth, and he replied "Cause I didn't want to get muddy that early in the morning, and I rode press day so I already knew the track," and also that his gate pick worked out great, as he started in thirteenth. Great finishes but a very bizarre strategy over there.
12. 24 Brett Metcalfe; Australia; Kawasaki KX450F; 5-13 - Metcalfe was stuck in a mud pit in the second moto and needed the help of a track worker to get out. He tried every trick in the book to get out, but no go. It had to be exhausting. He was lapped, he was covered in mud, and he still fought to go from twenty-second to thirteenth by the end of the moto. Great effort!
13. 48 Ben LaMay; Wasilla, AK; Yamaha YZ450F; 13-12 - I had heard that LaMay might be looking to see if there's anything over in the GPs for him next year. Just a rumor, though…
14. 92 Kellian Rusk; Durango, CO; Yamaha YZ450F; 15-14 - Way down in nineteenth place in the 450 points is Rusk, who I would consider the first real privateer of the class. He's been there all year in supercross and motocross, and that's got to be a grind. He has one more and then can be proud of himself. He's also going to be lowering that #92 by quite a bit.
15. 219 Shane Sewell; Westville, IN; KTM 450 SX-F; 16-16 - The nationals are just better when there's at least one Sewell brother out there, no?
16. 224 Heath Harrison; Pensacola, FL; Kawasaki KX450F; 14-20
17. 193 Chris Proscelle; Valley Center, CA; Honda CRF450R; 24-15 - I don't know much about Proscelle, but he was one of a bunch of privateers that qualified great because the track was better for them as the first ones to hit it. But he backed it up with his second moto finish.
18. 606 Ronnie Stewart; Easton, PA; Suzuki RMZ-450; 18-19 - Stewart came very, very close to not making the motos (there were no LCQ races due to the mud…the top forty got in and that was it), so to have two decent motos in the slop is a nice recovery. He IS sponsored by somebody called Dirt Candy, so you would figure he would be great in the mud.
19. 531 Todd Krieg; Elyria, OH; KTM 450 SX-F; 28-17
20. 693 Tucker Saye; Golden, CO; Suzuki RMZ-450; 20-18 - Good ride for Saye, who's, dare I say it, driven to ride?
Some news and notes:
- Anonymous quote from a team manager about the JGR guys in the first moto: "Grant's still out there because he doesn't have a contract for next year, and Brayton pulled it in because he does…"
- Congrats to Colton Facciotti and Kaven Benoit on winning MX1 and MX2 titles respectively up in Canada. Facciotti in particular just hadn't been able to stay healthy in recent years despite real talent and speed. And with Mike Alessi up there it looked like it was #800's title to lose. But Facciotti showed he was just as good as Alessi if not better up there (Alessi had some mechanicals that hurt him) and was impressive. Benoit had to deal with something called Vince Friese and emerged victorious in the small class. Congrats to those two guys whom are both suiting up for Team Canada at the MXDN later next month.
- According to my buddy Dan Truman of GET, it looks like Jeremy Martin (duh), Justin Bogle, Cooper Webb, and either Cole Seely or Jason Anderson will earn a permanent number for next year. A rider has to either win a national championship or finish inside the top ten in combined points (250 or 450 in motocross or supercross) at the end of the year to get a career number.
- Privateer Mitchell Oldenburg deserved better for sure. Since jumping up to the 450 Class he has put in some nice rides, and at Indiana he was eighth in the first moto with four laps to go when his motor blew. Second moto he blew his spare motor up; that was it for Freckle. Bummer.
- Jake Weimer needs a ride next year, and he had a terrible Indiana race. Qualifying was rough, and it got worse from there. I like Weimer; he's a good dude, works hard, and is talented, but right now he's in a rut so deep he probably has no clue how to get out. One more week for him.
Thanks for reading; we appreciate it a lot. Email me at matthes@racerxonline.com if you want to chat about this race or really anything. I'm bored.