Ironman Raceway
Crawfordsville

,

IN
Indiana
Lucas Oil AMA Pro Motocross Championship
You'll hear it at the beginning of every championship season: every point counts. But they actually don't. Rarely do championships come down to a small handful of points. I'll hold up Jeremy Martin's super-ridiculous-massive points lead as proof. Yeah, it got tight at times, but in the end he had a 75-point lead with three motos to go. Blake Baggett or Cooper Webb clawing their way to another few positions here and there wouldn't have made a difference.
At Glen Helen, Trey Canard and James Stewart came together, leading Trey to say, "I kicked and kicked and kicked and went back to twelfth. I was just thinking while I was kicking that bike, every point is going to count. I don't know where the end of the series is going to go."
I wish that were so, but Canard is now down nearly 80 points on Ken Roczen. Trey has had a good season, and four years ago in the 250 Class he was in one of those every-point-counts scenarios. He knows the feeling. But those situations are rare. Hardly ever does every single point really matter in a championship. Unfortunately, Ryan Dungey seems to experience this every season.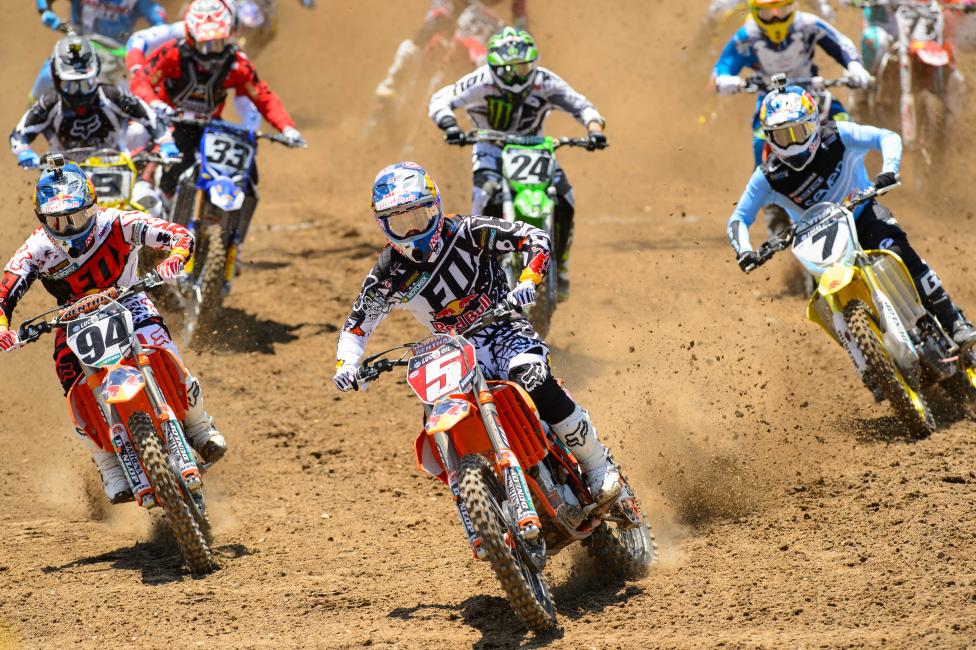 As Dungey closed in the last few weeks, we pretty much all expected a barnburner that would come down to the final moto in Utah. We might still get it, but it's not looking as likely now that Roczen pulled out a clutch overall win in the mud and the Dunge ran into trouble and went 2-9 for the day.
Damn that mud, right? Cost us a chance for the ultimate battle, right? And c'mon, Dunge? Ninth? That's not good enough.
Well, it's hard to fault anyone for having a bad day at a mud race. It's as much roulette as it is racing at times, and Dungey wound up winning one hand and losing another in his two motos. Second place in the first moto was fine—you'll take that in those conditions. I don't believe his ninth in the second moto was anything more than the mud. Dungey ran into a bottomless hole on the first lap (which he couldn't see because the track had been rolled over and cleaned up by the track crew, leading to what looked like a flat surface covering a variety of holes). He lost his goggles. He struggled. When he strolled into the post-race press conference, his eyes were red, but not with anger, but because he'd spent 30 minutes riding a mud race without goggles.
Dungey didn't look as bummed as you'd expect, considering he'd lost 13 oh-so-critical points to Roczen in one day. He knows expecting perfection in a mud race is unrealistic, and as long as you score one point, you can always say, "It could have been worse" and just roll with it. Hey, Roczen was power-sliding his bike through the first turn in moto one and almost threw the whole day away. Can you imagine how different this season would look if Roczen had crashed in the first turn of moto one and had to come back from last in the mud? Instead, he had the start and the finish. In a mudder, the little things become very big.
The bigger problem for Dungey came in the first half of the season, when he fell a full moto behind Roczen in the standings and left himself with no room for error as he mounted a comeback. He was chipping away, as he usually does late in the season, but one wheel wrong, one mistake, would ruin it all. Dungey usually doesn't make those mistakes, but strange things happen in the mud.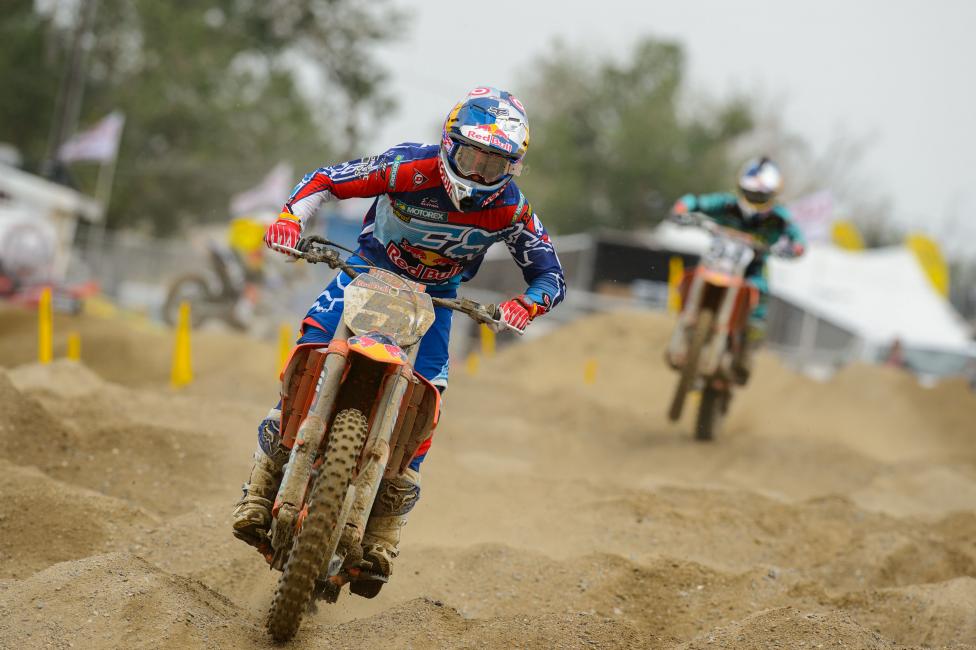 If we want to play the "every point counts" game, throw away the mudder. That's just a crapshoot race where 100 different motos could produce fifty good outcomes and fifty bad ones. There were other mistakes that should loom larger. Dungey fell while battling at Colorado and High Point, for example, and finished fourth in each moto. The High Point crash was exceptionally large, as he was ahead of Roczen at the time, leading to a 4-point swing. In the first moto at Budds Creek, he closed in but couldn't pass Roczen. That's a 6-point swing. Those two motos alone would have him down 10 points heading into the finale instead of 20. Moreover, Roczen was simply the better rider through the first half of the season. Dungey was forced into come from behind mode, and couldn't afford a single mistake. Remember, Blake Baggett's charge looked similar at one point, as he closed on Martin. He was climbing his way back, but had no room for error. After his bike broke at Millville—while he was leading the second moto—he was, essentially, eliminated.
Coulda, shoulda, woulda becomes a common theme when you're consistently in the title fight like Dungey. His 2011 outdoor season will forever live on in that vein, when evaporated fuel in Freestone and electrical problems at Southwick cost him a ton of points and possibly the title. When you're always in the hunt, you're always going to be able to look back at races you wish had turned out better. It's very much the same for Chad Reed, who has two AMA Supercross Championships, but also lost titles by 4 points three times and another by 7 points.
This year, Roczen and Dungey were close, and because of that they'll always play the what-if game. Just take it from Roczen, who said this after losing a second moto duel with Dungey at Glen Helen:
"Put it this way," Roczen said. "It's 3 points that could be important, and I kind of can say he stole it from me. I kind of threw it away, which I was bummed about."