In The Mag, On The Web is an online feature where we take a behind-the-scenes look at one of the print features in Racer X Illustrated. Check out some more information on All About The Bear by David Pingree.
For many motocross families the Mammoth Motocross is more than just a race; it's a family vacation. That's the way it has been for me since the first time I went there in 1990. If the incredible track nestled in the mountains isn't enough, there is world-class mountain biking, fishing, hiking, rock climbing, and even skiing still happening through June.Unless you are a confirmed urbanite who can't sleep without the sound of traffic and sirens, you are going to love the town of Mammoth Lakes.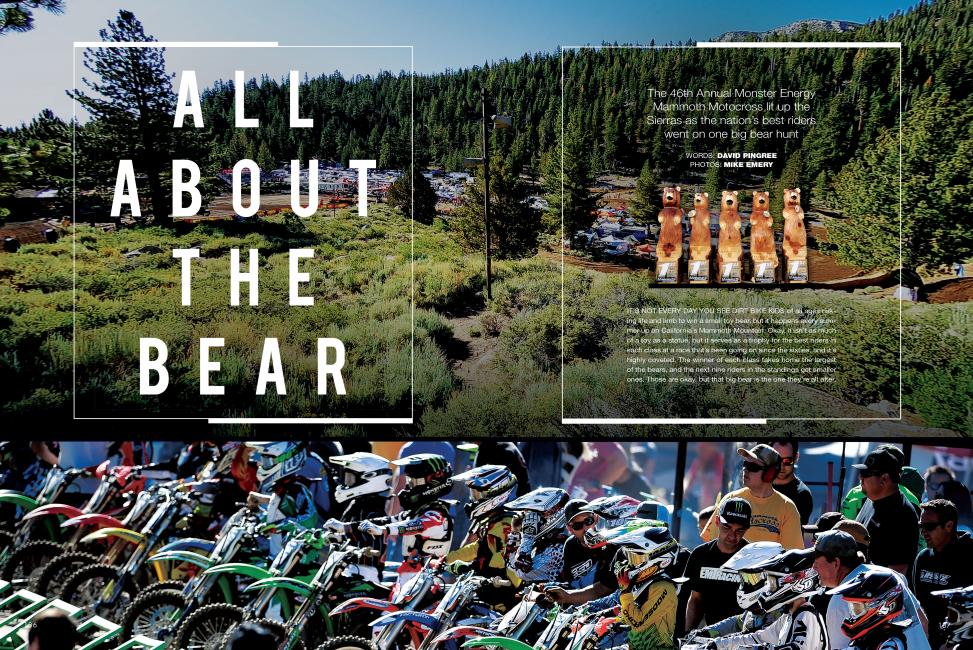 For the country's best amateur racers, though, the town is just a setting. Because, even though the vibe is fun and laid-back in the village, it is every person for him/herself when the gate drops on race day. The very best riders in the sport have cut their motocross teeth on the massive hills and sweepers of the Mammoth course since the late 1960s.
With all of the manufacturers and teams watching closely, Mammoth is the perfect place to show everyone that you have everything it takes to be a champion. The 2014 edition of the event was no exception, as the best A-class riders like Chris Alldredge and Jordon Smith logged their final laps as amateurs, and the next wave of stars like Stilez Robertson and Jett Reynolds won in their division. Sure, all these guys were trying their best to win a big, wooden bear. But for the elite amateur racers there is much more on the line.
Read the entire "All About The Bear" feature in the October 2014 issue of Racer X right now or look for the cover below on newsstands to pick up the issue in person.