Ironman Raceway
Crawfordsville

,

IN
Indiana
Lucas Oil AMA Pro Motocross Championship
Red Bull KTM's Ken Roczen found sunshine in the rain on Saturday, utilizing his mud-riding prowess to go 1-2 and grab the overall win at the first ever Thor Indiana National. It was massive for Roczen in the series, as his 450 points lead was shrinking by the week. Clearly, the rain came at just the right time, because it actually got Roczen pumped up! He talked about it in the post race press conference.
Racer X: Obviously, Mother Nature had a little different idea about opening day. Ken Roczen was able to take home a win today and start to build on that points lead again. A short time ago it wasn't looking nearly as bright as it is today. All this overcast, but it's about as sunny as it could get for you.
Ken Roczen: As soon as it started raining and stuff in my eyes, I was happy a little bit. I actually really enjoy it once it rains. I think it takes the edge off a bit. Most of the races we always have perfect conditions—it's sunny and everybody's just going for it. It's kind of a little bit different here today. First off I think the track was overall—the layout and everything, and the venue in general—was super cool. I really liked it. I think if it would have been dry and stuff, I think this is going to be my new favorite track. But overall I did basically what I had to do. I got off to a great start in the first moto. I really pumped myself up. I needed it. It hasn't been going too well, but me and the mechanic, we said before the season, not too high, not too low all the time. I've been pretty consistent. It was great. I had a good first moto. To finish that in first, that was a big monkey off the back. It's been a while, and I hadn't really been on point, so that was good. Then just went into the second moto with a lot of confidence and really pictured myself being first in the first turn. It didn't really work out as good the second moto but still had a great jump and ended up being in second position. Unfortunately, I went down two times in that second moto. The grips get really muddy and then [Trey] opened up a big gap. So I got myself going again, got in a good rhythm. I saw the pit board; I was going about 2-3 seconds faster a lap than Trey at one point. Then I got screwed up by lappers two times at the exact same spot. Overall there was probably ten seconds. It's kind of a bummer for me because I really tried to focus on not making things different, but I actually put in a little bit more intensity than everybody else out there. That right there basically just cost me the three laps that I'd been putting in really good and trying to close the gap.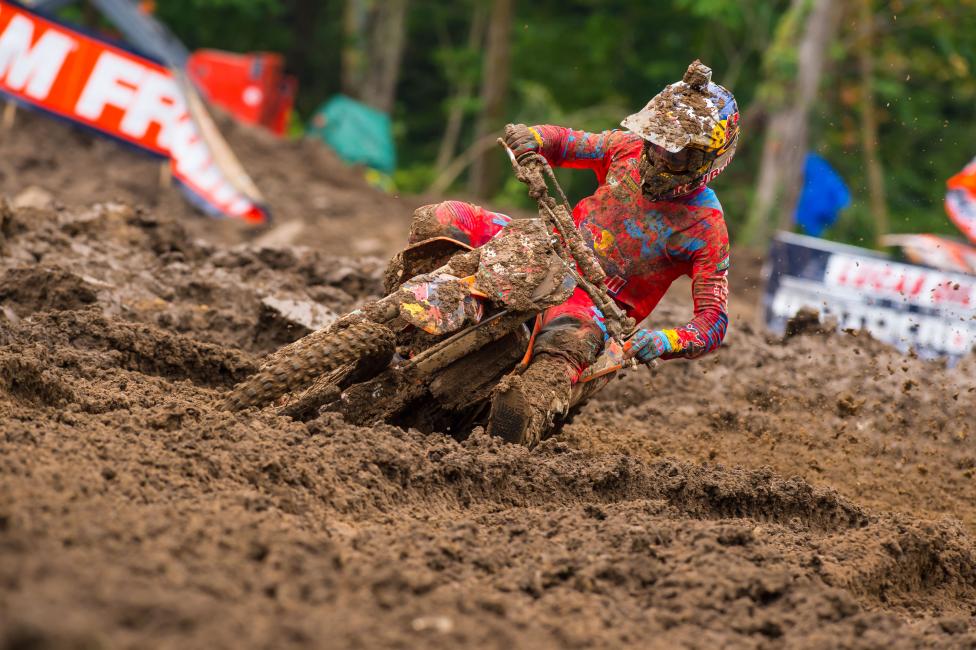 Just give me an idea of your mud-riding experience. We're like, "Oh, they're from Europe; they love the mud." Do you have a lot of experience?
I do love the mud. It was almost exactly like how it is in Europe today, meaning usually on the German Championship, we usually have a very base like that, so when they scrape the dirt off it's exactly how it is here. But I don't have a lot of experience, and I have to say it's quite a bit different, going from 250s to 450s in general. The first time I actually rode the 450 in the mud was not too long ago, in Florida, actually, and it was like somewhat on a sand track. I was like, "Geez, that's actually a big difference." You just can't throw the 450 wherever you want to, and it really sucks it down. It's just a total different feeling on the bike. So I don't have a lot of experience riding a 450. Plus out here in the mud it was very heavy, so it didn't make it any easier. I personally love the mud, but there's also people in Europe that don't really like it. It's always the way you look at it. If you have a positive attitude and you're really looking forward to it, most of the other dudes are like, "Oh man, this is kind of crappy." But I was all about it! I think that makes a big difference.
You were saying the last couple weekends weren't the best for you. It was muddy today and you won, but did you feel like it was maybe going to be a good weekend anyway? Did you feel pretty good coming in?
I did actually. For starters just going to a new track. It's the same for all of us, obviously. I do have to say that after the two practices we had, I didn't know the track at all. I was like, "Dude, if it would dry out now I don't know how long the jumps are because we literally rolled everything," and I couldn't really focus really on like "that was the triple" and stuff. So I was like, "Man, I hope it doesn't dry out because I'm going to wing a few jumps." But luckily it stayed wet.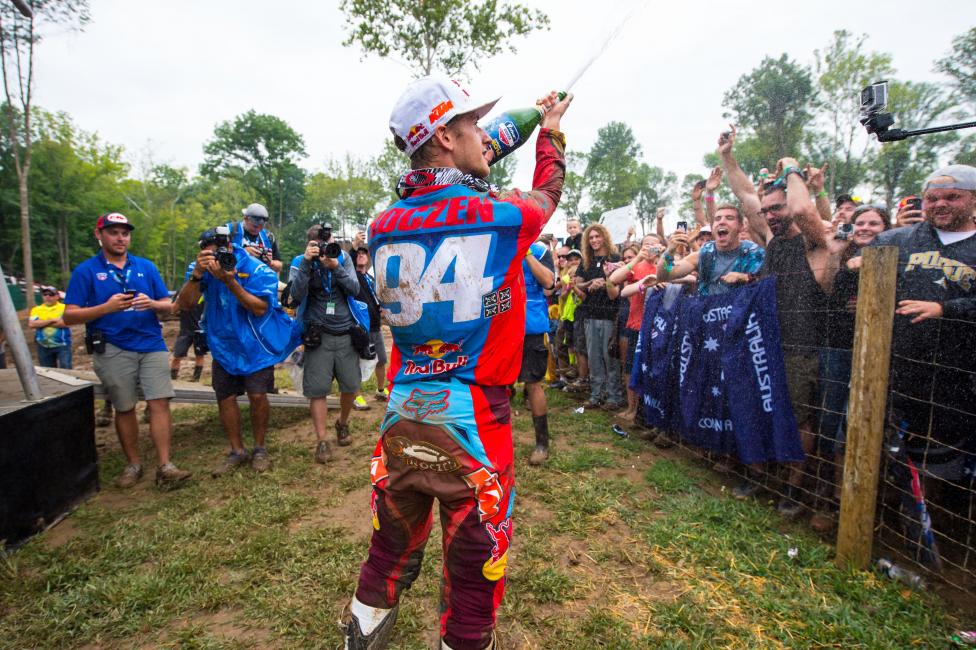 Just talk about the pressure coming in. The championship's really close. Is that on your mind coming in?
It is. It's not the first time I'm in this position [leading a championship], but obviously it's a big deal as a rookie, and I'm in the championship hunt and everything's looking great. The points lead did go down. And, not that it affects me, but I've honestly been a little bit off the social media just because there are a lot of people that talk on there, and honestly I was just like, "You know what? I just want to wait until you guys are ever even in this position." So it's not always easy. But I think that makes the difference in a good rider—you have to be able to throw that out of your mind. That's what I guess I did. I think it's also a matter of how much you want this. Like I said, I was on the start gate today, and I pictured myself being the first one into that turn. So it clicked today. But again, this was one of those days where it's so muddy, you can win a lot or you can lose a lot. Even a good mud rider, if you have a bad start it makes it really tough. Plus I think what's very important is goggle selection. I know a few people out there that were on tear-offs, and in my eyes that's a complete wrong way to go. Doesn't matter if it rains at this point or not. If you don't get a great start, it takes three corners for you to pull five tear-offs. I went with roll-offs both motos, and I think it was the right direction.
That start in the first moto, you did get the holeshot, but there was one scary moment. Take us through that.
I had an awesome jump and I was looking left and right and there was nobody there. I was like, "Yes! I haven't had a good start in I don't know how long." So anyway, I went into the first turn, and I knew [it was going to be bad] because my peg dragged all the mud out. One of those things, it looks good but it was going to be bad once I got into it. I just went all out, all the way, and I felt my rear slowly coming around again. I just had to keep going. That took away a lot of momentum, but it was definitely a point where I was like, "Hooooly crap." As soon as the bike was straight again, I kind of felt the bike sucking down because I lost momentum. But I was on the inside and was able to make it happen.
Talk about the starting gate and the start straight. That first moto, that was as spread out a group as I've seen coming into the first turn.
I know. I don't really know how so many privateers got those lap times. I don't know if they in-between their practices or something they [the track crew] pulled the mud out or whatever. But I got third position, second or third, which was good enough because there were quite a few good gates. But you definitely don't want to be too far back because I think if you go too far out here it's a slight right turn but it wasn't really like a 180. It's not like the further you were inside the better, but it was like a good happy medium. It was a little bit of a gamble because a lot of fast people were out of the top ten. It definitely mixed things up. But you know what? I feel like maybe we don't always have perfect conditions always for starts. Most of the races it was really dry. At Budds Creek, or even last week at Unadilla, it was just straight dust. So it actually wasn't too bad out there. It was a little, I don't know what, it was that they put in the dirt, some type of sand. But it actually wasn't too bad.
Going to Utah. You got 20 points or so. Is the championship what you're thinking about right now?
First off, like I said, it's a big monkey off my back, seeing your points lead really going down. It's super awesome for me to see and it's fun. It just takes a little bit of pressure off having a 20-point lead now. But I can't back down. I need to have another good week and I'm going to go into Utah wanting two moto wins. I think that's the setting I have to put into my mind. Just stay on the bike and stay healthy.