New Berlin, NY
Unadilla
Lucas Oil AMA Pro Motocross Championship
BTO Sports is your number one source for all of your motocross parts, gear, accessories and apparel. BTOSports.com is a motocross company who is truly dedicated to the sport and to the customer. Proud sponsor of your Racer X Podcasts and the BTO Sports race team.
Yeah, Unadilla! Una-effing-dilla, bro! I was so pumped to go there for the first time in 1996 as Shaun Kalos' mechanic but upon getting there I was let down big time. Not as much as with Indiana Jones 4, but pretty close. The photos I saw of knee-deep grass, perfect loam, and the natural track were as mythical as a unicorn. What I did see was a rock-strewn, dusty, blown-out track that was in not epic in any way. There's a reason why Ricky Carmichael, among many others, didn't talk about the track in glowing terms.
But you know what? Like John Travolta in Pulp Fiction, Unadilla has made a comeback. It's like that recently divorced lady down the street who started working out and got some new boobs. The Robinson family, who owns the track, has really put a lot of work into the facility and the track as well. It's not nearly as rocky as it used to be: there's fresh loam, and some track changes (some for the better, some for the worse, in my opinion). It's a pretty good track nowadays, and of course it's got that history behind it as well. It's still a long drive to the track in the morning, staying in downtown Utica reminds me of Harlem in a mid-80s movies, and it's a pain to travel to there from the west coast, but that neighbor lady that you never thought much about has changed. She's starting to look pretty good!
I was watching the motos with none other than David Pingree, and we both commented that at no point in the second moto did Unadilla look fun. It had gnarly ruts and was rough as hell. So, to take us back full circle, I guess that neighbor lady that looks good in the morning is, by closing time, looking like she's going to blow chunks.
But you know who else is starting to look pretty good? Ryan Dungey, that's who! The Dunge came into 'Dilla down 14 points to teammate Kenny Roczen, and left down by only 7. And right now (there's no tomorrow said Sammy Hagar), it's looking like Roczen is powerless to stop the Dungey train. Since his 1-1 dominant ride at RedBud, he's been unable, for whatever reason, to get that friskiness back. He's still got the speed, but for whatever reason Roczen isn't as aggressive as he was before. It's like he's a bit worn down from this grind of a season of American supercross/motocross.
We had an interesting debate on our podcast show about whether we're seeing Roczen drop a bit or Dungey rise to a new level, and the consensus was Roczen's level has dropped. But I'm not so sure. Look at Washougal, where Dungey just sprinted away from everyone, or this weekend, when he pulled away from Roczen in the first moto. Roczen followed Dungey the entire first moto. You're telling me that if this was the second or third race of the season, Roczen doesn't get by him? I DO think that Roczen isn't the same guy he was earlier this season, but I also think Dungey has stepped up. He's the Terminator of motocross. He's just going to keep coming and coming with nothing stopping him.
The gap is 7 points and there aren't too many people who think that Roczen's going to hold Dungey off, but hey, a first turn crash, or really a crash at any point, by Dungey and this could end up in the #94's hands. Dungey still has no room for error—he's got to have everything break right. But straight up, methinks it's going to be hard for Dungey to not come out of this with his third 450 title. We've seen Eli Tomac beat both KTM guys (or at the very least get in-between them), which, with the way they're riding right now, will help Dungey over Roczen, and maybe, just maybe, the other Honda guy can also.
The guy I'm talking about is Trey Canard. The Okie Honda kid has had an up-and-down summer, where on some tracks, in some motos, he looks to be able to run with the KTM guys. And then he'll have some frustrating motos here and there, where he gets dropped pretty badly. You wonder why he's not able to be up there consistently. It's like on his days, on tracks that he likes, he can run with anyone, but if something, anything, just isn't perfect, he's way off.
Well, this weekend he was very much on, and this could be the start of something much better for Canard. He was the fastest man in both practices and came from twentieth or so to fourth in the first moto. In the second moto he made a sweet pass on Tomac and took off for his first 450 moto win. This could be (remember I said could be) because he showed up with Kayaba suspension on his Honda front and rear. Canard's teammate Justin Barcia is out of Honda next year, and he's made no secret he didn't like the bike. And we all know Chad Reed's complaints with the new Honda chassis last season. This year we've seen Tomac flip flop from a production-based bike with spring forks to the factory bike with air forks. Tomac's currently on a factory frame and swingarm (which have to be production but can have small mods made here and there, or can be from a different year) with A-kit spring forks that obviously seem to be working for him.
In short, the Honda guys have been all over the map trying to make each individual rider happy. And despite Honda owning a small part of Showa suspension company and running Showa on their factory race bikes for a long, long time, the race team went ahead and slapped KYB stuff on the #41. It's not completely random, because the production Honda CRF450 comes with KYB air forks, so the OEM has a relationship with each suspension brand. And let's not forget, long-time KYB supporters Kawasaki switched to Showa suspension last year, so this stuff does happen. It's just Honda is … well, Honda. Traditionally, it is a huge monolith with lots of hoops to jump through to change anything. Kudos to Dan Betley, the manager at Team Honda Muscle Milk, for thinking outside the box and trying to make a rider happy.
So I'm VERY (all caps to look important) interested to see if Canard can keep this momentum going. We saw him ride great at High Point and RedBud, so maybe Unadilla will just be like I talked about above—a weekend where Canard was "on" and feeling great. Or maybe, just maybe, this KYB suspension change was a real difference maker and he starts laying down the law. I can't wait to see!
In talking to Betley he mentioned that the team has third overall in the points pretty much locked up and that nothing they could do in California or at Canard's house can replicate real racing. So, why not "test" at the races? It's the ultimate proving ground, right? Dan was quick to say that this isn't a move that means anything for 2015 and that the team could show up with WP stuff this week (pretty sure he was joking). Freddy Noren had the traditional Showa triple-air forks and spring shock on his bike, by the way. Betley mentioned to me (and maybe this was an off the record conversation—I'm not sure—but I'll put my nuts out there for you jerkies) that he took this job a few years ago wanting to turn Honda back into the juggernaut it used to be when he started there with Jeff Stanton in 1989. And if he can't do it, he'll move onto something else. And part of turning Honda into a winning machine involves looking under every rock and doing anything he can to make the team better. If it involves putting on a suspension brand that hasn't been on an American factory Honda race bike since Stanton in the early 90s, then so be it.
Bravo, Dan … bravo.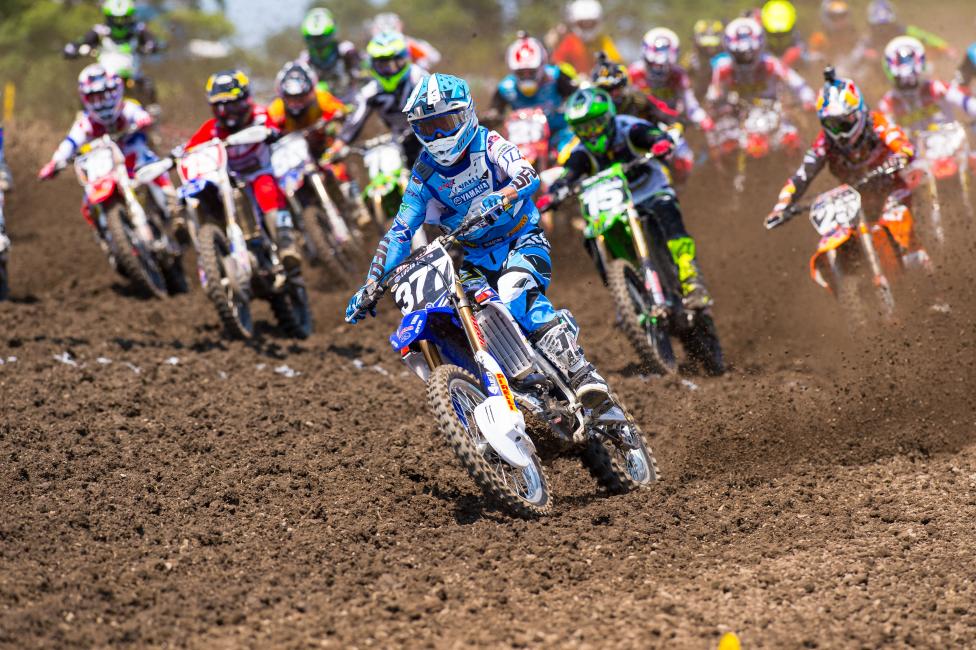 When Valli Yamaha announced that Frenchman Christophe Pourcel was signed to ride for them in the 250 Lucas Oil Pro Motocross Championship, I wasn't sure what to think. Pourcel was certainly pretty dominant in his time here, and the fact he doesn't have a 250 title on his mantle is pretty tragic. But he's also taken a year and a half off from racing, and this sport doesn't stop for anyone. I figured he would do okay, but these kids would beat him pretty regularly. I know what the Pro Circuit guys told me he did for practice, and I didn't see that improving as he aged and took time off.
And, although I've been mostly right in my predictions on how he would do, I think in a way he's maybe been disappointing that he doesn't have MORE wins this year. You see, Pourcel sits fifth in the points, but if you tell me a rider with obvious speed (eight fast qualifying awards) who's led all those laps (twenty-eight) as well as collected holeshots like they were Pac-Man pellets (seven) through ten races doesn't have even a moto win, I would slap you silly and yell uncle. He's been good! He's been very good! But he can't seem to finish where his starts and qualifying stats seem to indicate he should. Once again, Christophe Pourcel is a mystery wrapped in a riddle.
But anyway, he's always been great at Unadilla—so much so that Weege called him for a win at the New York track before the season even started. Seriously, he did (look up the podcast we did in the 250 preview). And that's exactly what Pourcel did last Saturday. He went 1-2 for the overall win in a bit of masterful riding that was vintage CP377. And the stink of his second moto at Washougal (where he faded from first to fifteenth for no apparent reason) is fully washed off. Has Pourcel's comeback to the Nationals been a good one? I have no idea. I'm confused.
How much would you have won here in Las Vegas if you had gone to the sports book and put money on Jeremy Martin winning the 2014 250 title? Seriously, what would have been his odds? In fact, let's make some odds right now for this title before the season.
(Full disclosure, I'm not much of a bettor, so I enlisted my buddy JT to help me with these odds)
Let's take a look at JT's odds, shall we?
Blake Baggett - 5:2 (would be 2:1, but eye injury hurt chances. Still the favorite)
Christophe Pourcel - 9:2 (long layoff, rusty but most experienced and world champ)
Dean Wilson - 5:1 (struggled since 2011 season outdoors)
Marvin Musquin - 5:1 (knee injury but previous winner, consistent, two-time world champ)
Jeremy Martin - 6:1 (never won a race before, horrendous start to 2014)
Jason Anderson - 8:1 (great 2014 SX, but hasn't put an solid outdoor season together)
Cooper Webb - 8:1 (never won a race before, still young)
Cole Seely - 12:1 (never won a moto or overall, inconsistent outdoors)
Like I said, these are Thomas's odds, but I would have had Zach Osborne (GP winner) ahead of Martin—but JT is clearly basing this on the fact that Osborne has been hurt most of this summer. I also would have put Webb with the same odds as Martin; otherwise I agree with JT's list.
So, that's five riders ahead of Martin, or six if you're a Cooper Webb fan. When's the last time a rider "ranked" (subjectively, I know) that low came out of nowhere to win the 250 national title?
Checking the records, maybe 2005, when Ivan Tedesco won? You would have put Davi Millsaps, Grant Langston, Broc Hepler, Andrew Short ahead of Hot Sauce, and maybe a couple of other names that I can't think of right now. Other than that, maybe 1989, when you would've put about ten guys ahead of Mike Kiedrowski winning the 125 title. The point is that Jeremy Martin has been a real surprise, and if anyone tells you they saw this coming, they probably are related to "The Frog."
Cool story indeed.
Let's take a look at the results, shall we?
250 Results
1. 377 Christophe Pourcel; France; Yamaha YZ250F; 1-2 - I don't know why UFO gear would want to pay Pourcel a bunch of money to wear their gear, yet not really have any presence in the US, but hey, whatever man. Tim Ferry was once a UFO gear factory rider, so it's all good with me. Where I'm going with this is that I liked CP 377's stuff this weekend.
2. 19 Jeremy Martin; Millville, MN; Yamaha YZ250F; 3 1- Martin rides Unadilla well, and I'm not surprised he almost won the whole thing.
3. 25 Marvin Musquin; France; KTM 250 SX-F; 2-5 - Moving Marvin was on the move in the first moto, and I truthfully thought he was going to get Pourcel. Second moto I was ready for the former Unadilla winner to go head to head with another French former 'Dilla winner for the title of King of Unadilla and perhaps a prize of a giant slice of French toast. But he didn't get the start and couldn't move forward as fast as he would've liked. Still, nice day for Musquin.
4. 32 Justin Bogle; Cushing, OK; Honda CRF250R; 5-3 - I'm holding onto my prediction made earlier this season that Bogle is going to win a moto. He's got four left, and I'M NEVER GOING TO STOP BELIEVING.
5. 4 Blake Baggett; Grand Terrace, CA; Kawasaki KX250F; 6-4 - I'm sure Baggett's motivation to win races is pretty low right now. He's almost out of this thing mathematically, and it's got to be hard for the kid to go as nuts as he usually does when he knows his title chances are slim. If you're Baggett's agent next year, you're shopping Baggett around and pointing out that Jeremy Martin didn't have a DNF all year, and your client's bike blew up twice.
6. 15 Dean Wilson; Scotland; Kawasaki KX250F; 4-6 – It was Wilson's best overall race since coming back from injury. And to top it all off, Wilson's going to the Motocross of Nations for Great Britain. Remember when he went for Canada? That was awesome. I'm going to light myself on fire now.
7. 43 Joseph Savatgy; Thomasville, GA; KTM 250 SX-F; 9-9 - A 9-9 for seventh overall? Joey Savatgy has been living right! Seriously though, have you noticed that the Joe-Dawg has been riding pretty well these last few weeks with six straight top tens? If you see Savatgy in the pits this weekend, call him Joe-Dawg and see if we can get it to stick.
8. 188 Christopher Alldredge; Powell Butte, OR; Kawasaki KX250F; 13-8 - Nice ride by the rookie who was definitely overshadowed a bit by RJ Hampshire (who won everything at Loretta Lynn's and deserved the hype), but in the end the Monster Energy/Pro Circuit Kawasaki kid had a nice day. His second moto charge was good to see.
9. 55 Alex Martin; Millville, MN; Yamaha YZ250F; 12-10 - Great day for the older Martin, who's tied with Wilson for tenth overall in the points. I think it would be a pretty good season for Martin if he were to end up in the top ten.
10. 87 Shane McElrath; Canton, NC; Honda CRF250R; 10-13 - Well, well, well—look here. McElrath only raced a few nationals last year and missed a lot this year with injury. And he got his first top ten ever in the first moto with a solid ride.
11. 50 Jessy Nelson; Paso Robles, CA; Honda CRF250R; 16-11 - I've heard the TLD guys (with Nelson there) will be on KTMs next year. I can't wait to see what Troy Boy will do with orange frames and plastic when he gets locked in a paint booth before Anaheim.
12. 78 Matthew Lemoine; Baton Rouge, LA; Kawasaki KX250F; 15-12 - Like Oldenburg in the 450s, Lemoine was the first true privateer in the overall results, and this is a good day for him. It must be so hard to compete against the fire-breather factory 250s no matter how good you think your motor is as a privateer.
13. 621 RJ Hampshire; Hudson, FL; Honda CRF250R; 11-16 - Trained by the great Tim Ferry, Hampshire came into Unadilla with a lot of eyes on him. And Jason Anderson and Cole Seely (according to RJ) made sure he got a few "Welcome to the pros hotshot!" wheels in on him. Anyway, Hampshire crashed in both motos multiple times, but he showed speed with his qualifying time, and his starts were decent. Nothing wrong with his day in my eyes.
14. 16 Zach Osborne; Abingdon, VA; Honda CRF250R; 38-7 – Oh, what could have been. Remember Osborne? He's been out for a long time, so no, the #16 is not John Dowd. He qualified third, which is good, but he crashed half a lap into the first moto while near the front (that's the bad). Second moto he had a crappy gate pick and did what he could with it.
15. 37 Cooper Webb; Newport, NC; Yamaha YZ250F; 7-36 - Bad day for Webb, and he lost second in the points to Baggett. He was just off all day, as he didn't qualify well (like, REALLY not well for him), and then he faded from second to seventh in the first moto. Weird, right? Then his bike broke in the second moto, so all in all, Cooper was caught in his own web this weekend.
16. 21 Cole Seely; Newbury Park, CA; Honda CRF250R; 8-34 - Nice first moto for Seely, and he was working his way up from the back again in the second moto when he went down. Seely's got a nice streak going; he's been inside the top ten in sixteen out of seventeen motos that he's finished. Only Millville did he get the checkers out outside of the top ten. Big improvement in his motocross game this year.
17. 343 Luke Renzland; Hewitt, NJ; Yamaha YZ250F; 18-15 - Another rookie lost in the Hampshire hype. Renzland did well for the Rock River guys.
18. 71 Zachary Bell; Cairo, GA; Honda CRF250R; 17-17
19. 17 Jason Anderson; Rio Rancho, NM; KTM 250 SX-F; 36-14 - Anderson's now crashed out of two of the last four motos and had a mechanical in another. And his fourteenth in the second moto here is well below what we're used to seeing. Anderson ended last year badly, and he's got to stop that trend from happening again.
20. 30 Kyle Cunningham; Aledo, TX; Honda CRF250R; 14-37 – Cunningham crashed out of the second moto, which sucked for him. The good news is that the thumb that caused him to miss Washougal was okay.
450 Results
1. 5 Ryan Dungey; Waconia, MN; KTM 450 SX-F FE; 1-2 - The Dunge busted out some cyan blue 2015 Fox stuff this weekend, and it reminded me of Damon Bradshaw's zebra pants from back in the day. Or every JT gear bag ever made.
2. 41 Trey Canard; Edmond, OK; Honda CRF450R; 4-1 - I know I just said this, but I'm REALLY looking forward to seeing if this KYB switch can take Canard to another level.
3. 3 Eli Tomac; Cortez, CO; Honda CRF450R; 3-3 - Solid day for Tomac, although I guess if you're him you're not happy that Canard and Dungey got by you in the second moto. Still, he's probably going to finish fourth in the points after missing the first four races.
4. 94 Ken Roczen; Germany; KTM 450 SX-F FE; 2-4 - Someone should lock Roczen into a room and just play RedBud over and over for him. When he tries to sleep, throw cold water on him. Put toothpicks in his eyelids—anything to get him and his mojo back.
5. 10 Justin Brayton; Fort Dodge, IA; Yamaha YZ450F 6-7 - Two holeshots for "Big Daddy" Justin Brayton! And to go along with that, two solid motos for the big one-zero. That's four straight motos that Brayton has been pretty good, and although he's a better supercross rider than motocross, this is a great finish.
6. 29 Andrew Short; Colorado Springs, CO; KTM 450 SX-F FE; 5-8 - Short's so, so, so, so ridiculously solid it's not even funny. He came from dead last to get his eighthin moto two. Lots of riders tell you they crashed and were "dead last," but they're really not. Andrew Short was DEAD LAST and got an eighth. The guy's just solid.
7. 40 Weston Peick; Wildomar, CA; Suzuki RMZ-450; 10-5- I'm not belittling Peick here because he was the "best of the rest" this weekend, but it's simply mind blowing that he was a minute and a half back of Canard in the second moto. Peick, Short, Metcalfe, etc. are all amazing riders, and they got worked in the second moto. This is just to give you an idea of the speed of the top four guys.
8. 38 Phillip Nicoletti; Bethel, NY; Yamaha YZ450F 7-9 - Nicoletti told me that this was the first time in his life that he put two motos together that were ninth or better at a national, so that's nice. The New Yorker had a great day in front of family and friends, and now his season as the part-time Toyota/JGR Yamaha rider is over. On the PulpMX Show on Monday, his manager Jeremy Albrecht said that barring any entries into the last race, Nicoletti will have raced fifteen races this year while he was only promised six.
9. 24 Brett Metcalfe; Australia; Kawasaki KX-450F; 12-6 - Metcalfe was telling Chad Reed and I after the race how fast Brayton's Yamaha is. He was saying that he'll have faster entry speed than Brayton in the corners, yet the Toyota/JGR Yamaha rider will just yard him coming out. And it takes a bit of strategy by Metcalfe (and other riders) to get by Brayton or Nicoletti. Reminds me of 1999 when I was working for Ferry and Doug Henry was on the thumper.
10. 80 Fredrik Noren; Sweden; Honda CRF450R; 8-10 - If I'm Noren and looking at how great Canard did with the KYB stuff, I'm having my agent call Honda and demand the KYB stuff or my client won't be showing up in Indiana. I'm obviously kidding, bro; I'm sure Fast Freddie would show up and try to race even if Honda told him he couldn't have a seat.
11. 39 Ryan Sipes; Flaherty, KY; KTM 450 SX-F; 14-11 - Sipes is a very good rider. And that's why, despite him quitting motocross last year and racing GNCC this year, I've been a bit mystified on why he hasn't done better in his comeback to the Nationals. No offense to guys like Ben LaMay or Matt Goerke, but Sipes should be right there with them or better in my mind. Finally at Unadilla, he was.
12. 62 Mitchell Oldenburg; Alvord, TX; Honda CRF450R; 13-13 - Nice ride here by the full privateer! Solid results for the kid from Minnesota (don't pay attention to the Texas on the results sheet), and he beat some pretty big names in the overall standings. Came from the back in both motos to get these scores, also!
13. 12 Jacob Weimer; Rupert, ID; Kawasaki KX450F; 11-15 - Weimer missed Washougal before the break and came back to Unadilla. There's zero chance that Unadilla would be a track that I would pick to make a comeback from some serious injuries. That track looked like ZERO fun in the motos.
14. 48 Ben LaMay; Wasilla, AK; Yamaha YZ450F; 15-12 - Annnnd LaMay started twenty-fourth in the first moto to get fifteenth, and started twentieth in the second moto to get twelfth. Just a typical Ben LaMay day, folks. You won't really notice him out there—he's not going to blow your doors off with speed or holeshot—but he's a working-man's motocrosser putting in an honest effort.
15. 92 Kellian Rusk; Durango, CO; Yamaha YZ450F; 16-14
16. 44 Matthew Goerke; Sun City, CA; KTM 450 SX-F FE; 9-38 – Goerke had a good day going with a nice qualifying time and a great first moto, but unfortunately for him, he had bike trouble right off the bat in moto two while in tenth. Could've, would've, and should've been a great day for Beef.
17. 98 Broc Schmelyun; Westminster, MD; Kawasaki KX450F; 21-16 - Nice job by the long-time privateer kid.
18. 224 Heath Harrison; Pensacola, FL; Kawasaki KX450F; 23-17 - Haven't seen Harrison's name in the top 20 lately but good to see he's still out there. If I'm Harrison, I'm putting "Bar" on the back of my pants all day long.
19. 95 Evgeny Mikhaylov; Russia KTM 450 SX-F; 20-18 - I don't know why but the Russian is always pretty good at Unadilla. Maybe it reminds him of the motherland—I'm not sure.
20. 11 Kyle Chisholm; Clearwater, FL; Yamaha YZ450F; 17-35 - Chiz didn't have a great day, but his pit vehicle looked pretty sweet! Chiz was sponsored by Hertz this weekend at Unadilla, and then drove all night to the Canadian National the next day for his "real" job and won with a 3-2. Nice job!
Some other news and notes:
- Heard in the KTM pits in regards to Roczen's second half results: "I think he's questioning everything he's doing right now…"
- Team USA was announced, and it was predictably Ryan Dungey, Eli Tomac, and Jeremy Martin. I wrote a while back that I thought there was a chance USA wasn't going to go, and I stand by that. I think had Dungey not changed his mind and decided to go (after initially balking due to getting married, having already gone five years in a row, etc.), then we might be talking about no Team USA. But once Dungey was on-board, it was time to book the tickets. Martin expressed to me after the race that he was surprised they picked him, and I couldn't tell if he was kidding or not. The dude has almost a two-race lead in the points and has won the most races, and he's surprised they picked him?
Thanks for reading bro. Email me at matthes@racerxonline.com if you want to chat about Unadilla, burning couches, or anything else.