Unadilla Motocross
New Berlin

,

NY
Unadilla
Lucas Oil AMA Pro Motocross Championship
Valli Motorsports Yamaha's Christophe Pourcel is finally back to the center of the box following four years of drama—from injuries, to not getting the ride he wanted over here in the US, and more. The Frenchman has had a good season here in the Lucas Oil Pro Motocross Championship, but his 1-2 performance at Unadilla finally pushed him over the top. Of course, this is an amazing track for him, so maybe we shouldn't be surprised. We talked to him about it post race.
Racer X: How did the weekend go?
Christophe Pourcel: Weekend was good. It's always good here because I like the track. Even if the result would not be there, I just enjoy riding this track. It's a fun track. It's big and I just love it. It's European style. I won the first moto. I got the fastest lap time this morning. I had a lot of fun on the track, and then Jeremy [Martin] got me the second moto. I kind of wanted to win both motos, but he was a little bit faster. It was fun. Winning here is good memories.
The track seemed really fast today. You noted that it was dry just now. Did it make it faster on the course?
I think it was okay. It wasn't so fast. I think it was so rough that we had to slow down a lot. I think they put too much water this morning again. So we didn't have a lot of lines on the track. We kind of used one or two lines max, and we couldn't make a lot of passes. That was kind of a bummer but besides that, the track overall was okay, it was good.
The competition today was pretty solid, all the way around just to get out front, just to lead motos.
Yeah. The bike is amazing from the starts; that's for sure. We've been working on suspension every single weekend and every single week with KYB, so we're moving forward. It's a new bike for me, so I'm still trying to get used to it. This setup for this weekend I think was one of the best so far. We went very stiff, so it was a good day. I think they finally know what I like. It's only been a few months with Yamaha, so it's getting used to the new stuff.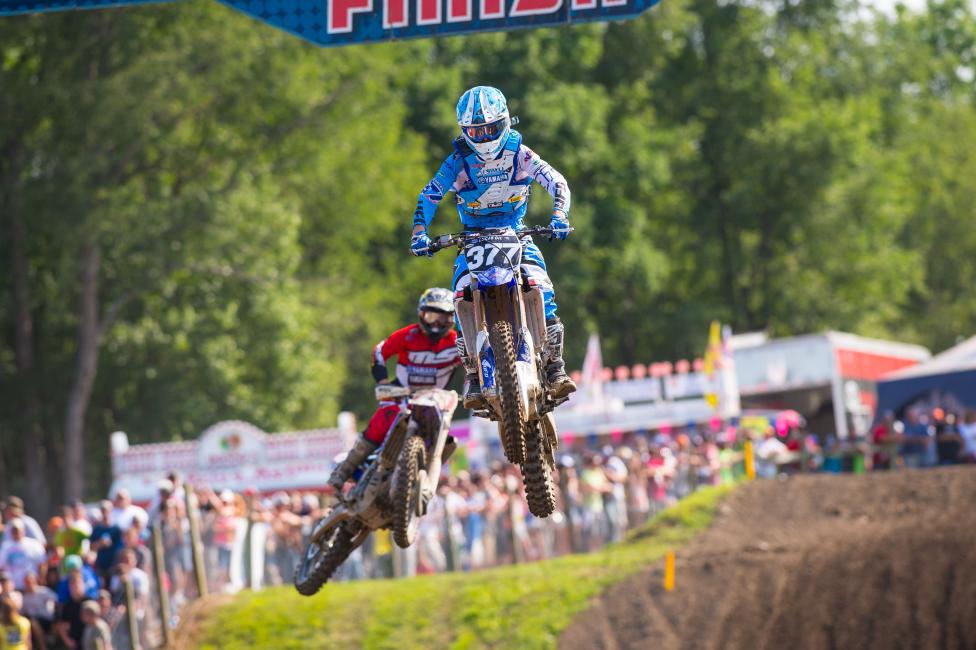 Talk about your second moto. You weren't going for the overall; you wanted to win that one?
Of course! You always want to win motos. I wasn't thinking about the overall. I think Jeremy and I, we were kind of riding the same pace for fifteen minutes, I think. And then I think he, on the podium he told, he was like, "I was checking all your lines. You're super crafty!" And then I think he got all of the good lines from me, and then he got the better line wherever I was a little slower than him. Overall, being behind me was perfect for him. That's what he told me, too. I'm like, "I know, I'm trying to get away very quick so you don't see all that!"
A lot of guys don't even like this track at all. Why does it work so good for you? You were awesome here in 2009 and '10 also. You're always good here.
Yeah. I think this track is very European national, no massive jumps or anything like this. I mean, the table was big, but it's only a table; it's not like a massive triple. It's just like everything flows together. There's no tiny corners and stuff. You can keep you speed and your momentum and that's what I like.
I know your thing is always trying to find lines. It seemed like this track really lends itself to that. It's a big difference. There isn't just one line and that's all you can do.
Yeah. I think today wasn't the best day for me for the lines because it was so rough and so deep, but when it's kind of dry like '09 and '10, this track is just amazing for me to go outside, inside, just play with the track, which I enjoy a lot.
So did you come in here thinking, "I can win this because I like this track," or do you feel like you and the bike changes are coming around and you might be able to win anywhere?
I think I can win on any track, but I can't win by myself. The bike's got to be with me, and it's only been a few months with Yamaha. We're still trying to get the KYB suspension set up. It kind of came together today, but I'm pretty sure I can improve that even more because I don't think we were 100 percent on the bike still.
Just explain to people, no more jet skiing. You're working at this. This isn't like the old days. You're putting in the effort.
You took it the wrong way back then! The old days I was doing Jet Ski. But I was still riding during the week and doing all my stuff. For example, for the Wednesday that I was using my jet ski as a fun thing, and then I was still working out. So I think it's very good to take your mind off racing and then just do something that you like and you enjoy and it's fun so you don't think about all that.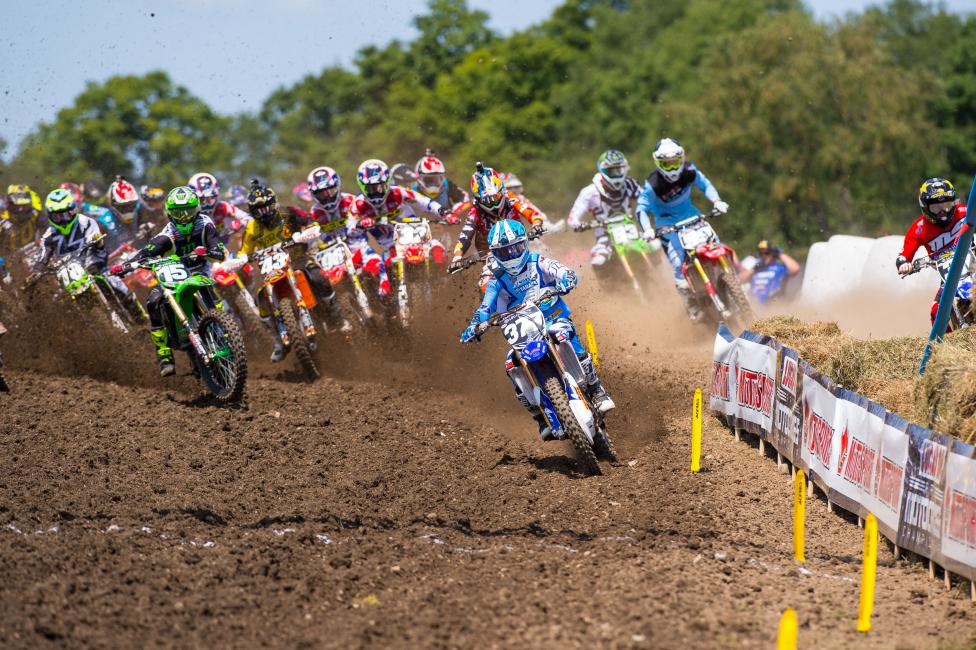 Come on! I thought back then you were trying to make it sound like you just showed up and raced and didn't train.
I never said, coming here, I never said that I just show up [at the races and don't train]. I never said anything, but I was doing Jet Ski for sure. I enjoyed it.
Come on. Your old Pro Circuit mechanic would say, "It's easy, I don't even have to work on a practice bike. Just got to send him Jet Ski oil."
Kyle [mechanic] is a big talker. But I was only using the 450 bike. I was still riding and stuff.
You were training and riding?
Yeah, I have my own track. Why not? But that's something nobody can see. But I never used the 250 at all [back then]. I only rode the 450 during the week. Now I'm only on the 250.
Is this a thinking track where you can almost pre-plan a little bit? Can you pre-plan during practice going, this line's going to be good in the race?
You never pre-plan anything. You watch the 450 on TV, see where they go, and you learn from that. Then when you go racing then you have to look very quick. That's what is the big thing.
Parade lap, can you figure stuff out then?
I would say 50 percent. Sometimes I can see a line, but then some other line when it's very rutty and stuff, you can barely see the line because there are so many and with speed it's a different thing. But I can see the table there I would jump on the right side on the wall and I know that I did that in 2010 so it was a good thing, and I know that Trey watched me on TV and he did the same thing. It was cool.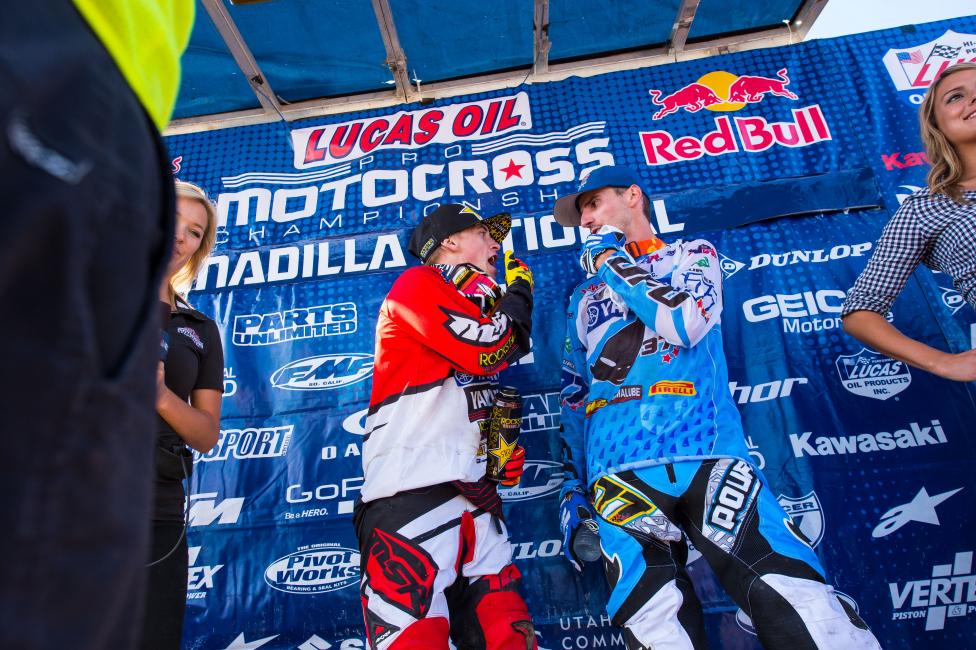 They always say it's like a European track here. Any track in particular in Europe that this kind of resembles?
It depends what you mean by a European track. [In Europe] There's a lot of not very good tracks I would say, and there's a lot of good tracks. I think this track is good because it's all-natural. There was only table-tops, no massive jumps, nothing crazy, and it all flows together. It's just not like those big double and big triple and all those crazy whoop sections and stuff. It's just kind of a real motocross track. That's what they call it a European kind of track.
You haven't won a race in a while here. I know you got some GP wins but even that's like a few years ago. Does it feel extra special or big or anything just because of how long it's been?
I think winning here at this track—I love this track—so if I would have wanted to win any race this year, I think it would be that one.
Anything for next year yet?
I don't know yet.
But you're having fun.
Yeah, I'm having fun and finally got a good setup with the bike so I enjoy it. We got two more and we'll see