This week marks the 2014 edition of the Loretta Lynn's Amateur National Motocross Championship. Many of the racers in the youth, intermediate, and expert classes hope to prove that they have what it takes to be the next star in the sport, and are racing to showcase their talents.
While traveling with his Ohio-based family, Greg Rand was once one of those racers. He raced at the ranch every year from 1987 through 1993—earning him a very respectable eleven podium finishes and six national championships along the way.
In his last and final appearance at the ranch in 1993, Rand won all three of his classes. The rider from Ohio looked to be on the path to motocross stardom. He had the speed and skills needed to take the next steps, but a string of injuries slowly took a toll on his body and mind. Rand ultimately walked away from the sport sometime around 2000, and slowly disappeared from racing.
Racer X: Greg Rand, how are you? What are you up to now?
Greg Rand: Well, right now I am in the middle of a serious game of pool with my brother-in-law! But aside from that, I am now 37 years old, and I am a father, husband, and a builder. I build houses and do construction work. My wife [Leah McConnaughey] and I, we have a 19-month-old boy, and he is keeping me very busy. Over the years, though, I have built houses for both myself (and then selling them), and then also sometimes building for other people with specific plans. Also, a few years back, I had a big chunk of land I subdivided and developed. I built out the houses and sold them off. But I have been just slowly getting back into working for myself now.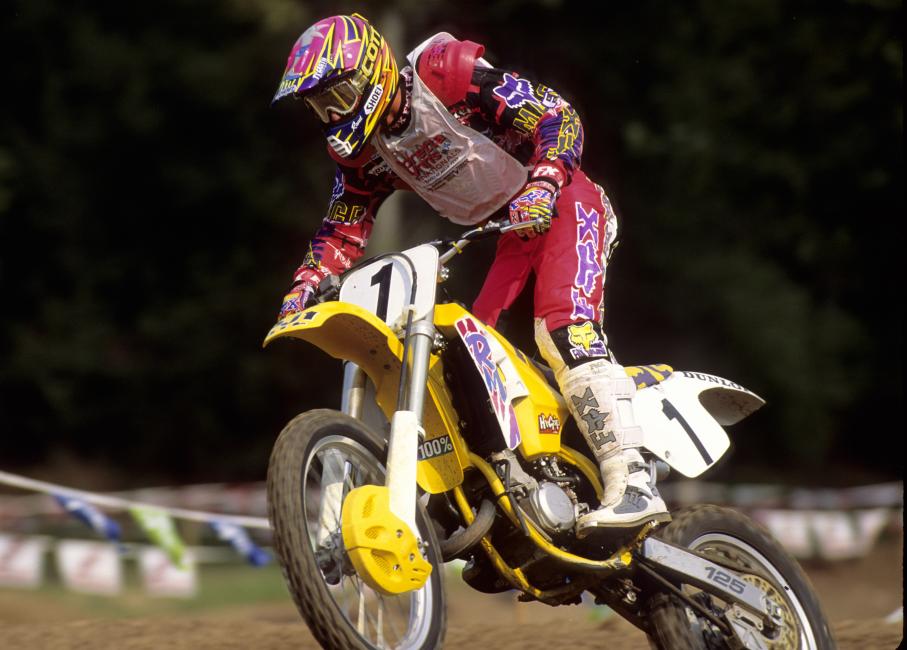 Building, real estate, and working for yourself can be a tough business. I have had my own experiences with it, so I know how hard it can be. But, like racing, you have to dig deep and just keep pushing—and hope that some luck will carry you forward.
That is for sure. [Long pause] You know, I went through some hard times just recently. Years ago, and while I was stilI racing, I got hurt and my knee was really messed up. It was messed up for nearly ten years. But I was prescribed pain pills early on, and…[Long pause] Well, never mind, that's not what you're looking for.
Greg, I am respective of your privacy, and we do not need to talk about anything you are not comfortable chatting about.
No, no, it's ok. It should be said, I don't think a lot of people know really. But, for ten years, I had something like ten surgeries on my knee. And I was in pain for a long time. I had a hard time walking. A few years back, things started getting worse, and I got in trouble with the law. I think, to put it simple, I was kinda leading a double life from what my wife and family saw of me. So, I had to go to prison for a year, well, actually 370 days. I have been out for ninety days now. So, I guess we can say that I had some demons in my life, and I spent a year working them out.
Wow, I had no idea, Greg. I actually saw your name pop up online, and in response to something Gene Naumec had posted. I thought it would be cool to catch up with you, but did not realize that things had gotten really dark for you. If you are comfortable with it, tell me your story?
Sure, yeah. It should be told. After I turned pro, I got hurt a few times. Well, quite a few times, actually. Around 1994 or so, I started drinking and partying, and pretty much lost a lot of whatever fitness that I had. In 1997 I got my shit together and started training, and started winning some arenacross events. I then felt good and decided I wanted to race the (East Coast) season-ending Indy supercross. So, off I went. I was feeling good, and in the heat race, I caught up and passed Ricky Carmichael for a few laps. Then, in the main, on the second lap I got the lead and led the thing for a few laps. But then I got tired and faded back with fitness and arm pump issues. I had the speed, but not the endurance. That would be my last supercross race.
You did not make a push to come back after showing that level of speed?
No. I was already going the wrong way. I got a call from George Quay; he had a Husky program going, so I rode that bike for a bit and did some more Arenacross events. One morning after a big night out, I was in the bathtub and pretty hung over. I got a call from Ray Burgess—he had that Team Green Arenacross team—and he offered me a ride. But it was bad; I pretty much just partied every night, and I was out of control. I think the real problem was that I did not want to be there racing. But the issue was it was an easy way for me to make money. So, I partied and raced. It was not a good mix.
That does not sound very sustainable.
It wasn't. After arenacross that year, I went to some friends who lived real close to Ohio State (University). We drank every day for ninety days. Then one day (Mad) Mike Jones called me and invited me to race in Australia. Everything was paid for, as well as a small salary for me. I went to some race, and I beat a kid named Chad Reed. I think that was 1999 or 2000, but just before he went overseas. But the wheels were in motion, and I was just riding on my talent, and then going out every night.
Lets back up a bit—tell me about your racing career here in the states. You came out of Loretta's with some strong finishes. You won championships on mini bikes, as well as in the schoolboy and A-level class. You then turned pro in 1993, but did not race that much.
Yes, that is correct. I got hurt a lot. I got hurt almost right away after switching brands from Kawasaki to Suzuki. It seemed like every year I was just fighting a different injury, which was tough.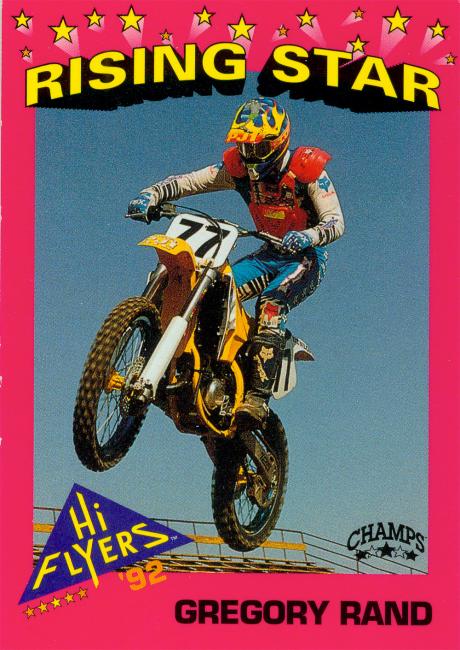 I recall you and Robbie Reynard were at odds back then and with Team Green. What happened with that?
It was at the Mini 'O's, but it had been building for a while. I won the schoolboy class, and Robbie was my rival. It was pretty simple, really; we just ran into each other a few times. It was not that bad, but because we were schoolboy class, they took it real serious. Jose Gonzalez and Mark Johnson had a talk with me at Gatorback. I was mad—I told told them to take the bikes back, and that I did not regret riding aggressively. But I cooled down, and blew off some steam. But kinda made me mad, as I just wanted to beat Reynard. But back then, Pat Alexander was helping out Ezra Lusk, and I was really good friends with (Ezra) him. So, he said I should call them up and talk to Suzuki. So I did, and I got a ride. But then as soon as I got on the Suzuki, I broke my arm really bad.
That was early 1992—but then you came back and managed to win three classes that following year at Loretta's, and I think that was about the only year where a racer could ride three classes!
That's right. That was a funny year; they had the international class. But yeah, I won that class and the 125A and 250A stock classes. You know, I have not been back to the ranch since that year.
And your transition from Loretta's to pro?
It was hard. Because of my injuries, I was out of shape when I turned pro. I was always fast, but then late in 1993 I went to Steel City and raced that national. I thought I was in shape, but I was not even close. I was running inside the top ten, maybe sixth or seventh, and then at the twenty-minute mark, I was done. I feel way off the pace. Then, that winter I went him and broke my leg snow-boarding. So, I missed a bunch of stuff coming into 1994 season. My first race in 1994 was at the Indy Supercross. I got second in my heat race, and then in the main event I got ninth place. After that, I started running up front in the heat races. It was me, Yogi, and Jimmy Button who were in contention. But I did not train, and it showed.
Where did things go from there?
Well, I got hurt again that summer, and that is when I came home and really started partying. I was losing interest in the racing at that point. It opened up a whole new world of doing stuff. I wasn't the first kid and won't be the last who had been sheltered their whole life, and who suddenly find the world of parties. I was making okay money racing mostly arenacross, and where I was the fastest guy most of the time.
When did you decide to hang it up?
I never really did, it just kind of happened. But looking back at it, I got hurt in 2000 up in New York. I had a bad crash and screwed up my knee. I had to ride in the back of the rig all the way home to Ohio, and then wait a full week to have surgery on it. It got infected really bad. That injury is what started me on the painkillers. I couldn't walk. They were taking out a full syringe of fluid from my knee every few days. It was bad. I finally saw a specialist who had no idea how I had been able to function. He said I had to come up right away, and they were basically ready for surgery right as I got out of the car. He was talking about trying to save my leg, and I had no idea it was that bad. I stayed nearly two weeks in hospital. My body was so infected. I was a mess. At that point, I was done being hurt, and I was done with motocross. I wasn't very old, but I did not want to race, and that was a good excuse to quit. But then I had so many more complications with my knee, and which resulted in a complete knee replacement. It was ten years of hell with that knee. It also put me on the pain-killer path—but that is a whole other issue.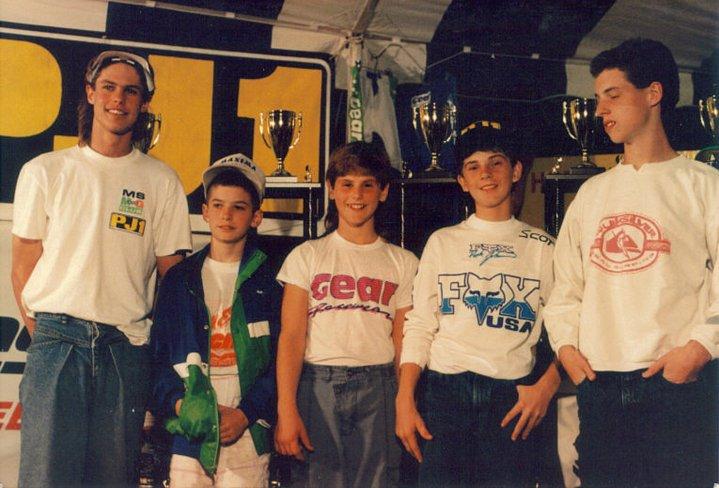 Looking back on it today, it does not seem real. All that came to head a while back, and now I am putting the pieces back together.
Wow, Greg. I am sorry to hear that, but it sounds like you are actually comfortable with yourself and where you have been on this journey.
Yes. My son was five months old when I went to prison. My wife, she was my high school sweetheart. My son, my family—I put them all through hell. But it is something that people should know about—you can get out of control so easily. You never think it happens to you, but it happens.
I have spoken to quite a few retired racers who have struggled with demons once they stop riding. You are not the only one who has been down this road.
You know, I think a lot of people that are good at something—one thing—they have addictive personalities. For me, all I wanted to do is win and ride, and as a kid, that was all I focused on. There was nothing else. And then it became the same thing with partying. I think a lot of motocross racers have additive personalities, as it is just the way we are wired.
You are probably right. But lets change gears here—what would you advise some of the up and coming talent?
For me, my biggest issue was getting hurt at the wrong time. You don't want to get hurt when you first turn pro. If you are not up to speed at your first national and you finish twentieth, it stings your confidence. And that is the biggest thing. At Loretta's you can be out of shape and still finish in the top three or four if you are good. But in the pros, things can go south real quick, so you have to really be on your game.
Tell me about the future holds for Greg Rand?
Well, I am slowly getting things sorted. When you do what I did, you lose a lot of trust from the people that are close to you. I was covering things up with a lot of lies. I thought I was fooling other people, but I was not. My wife and I, we have a kid together and we love each other. She has stuck by me through all this. I could not have married a better women. So I am just taking things slow and staying sober, trying to live a simple life here in Ohio [Hillsboro].
Any interest in doing some riding again?
Oh, for sure. I am going to do some schools, and for first time in twenty years, I really miss riding a dirt bike. I want to get in good shape, and the idea of going to Loretta's again is very appealing. All week I have been watching guys like [Robbie] Reynard and Robbie Skaggs, and it is so good to seem winning titles and kicking ass. I want to get at least one more championship, but it is a long road. We shall see.
Tell me about your wife and family?
My wife has stood by me through all of this. We are are living in Hillsborough Ohio, which is also where I was born and raised. My wife's name is Leah McConnaughey, and she is optometrist, which is an eye doctor. She never changed her name because she has her own practice, and I am okay with that. Our son is named Ezra Golden Rand. But my wife has been really supportive of me, and a lot more than I thought she would be as things happened. So, right now, I want to raise my son Ezra, and that's what life is about.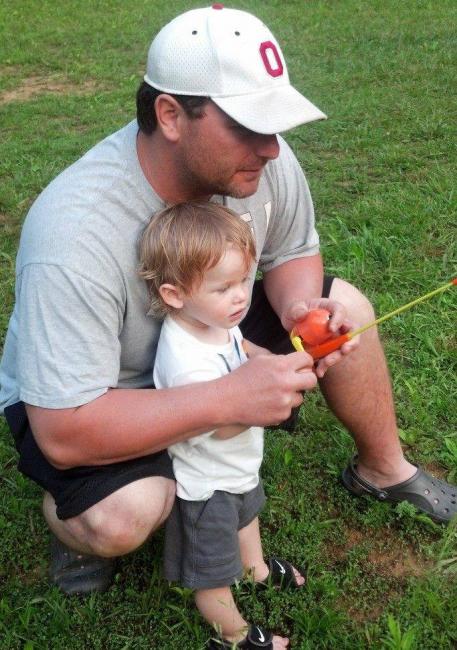 Ezra, as in Ezra Lusk?
(Laughs) That is what everyone thinks! But no, it was a biblical name. I respect Ezra, and he is a really good person and friend, and someone I hold in high regard. So, maybe it's fifty-fifty on naming him Ezra, but he is not named directly for Ezra.
Well, I need to wrap this up. Any closing words?
Riding is something that I forgot how to love. It got to be a job, and I then took some steps in the wrong direction. It just didn't work out for me as a top pro, but I am okay with that. I am happy to see some of the guys I raced with have really good careers—mainly [Kevin] Windham and Robbie [Reynard]. I am happy to see them do as well as they did. But I do think Reynard got hurt too many times, as when I think of us three, I think he was the most talented out there.
Oh, one other thing, quick—a good memory was at Ponca City. You could race the big wheel 105 back there and it was cool. In 1990, Mitch Payton built me a killer KX105. It was so fast it should have been illegal. But it was not. I think that year I raced against a stacked class, which included Craig Decker, Jeff Dement, Yogi [Ezra Lusk], Robbie Skaggs, Robbie Reynard, Kevin Windham, David Pingree, and Spud Walters. Those guys were all so fast, you just never knew who was going to win!
Anyone you want to give a shout out or say thanks to?
Wow—that list would be a mile long! But my parents, the Team Green folks back in the day, Sharon Richards, Pat Alexander, Bevo, The Fox family, Jim Chambers, and Billy Willian—I used to goto his house before Loretta's and train. And of course, wife for sure; she has been my rock though this journey.