The second set of motos began to wind down Thursday afternoon from day three of the 33rd Annual Rocky Mountain ATV/MC AMA Amateur National Motocross Championship presented by AMSOIL. Each of the 36 National Championship classes had an opportunity to check out the track and get rid of first-race jitters as day three of racing focused solely on the title contenders that will soon be crowned.
RJ Hampshire's hot start to the week continued into Thursday aboard his Factory Connection/AMSOIL Honda. Entering today, Hampshire had a clean streak—winning every 250 A and Open Pro Sport moto. In Moto 2 of 250 A, Hampshire grabbed the Bell Helmet Holeshot and sprinted to an early lead over teammate Jordon Smith and Luke Renzland. With Hampshire leading, contenders Chris Alldredge of Monster Energy/Team Green Kawasaki and Yamaha/bLU cRU's Aaron Plessinger were buried following a big pileup off the start. Renzland eventually worked his way past Smith for second and it was all over from there as Smith crashed and didn't finish Moto 2. Hampshire went unchallenged on his way to another moto win, extending his streak to four in a row through the first four races. Renzland finished second, with Plessinger capping the podium. Hampshire leads the overall running (1-1) over Renzland (4-2) and Alldredge (2-8) with one moto remaining in the championship chase.
In 450 A, Chris Alldredge took the Bell Holeshot over Luke Renzland and teammate Nick Gaines. Renzland, the defending champion in 450 A, attacked quickly and made his way past for the lead. Alldredge would hold off Gaines for second. Renzland (3-1) enters the final moto leading over Alldredge (1-3) and Daniel Baker (2-4).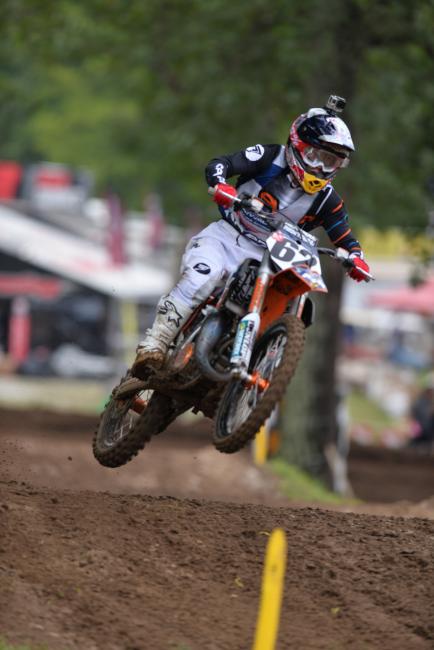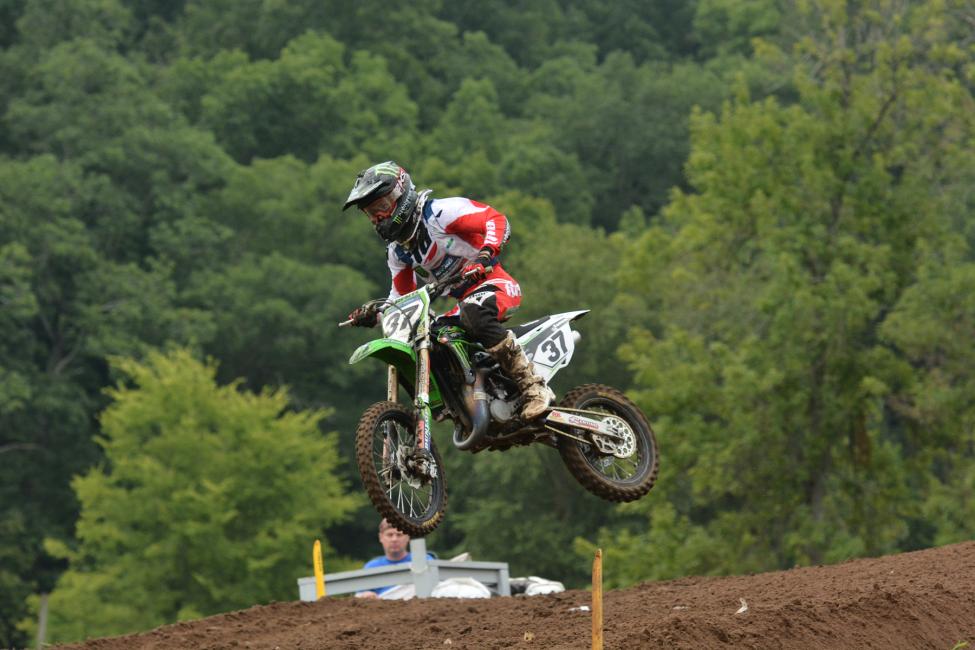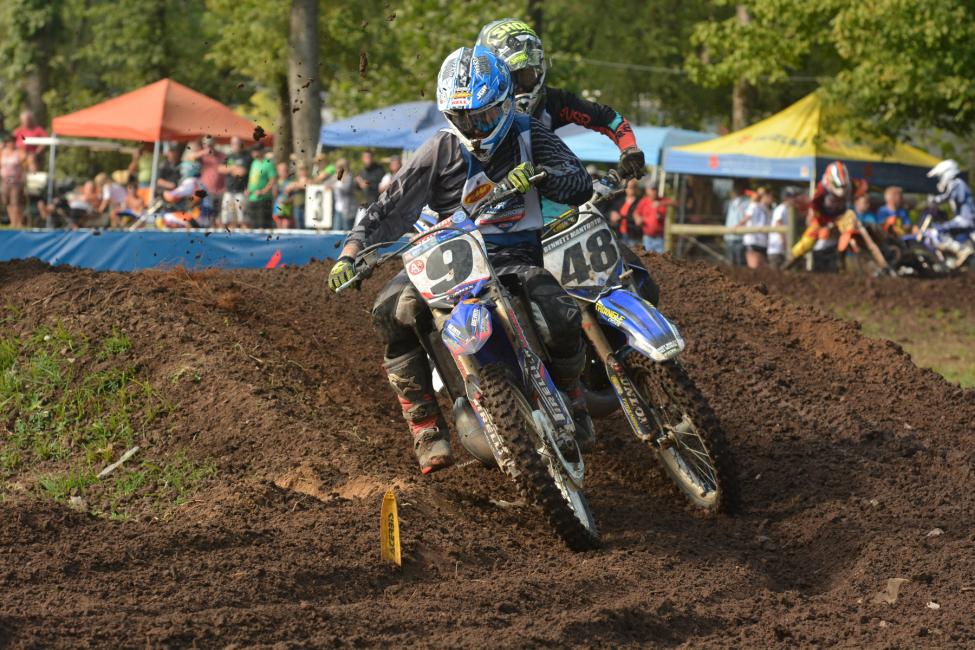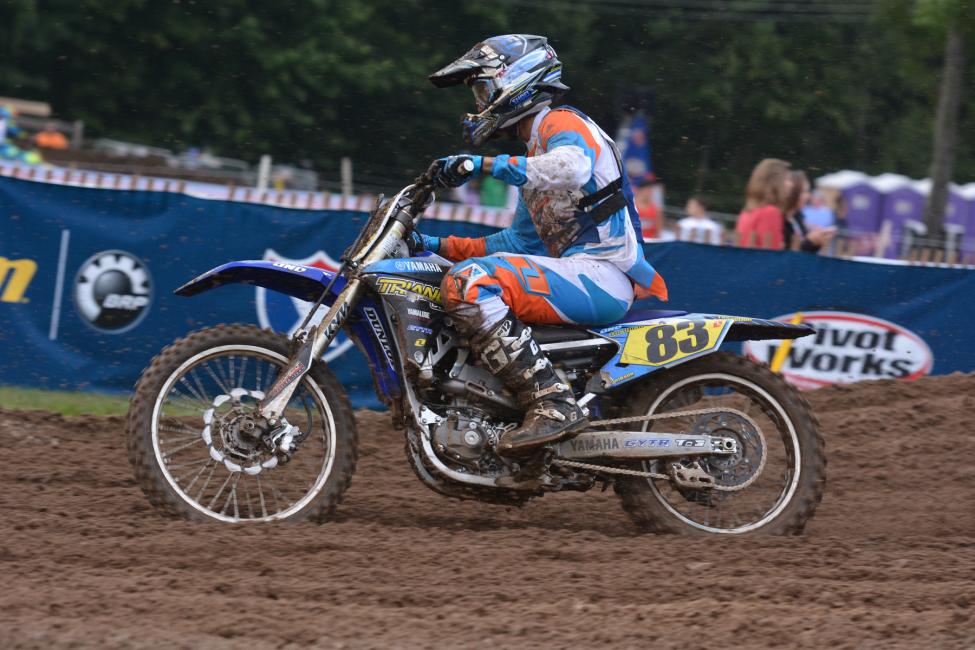 Following a third place finish in Moto 1, Benny Bloss has climbed back into contention in 450 B Limited with a big moto win on Thursday. Moto 1 winner Lorenzo Locurcio held the lead early on but would soon give way to Bloss after a small crash. Bloss held on for the duration, where he now sits in second overall with moto scores of 3-1 with one moto to go. Locurcio finished second in Moto 1 and leads the class with 1-2 moto scores. Chase Marquier (2-4) holds third place following a fourth place finish on Thursday.
Through two motos in the 250 B class, things are beginning to tighten up both on the track and in the standings. Out front early on was Mitchell Harrison but it wasn't long before Harrison got pressure from Lorenzo Locurcio and Alexander Frye, as well as Chase Bell. Locurcio briefly took over the lead from Harrison but Tristan Charboneau quickly interjected himself into the mix. After launching past Frye, Charboneau got around Locurcio and held on for his first moto win of the week. Harrison, the Moto 1 winner, fell back to fifth place. Frye came in second, with Locurcio rounding out the podium. Heading into the final moto, Charboneau leads with 2-1 moto scores over Locurcio with a score of 3-3.
In Moto 2 of the Super Mini 1 (12-15) class, it was Mitchell Falk who led the field through the first turn. The Monster Energy Kawasaki/Team Green duo of Austin Forkner and Sean Cantrell trailed early on, with company from Chase Sexton and Max Markolf. Falk never faltered up top, but the battle for third came down to the wire with Forkner holding off Cantrell, Sexton and Markolf. After two motos, Cantrell (1-3) leads over Falk (5-1).
Stilez Robertson took another step closer to a 2014 title with his first win in the 85 (9-11) class. Through two motos, Robertson (2-1) holds a slight edge over Ethan Mann, who sits with a 3-2 moto score. Robertson's Kawasaki teammate Garrett Marchbanks continued his perfect week in Mini Sr. (12-13) with his second moto win over Jalek Swoll.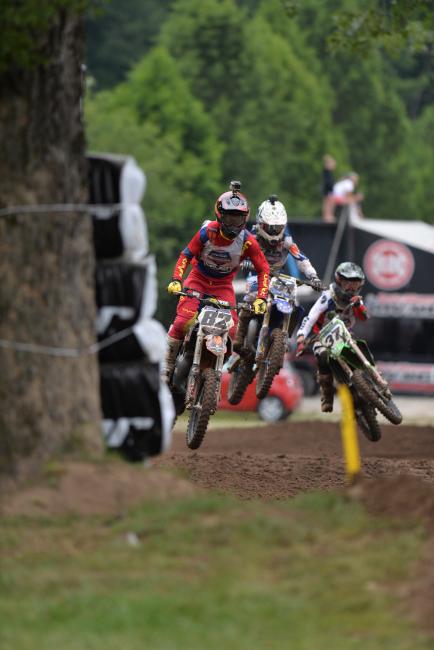 In 51 (7-8) Limited, Nicholas Romano won his second consecutive moto and holds the advantage over Noah Geyer (4-3) heading into the third and final moto. Jaden Palmer won Moto 2 of the 51 (4-6) Limited class, while Wyatt McGrath captured the 51 (4-6) Special Limited class. Aiden Eyler took the victory in 51 (4-6) Shaft Drive Limited.
In Vet action, John Grewe evened the score with Trampas Parker in Senior (45+), as the duo trades off 1-2 finishes thus far. Both Parker and Grewe will enter the third and final moto in a winner-take-all scenario. In Masters (50+), Earl May captured his second consecutive race win, holding a lead over the consistent runner up of Rodney Smith (2-2).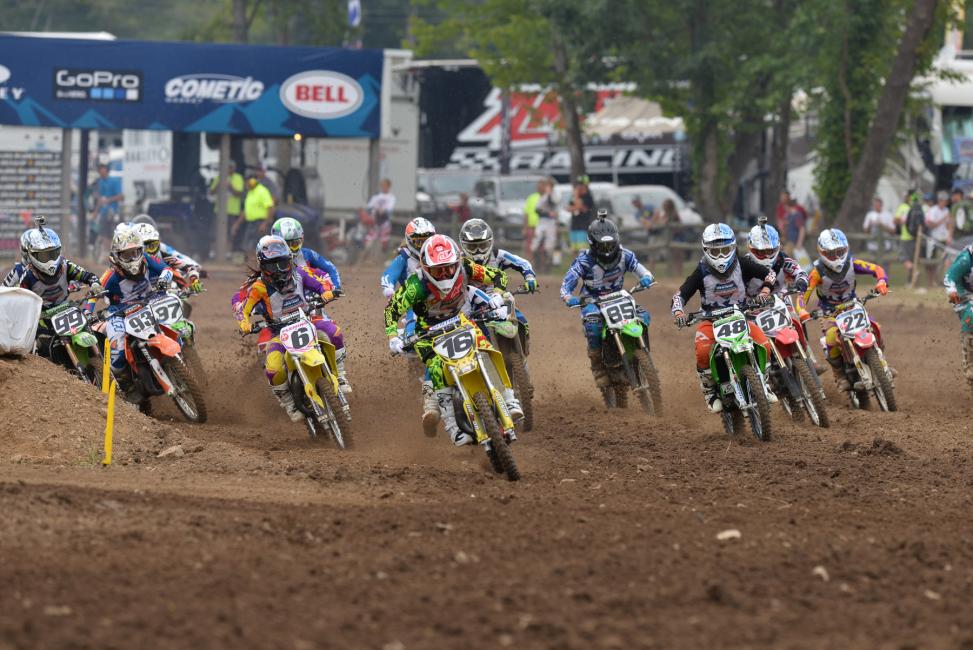 Kaitlyn Morrow is now tied with Mackenzie Tricker in Women (14+) as the highly competitive championship battle, where each rider holds a moto win, heads into the final moto on Saturday. In the Girls division, Hannah Hodges sealed the deal once again in the 12-16 division, where she remains undefeated heading into the final moto. It was yet another 1-1 sweep in the 9-13 division, topping Moto 2 runner up and reigning champion Jazzmyn Canfield.
Racing will resume on Friday, Aug. 1 with the commencement of the third and final set of motos. Live streaming coverage begins Friday morning at 10:30 a.m. CT / 11:30 a.m. ET on RacerTV.com. For more information on the viewing times for the rest of the week, please click HERE.
Archived coverage is now available from the first three days of racing on RacerTV.com, to view please click HERE.
Complete results from the 2014 National Championship can be found HERE and Live Timing & Scoring can be accessed HERE.