Washougal Motocross
Washougal

,

WA
Washougal
Lucas Oil AMA Pro Motocross Championship
Red Bull KTM's Ryan Dungey wasn't necessarily in a must-win situation entering Round 9 of Lucas Oil Pro Motocross at Washougal, but another loss would have set him at an almost unreachable distance of Ken Roczen. Dungey was focused on Saturday and rode to a dominating 1-1 performance. With the overall win, Dungey cut Roczen's points lead to 14 with three rounds remaining. He talked about it in the post-race press conference.
Racer X: This place is like magic dust for you when you get here. When you see that checked off on the schedule, are you're like, okay, I got 50 there?
Ryan Dungey: I like coming here. I got my very first win here on a 250 in my very first outdoor race, so that was really cool. Ever since, I like coming here. It's fun. This year was the best by far, just with the rain they got and how the rest of the track was. The water stayed in it, so that was nice. Just good starts today, really helped out. Got out front and just was able to put down my laps and ride my own race. That's what I was focused on, wasn't worried about anything else. Nothing like the championship, just wanted to give it my all, and when I was done with the day be satisfied with that.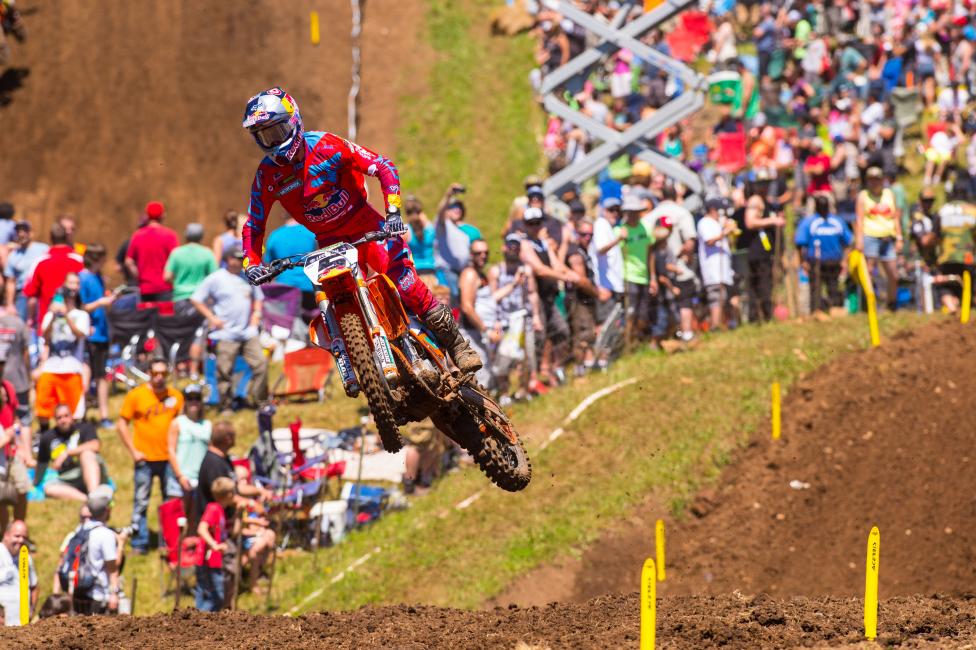 That was probably your best National in a while. Hadn't gone 1-1, I think, since two years ago. When you woke up today, were you just feeling it? Was it the track?
I just approached it like any other. I felt good. I had a good off-day yesterday of traveling and everything. I actually woke up, because I'm on Florida time, at like 5:45 bug-eyed an hour before my alarm. I was like, oh man, this is not good. But I felt good; I felt fresh. Had breakfast, coffee, hung out. Second practice went really good. We made a couple changes in the middle there, and I ended up with the fastest time and that was nice. I just felt really good going into the race. The first moto I got up front and I just said, "You know what, I'm going to drop the hammer." It's time. It's that point in the series you start picking it up a little bit. I feel like things are coming together with the bike consistently. I really felt good with the setup today. It's a technical track. You can't just hammer the gas on. I think we struggled; us KTM struggled a little bit with the softer tracks but with this track I think we did a good job with setup and everything felt good. I do wake up and say today's going to be a good day; I believe in that, and it was, so it was nice.
What did you do differently during the week to prepare for Washougal? I know back at the farm it's a little bit sandier. Do you approach it differently, like riding the track?
My riding partner left me hanging. He took off early to Washougal. So I was out there all alone Thursday, just picked my lines, no Jeremy [Martin] chasing after me. But no, it's good to have a guy like Jeremy chase me. I chase him half the time, I feel. He's throwing down lap times that are better than mine, I'm like, wow. We push each other and it's fun.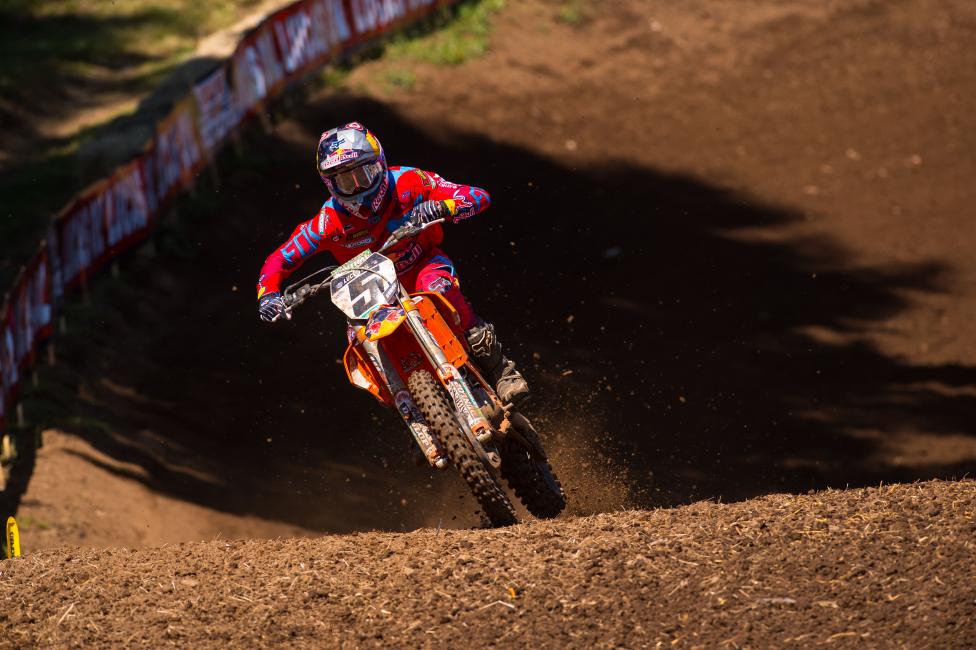 Do you really enjoy this track? Do you feel like it suits your style? I know you said you woke up early, but did you genuinely believe that this was a track for you to make a dent in this series?
Personally, I felt like Millville was the track for me to make a dent and that didn't happen. Honestly, this week I made some calls, thought about some stuff. We're all physically fit. Now it's like a mental game at this point. It was the first time I took some time, and I was like, honestly the championship is what we want to have. It gets in the way of a lot—making mistakes—you end up there racing, thinking about points and this and that. I just got sick of it. Today, yeah, the bike felt good. Not many days happen like that, where it just clicks. But the thing that I was most happy, that I was most wanting to do, is that when the gate drops I focused on myself. I wasn't worried about anybody else. I knew they were going to be tough. But when I got done, that I gave it every ounce of energy, that I possibly had. I think that was the difference.