Washougal Motocross
Washougal

,

WA
Washougal
Lucas Oil AMA Pro Motocross Championship
It's been a bumpy season for Red Bull KTM's Marvin Musquin. Off-season ACL surgery, and a subsequent shoulder injury at the first round, set the former world champion back a few steps. For the first time all season, Musquin looked 100-percent, and it showed with a 1-1 performance at Washougal for his first overall in 2014. He talked about the race at the post race press conference.
Racer X: Through the season we've seen the progress. Every week's a little better. We finally got the heat today. What was different?
Marvin Musquin: I don't know actually. I just felt so good on the track. The dirt was awesome in the morning, rutted, soft. That track was really nice. I really like the layout area, all the trees and stuff. A little sketchy with the shadows, and you come from really bright light into really dark. It's a tough track, but it looks like it suits me really well. I'm so happy. To go 1-1 first time ever in the US. Nothing really different. I just felt really good and I was pushing. I made some good passes. I had some really good lines that no one was taking. I thought second moto those guys were going to see my lines. There were two outside lines that I was going to and they were really good, and know I had some good passes.
Was one of those about two turns after the finish line, one of the outside lines? I think I saw you standing up just railing around through the outside there.
Yeah, that line was awesome. It was outside, so the outside is not always the fast line, but it was smooth, and I was going really good on that outside line. I was going there and I made a couple passes. I was using less energy, and it was awesome.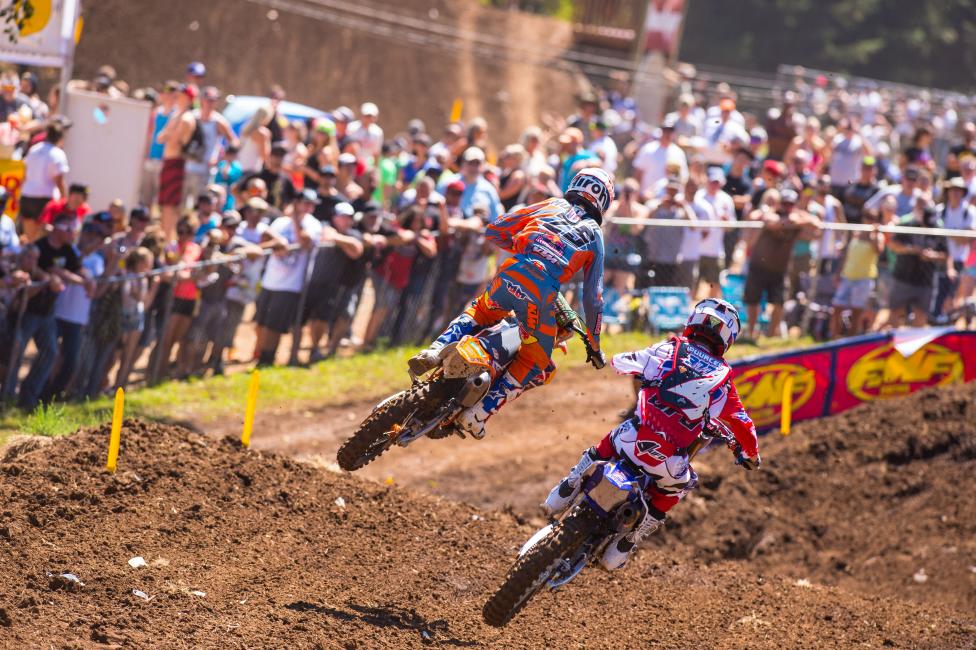 Talk about how jumping down the hill, the pass you made there early in the afternoon. How was that for you?
It was good. It was tough because right before it was really rutted, really bumpy. It was cool because it was before it on top of that jump and the suspension guy there too, so it was kind of cool to see those guys cheering me on every lap. And then going down the hill you really got to be careful because it was really bumpy and rutted, and it was getting a little dry through the day. It was getting harder and harder, but it was a good track.
GL just left but he kind of had a feeling; this weekend would be a good weekend for you.
It's funny because one day he walked up to me and he says, "Okay, you got to go on the podium today, and we pinky swear." But I did it this weekend. I said, "We pinky swear for the first place." It actually worked out, so I'm happy.
Was there a reason you felt that good? I asked Dungey the same thing: when you woke up this morning did you feel like, hey, man, I feel good today?
Not really. I'm feeling better and better but today it's not like I was feeling, okay, I'm going to win today. I was just having fun on the track. Like I said, I was using my technique and it was a great day.
Talk about battling [Justin] Bogle for the lead there in the second moto. That was pretty good for a few laps.
He was actually riding really well. There were sections where he was faster than me and some of the rest of the track I was catching him. I didn't want to push like crazy and make some mistake. I was riding smooth and kind of waiting to the end of the moto, but obviously Baggett was behind, so then I made the pass. It was a good finish of the moto. I was looking back and I had a good gap. That's the best feeling. You can control the race, and you can see where the guys are. It's the best.
Do you know where you're riding next year?
I'm so happy where I'm at right now. Red Bull KTM, they do such a great job. Obviously, next year thing, with the Red Bull KTM. This year I got injured, so I didn't race the supercross series, and that was going to be last year in the 250 just because I didn't race. I just enjoyed the time that I can be on the 250, so I'm going to race 250 next year.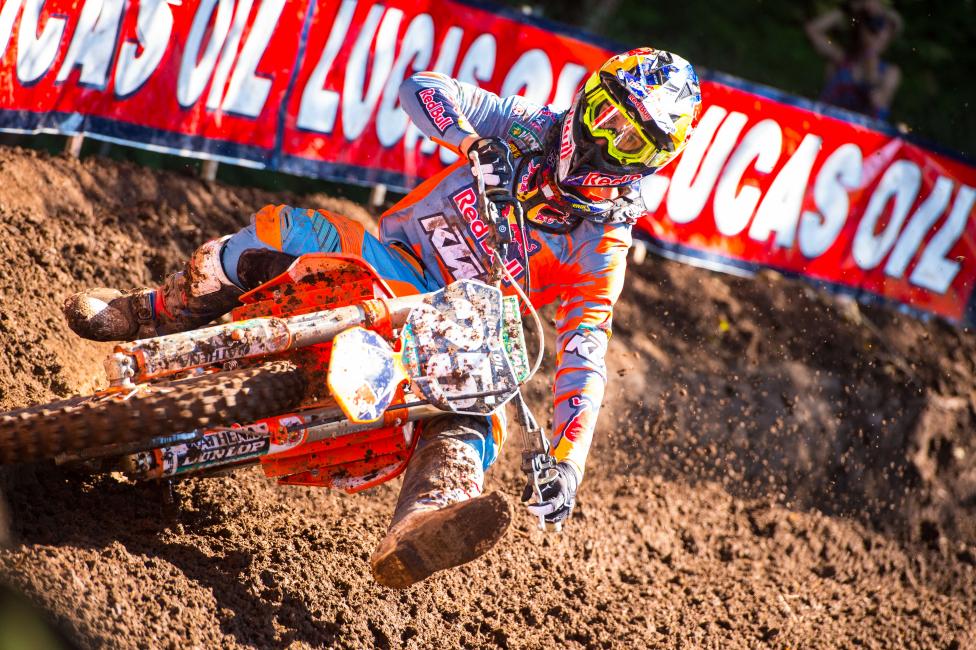 Christophe Pourcel and you, a couple French riders up on the podium in the first moto. Second moto you saw him very late in the race, right before the finish. What was that like for you?
I don't want to say I was happy, but that's kind of cool to see two French riders first and second, especially here in the US. I think it's kind of cool. That's racing, so anything can happen. Maybe a crash, maybe something wrong [will] happen for him. I like him and it's a bummer for him, but that's motocross. It's never easy, never the same every weekend.
What are your thoughts heading into Unadilla? With Herlings out right now, talk about that and going to a track that really suits your style.
Yeah, I think Unadilla's a good track. We'll see; that's where I got my first win ever in America there, two or three years ago. There's not really tracks that I would say that's going to be my track or something. I thought Millville was going to be that. The track was one of the toughest tracks on the series and I ended up second. So there is not really tracks that I like better or not. It's a good track. But just to talk again about today. I just want to say that I don't think it ever happened that KTM went 1-1 250, 450. Dungey got it, I got it also, first practice, second practice…
I asked Ken this earlier; he was a Suzuki rider over in Europe, but KTM—the domination here today in America—and with what Cairoli's doing, it is literally world domination. Today was like the stamp on it.
I'm so proud to be part of the Red Bull KTM team. We have to give them that win today. Dungey did it. When I saw Dungey won the second moto and I was like, man, I really want to do the same thing, go 1-1. It's great for the team. I'm happy for myself—that's for sure—but so happy also for the team, the whole crew. They work so hard. They gave me the best bike. It's good. I'm also happy for each of the guys in Europe. It feels good. When you're out of the top five or something the beginning of the year like I did, I was not happy. So now I'm back to 100-percent and feeling really well, so I'm really happy to win for them.