Hurricane Mills, TN
Rocky Mountain ATV/MC AMA Amateur National Motocross Championship (Loretta Lynn's)
Amateur National Motocross Championship
Hello, everyone, and welcome to the Rev Up. It's crazy how time has its way with us. The middle portion of July has had its way with me since I was 10 years old. Last week I was at my job, and I noticed this heightened sense of focus as I was getting through the workday easier and more efficiently. It's the boiler month of the year, and as the sweat rolled down my back, I was kind of surprised how it wasn't bothering me much at all. Dealing with the heat has never been a problem. This week I was going through my day like usual, when my cell phone rang with an unfamiliar number. I answered the call and recognized the tiny voice on the other end. It was this sweet little old lady named Gwen, who I used to ride Harleys with and share time with at my old biker bar hangout. I would ride there on Wednesday evenings to have a few beers and write the Rev Up, which would always earn some stares from the biker fraternity. One evening about three or four years ago, Gwen tapped me on the shoulder and asked me what I was doing, so I pulled my headphones off and explained the column. She said, "My nephew Brandon Rowell races motocross and he is pretty good. You should write an article about him some day." I just smiled and told her to hit me up if he won a race or did something special I could write about.
This Tuesday Gwen called me to tell me Brandon had qualified for Loretta Lynn's. I hung up the phone and walked to the opening of the shipping dock I work at and just stared outside. It was 95 degrees; my clothes were soaked, and as my safety glasses fogged up from the humidity, it all landed home. Late July. Focus and clarity. Loretta Lynn's time.
21-year-old Brandon Rowell first qualified for Loretta's in 2002 in the 51cc 7-8 year old division and actually pulled a holeshot. He did well enough to get a top-ten and earn a visit to the awards ceremony. I sat down with him yesterday at the biker bar where I met his aunt, and we talked about his road back to The Ranch. He said, "It's been nine years since I've been to Loretta's, but I still remember the trophy presentation like it was yesterday; that was probably the coolest part of the whole thing."
Brandon is currently a full-time student at North Carolina State University studying Environmental Technology. He continued, "I just love riding and racing motocross. I started racing again last January and figured I would try to make it back to Loretta's again." Rowell made the drive to High Point for his regional, and his 3-3-9 scores in the 250 B stock class were enough to earn him another trip to the big dance. It was so cool to see the focus in his eyes as he told me his story. He looked lean and super fit, and told me he was on his way to train as soon as he left from our sit down.
Meanwhile, another story I wanted to fit into this week's column centers on Kansas-native Robbie Skaggs and his return to Loretta Lynn's. Robbie and I grew up racing each other on the tracks of Kansas, Missouri, and Oklahoma every weekend. I remember peeking through the window of our motorhome, hoping I didn't see his trailer or his bikes with #44 on the number plates. Skaggs was a fierce competitor and won some Loretta Lynn's titles before having a pretty successful pro career. Unfortunately, he broke his wrist several times and was forced to retire. The years went by, but late last year he caught the bug again and climbed back on his motorcycle. I saw on social media that he had been riding again and hit him up, to which he replied, "I just want to make it back to Loretta's one last time." He captured his goal and is on his way there with his family. Skaggs will be penning a feature in Racer X Illustrated about his journey, so keep an eye out for it.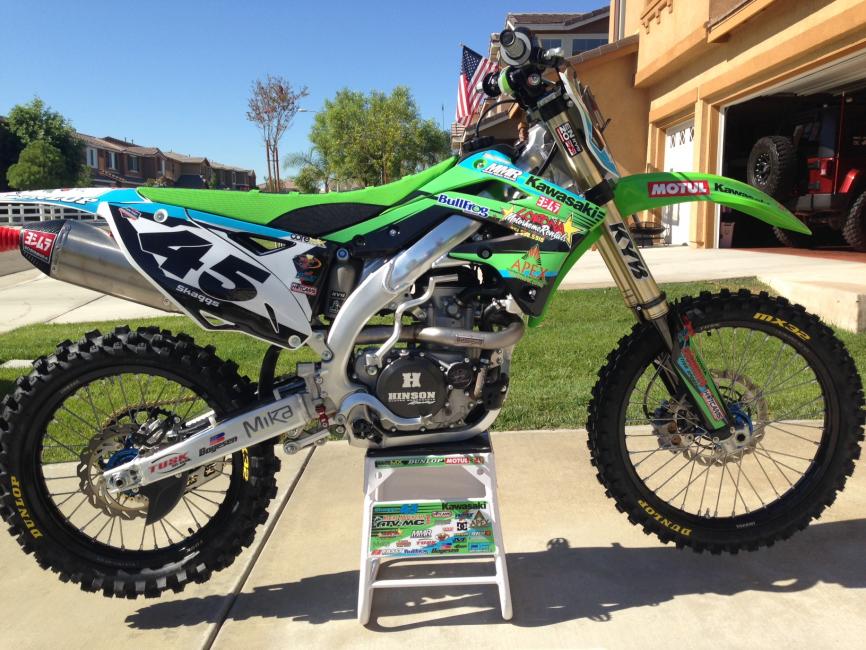 Hundreds of families from all across the country are on their way to Hurricane Mills, Tennessee. Next week marks the onset of the 2014 Rocky Mountain ATV/MC AMA Amateur National Motocross Championship. They have already made it through the two-step qualifying procedure, and simply earning the chance to wear a bib with their number on it is a huge accomplishment. They aren't hobby racers or weekend warriors. They are the best in the country. That's what gives me goose bumps just writing about Loretta Lynn's. Competition, folks. There is no event in the world that pits racers from 6 years old to 50 years old together for a week of racing to decide who will be national champions. The whole experience is a very special thing. It's crazy, though—it is always unbelievably hot and rainy, with muddy motos and a thousand kids on the rampage in golf carts, bicycles, and pit bikes. I raced the event from 1988-1995 and worked the event with the Coombs family from 2006-2009. Each week, racing or working made for the most tiresome, sticky, and hard days ever. Be that as it may, they were the best days. It is so rewarding to be a part of this spectacle in any fashion. So many families together, so much competition, and so much fun. It stays with you forever.
Ricky Carmichael, Ryan Villopoto, Ryan Dungey, and all of them who grew up racing at the Ranch go back to sign autographs and enjoy the event. It's amazing to see the look on the younger guys' faces when they see their heroes in person. I can go on and on about it, but I guess the best way to explain Loretta Lynn's is that it teaches you the very best of life's lessons. Hard work, dedication, and commitment equal rewards. Competition brings out the best in us. When I'm feeling challenged I look over at my 1989 championship trophy and remember what it took to have it sitting in my living room. Every year, as I sit down to write the Loretta Lynn's Rev Up, a few tears hit my keyboard. This year is no exception, and I'm not ashamed in the slightest bit.
I want to congratulate all of the families and racers who have qualified, and send a special good luck to Brandon Rowell and Robbie Skaggs. Time to run, boys. Give'em hell.
Thanks for reading, see you next week.