Yamalube/Star Racing Yamaha's Jeremy Martin handled whatever pressure came out of his home race by going 1-2 and snagging the overall—his fourth win of the season in eight races. Plus, some tough luck for title contenders Blake Baggett and Cooper Webb leaves him with his biggest points lead yet.
He talked about it all in the post-race press conference.

Racer X: You have a 43-point lead as we get ready to leave your house. Not a bad way to go.
Jeremy Martin: Yeah, it was a great day here in Minnesota. Nothing like waking up and coming out and riding in your backyard.
Take us through the first moto. You got the start; you got the lead pretty good. There's been a lot of buildup for this race at your home track. Did it feel really good to get out front or was it just like any other race?
I kind of looked at it like, people were like, "Oh, the hype at your hometown race or whatever," but I always try to say [to myself], "I'm at the farm. [I tell myself] 'Ride like you do at the Carmichael Farm,'" because I practice there so much during the week. But I literally just feel so comfortable here. This felt like home, and it is. I felt good. I was able to get out to a good start and battle with Christophe [Pourcel] right away and kind of get away and ride solid and finish it out.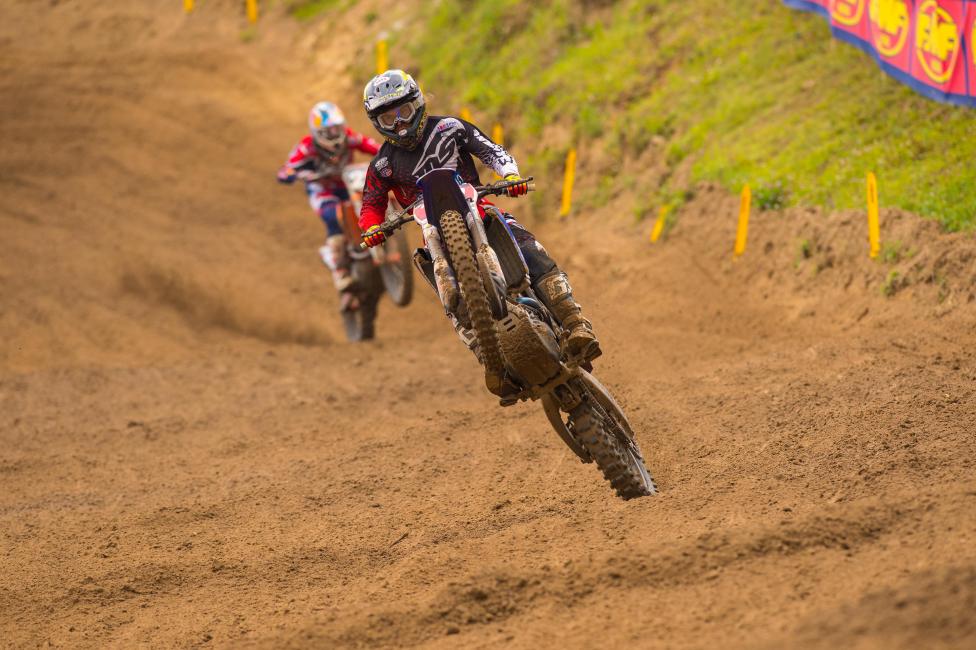 How about the new section that your dad built? Take us through those hill climbs there.
It was pretty good. It's pretty cool. He hasn't changed the track a whole lot in the past couple years, so I think the track was a lot better this year than it has been in the past. I think a lot of other riders would say the same thing. Pretty cool. Definitely get to wring your bike out going up that hill. It's pretty steep.
How far could you jump if you decided to just kamikaze it coming down? It seemed like you guys could have gone really far.
On press day I tried to see how far I could go…and I got scared! [Laughs]. I was like, "I'm not going any further."
Talk about that second moto when you started far back. Was there any panic at all?
I didn't panic at all. I was just trying to get around a KTM, Joey Savatgy. I just didn't get around him soon enough. Then my teammate Cooper was there, just slingshotted by me, and getting hit by him [Savatgy] right away. I just tried to tag with him to the front. We had a great race. I just rode calm, and I knew I'd be fine.
Second moto it seemed like you were really going for it the last few laps. Did you know you had the overall? Did you not care? Did you just want to go 1-1?
I definitely wanted to win the second moto. It crossed my mind that I already had the overall. I kind of put on a push there at the end and tried to reel him in. I'm sure he was just kind of hanging out because there were three laps to go. I tried. I got close, just wasn't close enough.
We had some guys talk about Motocross of Nations here. You could potentially be picked. You are the points leader in the 250 Class. Has that crossed your mind? Would you do it?
Yeah, it'd be a pretty awesome experience. I've never been overseas period. I think it would be pretty cool to try for sure.
How did you end up at Ricky Carmichael's place? Obviously that's a pretty good honor. There's only a few that get to do it. How did you make that connection?
I was able to go through [riding coach] Dylan Turner. He made a phone call to Jeannie [Carmichael, Ricky Carmichael's mother]. Dylan was working for a suspension company at the time, and one of the riders was staying out there at the Carmichael Ranch. I was able to meet up with Jeannie and kind of established a relationship there. I was able to get in that way.
Did you ever bring it up to Ricky that when he tried to go to Loretta Lynn's two years you made sure that he didn't ride the Pro Sport Class. You set him back onto the age group glasses? [Martin beat RC in the Pro Sport class in the Loretta's Area Qualifier]
Yeah, I talked smack for about a good two weeks when I first got there, saying that, "You were scared to race me and this and that." He said he didn't want to work hard. Said if he would have rode hard for two or three weeks, he said he could have probably beat me. Now he's just saying no, I don't think so.