Here at Racer X, we remember Scotty Adkins as a local racer—a guy who would do anything to chase his dream. He somehow made it work, transferring from racer to wrench, and embarking on a twelve-year journey living in California and tuning for teams like Yamaha of Troy, MDK KTM, and Star Racing Yamaha. But after a long run, Scotty decided to return home and give his knowledge to the next generation—but not before embarking on one more summer at the Nationals working for Christophe Pourcel.
Ever dreamed of being a mechanic at the races? Scotty has set up a new program that will teach you how to make that dream come true. You can check out www.prosxmxtech.com or these thoughts from Scotty, who we found disassembling Pourcel's bike after the day was over at Budds Creek.

Racer X: This is the background for you. Now you're wrenching for Christophe Pourcel, but for a little while we thought you were done.
Scott Adkins: I had actually gone home, and I started a trade school. It's kind of like MMI but a couple notches above; it's for motocross and supercross only. It's to train technicians to do what I do. Anyway, I started that and then Yamaha called me and they said, "Do you want to work for Christophe Pourcel?" I actually said no at first. And then they called me again a couple days later and we made it work out.
But the whole reason you didn't want to do it is because you were busy. You had a plan here with this school, and that's still going.
Yeah, I have a plan. I'm still doing my trade school. The classes are going to start September 22 of this year. It will include everything—the whole landscape of the industry—from how to do the work on the bike, along with the rundown of what we do on a daily basis for racing. So I can train technicians and then help with job placement, job shadowing; things like that to get guys over into this industry as mechanics.
I know from talking to you about it, in the other schools you can learn a lot about bikes, but you're trying to be very specific to what happens at a professional racing level.
MMI, UTI—those trade schools are great schools, but they're geared to send you to a dealership. My school's not going to be geared to send you to a dealership; it's going to be geared to win you championships. It's going to be geared to send guys to this industry on whatever teams they get on. There'll be job placement, big opportunities.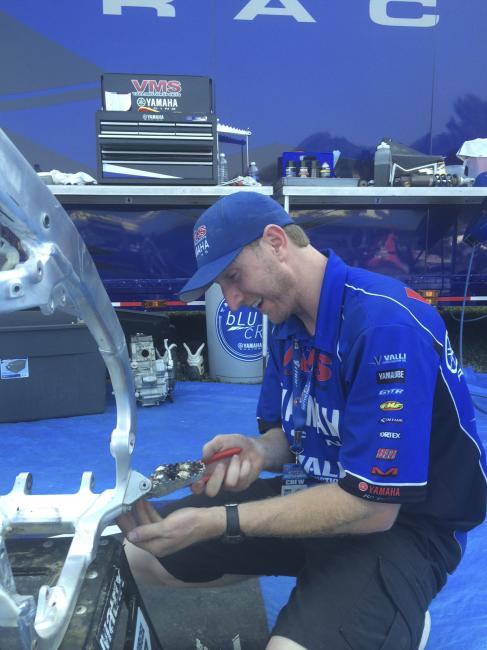 It's been a long run for you. Just talk about your experience that you had doing this stuff week in and week out.
I've been a mechanic in pro motocross and supercross now for twelve years. I've worked for some really good guys. First started out with James Povolny; we had some pretty good success. Then I went from there to Yamaha of Troy over with Kelly Smith. Kelly was awesome to work for. We had some good success there. When I left Kelly Smith, Nick Wey called me, and I had worked for Nick Wey in 2007 and did a year with him. This was at MDK, and that's when I ended up meeting Ryan Sipes, and I moved over and worked for him at MDK/KTM. I was with Ryan for five years throughout MDK/KTM and over to Yamaha and then eventually over to Star Racing. We had great times, won some races, just a great guy to work for. When he moved on to Rockstar Suzuki, I stayed at Star and picked up Jeremy Martin. Had really good success with Jeremy. We took a third at Daytona that year in 2013, had some podiums outdoors. Then going into the '14 season, he had a rough supercross season, but that had nothing to do with why we parted ways. We still had his back and everything.
This type of job—it's a lot of work, but it's a lot of fun, too. You get to see everything and travel, and everything's paid for. You also get the success of winning and that's irreplaceable.
You mentioned working with Jeremy Martin at the beginning of the year. So now he's rolling. Are you thinking you shouldn't have stepped away, or are you pumped for him?
No, I'm pumped for Jeremy. I see him every weekend and stuff, and we're friends. I wish him the best of luck. Unfortunately, the circumstances just didn't work out there. It had nothing to do with Jeremy, just an unfortunate circumstance. I wanted to start this school, too. But I'm pumped for Jeremy, and hopefully he can continue the run that he's working on. Hindsight, I can't beat myself down for leaving. It is what it is. You can't change the past.
How's it working over here for Valli? This is a team that's been gone for a while. They're kind of getting a new crew together. Rider hasn't raced in a while. How's it been?
The whole crew over here is awesome. Our truck driver kills it. He's a bad dude. Erik Kehoe, the whole crew is just working together. Christophe's doing pretty good this year. I think we could do a little better, but we're working on it.
Talk about the school idea and how people can get involved. Is this something that you wished you had, basically? I remember you trying to figure out a way to make this happen, when you were trying to break in as a mechanic.
Exactly. I wish there was an easy button for this, but there's not! I beat my head against a wall for a lot of years just racing and stuff. I got my pro license as a racer, gave that a shot, and then tried to break in as a mechanic. It wasn't easy. I give a lot of credit to Chad Sanner [now of Eleven10 Mods], who was one of our local heroes. He actually helped me get into this. Now, after 12 years, with my experience, the traveling part has been tough, and as I get older I'd rather stay home more. I came up with this idea to start this trade school and teach guys what I've learned in the last 12 years as a mechanic and go with that. It's called Pro SX/MX Tech. It just gives you the whole rundown. It's a little bit easier route than trying to do it yourself, or just trying to go to MMI and still try to get into the industry. There's a lot of people in the industry, and this school will have a lot of job placements, and you'll be introduced to a lot of different guys that can hire you.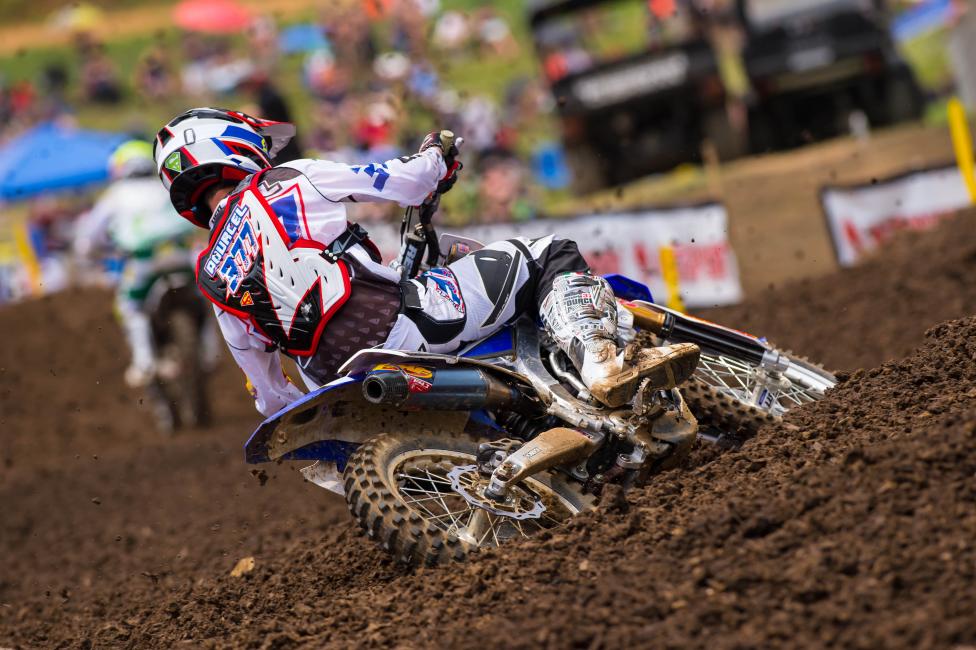 You've got some legit connections here with sponsors and bike people.
Yeah, absolutely. Yamaha is helping me out with it. It's going to be a big program once it gets rolling. I think a lot of guys are going to want to be a part of it, especially with the job placements that will be available.
And this is in West Virginia, right?
Yeah, it's actually in Morgantown, West Virginia, not far from Racer X, the office and everything. It'll be a nice trade school, completely focused on the racing side of being a mechanic.
What do people need to do to find out about it?
Go to ProSXMXTech.com. All the info is on the website—the price, the length of term, the rundown of what's going to happen. My contact info is there as well. I think this is something that's been needed for a long time, a lot of people have the desire to do this but don't know how or where to get started. I'm going to use my experience to help.