In Racerhead last Friday, DC dubbed last week "Press Release Week" as the supercross/motocross world waited for info on a positive result from an anti-doping test. The news finally came out last Thursday at the ripe old time of 5 p.m. Pacific via a Yoshimura Suzuki press release, explaining that James Stewart had tested positive for a banned substance. The next morning came a series of press releases from the FIM. Even in a time of instant online media, the press release, sometimes, hits like a bomb.
In honor of "Press Release Week," we look back at some of the more memorable PRs for The List. Some of these were really long, so we'll give you the good stuff and leave out the fluff.
Damon Bradshaw retires (September 1993)
Bradshaw was supposed to own the sport in the 1990s and take Yamaha to new heights along the way. The pressure was too much, and at age 21, he decided to step away. Here's how the Yamaha PR, published in late September, 1993, looked when Cycle News put it to print:
Bradshaw calls it quits

Team Yamaha motocross rider Damon Bradshaw has announced that he will stop racing motorcycles for an indefinite period of time.

Bradshaw was hired by the Yamaha factory in 1989 following a stellar amateur career. The 16-year-old Bradshaw immediately won the 125cc Eastern Regional Supercross Championship, but it was the only major title he would win. Bradshaw held the 1992 Camel Supercross Series points lead heading into the final round at the Los Angeles Coliseum, but faltered there to finish fifth, handing the championship to Honda's Jeff Stanton.

Still, Bradshaw signed a five-year contract reportedly worth more than $2 million after the '92 season. This year, amid rumors that he was being adversely affected by everything from a knee injury, to personal troubles, the Mooresville, North Carolina, resident had a disappointing year. The 21-year-old won only two Camel Supercross round and one National MX in '93, and finished fourth and ninth in the two series, respectively.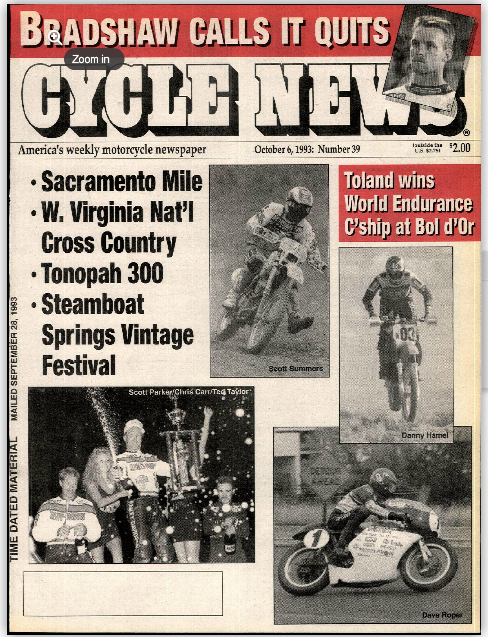 In a press release issued by Yamaha, Bradshaw said that for personal reasons he could no longer give 110% of his effort into racing, and to give anything less would cheat fans and sponsors.

"I'll be back when I feel I can earn my paycheck and not one second before," Bradshaw said in the release."

"I know this is toughest decision of Damon's life," said Yamaha race team manager Keith McCarty. "I have always had a lot of admiration for Damon, but I really respect the way he faced his feelings and did what he thought was best. We will miss his dynamic personality around the pits and his presence on the race track."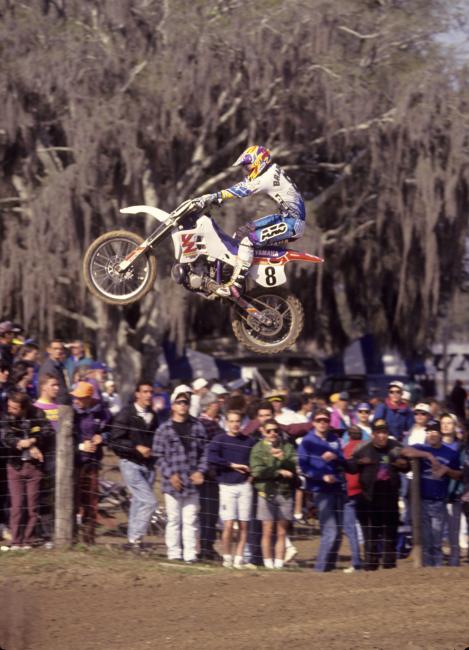 Jeremy McGrath to Suzuki (January 1, 1997)
What's cool about this news is that it was probably the first to break via online media, with the old www.whipit.com site letting world know. Jeremy McGrath, four-time and defending AMA Supercross Champion, was leaving Team Honda to form his own venture with Suzuki. Cycle News got to the bottom of it before MC's Honda contract officially expired on December 31st, 1996. Here's a snippet of news from them.
One of the most extraordinary, burning rumors in recent memory has the motocross rumor mill in ashes. The flame? Four-stime AMA Supercross Champion Jeremy "Showtime" McGrath is expected to leave Honda in order to form a new racing program called Nac Nac Enterprises with backing from American Suzuuki, Suzuki of Troy, 1-800-Collect and a clothing company to be named later. No one on either side of the story - American Honda, McGrath or sponsors -- would officially confirm or deny the story, though the consensus is that of midnight on December 31, 1996, McGrath's four-year relationship with Honda will be over.
A week later that relationship was, indeed, over and McGrath explained all in an exclusive Cycle News interview with our own Davey Coombs! Our favorite quote from the interview is from McGrath below:

"Yeah, I really believe that, that winning on this bike will be even better for me. But the flip side to that is that if I don't win on this bike, well, that doesn't matter because I'm sure that I will win."
By the way, here's a plug for the absolutely awesome www.cyclenews.com archives. Go there and start digging.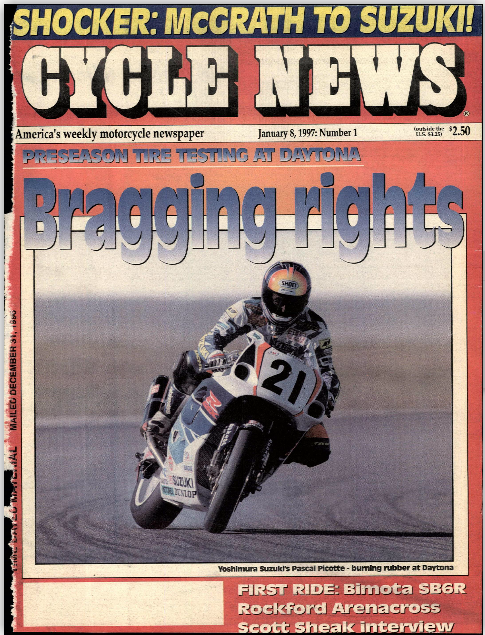 McGrath to KTM
The King of Supercross signs with a company that had never won a 250 supercross? Cycle News got the scoop first on August 13, 2002, and it read like this:
As expected, KTM announced today at its annual dealer meeting in Colorado that seven-time Supercross Champion Jeremy McGrath has signed to race a KTM 250 SX. As the announcement was being made, KTM's Joe Colombero called Cycle News to read the following press release: KTM and McGrath Racing, Incorporated have signed a comprehensive four-year agreement that will see Jeremy campaign the new 250 SX in AMA Supercross, FIM World Supercross and other selected events in 2003 and 2004. With the final two years of the agreement, McGrath will continue his involvement in a capacity that has yet to be decided. McGrath and KTM have already started testing; of course Jeremy is on his honeymoon now, but he has already started testing, and he likes the bike. As always, McGrath Racing will field its own team under the title sponsorship of Bud Light and operate out of its own semi, but with full factory support from KTM. You should see his first appearance on the 250 KTM SX at the U.S. Open in Las Vegas this October.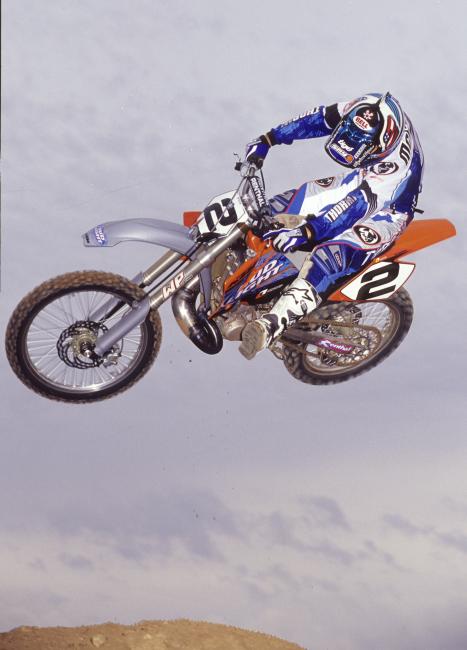 McGrath retires for 2003 (January 5, 2003)
Okay, the KTM deal didn't go well. A few months later, this PR came out courtesy of the supercross promoters (Feld Motorsports, today).
AURORA, Ill. (January 2, 2002) - Seven-time supercross champion Jeremy McGrath today announced his retirement from supercross racing at a press conference in Anaheim, Calif., at Edison International Field.
After winning 72 250cc main events and taking supercross into the main stream, McGrath, 31, made the official announcement to a room full of motocross industry members and a host of media inside Edison International Field's Diamond Club. McGrath's storybook career places him at the top of the leader list for a host of records, including all-time wins and career championships.
While McGrath has hung up his helmet, he will remain active on the supercross scene, working with Clear Channel Entertainment and his sponsors throughout the season.
"After injuring my hip before the season, I started to evaluate my career and decided it was time to retire," said McGrath. "This is a very difficult decision but the right one ... I have had a lot of people support me throughout my career, but most importantly my first sponsor, my parents."
"To measure what Jeremy has meant to the sport of supercross you only need to look at the number of people in the stands, the length of the lines at his autograph sessions, the roar of the audience when he is introduced, and the incredible strobe of flashbulbs during his hot laps," said Charlie Mancuso, president, Clear Channel Entertainment - Motor Sports. "He has the looks of a movie star, the charisma of a rock star and he is humble and accessible unlike most world class athletes. The records he set in supercross pale in comparison to the impact he had on the motorcycle industry. Those of us that know him are privileged; he is so much more than the greatest racer ever."
Dave Coombs, Racer X Illustrated, editor in chief, [there he is again!] on Jeremy McGrath: "The record book shows Jeremy McGrath at the top of almost every category: 89 career wins; 72 supercross main event wins; eight major titles; 13 main event wins in a row; 17 total race wins in a row; 15 wins and a pair of supercross titles in the 125 class.
"Obviously, his record speaks for itself. But it will be years before we can fully appreciate his contributions to the sport and what he really meant to supercross. Jeremy ushered in a new era of popularity and professionalism in supercross. His technique, his charisma, his everything has made the sport better, stronger and faster. There is no way one could oversell what he's meant to supercross directly and the industry in general. Jeremy McGrath is Larry Bird, Magic Johnson and Michael Jordan, all rolled into one.
Ricky Carmichael to Suzuki
Suzuki was getting the GOAT even though it hadn't had much success lately in the premier division. Also, this is a rare team-switch PR that came out during the actual racing season. Carmichael logged several more months with Honda (and even won another AMA National Motocross Championship) after this Suzuki PR came out.
BREA, Calif. (April 2, 2004) – American Suzuki Motor Corporation (ASMC) today announced that all-time SX/MX combined champion Ricky Carmichael signed a multi-year agreement to join Team Suzuki beginning with the 2005 AMA Supercross season.
"We're absolutely thrilled that Ricky Carmichael will be a part of Team Suzuki in the future," said Mel Harris, ASMC's Vice President of the Motorcycle/ATV Division. "Hiring Ricky demonstrates Suzuki's commitment to putting our Supercross/Motocross team back on the racing map."
"This is a very exciting time for me. The agreement is multi-faceted and Suzuki will be extremely supportive of me from a racing, marketing and business standpoint" said Ricky Carmichael.
Suzuki Team Manager Roger DeCoster is also excited about the prospects of working with the much-celebrated champion. "I am elated," he said. "Ricky is such a talented rider with tremendous work ethic which will be a great example for Team Suzuki's young riders. I realize it won't be easy for him to come back and win after being off due to injury, but I have confidence in Ricky and in how much effort I know that he's going to put into winning."
The agreement will become effective November 1, 2004.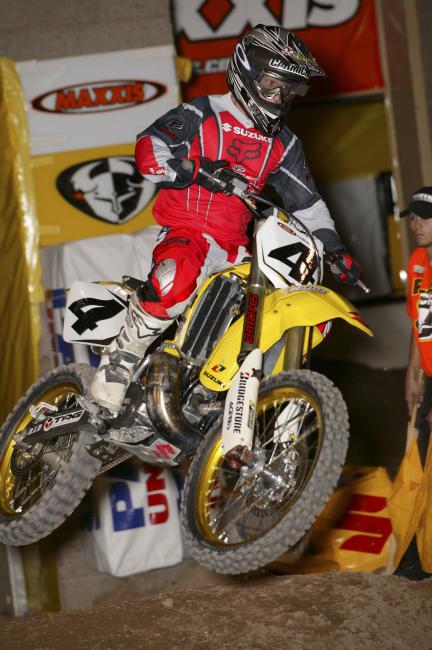 2002 Motocross des Nations cancelled and rescheduled
For months, the idea of the Motocross des Nations coming to the United States at a yet-to-be-built new version of Competition Park seemed questionable. The track organizers kept promising it would happen—until literally days before the race, when it was announced that it wouldn't. Hope no one purchased expensive international plane tickets to come over here. Oh wait, they did? Here's the PR from Dorna, who was in charge of the GPs and the MXdN at the time:
Motocross des Nations Cancelled In US - Heading For Spain
San Jacinto, CA; September 23, 2002- With more than 20 teams, representing countries from Australia to Venzuela, the FIM stated that the Motocross of Nations will not be held in the US, but relocated on a new date in Spain.
The company Dorna Off-Road (DOR), promoter and holder of the rights for the Motocross of Nations, informed the FIM about serious problems affecting the organization of the Motocross of Nations due to take place in Competition Park, San Jacinto, California, on September 28-29, 2002.
According to DOR, these problems generated uncertainty and confusion over the effective realization of this event. Therefore, DOR requested the local organizer, Competition Park Motocross Sports Inc., to provide evidence and to confirm that it was still holding all the valid rights, licenses and authorizations in order to organize the event. Furthermore, DOR also sought the official position of the United States Department of the Interior, which replied in a letter received this morning, indicating that "the Department believes the motocross project is an illegal operation and has to be shut down."
The race was scheduled to be held on land belonging to the Soboba Indians, and some sources indicate that race organizers did not receive written consent from the Soboba Indian leaders to hold the event on their land.
Consequently, DOR indicated that it had no other alternative but to request the cancellation of the Motocross of Nations in San Jacinto, and this was accepted by the FIM Executive Board.
However, considering the prestige and tradition of the Motocross of Nations, the event will be re-scheduled in Bellpuig, Spain, on October 19-20, 2002.

Villopoto out of the Nationals (This year)
We all heard rumors that Ryan Villopoto was out for this season's motocross series, until he told us he was in. Then two weeks later, he was out, the news announced through this Kawasaki press release.
Villopoto Out for 2014 Motocross Title Defense
Irvine, Calif., -- Monster Energy Kawasaki's Ryan Villopoto will be unable to defend his 2013 AMA Pro Motocross Championship title after opting to get knee surgery to fix a lingering injury. Villopoto battled with the knee issue throughout the Monster Energy Supercross season, and after consulting his medical team, it was decided he will undergo surgery on his knee as soon as possible. Monster Energy Kawasaki has signed the 2013 Canadian Monster Energy Motocross Nationals Champion Brett Metcalfe to join Jake Weimer for the 2014 AMA Pro Motocross season.
"This is definitely not the news I wanted to hear from the doctors," said Villopoto. "We have worked hard to be in position to win championships for Monster Energy Kawasaki and to not be able to race this summer is very disappointing. Going from a really great feeling after winning a fourth straight supercross title, to knowing I am going to spend the summer rehabbing a knee injury is devastating."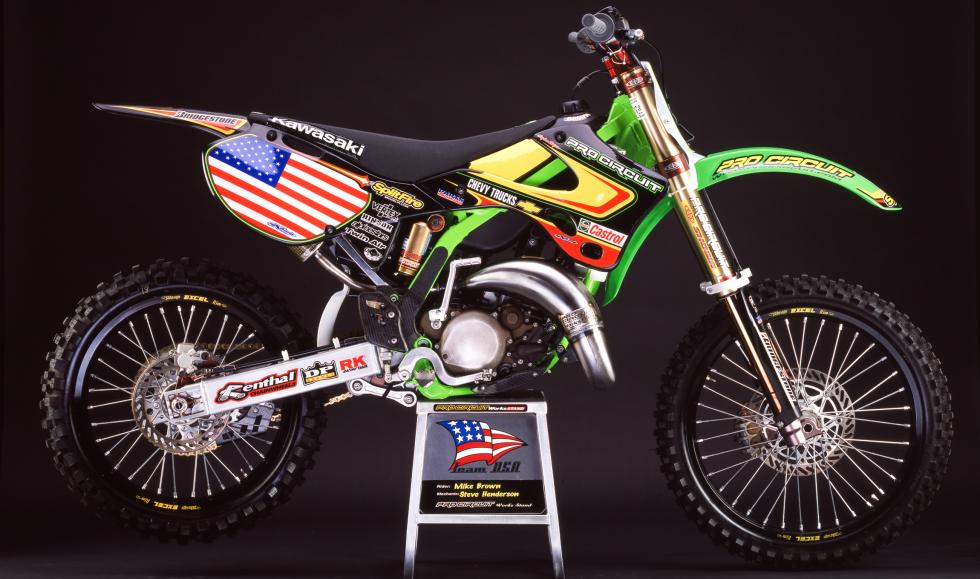 Torn ACL knocks Carmichael out of 2004 SX
For the first time in decades, the supercross series would be without its defending champion, as an ACL injury forced Carmichael to the sidelines. Here's the PR and headline from the supercross promoters:
Ricky Carmichael Out for 2003-2004 Supercross Season with Injury
Pre-season Testing puts an early end to Carmichael's Supercross Season
AURORA, Ill. (November 26, 2003) – Clear Channel Entertainment's Motor Sport's division announced today that Factory Honda's Ricky Carmichael was injured yesterday while training at a test track in California.
Carmichael was examined by Dr. Rick Lyon, an orthopedic surgeon from Lexington, Kentucky, earlier today. The result of the examination showed a torn ACL knee ligament for Carmichael, which will require surgery and will cause him to miss the entire supercross season. Surgery to repair the ACL will be performed when the swelling in Carmichael's knee subsides.
Due to Carmichael's injury, he has been forced to withdraw from the 2003-2004 THQ World Supercross GP/ THQ AMA Supercross Series, which kicks off in 10 days at Estadio Olympico in Seville, Spain. Carmichael, despite recent rumors, was committed and has been looking forward to racing in Europe for the first two rounds of THQ World Supercross GP/ THQ AMA Supercross Series for some time.
"We at Clear Channel Entertainment send out our get well wishes to Ricky and Ursula, first and foremost," said Charlie Mancuso, president of Clear Channel Entertainment – Motor Sports. "Ricky's injury is tragic, and we wish him a speedy recovery. We all know how much he was looking forward to racing Chad Reed and the other superstars of supercross this season. Ricky is a true champion, and we look forward to seeing him recover fully and winning races again as soon as possible."
Final round of 2003 AMA Nationals cancelled
The Troy, Ohio round of the 2003 AMA Nationals was cancelled not once but twice! The track was flooded by rain in July, so the event was pushed back to September to act as the series' finale. It rained and flooded again, so the race was cancelled altogether! Unfortunately, the '03 125 Nationals featured an epic duel with Grant Langston, Ryan Hughes, Mike Brown and James Stewart, and the cancellation prevented Langston and Hughes from battling with everything on the line--Langston was uncerimoniously (literally) crowned champion. Here's the AMA PR:

The final round of the AMA Chevy Trucks U.S. Motocross Championship, scheduled to be held at Kenworthy's Motocross Park in Troy, Ohio on September 6-7, has been cancelled due to heavy rains and flooding in the area. The event will not be rescheduled.
Championship standings will be determined by points earned through round 11 at Steel City Raceway in Delmont, Pennsylvania. Team Honda's Ricky Carmichael has been crowned the 250-class champion and Red Bull/KTM's Grant Langston is the 125 champion.
Ironically, the Kenworthy round was originally scheduled for July 12-13 and had to be rescheduled for September due to rains and flooding that damaged the facility at that time. Owner Don Kenworthy and his crew worked hard to get the facility back in shape. This latest storm, and resulting cancellation, adds an unfortunate twist to the situation.
AMA Pro Racing's Duke Finch said the decision to end the series under these circumstances was particularly difficult. "We wish the series didn't have to end on this note, said Finch. "We explored a second postponement for the Kenworthy round but that's just not realistic at this time. The teams and riders are preparing for the U.S. Open, the Motocross des Nations and off-season testing. Waiting for the flood waters to recede and then for the facility to be restored again is just not possible. Regrettably, we had to make this tough call.
Carmichael's fuel-gate
Oh, this one was super controversial—and it was later overturned. Here's the original PR from AMA Pro Racing.
PENALTY ISSUED FOR ILLEGAL FUEL AT SAN DIEGO SUPERCROSS
PICKERINGTON, Ohio (February 24, 2006) – AMA Pro Racing has announced that Ricky Carmichael has been penalized 25 points for using illegal fuel at round six of the Amp'd Mobile AMA Supercross Series at Qualcomm Stadium in San Diego, Calif., on February 11.
Fuel samples from eight motorcycles were collected at the San Diego round and the sample from the motorcycle of Ricky Carmichael was found to be in non-compliance. Fuel from the motorcycles of Mike Alessi, Grant Langston, Jeremy McGrath, Nate Ramsey, Chad Reed, Andrew Short and James Stewart was found to be in compliance.
As is required by the AMA Supercross/Motocross rulebook, the samples were sent to a certified testing lab which confirmed the results of the testing.
AMA Pro Racing has required the use of unleaded fuel in the AMA Supercross Series and the AMA Motocross Championship since the 2004 racing season.
AMA/Jam Sports and Clear Channel battle over SX for 2002
The AMA briefly moved to a new promoting partner for supercross, JamSports, but after much infighting, they eventually joined back up with the existing promoter Clear Channel Entertainment (which years later sold off its motorsports wing, which was purchased by Feld Entertainment). Much of this battle was waged via PRs, which seemed to come out almost daily on each side. This was all settled so quickly that AMA/JamSports never actually produced a race together, but a legal battle ensued behind the scenes for quite some time. Here's a snip from AMA Pro Racing's PR:
AMA Pro Racing Announces New Partner for AMA U.S. Supercross Championship Series Commencing 2003 Season
PICKERINGTON, OHIO – AMA Pro Racing has selected JamSports and Entertainment as its new promoter partner for the AMA U.S. Supercross Championship Series commencing with the 2003 season and extending through the 2009 season. JamSports is a division of Chicago-based Jam Productions, the largest independent producer of live events in North America.
The decision was made by the Board of Directors of AMA Pro Racing after evaluating proposals from several companies, including Clear Channel Entertainment, the current promoter of AMA Supercross events. This current promotional agreement between Clear Channel and the AMA expires at the end of the 2002 season.
By the way, once the AMA left them, Clear Channel planned to hold its own supercross series without the AMA, by adding a few international races and getting an FIM sanction. The AMA joined back up, but the FIM sanction and World Championship classification remains, and the FIM later brought in the World Anti-Doping Agency to do drug testing. Ladies and gentlemen, now we've just come full circle....