High Point Raceway
Mt. Morris

,

PA
High Point
Lucas Oil AMA Pro Motocross Championship
Ryan Sipes shocked us last fall when he announced he was stepping away from motocross and supercross after ten professional seasons. /2013/10/15/insight-ryan-sipes After getting a taste of off-road racing at last year's International Six-Days Enduro, Sipes moved to the Amsoil Grand National Cross Country Series so he could enjoy a new form of racing and re-base himself out of his Kentucky home. It's been a so-so start to a new career, with a season-high finish of eighth in the XC1 pro class. However, he got his motocross jones back on over the weekend at High Point, where he went 11-15 for 13th overall in the 450 class. Not bad…and now we're hearing rumors he could be slated for a full on comeback (for this summer) if the right team made the right offer…and if Davi Millsaps still wasn't ready to race….
We're off topic here. Ryan's spending the week riding rocks in West Virginia to prep for this weekend's Amsoil Snowshoe GNCC. We called him for an update.
Racer X: What made you even decide to race High Point? How'd that even come about? And how do you feel you did? It looked pretty good.
Ryan Sipes: Thanks. High Point was actually my first National ever [in 2004]. I rode there a little bit growing up doing the Team Green Spring Nationals and stuff. I've always kind of liked the track. I've always ridden pretty decent there, and I figured, well, if I can still do it I might as well go out there and race a Pro National. I'm not going to be able to do this forever! So I kind of worked that into my budget and into my program this year. There are a couple Nationals that were on off-weekends, and this was one of them. So, went up there and had a little fun. I wasn't mad at how I did, especially for not racing all year with those guys and not really riding much moto. I've been trying to practice on the more technical, woodsier stuff just because the moto stuff I'm already pretty decent at. And I didn't have motocross suspension! So I thought it was okay.
You were riding your woods bike? Is that for real?
Yeah. We put a SX tank on it and I put a 19-inch rear wheel on it but I ran the same suspension as I ran last weekend at the John Penton [GNCC]. You know what's funny, it actually wasn't bad the first moto because it wasn't that rough. I'm like, all right, I can do this. And then second moto, I got a better start. I was up right around the top five. I tried to hit some of my same lines from the first moto and I about killed myself. It was just so soft. I was bottoming out everywhere.
Did it seem fairly comfortable to be racing motocross again? Or did it actually seem like an adjustment?
Really it was like coming home. I actually know how to do this! Whereas at the GNCCs I'm going, "Is this even dirt bike riding because I'm not very good at it."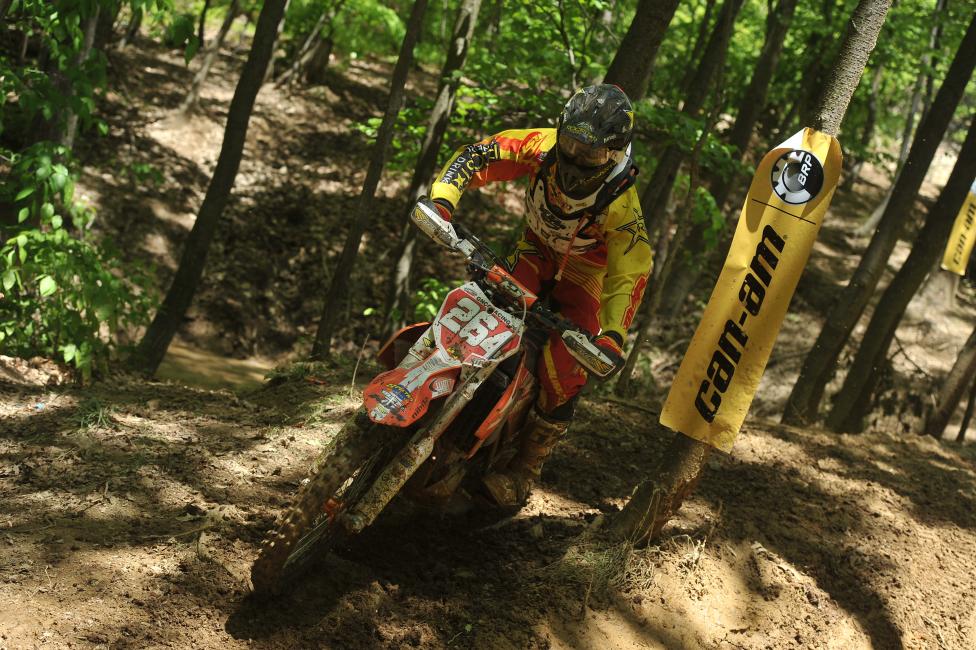 What do you think of your GNCC season so far? I know it hasn't been a podium or anything like that, so are you frustrated, or do you just know it will take awhile?
It's not as good as I want to do and I get frustrated with it. But like I said, I'm used to being good at riding my dirt bike. I'm not saying I'm bad at it [in GNCC], but it's just not coming easy to me like motocross does at times. I've done motocross my whole life. I got real frustrated right around round five or six. I was like, "Man, I don't think I'm ever going to get good at this." I talked to a lot of people that have done it forever and they're like, "Hey, what would those guys do if they went to a motocross race? They'd be the same way. They would struggle." It just takes a lot of time. They said, "What you don't understand is most of the guys you're racing in GNCC they've ridden these tracks 12, 13 times. They've been racing them since they were on 80s." So they're used to that kind of stuff and it's just going to take some time for me.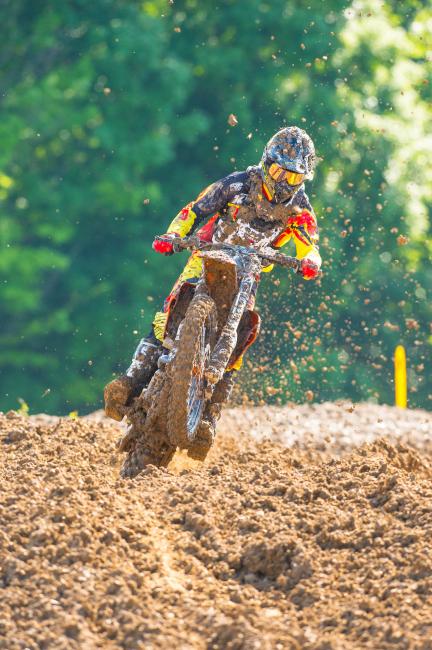 So the good thing is you're not losing any enthusiasm for it. It sounds like even today you're still grinding it out.
I'm not going to just up and quit. I'm not going to give up on it. I want to see how good I can be at it. I'll just keep working. Like I had with moto, I always tried to work hard and just try to be the best I can be. I want to do the same with woods. I think it'll come, it's just going to take a lot of work.
You've told me one one of the hard things was figuring out the lines in the woods. , Is that one of the things you're talking about having to learn?
Yeah, that's one of the big ones. I feel like I'm getting better at it but I still don't take the best line. When I get behind some of the better guys, guys that have been doing it forever, I'm like, "Hey, this is a lot easier when you take this line!" So that's part of it. Part of it is the technical stuff. We get in the field sections and the faster trails and I'm good, but then we get into the tighter [terrain], when it's real rooted out and rocky and a lot of ruts and stuff, it's difficult. I've always ridden that kind of stuff but not fast. So when you try to take it up to race pace, I've had crashes. That gets frustrating when you're running up there and you're like, all right, this all good, and then you end up on your head and you lose two minutes. That part's frustrating but, like I said, I've got to just keep working at it. It's not going to come easy, but I think I can do it.
How does the fitness part compare?
It's just different, mentally and physically. When the season first started for two hours I was golden. I was riding and felt great. That last hour, my body just went, "Hey, what are you doing?" I'd never went that long before. I'd start cramping and all kinds of stuff. A lot of it was the way my nutrition and what I'm eating and drinking and all that kind of stuff. I've kind of got that figured out. I feel like my fitness is better now. I'm getting it where, last weekend at John Penton my last lap was my fastest. So I'm getting that part figured out, it just seems like there's a lot of elements that you got to do correctly to make this work. It's such a long race and there's so many variables as far as you've got to stay up, you've got to get your pit stop right, goggles got to be good… In moto you can get away with some of that stuff, and then this, it's like I get one thing right and I mess the other one up. Moto, I've done it my whole life. This is like when you're a basketball player and you go to play soccer.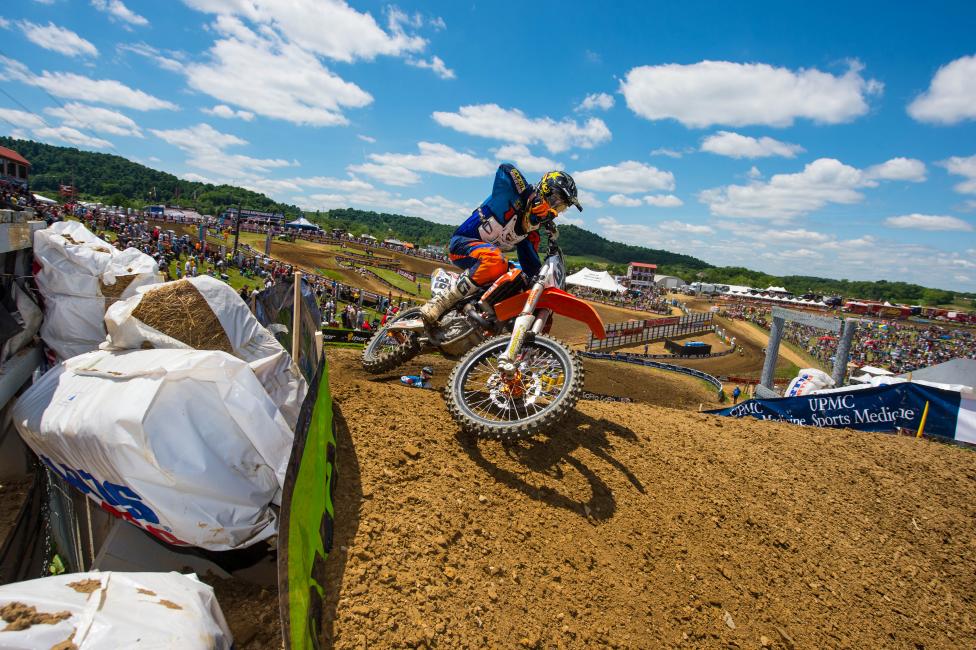 Are you racing Muddy Creek? Is that what I heard?
Yeah, I'm going to race Muddy Creek and Indiana for sure.
Do you have a lot of time at Muddy Creek? Have you raced there a lot before?
Yeah, I raced there quite a bit as an amateur. Raced at the Mega Series races down there and that's where all the bad boys were so we always went down there.
You're almost top 10 there in a moto at High Point. Do you start setting goals now or can you just somehow still just have fun with it?
Yeah, I'm just trying to have fun with it. I do think I can be in the top 10. I'll get a little bit better bike setup and I have one race under my belt now. I think I can at least. I'm just going to have fun with it. My job this year really is to do the GNCCs. But I still think I can do that stuff. It really was like coming home after you've been gone a long time.
The way you have it set up this year, are you considered a privateer? Can you make any money at this? Is it just fun?
I'm making a living. If I wasn't, I wouldn't be doing it. I'm a grown man, I've got bills to pay now. It's not like I'm a kid and live with mom and dad, I've got to support my family and stuff. But I'm making money. It's not great money, but all the companies that kind of jumped on with the team, on board… It's been awesome, really. I know there's a lot of guys racing out there in that aren't making money. I'm real fortunate I've been able to put this together for this year. I'm really thankful for all the companies that stepped up.
And there's no truth to the rumor, you're not coming back? You're not going to be racing motocross nationals the rest of the summer or anything like that? That's not happening?
I don't know! I'm waiting on a call. It could happen. It's got to be the right deal for me, the right circumstances. There's a reason I quit it in the first place. As long as the circumstances are right and all the details are good, I'd like to come back and race them. I still think I can. I have fun doing it. And the rest of the Nationals, none of them would conflict with GNCC. If it all works out, yeah, you might see me out there.
So you're not saying no if the right offer comes along?
I'm not saying no at all.
Okay, who do you want to thank?
Rockstar, WMR, KTM, MSR, Leat,t Aeiro helmets, Dragon goggles, FMF, Dunlop, Nelo Concepts, Spider graphics, Spectro oils, Cycra, Hammerhead Designs, TM Design Works, Guts seats, ODI Grips, Renegade Fuels, TRS suspension, Gearne Boots, Rekluse Clutches, ARC Levers, DT1 Filters, Air Group Radiant Logistics, Flex Bars, Galfer Brakes, Super B Batteries, Excel rims, Sunstar chains and sprockets, Dubya wheels, Steve Hatch Racing and IMS