Lakewood, CO
Thunder Valley
Lucas Oil AMA Pro Motocross Championship
We had witnessed two Nationals with pretty much the same results and performances from the riders. And I think we were all hoping that round three of the Lucas Oil Pro Motocross Championship in Lakewood, Colorado, would bring us some spice, some great racing or at least someone yelling that the universe was going to get somebody else. As I was leaving the pits around 7 p.m. I started thinking about the race and realized, even though one class saw a repeat winner, I'd say it was mission accomplished: we saw some action.
The owner of the Lakewood track, David Clabaugh, is a passionate guy who loves the sport. In the last ten years or so he's turned the Thunder Valley National into one of the best races of the series in my opinion. This is a man who hosted a Motocross des Nations, the first-ever National night race and has poured countless hours into the facility to really fine tune it. If you haven't been to this race yet, I suggest you get on it ASAP.
The track wasn't ripped as deep as in the past and I imagine it was because of the expected rain that never came. It was pretty hard packed in spots yet still developed the traditional deep ruts coming down the hills. It's also a track that's hard to pass on without even factoring in the horsepower loss due to altitude. Combine the layout with the altitude, and many racers spent an entire moto on the back fender of another rider while eating rocks the whole way.
I'll admit it. I can't figure Blake Baggett out. In fact, maybe I should just give up. I've always held riders with an AMA National Motocross Championship in the highest regard. I figure if you can beat the mud, heat and general gnarliness of twenty-four 30 minutes plus two lap races to emerge with the plaque, you're a bad dude. I know supercross is more popular and also challenging as hell but I just think motocross is where men are men, y'know?
So I ask myself: Why isn't Baggett nearly as dominant as he was in 2011 and 2012? He was so good that even with a bit of slippage he'd still be out front. I'm sure breaking his wrist last year in supercross hurt him but then you see rides like last year at Budds Creek or this weekend in the second moto and he looks like the Baggett of old. So he can ride like he used to but he just hasn't been for whatever reason. I know some think breaking up with trainer Aldon Baker caused Blake to lose a bit of form but I'm not buying that. He's still in great shape and is still faster than most riders late in the race. Fitness is not an issue.
So we're back to the wrist and maybe the most important thing-his starts. In almost every moto this year Baggett has waited too long to start his inevitable charge from the back after a so-so start. It happened again in his first moto on Saturday. In the second moto he nailed the start and was all over Christophe Pourcel like Pourcel stole his girlfriend or something. Once he got by it was curtains for the rest of the field. Despite his first moto so-so ride, Baggett's 4-1 score got him the overall.
If the BB Gun wants to win another 250MX title, he needs to get better starts and find some consistency. I know, I know, his wrist is not perfect but if he can ride like he did last year at Budds Creek and this weekend in the second moto, I wonder why can't he do it more often? Like I said, I have mad respect for any rider that wins an outdoor title. You can't count Baggett out, but sometimes I'm confused when I watch him.
Now, the 450 Class. Kenny Roczen won again. The kid is on fire. The end.
Lots of talk about James Stewart in the pits, on my Twitter and on all of these shows that I host (programming note: check out the Racer X Podcast, The Pulpmx Show Monday's at 6 p.m. and Moto:60 Show on Thursday at noon PST). To me, what JS7 did this weekend validated my thoughts. But then again, some other people (cough, cough, Jason Thomas) probably feel like the #7's ride validates THEIR side of things. JT and other's have been pointing at bike setup, but I'm not convinced. I do think his bike setup doesn't look great and James has made more than a few mentions of it in interviews. But this weekend he captured the win in the first moto with a terrific ride. It was really impressive as first Ryan Dungey and then later Roczen were able to catch him, but he matched their times (or went faster) after getting caught. This is really hard to do, people!
In my opinion, the people that are whispering he can't win because of his bike were proven wrong. James Stewart is the most talented man to ever race a motorcycle. This is pretty much a fact. Look it up, it's in a book somewhere. Pure, raw talent just seeps out of his pores. And the Yoshimura Suzuki team is a capable bunch of guys who know what they're doing. I refuse to believe that they could be so far off in left field that James CANNOT win on the Suzuki. In fact, his first moto victory showed that he's still James Stewart. I believe he's getting beat because he's just not 100 percent on his game right now. Is his bike perfect? No, of course not, but if a rider is sitting around looking for a perfect bike, well, they're going to be waiting a long time. The triple-air Showa fork does have a learning curve and I'm sure everyone's working on it but its James freaking Stewart people.
After the second moto, Stewart mentioned that they made a change for the second moto and went in the wrong direction. Making a change between the motos is common no matter what position the rider finished. So that's not a big deal. But what change could make Stewart's bike UNRIDEABLE to another first place finish? I'm not saying James said that but some people are. Did they just crank the high-speed compression out four turns, go 15 clicks in on the rebound and take 10cc of oil out? Of course not! Some small changes (apparently in the wrong direction) caused Stewart to not like the bike, yet he was able to win a moto about an hour earlier.
I know, I'm coming at this like a mechanic and a guy like Thomas or some other riders are coming at this like, well, riders. Riders would have you believe that the wrong setup can prevent them from winning while others like myself (and a veteran mechanic like RCH's Tony Berluti) say that you can win on an ill-handling motorcycle. Also, every top team in the pits has plenty of people smart enough to get a bike close. It's really a chicken or the egg thing but I know this: James Stewart won the first moto on his Suzuki RM-Z450 and I don't want to hear any more about a bike holding him back from winning.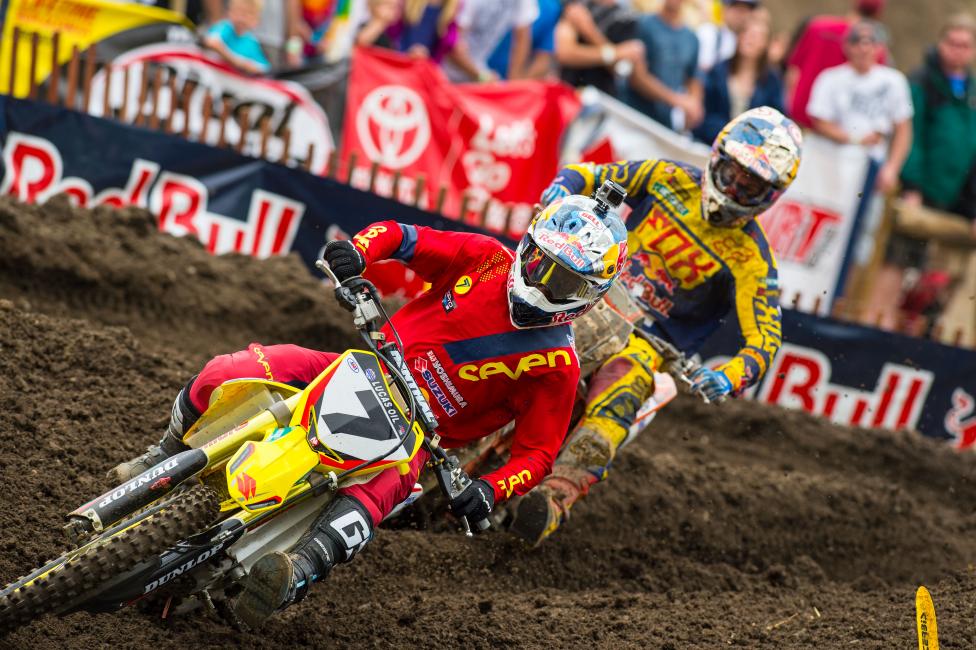 If' I'm Bobby Regan (owner of Yamalube Star Racing Yamaha) or Steve Lamson (team manager at Star Racing) I'm going to sit Jeremy Martin and Cooper Webb down and tell them to smarten up. The blue crew has been great this year and after three rounds they're still the heavy favorites to deliver Yamaha's first 250MX title since Jeff Emig in 1992. But I didn't like what I saw at Lakewood in the second moto, where Webb was blasting over ruts and taking Jeremy out wide and seemingly slowing both of them down. Webb seemed to be racing Martin harder than other riders! And Martin wasn't innocent either. It's not the first or last time we've seen teammates not get along (I hear it's bad between these guys, by the way) but you have to have a set of rules when racing against a guy in your truck. And trust me, these guys were not following them!
I like Webb, he's a good dude and I don't really know Martin very well. But you can see these guys are not fans of each other and it might be time for a sit down with the bosses to make sure everyone plays nice. Yamaha has a very real chance here with both riders to win races and a title. Who knows what happened between them? In this day and age it could be a Snapchat convo gone bad or someone could have "unfollowed" someone to make everything unravel.
Let's take a look at the results shall we?
250MX Results
1 4 Blake Baggett Grand Terrace, CA Kawasaki KX 250F 4 1
2 32 Justin Bogle Cushing, OK Honda CRF250R 3 2- If Bogle keeps this up he's going to have so much more money to buy so much more studio stuff for his rap career. Solid day for Justin and man, if he hadn't crashed last week in the second moto he would be right there in the points.
3 19 Jeremy Martin Millville, MN Yamaha YZ 250F 1 6- Well, Martin's streak of WINNING EVERY SINGLE MOTO was snapped. That's okay, I saw nothing from Martin to dissuade me from still thinking he's the fastest guy in the class. A small crash cost him but he was again very, very fast.
4 50 Jessy Nelson Paso Robles, CA Honda CRF250R 2 9- Yeah, Nelson! Great ride by Jessy in the first moto where he built his lead up to over ten seconds before making some mistakes and settling for his first ever National podium. Nelson's been very good this year and very much under the radar.
5 25 Marvin Musquin France KTM 250 SX-F 7 4- The 2013 "Moving" Marvin was back in the second moto. No doubt the best ride of the Nationals so far. He got by J Martin, Webb and Anderson and at the finish was all over Pourcel. If he can get back from these injuries and back to his old level, watch out Yamaha.
6 17 Jason Anderson Rio Rancho, NM KTM 250 SX-F 5 5- An "okay" day for Anderson. In the second moto J Mart, Musquin and Bogle all passed him. I would bet that's more riders who passing him in one moto than the rest of the motos combined.
7 377 Christophe Pourcel France Yamaha YZ 250F 11 3- CP377 once again captured the Oakley Bomb for fastest qualifying time and once again he did something weird in the moto. He was fourth in the opening lap of moto 1 when he just mysteriously went backwards. Second moto he rode great to get on the box. I read team manager Erik Kehoe's interview on this website where he said "We think when he got hit his caliper got hit and pushed it over. That's the only thing we can figure because the brakes came back." So they inspected the brake and found nothing wrong with it and Pourcel rode great in the second moto. I'm not sure how a split-second of lost front brake would spook a rider for an entire 30 minutes plus two laps but I can imagine the Pro Circuit guys who worked with Pourcel was can understand Christophe having "mystery" problems.
8 37 Cooper Webb Newport, NC Yamaha YZ 250F 9 7- I told Randy Valade, the MSR rep (and former Canadian 125 National Champion), that I liked Webb and Martin's second moto gear. He then informed me that they wore the same stuff for both motos. To quote the great Danny Glover…"I'm too old for this sh**".
9 21 Cole Seely Newbury Park, CA Honda CRF250R 8 8- Steady rides from Seely and a couple of years ago this would be an awesome day for him. Now he's not happy about it. That's a good sign, no?
10 35 Justin Hill Yoncalla, OR Kawasaki KX 250F 10 10- 28th to 10th in the first moto and 17th to 10th in the second moto. Hill's a good rider but not good enough to do damage if he can't start with the top guys. I don't think Hangtown was a fluke, Hill's the real deal this year.
11 96 Matthew Bisceglia Tualatin, OR Honda CRF250R 13 11- He's figuring it out. Matt should be a 5-10th place guy this year and next year he needs to take that other step.
12 43 Joseph Savatgy Thomasville, GA KTM 250 SX-F 12 13- Nice improvement from Hangtown for "4 Phones." This is a big summer for Joey, he's got to stay healthy and show some speed to either keep his ride or showcase his skills for others.
13 71 Zachary Bell Cairo, GA Honda CRF250R 6 34- Well crap, Zach, we were oh so close! Bell's been very steady and fast to start the Nationals and more importantly, he's been finishing the races Until the second moto at Lakewood when, with only three laps to go and in 10th spot, he went off the track and in the words of his team manager Mike Larocco "Fell in a hole and couldn't get out." It was only a tiny error, but only Zach Bell could fall in a hole and be stuck down there. At last word, there were rations being lowered down for him and a vigil planned.
14 30 Kyle Cunningham Aledo, TX Honda CRF250R 14 14- I got the sense that Cunningham wasn't pumped on his bike after the day was over. He didn't say that but I've certainly talked to enough riders to get a feel for some code words they say. For example "tightened up" is "I got tired" and "we've got to get things figured out" means a bike issue and "we made the pass" means the rider has a hamster in his pants.
15 78 Matthew Lemoine Baton Rouge, LA Kawasaki KX 250F 21 12- Lemoine was somewhere around 15th in the first moto when he went down. Bummer, but the 12th in the second moto is strong.
16 70 Brady Kiesel Fort Worth, TX Honda CRF250R 16 17
17 91 Jacob Baumert Buckner, KY Kawasaki KX 250F 17 18
18 73 Dillan Epstein Thousand Oaks, CA Honda CRF250R 37 15- A few years ago I was told that Epstein's name was "in the mix" for a vacant Pro Circuit spot. He's put in some decent rides since then but hasn't done enough damage in the results column to get that buzz going again.
19 47 Kyle Peters Greensboro, NC Honda CRF250R 15 38
20 55 Alex Martin Millville, MN Yamaha YZ 250F 40 16- Alex was so bummed after the race that he told me he was retiring from motocross to go be part of #teamJMart. Then on Monday he told the Pulpmx Show that he's reconsidered and not retiring. As the Martin turns…
450MX Results
1 94 Ken Roczen Germany KTM 450 SX-F FE 2 1- Roczen re-upped with Fox gear for a multi-year deal which I can only imagine is worth some serious coin. I would bet it's a million a year or so for gear, boots and helmet. Life is good for Roczen.
2 7 James Stewart Jr. Haines City, FL Suzuki RMZ 450 1 3- Dear Stewie, you can't run an all-black jersey with the all-red pants. It's not a good look. Thanks, Steve.
3 5 Ryan Dungey Waconia, MN KTM 450 SX-F FE 4 2- Obviously had Dungey not washed his front end out in the first moto and lost two spots, he would've been better off but I like Dungey trying to make something happen. He was pushing pretty hard.
4 41 Trey Canard Edmond, OK Honda CRF450R 3 4- One of the Honda guys was on me (in a friendly way) about last week's Observations, where I mentioned that Trey must be bummed to start with Dungey and Roczen and see them pull away. He wanted me to focus on the positive. So okay, we'll do that. Canard had the fastest qualifying time, led his first laps of the series, looked good and continued his strong start to the series with fourth overall. A 3-3-4 through the first three races is solid. Happy now Shane, Honda guy?
5 33 Josh Grant Riverside, CA Yamaha YZ 450F 5 6- On a track where he's had good days before, Grant was solid and consistent. And those aren't always words used to describe JG's results. He didn't have anything for the top four guys but then again, neither did anyone else.
6 24 Brett Metcalfe Australia Kawasaki KX 450F 9 5- Good second moto for Metcalfe and you may be wondering what was up with his 9th in the first moto? Well, he got a bad start. Like, a really bad start.
7 34 Malcolm Stewart Haines City, FL Honda CRF450R 7 8- I'm shocked how solid Mookie is. He's fast, he's in shape and he's not up and down like he's been in the past. Three good Nationals in a row for Mookie and his better tracks, in my opinion, lay ahead.
8 29 Andrew Short Colorado Springs, CO KTM 450 SX-F 6 9- In front of his hometown fans Short was very good in the first moto but couldn't back up his finish in the second one. Too bad, I had him for fifth overall in my fantasy moto league. I had a good talk with Andrew on Saturday morning and asked him how bad it sucked being so far back in the points to start a series (he DNF'd moto 1 at Glen Helen). Shorty being Shorty, said it doesn't really matter as long as he's placing well in the motos.
9 40 Weston Peick Wildomar, CA Suzuki RMZ 450 10 7- Peick probably had his worst race of the year so far (10-7 scores, and by the way many racers would like that to be their worst scores, right?) but in the good news department, he started inside or around the top ten. Remember, Weston hasn't raced the upcoming tracks in a number of years so it should be interesting to see how he'll do.
10 12 Jacob Weimer Rupert, ID Kawasaki KX 450F 8 12- When I asked Weimer why he crashed in the second moto when he was looking good, he replied: "I guess things were just looking a little too good for me…" Weimer's a funny, honest interview.
11 22 Chad Reed Australia Kawasaki KX 450F 13 10- We'll give Reed a mulligan on this race as he hit a chunk of concrete or something buried in the track early in the first practice and in talking to people who saw it, absolutely ate poop. Banged up and on a track where he never seems to do really well, Reed soldiered through the day. He's going to be better this weekend. Stamp it.
12 38 Phillip Nicoletti Bethel, NY Yamaha YZ 450F 12 11-Filthy had a good day/bad day in Lakewood where he was notified by JGR that they're going to take him to the next three races (his original deal was just the first three). He rode tremendously in the first moto coming from 25th or so to 12th. The bad news is in the second moto he got his usual 11th. Three times in six motos Filthy has finished 11th. His first moto was very strong though and he came close to getting the RC Hard Charger Award for the ride.
13 80 Fredrik Noren Sweden KTM 450 SX-F 16 14- But he didn't get it because this guy did! Noren's been a pleasant surprise so far and did it again in Colorado. His ride from 35th to 14th in the second moto was pretty awesome. I think it might be about time Reed's mechanic Lars Larson give Fast Freddy his 'Swedish Miracle' Twitter handle.
14 92 Kellian Rusk Durango, CO Yamaha YZ 450F 15 15- Jason Thomas says he's from New Mexico, his entry says he's from Colorado. [Ed Note: He was born and raised in Colorado] Either way, great day for Rusk out there and did you know Killian is an Irish name? I had to work the Google for this info.
15 44 Matthew Goerke Sun City, CA KTM 450 SX-F FE 14 16- Beef is back! This is Matt's first race back after injury and I'd look for top tens real soon for the four-four.
16 9 Ivan Tedesco Albuquerque, NM Suzuki RMZ 450 11 25- Ivan had a rough 2014 Lakewood but the number 9 had an amazing 2009 Lakewood that remains one of the most dominant and impressive National rides I ever saw. #neverforget
17 48 Ben Lamay Wasilla, AK Yamaha YZ 450F 21 13- The Alaskan Assassin continues his one good moto/one bad moto thing this week.
18 331 Tommy Weeck Washougal, WA Honda CRF450R 17 18- Good job for Weeck as he didn't "wreck" this week like he did in Hangtown.
19 95 Evgeny Mikhaylov Russia KTM 450 SX-F 22 17- Kraor Meats!
20 415 Nick Schmidt Seattle, WA Honda CRF450R 18 38- Schmidt told me after the race that he thinks this is it for him in the Nationals because he can't afford to head east. Too bad, he had been doing pretty well. Look for Schmidt to be ditching the #415 next year and have a national number in the 60s or something like that.
Thanks for reading, broseph. I appreciate it and email me at matthes@racerxonline.com if you have any thoughts that you have to share with me.