Thunder Valley Motocross Park
Lakewood

,

CO
Thunder Valley
Lucas Oil AMA Pro Motocross Championship
Jeremy Martin's win streak to start the Lucas Oil Pro Motocross Championship is over, and it's fitting that the rider to do it is Monster Energy/Pro Circuit Kawasaki's Blake Baggett, arguably the most accomplished of the current 250MX field. Baggett's 4-1 scores and overall win marked a huge turnaround for him and his team—and he was pretty darned pumped about it in the post-race press conference.
Racer X: It's been a little while since we've seen you win an overall in the 250 Class. What's changed between your dominance a few years back and you're dominance today?
Blake Baggett: I don't think anything changed, just injuries and then just not being prepared. Jeremy [Martin] came out prepared, that's the bottom line. Myself, I wasn't prepared. I'd only done one 30-minute moto at Comp Edge Tuesday before Glen Helen. I haven't done a 30 since other than racing at Glen Helen, Hangtown, and here. We've just been testing, just trying to get to where we want to be. I wasn't able to ride for a while because my eye was screwed up. It's still healing, still blurry. We weren't as ready as we wanted to be or we thought we were. So we're kind of chasing our tail a little bit but I think we've got things going in the right direction and there's 18 more motos left and anything can happen.
What was the injury? Was it something in the eye?
Yeah, I was at Glen Helen and it was right when we started riding outdoors when the supercross series went back to the West Coast. I took a rock to the goggle lens, hit my eye roughly at about 80 miles an hour was the impact. It blew my face open and smashed my eye. My eye was bleeding, just literally out of my eye for two days. I was blind for basically the first day, no vision whatsoever. It was solid white. When the vision came back [to] the whole eye, everything was red because it was still bleeding. Just basically fighting that still and it's not great. I have to run basically a limo-looking lens, so on days like today it's tough to see the ruts because I have to run the lens super dark because the eye is still smashed.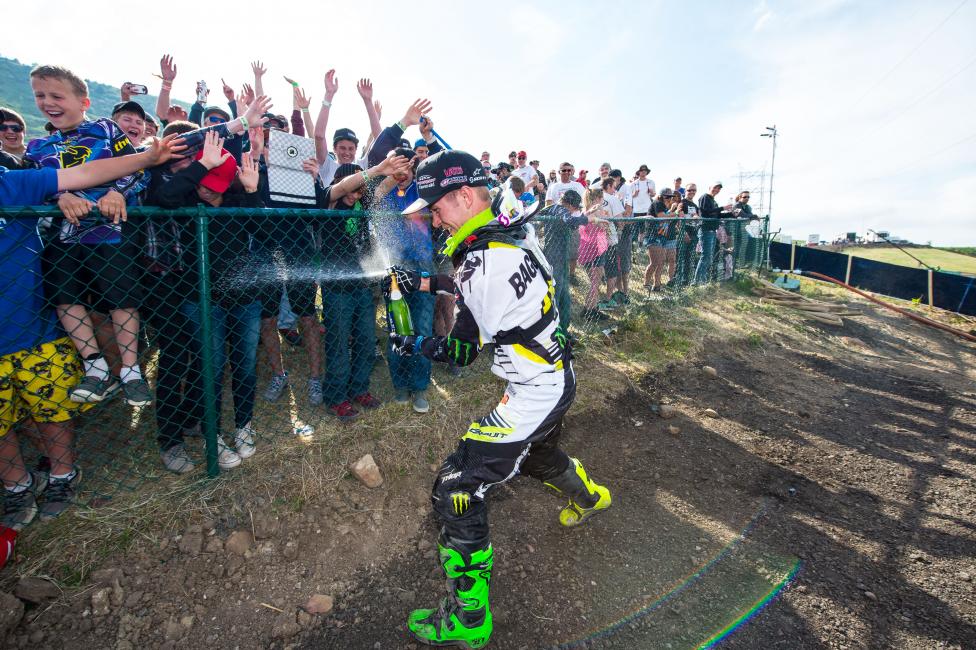 With the wrist injuries and surgeries and the eye thing, did you ever start questioning if you ever going to be back on the top of the podium?
Yeah, I was questioning if I needed to become personal friends with all the doctors around, too. One after another, multiple surgeries on the wrist, and then when the eye came around I went to a guy and I was going to have him basically cut the center of my eye out and give me a cadaver one, just because I was in dire need. I wanted to be back up here and I couldn't see. I tried to ride at Elsinore and I rode a lap and I was like… I couldn't even tell what was coming up, if it was tabletop or flat! So I called a guy and he's like, "I can cut the whole color part of your eye and replace it but it's going to be brutal." He said to give it six months and if you still want to do it you can do it. So after the outdoors are over if the eye is not good then I'm going to do what I got to do.
It was easy to follow you through the last moto but talk a little bit about what happened in the first moto.
We've just been struggling. I'm not known for starts by all means, but we've been plugging away at it. Just didn't get the greatest pull up the hill. Had a good jump but then just got boxed in and couldn't do much with it. Like Jeremy said, the track was really fast today. I was up into fifth gear, which normally we're not, especially here at altitude. They built those little inside banks, it was like Talladega Speedway some turns out there. But bottom line, I just didn't have it.
You looked pumped when you won the second moto. I know you won a title and won races, but how much does this mean with the struggle that you guys had the beginning of the year to come back and win that moto convincingly, get an overall for your team?
[Laughs] I was thinking I was going to have to take your job, dude! I'm not winning, I was going to have to get a mic and we were going to battle it out. I was going to go head to head with you, Weigandt, maybe get in a fight with you in the parking lot or something just so I could get a steady job! I was excited today, definitely. When you win for a while and then you don't it's tough. It was kind of just eating away at me and I needed to stop the young, hot blood. We were bleeding blue in this series so far. I was going to do whatever it takes. I just went for it.
I know you've been in this class for a few years, it's sort of the crossroads time. Have you decided 250, 450 next year? Do you know what's going on yet?
I have no clue. The main focus is to right now get ready for High Point and make sure High Point doesn't bleed blue.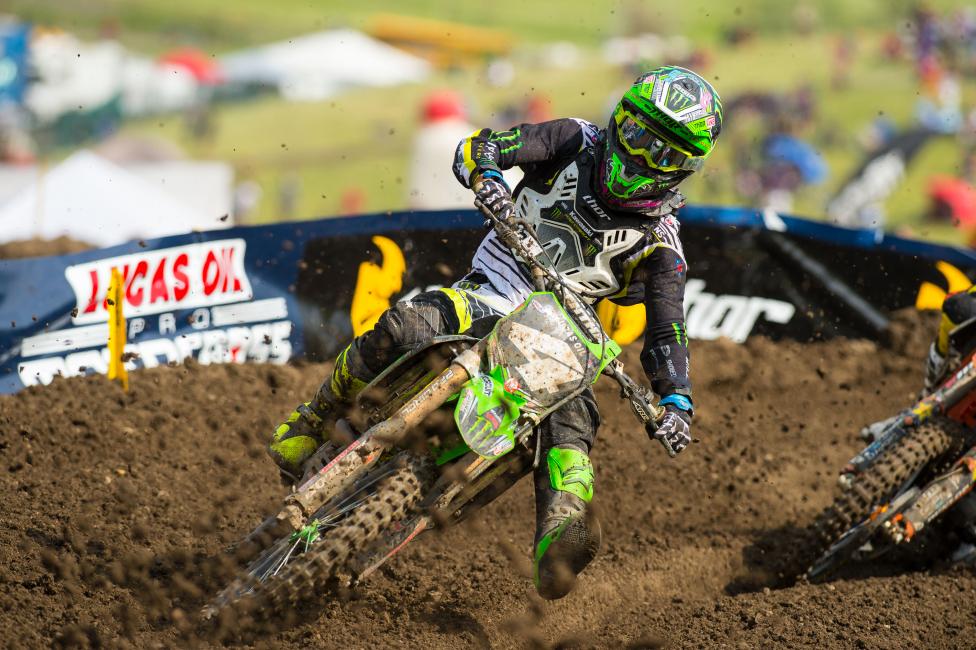 Just because you won a moto are you like, okay, we got it figured out, or is there still a lot more work to do and do you think you can get a lot better?
Monday we'll be right back at it, testing. I still think we can improve. For instance, 2011 when we [the team] won 23 motos out of 24, we lost the first moto at Southwick. Other than that, I think that year we really had things figured out but the bike's changed. The suspension has went to air forks and all that stuff. It just takes a little bit of time to get it fine-tuned but I think we can make the bike how it was then and make a statement.
High Point next week. Is that one of the tracks that lends itself to your race craft?
Only if I turn my visor backwards!