If there is a chink to the flow of Red Bull KTM Tony Cairoli's armour then it surfaced at a sweltering Grand Prix of Spain where the Sicilian was unable to match the guile and groove of Rockstar Suzuki's Clement Desalle. The Belgian went 1-1 on a veritable "training ride" thanks to a smooth, economic and effective pace on the RM-Z450 for his second victory this year and first double since the Czech Republic round last summer. The World Champion tried to take the fight to his principal title rival but understated afterwards that the "old-school" layout and trajectory of Talavera de la Reina was not "one of his preferred circuits". To see 222 struggling to pass and actually running out of patience, energy and enthusiasm in the first moto as he circulated to fifth position was a reminder that Cairoli is indeed human and even the boundaries of near-perfection in the premier class might be a stretch too far.
As ever the Sicilian earned credit for a refreshed approach in the second race and while he pressured Desalle and bustled past others like Monster Energy Kawasaki's Steven Frossard ("that is not the way I like to overtake and he almost crashed," he said) the Suzuki rider was unflinching; his consternation (or should that be constipation?) from a stomach problem on Saturday untraceable through a display of brilliance.
Desalle and his irrepressible teammate Kevin Strijbos—taking his third podium of the campaign—were not the only things that were hot at Talavera; a venue that returned to the MXGP scene with a bang thanks to a devoted club and impressive spectator turnout when the last editions of the GP on the Iberian Peninsula, at Bellpuig, had attracted sparse crowds towards the end of the last decade. Temperatures topped over thirty degrees (low 90s) and shade became a sought after commodity among the trees.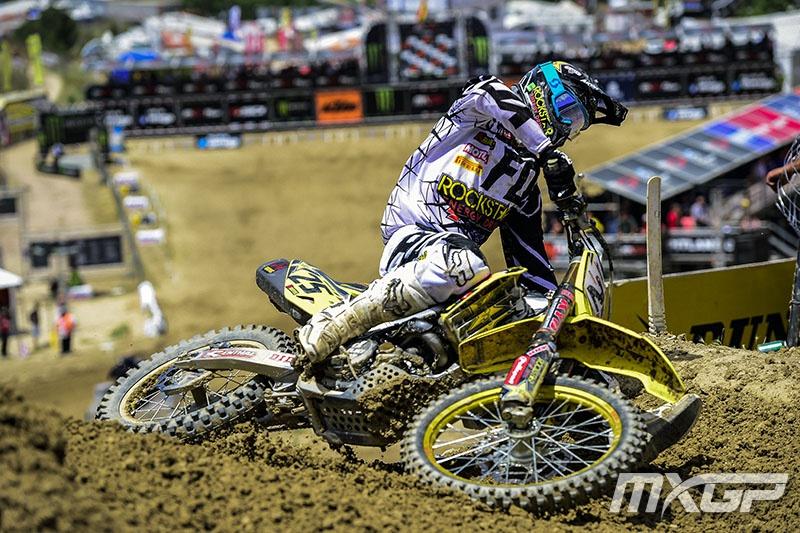 Also making a mark in MXGP was Yamaha's Jeremy Van Horebeek; now the most decorated rider this season thanks to six consecutive podium finishes and three runner-up slots to his name. The Belgian is on the cusp of victory, but riding his settled and comfortable pace is an ever-present force in the top five and better anyway. His "long view" approach to the championship means that he is swiftly turning into a sleeper threat and has proved his acumen across a variety of terrain and conditions to-date on the YZ450FM.
The Spanish GP was another meeting curiously split by halves. As the track character evolves then so does the entertainment factor. The first motos of both classes were processional drawn-out affairs while the choppier surface later in the afternoon seemed to engage the riders a bit more. While Talavera wins praise in many aspects for its resurrection as one of, if not the best, MX venues in Spain then their policy towards watering their terrain needs a re-evaluation as the quantity and locations of their irrigation held little science and created a one-line slop at times.
The old saying of "nice to ride, horrible to race" came out a few times and from the comments emanating from the paddock it seems that few circuits this year have split opinion so vehemently. For every racer that was demoralized by their inability to gel with Talavera there were others who managed to excel. In MX2 seventeen-year-old Slovenian sensation for HRC, Tim Gajser, emerged from a fantastic five rider tussle for second place in the second moto to capture a career-best finish in just his second season of Grand Prix. In MXGP rookie Jake Nicholls pushed his Wilvo Forkrent KTM to a personal highest of sixth position. There were other examples. Belgian teenager Damon Graulus taking his Standing Construct KTM into the MX2 top ten and LS Honda's Xavier Boog looking like the factory Kawasaki rider he once was in MXGP.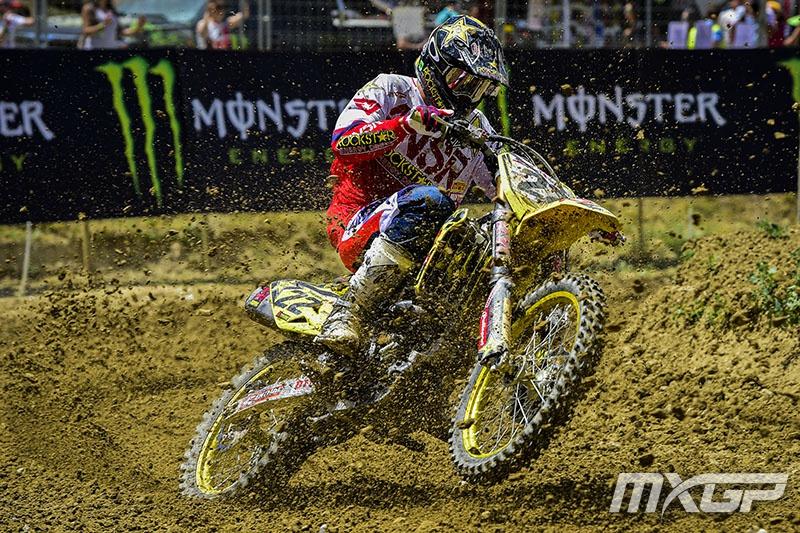 The importance of starts was again highlighted. Hitachi Machinery KTM's Shaun Simpson was moved to comment that the race was "just about that 150 yards into the first corner". This was particularly true if the case of Thomas Covington is examined. The American just cannot slide into that leading group around the first turn at the moment and is making a couple of costly mistakes. In the first moto a first lap fall meant he was lapped early on by his CLS Monster Energy Kawasaki teammates. That the teenager could happily circulate at the same speed wedged in between second and third for the rest of the moto shows he has the pace and lap-times but is not giving himself a fighting chance out of the gate. Twenty-first overall doesn't make for pretty reading in just his seventh GP but the numbers don't quite tell the whole story.
As far as MX2 goes, Jeffrey Herlings showed that his versatility is still blossoming as this was a different prospect away from his beloved sand one week ago. A torrid Saturday with two mistakes in the qualification Heat and a lowly 16th gate pick was reversed by two assured dashes for his fourth double of 2014 and third in a row; apparently making a career total of 37 GPs wins … and he's still nineteen. While Ferrandis and Tonus (allegedly both the focus of the Troy Lee Designs team's 2015 plans this weekend) continued the Kawasaki team's podium spree and a special mention must go to home rider Jose Butron. The Spaniard had a breakthrough season in 2013 but has struggled to replicate his trophy haul on the factory-engined Silver Action KTM. A confidence rider, Butron came to Talavera bearing the weight of expectation of his home event and not terribly well. His first moto followed a 2014 pattern: great start followed by a crushing fade. In the second moto his riding pants were on fire, and although he had little answer for Herlings he forced the public around the circuit to cheer heartily for over half an hour as he was the focal point of that scrap for second place. A run-in with Husqvarna's Romain Febvre (who continues to be mugged on the last lap and suffered similar incidents in Bulgaria and Holland) left the Frenchman on the floor and Butron himself crashed three corners before the finish line and dumped a deserved runner-up spot.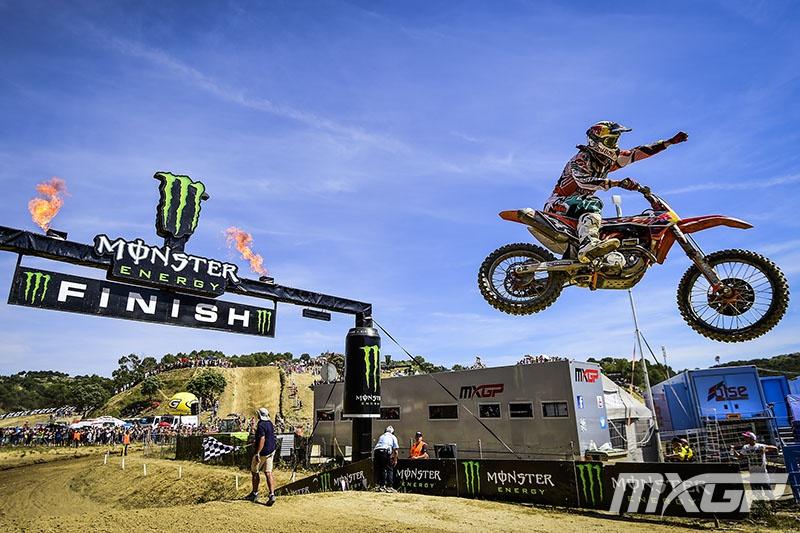 Heading to Spain on the brink of summer then the odds of good weather are normally pretty high. Trying the same thing for the UK—scene of round eight of the championship in two weeks time at former Motocross of Nations venue Matterley Basin—is another story. After short sharp hard-pack bumps of Italy, the horrendous ruts of Bulgaria, the sand of Holland and the holes of Spain it is anybody's guess what the weather and track will throw up in England.
MXGP Moto1
1. Clement Desalle (BEL, Suzuki), 34:16.039;
2. Jeremy Van Horebeek (BEL, Yamaha), +0:05.376;
3. Steven Frossard (FRA, Kawasaki), +0:11.106;
4. Kevin Strijbos (BEL, Suzuki), +0:18.572;
5. Evgeny Bobryshev (RUS, Honda), +0:20.806;
6. Antonio Cairoli (ITA, KTM), +0:26.363;
7. Xavier Boog (FRA, Honda), +0:30.702;
8. Tyla Rattray (RSA, Husqvarna), +0:33.979;
9. Joel Roelants (BEL, Honda), +0:35.869;
10. Shaun Simpson (GBR, KTM), +0:51.498;
MXGP Moto2
1. Clement Desalle (BEL, Suzuki), 33:58.407;
2. Antonio Cairoli (ITA, KTM), +0:01.732;
3. Kevin Strijbos (BEL, Suzuki), +0:03.845;
4. Jeremy Van Horebeek (BEL, Yamaha), +0:15.603;
5. Steven Frossard (FRA, Kawasaki), +0:23.521;
6. Jake Nicholls (GBR, KTM), +0:43.618;
7. David Philippaerts (ITA, Yamaha), +0:50.876;
8. Rui Goncalves (POR, Yamaha), +0:52.007;
9. Xavier Boog (FRA, Honda), +1:06.104;
10. Tyla Rattray (RSA, Husqvarna), +1:12.517;
MXGP overall
1. Clement Desalle (BEL, SUZ), 50 points;
2. Jeremy Van Horebeek (BEL, YAM), 40 p.;
3. Kevin Strijbos (BEL, SUZ), 38 p.;
4. Antonio Cairoli (ITA, KTM), 37 p.;
5. Steven Frossard (FRA, KAW), 36 p.;
6. Xavier Boog (FRA, HON), 26 p.;
7. David Philippaerts (ITA, YAM), 24 p.;
8. Tyla Rattray (RSA, HUS), 24 p.;
9. Jake Nicholls (GBR, KTM), 23 p.;
10. Joel Roelants (BEL, HON), 22 p.;
MXGP World Championship standings after 7 of 17 rounds
1. Antonio Cairoli (ITA, KTM), 304 points;
2. Clement Desalle (BEL, SUZ), 280 p.;
3. Jeremy Van Horebeek (BEL, YAM), 276 p.;
4. Kevin Strijbos (BEL, SUZ), 220 p.;
5. Gautier Paulin (FRA, KAW), 205 p.;
6. Maximilian Nagl (GER, HON), 166 p.;
7. Steven Frossard (FRA, KAW), 142 p.;
8. Evgeny Bobryshev (RUS, HON), 136 p.;
9. Joel Roelants (BEL, HON), 134 p.;
10. Xavier Boog (FRA, HON), 134 p.;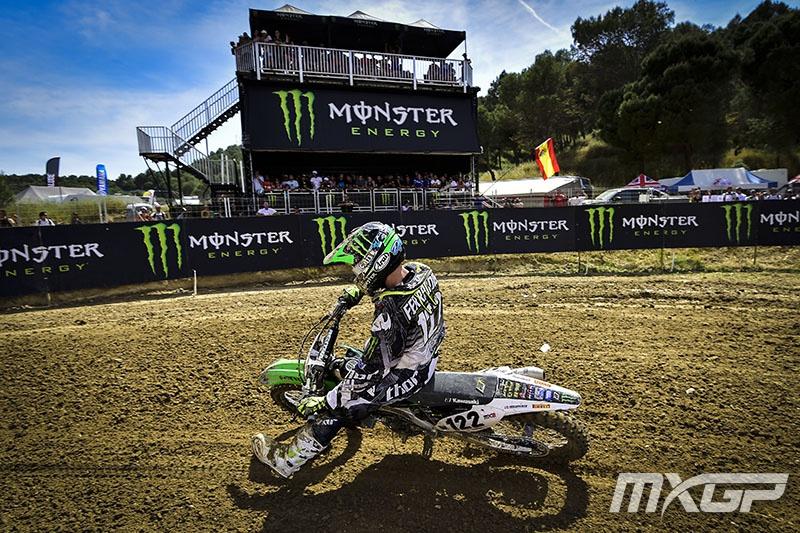 MX2 Moto1
1. Jeffrey Herlings (NED, KTM), 35:08.693;
2. Arnaud Tonus (SUI, Kawasaki), +0:32.142;
3. Dylan Ferrandis (FRA, Kawasaki), +0:41.915;
4. Jordi Tixier (FRA, KTM), +0:44.578;
5. Romain Febvre (FRA, Husqvarna), +0:52.004;
6. Julien Lieber (BEL, Suzuki), +1:06.023;
7. Damon Graulus (BEL, KTM), +1:10.108;
8. Jose Butron (ESP, KTM), +1:12.316;
9. Petar Petrov (BUL, Yamaha), +1:13.364;
10. Aleksandr Tonkov (RUS, Husqvarna), +1:14.768;
16. Jeremy Seewer (SUI, Suzuki), +1:38.424;
MX2 Moto2
1. Jeffrey Herlings (NED, KTM), 34:48.430;
2. Tim Gajser (SLO, Honda), +0:05.468;
3. Dylan Ferrandis (FRA, Kawasaki), +0:05.958;
4. Romain Febvre (FRA, Husqvarna), +0:07.510;
5. Arnaud Tonus (SUI, Kawasaki), +0:08.977;
6. Jose Butron (ESP, KTM), +0:14.974;
7. Valentin Guillod (SUI, KTM), +0:17.417;
8. Christophe Charlier (FRA, Yamaha), +0:20.364;
9. Jordi Tixier (FRA, KTM), +0:23.987;
10. Petar Petrov (BUL, Yamaha), +0:37.601;
....
11. Julien Lieber (BEL, Suzuki), +0:39.026;
13. Jeremy Seewer (SUI, Suzuki), +0:52.977;
MX2 overall
1. Jeffrey Herlings (NED, KTM), 50 points;
2. Dylan Ferrandis (FRA, KAW), 40 p.;
3. Arnaud Tonus (SUI, KAW), 38 p.;
4. Romain Febvre (FRA, HUS), 34 p.;
5. Jordi Tixier (FRA, KTM), 30 p.;
6. Jose Butron (ESP, KTM), 28 p.;
7. Tim Gajser (SLO, HON), 26 p.;
8. Julien Lieber (BEL, SUZ), 25 p.;
9. Petar Petrov (BUL, YAM), 23 p.;
10. Christophe Charlier (FRA, YAM), 22 p.;
...
14. Jeremy Seewer (SUI, SUZ), 13 p.;
MX2 World Championship standings after 7 of 17 rounds
1. Jeffrey Herlings (NED, KTM), 294 points;
2. Arnaud Tonus (SUI, KAW), 267 p.;
3. Romain Febvre (FRA, HUS), 232 p.;
4. Dylan Ferrandis (FRA, KAW), 225 p.;
5. Jordi Tixier (FRA, KTM), 215 p.;
6. Glenn Coldenhoff (NED, SUZ), 176 p.;
7. Tim Gajser (SLO, HON), 171 p.;
8. Aleksandr Tonkov (RUS, HUS), 170 p.;
9. Jose Butron (ESP, KTM), 159 p.;
10. Valentin Guillod (SUI, KTM), 153 p.;
11. Jeremy Seewer (SUI, SUZ), 122 p.;
...
14. Julien Lieber (BEL, SUZ), 95 p.;