Incessant rumours over the actual engine capacity of FIM Motocross World Champion Tony Cairoli's Red Bull KTM 350 SX-F led to an official engine inspection by the FIM after the Grand Prix of Spain on Sunday night. Technical delegate Andy Summers was accompanied by CMS President Wolfgang Srb as Cairoli's race motor was opened, the cylinder head removed and elements such as the bore measured for final confirmation that the Sicilian has been using a 350cc unit.
"Rumours have been going around since the bike has been on the market," explained Red Bull KTM technical coordinator Dirk Gruebel "and since last season we have had such a strong motorcycle that we kept hearing talk that Tony could not be riding a 350cc and still be taking all of those holeshots and winning races. That is why the engine is open on the work bench."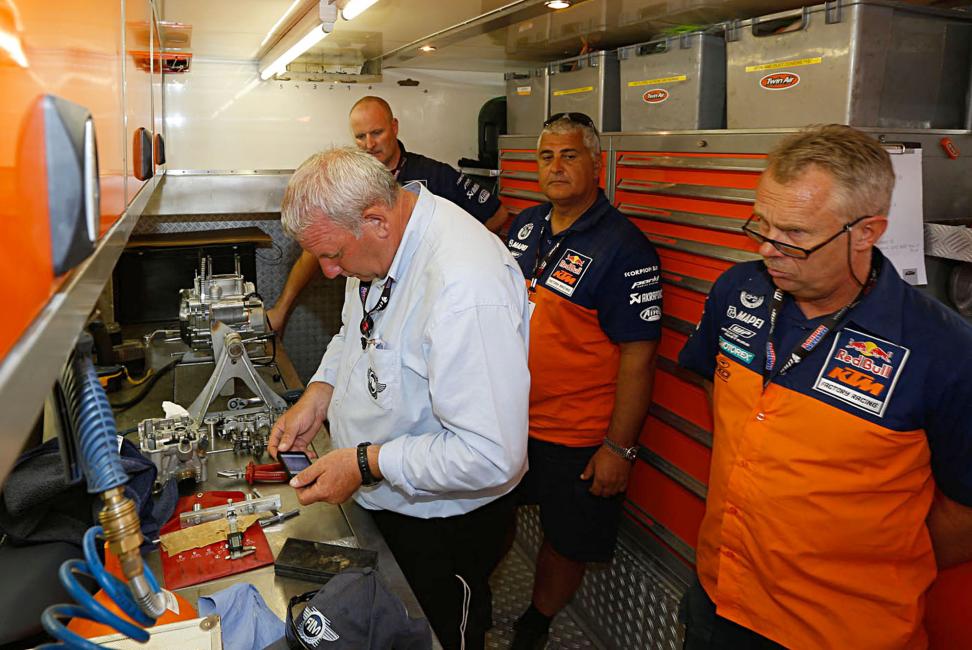 "The rumours can stop now. The truth is out. We knew it all the time but nobody would believe us," he added.
"I can confirm through the inspection today by the FIM technical department that the engine is a 350, is sound and totally within the MXGP rules," commented Summers.
Pit Beirer, Head of KTM Motorsports said: "We very much welcome this move by the FIM officials because it is important for our company image, and for our international reputation that Tony's factory bike not only complies with FIM rules, but also that it is verified as a 350 cc. We also want our customers to know that for KTM it is it naturally vital that with the 350cc SX-F, what they see is what they get. The fact that Tony (Cairoli) has competed so successfully on the 350 SX-F since he joined our factory team is a tribute to his exceptional riding skills. It goes without saying that also underlines KTM's ongoing commitment to R&D and the deployment of technical expertise that is second to none."
Cairoli has used the 350 SX-F since signing for the Austrian factory team in 2009. He has won the last four MX1 FIM Motocross World Championships and is currently leading the 2014 MXGP class by 24 points after seven of eighteen rounds.