Sam Boyd Stadium
Las Vegas

,

NV
Las Vegas
Monster Energy AMA Supercross Championship
Hello, everyone, and welcome to the Rev Up. Everything that has a beginning has an end. The 2014 Monster Energy Supercross Championship will conclude this Saturday night in fabulous Las Vegas, Nevada, and what a long, strange trip it has been. If you close your eyes and go back to the season opener in Anaheim where rookie Ken Roczen shocked the world, it's crazy to see how it all ended up. What was Ryan Villopoto thinking letting that German kid ride and train with him? Remember what happened when Ricky Johnson let Jeff Stanton do the same? Turns out RV wasn't really that bothered by it, or anything for that matter.
It really was a special season full of drama, pitfalls and surprises. The high water marks for me were Chad Reed's nostalgic win on retro night, and James Stewart's unbelievable victory in Toronto. Both instances saw the victor charge through the pack and snatch wins that had me jumping up and down and screaming. They truly were two of the best races I've enjoyed in over 30 years in the sport. So much competition this year. So many packed houses. The American supercross product is alive and thriving, and there's never been a greater time to be an enthusiast or a casual fan.
With one round remaining I wanted to send out an "atta boy" associated with the show we all got to enjoy this season. While they take a lot of flak, I really have to hand it to the Dirt Wurx track crew. The obstacle builders face a couple of stout obstacles themselves: first and foremost, the astonishing power and capabilities of today's machines and the skill of the racers. How do you design a track that is safe, yet challenges a collaboration that has the ability to make it "end zone to end zone" with a couple blips of the throttle? I'm of the opinion that there were too many long rhythm sections, but at least they were interesting and carried a lot of variety from week to week. To that end, I commend the crew for not being afraid to step out of the box a little with the split sections, off-camber corners and wall jumps. We've heard the riders and media tear the track designs apart in recent years but I think they really made up some ground this year. Secondly, the dirt they have to work with during the winter months across the country is a huge wild card. Throw in the Monster Jam action that often shares the venues (and dirt), and it's a huge undertaking altogether. Much has been made of this aspect of the series this year (I've written about it several times myself) but I think we all need to give those guys a pat on the back. We were able to watch the best supercross riders in the world compete on some pretty damn sweet tracks in 2014.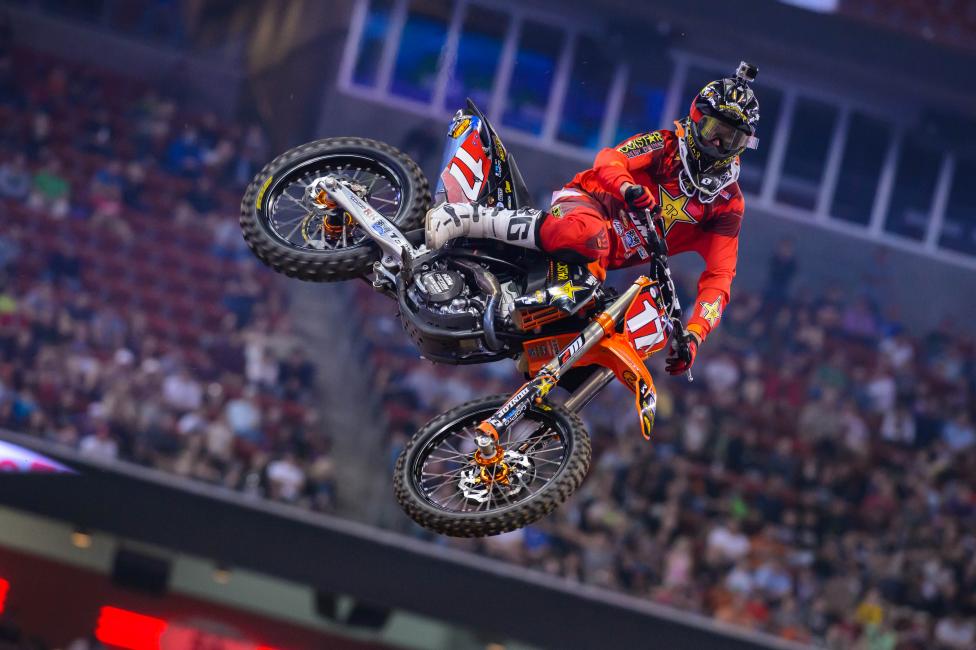 That said, we still have a race to run. Good 'ole Las Vegas is always a party, and this weekend will be no exception. Thankfully Stewart's knee isn't as bad as it looked when he tweaked it, and he'll be trying to win his fifth main event of the series. Meanwhile, "four-time" will be aiming to close out the year on a sweep. Even though he's denied them, the rumors persist in saying it may very well be the last time we see Villopoto race in 2014, which sucks. But, hold the phone! Over in the wild, wild 250 West the title has come down to the wire. Jason Anderson and Cole Seely are set for a dramatic showdown, and while Ando has the fortune of an eight-point lead, Cole has some feisty teammates in his corner. As we've seen all year, anything can happen. I still go back to those sketchy points that were taken away from Anderson early in their series. I really, really hope the title isn't decided by that highly questionable call. Both men have been strong and are both worthy, but it just seems like this has been Jason Anderson and Rockstar Energy Racing KTM's title to lose.
With RV locking it down in New Jersey last weekend, and Justin Bogle nearly doing the same, the 250W crown is definitely the headliner. I get a sensation that it is going to be very close one way or the other, and some guys like Cooper Webb, Malcolm Stewart and Justin Hill are going to throw one hell of a monkey wrench into the outcome. Anderson was amazing in Houston, but almost threw away the title several times in Seattle. It's hard to imagine the pressure he must be feeling, because he really has been the guy the whole way through. Now he has to finish the game. Can he do it?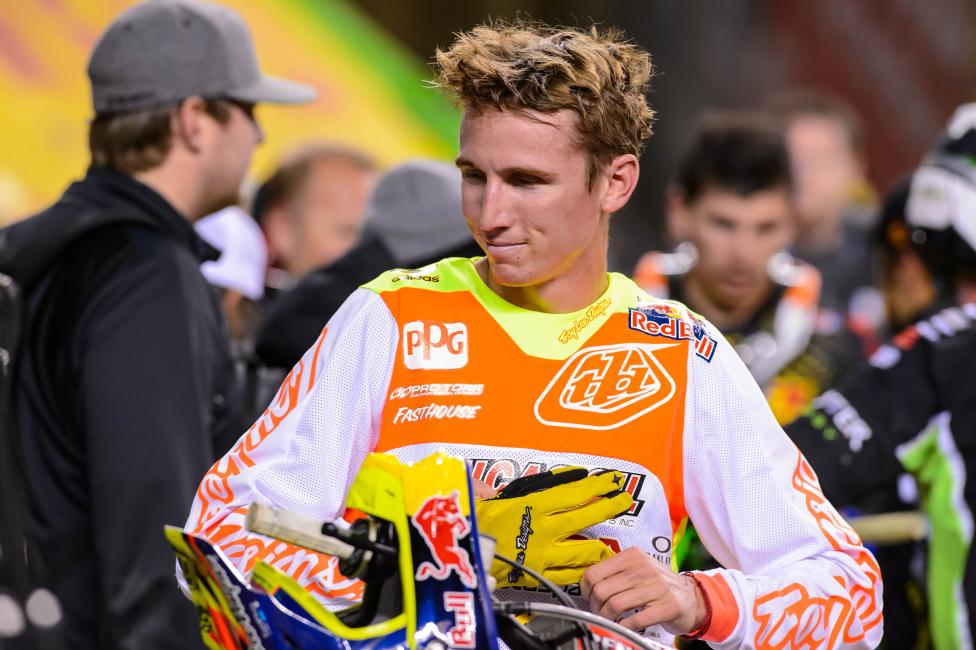 It's kind of bittersweet that Monster Energy Supercross is over until 2015, but I believe we're all satisfied. 17 rounds in 18 weeks has come and gone, but it has been a stellar show! How about we go ahead and get it all the way up for one last dustup in the Nevada desert? One more blast of the flames under the night lights of the stadium, and all of the sexiness of the greatest show on dirt. Who is ready to see that 250W title be decided?
In closing I just want to say congratulations to all of the event staff, television production crew and all of the racers and teams for providing such a spectacle for us to enjoy. Bravo, folks. Now, finish the job and let it fly after the races at the party!
Thanks for reading, see you next week.