Washington State's Tevin Tapia is a chiseled veteran privateer currently in his fifth professional season. Always smiling, the happy-go-lucky privateer has found a way to have fun, while also doing what he loves. In Seattle, his home race, Tapia got some TV time on FOX Sports 1, and made his second main of the season. Last weekend in New Jersey, he found the main again en route to 21st. We caught up with Tapia earlier this week to talk about his team, his future and the sport.
Racer X: After some early season struggles, it seems like you're really starting to turn it around.
Tevin Tapia: Yeah, I started off the season with the flu, actually, and it didn't go as planned and it kind of ruined all my training. That was definitely a bummer. But I was able to get a little break mid-way through the season and revamp my program. The people at Team 3BR were really behind me, they really pushed me and we kind of changed everything around and worked a lot harder. When we came back in St. Louis and made the main that kind of turned my entire season around. I've made two more mains since then. If I can end the season with a main event in Vegas, I'll feel like that is respectable.
You have almost an entirely new set-up this year as well.
Well, I'm still on Suzukis … I love the bikes. I have a really good guy and family behind me; we're called 3BR. This guy does everything in his power to make sure I'm racing and getting to the races. It's not everyday that you get a sponsor like this that actually does what he says he's going to do. I'm very blessed to have the Borski family in my life and as a sponsor. It's great to have someone that not only helps fund my racing, but is also a great friend. The son of the team rides as well, so I get to ride with him a lot and go mountain biking. It's a good family-orientated team. It's a sponsor, but also a family-type thing, I feel like.
Are they a long-time family friend or do they have a company as well?
It's just kind of a family company through the Borski family. They made their own little team because they were going riding every weekend. My dad does suspension and he was doing their suspension and he had seen the struggles I was going through. It was about a month before Anaheim 1 and I didn't even have a bike ready to race. They didn't even really know me, they just knew some stuff through what my dad had said about me. But he gave me a bike and said, "Hey, you can race this." We kind of just built 3BR from there. I have another rider was us, Jake Scarbrough, and he rides the 250 East Region. We are planning for bigger things for next year as well.
For those who aren't aware, your dad is very involved in the sport. Tell us about what he does and what he's meant to your racing efforts?
What he's done to help me is everything. I wouldn't even be close to where I'm at if it wasn't for him. Right now, my dad actually has his shop out at Milestone MX Park, in the pro shop, and he's busting out suspension and motors and bike repairs and services. It's really cool to see my dad's company get bigger and bigger.
I'm sure it's also nice that if something is wrong with the bike you can just turn over to your dad.
Yeah, it's awesome. I get to keep my bikes at the track all the time and I'm at Milestone all day every single day. It's awesome to be located here.
Let's go back a bit to Seattle. It was your home race and you actually got interviewed on live TV. Was it nerve wracking to be on live television in front of thousands of viewers?
Anyone that knows me knows home outgoing I am. I wasn't really nervous, I was just excited that I was finally getting on TV. This is my fifth year as a pro and that was my first ever interview on live TV, so that was an accomplishment in itself. It felt good to finally get some recognition. I actually kind of made it happen. I went to Jenny Taft and told her I needed to get interviewed because I was all Seahawked out. You have to make things happen if you want it done. [Laughs]
It seems like this year Feld has really made an effort to involve the privateers more and get their stories out. Is that something you've noticed?
Yeah, actually I have. I'm glad that they are finally doing that and giving love to guys deeper in the field. They are showing us riding as well, and paying attention to us. It's cool for us as racers, but it's really cool for the fans. It makes our fan base deeper.
I'm sure it has to help with sponsors as well.
Yeah, it really does. Team 3BR and Magik, my graphic company who did my helmet, I got to say their names and they just loved it. It was like a dream come true to them, and myself as well.
Last weekend was the first time we were back in the New York market since 1991, which is also a big deal for the sport. What were some of the things you noticed that could be beneficial to the sport going forward?
I've been to New York before, but I've never been to MetLife Stadium and I was in awe, because my Seahawks won the Super Bowl there. But for the sport, all the press they did—we got to go up in the Empire State building and show off the trophy—and the Wall State Journal was there taking interviews and all the fans that came out. Even though it was raining the stadium was still almost full! That was one of the coolest things, the fans were still there. And they never left; they were there to the very end. I have to say they were probably the best fans by far. I hope it just keeps getting bigger like that. I got to watch the race on TV and everything else looks way more professional. Baseball players are coming to watch, Jeff Gordon came to a race, and Rickie Fowler came to one as well. It's cool that our sport is growing so much. The way they broadcast is like a football or baseball game. It's starting to look like a real professional event. It's cool to be racing at those. It's a blessing for sure. Sometimes you have to just take it in for a minute.
You're on the Privateer Journey rig this year, but they are not going outdoors. Do you have anything lined up for the Nationals?
Nothing planned. I'm going to be with Team 3BR, but we will probably just do the West Coast rounds. In the meantime, I'll probably just stay local and do some races and get ready for the big money races in Washington.
You said you are hoping to grow with the team next year. Do you have any plans as of right now?
Well, everything is always up in the air. But once things get closer to next year we will get a plan together. Right now, the team is just focused on getting in the main event in Las Vegas this weekend. That's our focus and our goal for right now.
With the season essentially in the books, what are you working toward? Is it just to make the main event?
I'm always trying to improve and better myself. I've made three mains so far this year, but I've been 19th, 20th and 21st. I have to tell myself that I've proved that I can make mains, but now let's prove that I'm a guy that deserves to be recognized. So I need to get into the top 15 and prove myself because I'm running out of time!
You've been in the sport for a while now. Do you begin to look at how much longer you can go or are you still having fun and trying to go to the races as long as you can?
I don't feel old or anything, so I don't look at it like I only have a couple more years. It's kind of weird, I still look at myself that I'm new to the sport, but I'm really not, so I have to look at how good I am and how long I've been in the sport. I have to be a little more confident with myself and I think things will turn around from there. And they have. My confidence has been up a lot and my training has been going good. I just want more rounds now. [Laughs]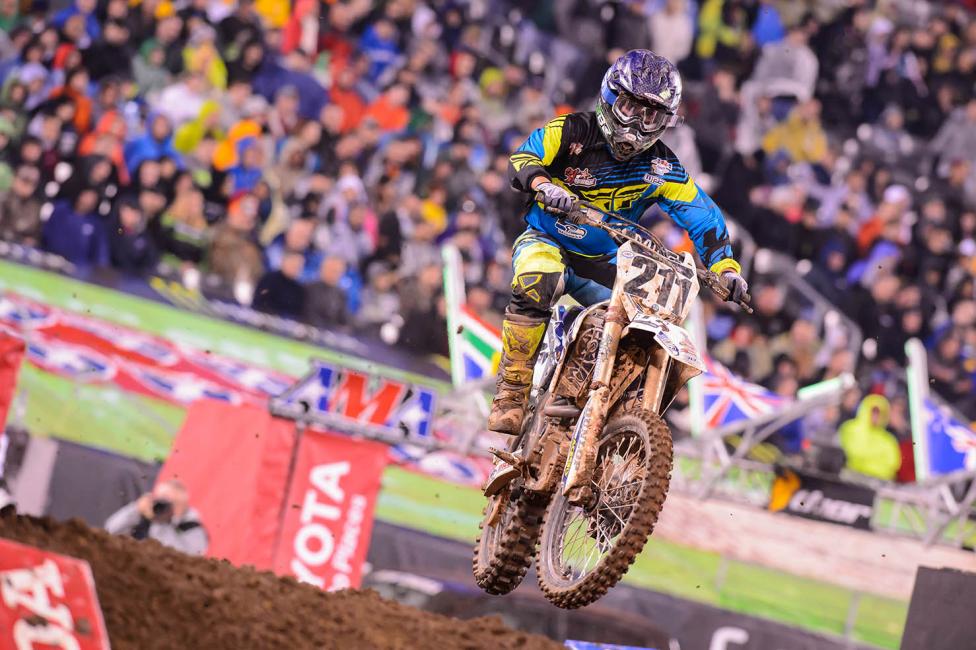 Wil Hahn is our guest editor this week and he wrote a piece on how important confidence is and how something as small as a tire change can make all the difference. Can you elaborate on how sometimes small changes can make a huge difference?
It's kind of crazy, but I missed two weekends—Detroit and Toronto—due to a practice crash when something electrical happened on my practice bike and the bike just shut off on the face of a triple and I ended up with a concussion. When I'm on the bike during the week riding, although everything is right with the bike and we have changed everything and it hasn't shut off or anything, I'm almost scared to ride supercross even though I know the bike is fine. Lately I haven't been riding supercross. I'll practice some whoop sections and that's about it. But when I get to the races and ride my race bike I'm completely fine. Confidence is crazy—it's crazy how things can mess with your head and how you have to overcome them. It's tough in this sport, especially because it's so dangerous. Confidence is pretty much everything in our sport. If you don't have it, you ain't going nowhere. [Laughs]
Thanks for the time, Tevin. Who would you like to thank for helping you out this season?
I want to thank Team 3BR, 3Tperformance, Milestone, MX Ranch, Dr.D, DCR, Bell, Fly, WPS, Dragon Goggles, Rekluse, Risk Racing, Dunlop, Acerbis, DNA, Mika, DT1, Recmx, Magik, Moto Seat, Motohose, Redline Oil, Engine Ice, DC Shoes, Inflight Surf, Toyota of Escondido and the man above, Lord Jesus Christ.