Metlife Stadium
East Rutherford

,

NJ
East Rutherford (New Jersey)
Monster Energy AMA Supercross Championship
Welcome to Racerhead, coming at you this time from a very crowded Starbucks in SoHo in lower Manhattan. Tomorrow night marks the return of Monster Energy AMA Supercross to the Northeast, something that hasn't happened since Jean-Michel Bayle was wearing #8 and talking about going road racing the same night he clinched the 1991 Camel Supercross title. I love this town, and I truly believe the riders do too—the ones I saw last night at the Pirelli shindig near Times Square certainly seemed to appreciate the city that truly never sleeps.
Of course the 2014 Monster Energy AMA Supercross season will come to a close and likely we will see Kawasaki's Ryan Villopoto take his deserved place on the Mt. Rushmore of motorcycling. He is two points away from locking down a fourth straight title, and he's gone about it the hard way with that knee injury we don't know about. I have a feeling he will talk about his summer plans by the end of the weekend, and I now fear the news won't be good for the fans of the upcoming Lucas Oil Pro Motocross Championship. But for what it's worth, I have an issue with my knee, too, and it's daunting just to ride an escalator sometimes. I can only imagine what it's like to be the fastest man on the planet (sorry, AC222) and be using that limp to run the supercross show.
The bigger news, and worse news, is the crash involving Monster Energy/Pro Circuit Kawasaki's Martin Davalos. What happened to him this week is downright tragic in sporting terms. The nicest guy you'll meet in the pits (and I know we seem to always say that about foreign athletes) will not be in New Jersey tomorrow night to battle for the 250 East Region crown because the gods of racing dealt him a cruel hand. Just thirty laps away from winning a title that has eluded him for nearly a decade, he crashed while practicing this week and fractured an ankle and foot and jacked up the other one as well. He won't win that title—the very cool, very capable, and very fast GEICO Honda rider Justin Bogle almost certainly will—and may never see a chance like this again. I think I can speak for a lot of folks in and around the sport when I say this is downright sad, and I with Martin the best. He won two main events, he rode with passion in every race, and he deserved better, but that's how it goes in motorsports, and it's a big part of why we love/hate it.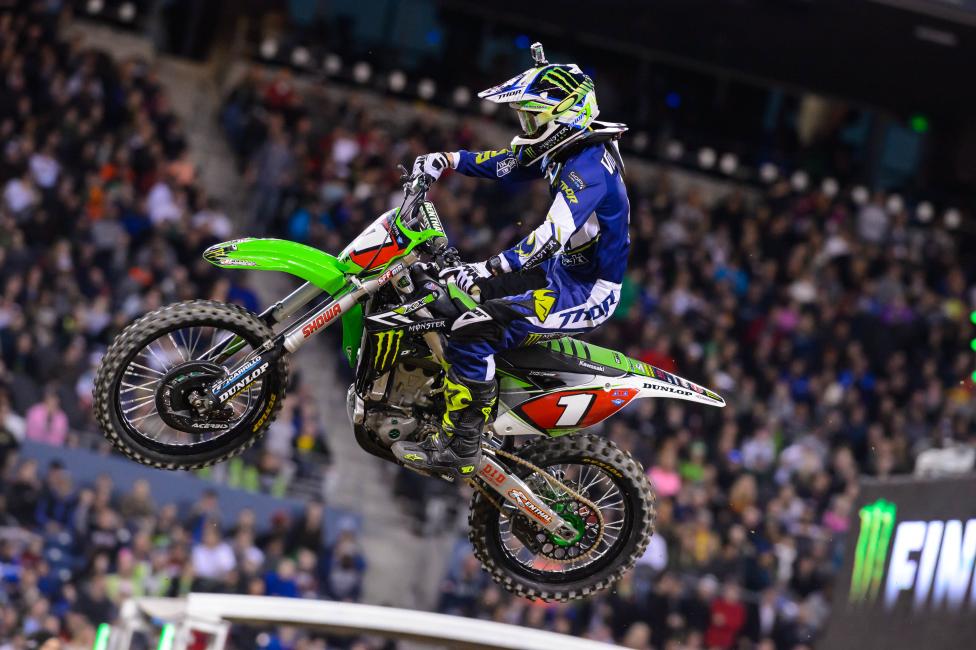 Strangely, after an amazing run of race wins, the bottom fell out of Mitch Payton's luck and all three of his 250 East Region contenders—all race winners—are now on the sidelines. The Pro Circuit reversal of fortune has been so quick and devastating that it's hard to even believe that Martin, Adam Cianciarulo (shoulder), and Blake Baggett (eye injury) are all parked now.
But the show must go on, and I believe tomorrow night's return to East Rutherford will be a smash hit for Feld Motor Sports and the series in general. As a Northeasterner (six-hour drive from Morgantown), I am really glad to see a supercross back here after all these years. Once upon a time they raced in Boston, Pittsburgh, Buffalo, Philly, D.C., Cleveland, and of course what's now called MetLife Stadium. The reasons they haven't been back are as complex as global warming and union labor combined, but now is a great time to take a risk on this side of the country and make it happen. I hope they have 72,000 people there tomorrow night, and I hope it leads to more SX races in this corner in the years to come. Feld has gone over the top in promoting the event, and I think they even sent those dazzling Monster Girls to the New York Stock Exchange to ring the bell this morning. Chad Reed and Andrew Short and Josh Grant and the Red Bull KTM folks, and even the injured Adam Cianciarulo, have been here for most of the week preaching the gospel of supercross, and I hope those turnstiles are humming tomorrow night as a result.
And a big thanks to everyone at Pirelli for the invite to a swanky and fun cocktail party last night at their U.S. headquarters near Times Square. They invited the athletes, media, and all of the folks from Feld Motor Sports to stop by and say hello, and it was a fun deal through and through. Then I ended up at an host-to-God speakeasy in Hell's Kitchen and did some quality bench-racing with all of the Racer Xers who drove up to support the race—and it was a free weekend!
But as I close this out—sightseeing and #signjousting are calling my name—I want to tip my cap to Martin Davalos. We've all had the misfortune of seeing great young men crash and injure themselves at the most inopportune times, but this one had particular cruelty to it. Adam Cianciarulo will get more chances to win a title, and so will Justin Bogle, Blake Baggett, and all of the other guys who've been in this championship hunt. But for Davalos, this was his time, and he worked hard and through a lot of adversity to get this shot. To lose it now, in such a damn shitty way, is a tragic twist of fate. I wish him the best, and I hope he comes back in 2015 and gets right back up there.
Here's the rest of Racerhead—thanks for stopping by.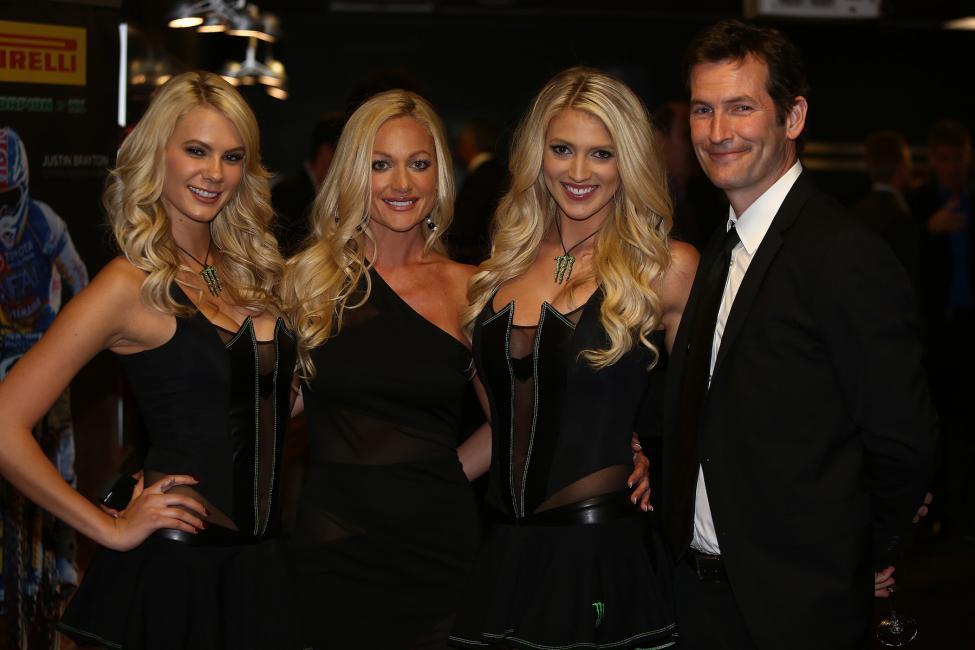 THE LATEST (Steve Matthes)
Going into this weekend's supercross at MetLife Stadium there are precious few things in terms of story lines going on. Kawasaki's Ryan Villopoto just has to roll around in the main event to secure his fourth straight supercross title (and who thinks he's really just going to roll around out there?), and with Martin Davalos' devastating practice crash practically giving Justin Bogle his first championship, the 250SX East series isn't exactly capturing anyone's attention.
But there's still plenty more going on around the sport and here are a few of them.
- I think we'd all agree that Davalos' crash is about the worst possible thing to happen to him. I'm here to tell you that it's not all bad. With the crash, it's now possible for Davalos to ride 250SX yet again next year. If he won the title, he would be out. And although he captured his first two career supercross wins this year, he's yet to do much outdoors, and I for one don't think he would be very stellar in the deep 450 Class. So yes, the injury sucks, but with his contract up this year, no matter what coast he chooses next year he'll be a title favorite. I'd say Martin Davalos just made himself a lot of money next year. I'm sure he and his team would want to win the title this year, because you can never guarantee anything in this sport, but this injury isn't all bad for Davalos. Sure, maybe it's 90 percent bad, but there is that 10 percent of a silver lining.
- With Blake Baggett also not racing this weekend or next (the PR says an eye injury, and to be fair, Blake did suffer a bad cut above the eye a couple of weeks ago, but that's not the reason he's not racing. He's not racing because he doesn't want to point out of the class for next year), the Pro Circuit team won't even be at the race. This is unfathomable considering that only a few short weeks ago the team held the 1-2-3 spots in the 250SX class and was a lock for the title with Adam Cianciarulo and then, when he was hurt, Davalos.
- You want rumors? The latest one I heard from very well-placed people on both sides of the border have defending Canadian MX1 Champion Brett Metcalfe filling in for Villopoto on the factory team (I know DC said last week he heard Villopoto might try to race with a bad knee, but I keep hearing he's out) and ex-RCH rider (after Las Vegas) Josh Hill going up to Canada to fill in for Metty. Crazy, right? I don't know what Leading Edge Kawasaki in Canada (Metcalfe's team) would want with releasing Metcalfe from his contract to head south, but methinks Kawasaki USA did something for them to make them let go of the #1 plate up there. I don't think this deal is done, but there are some serious talks behind the scenes to see if this can happen.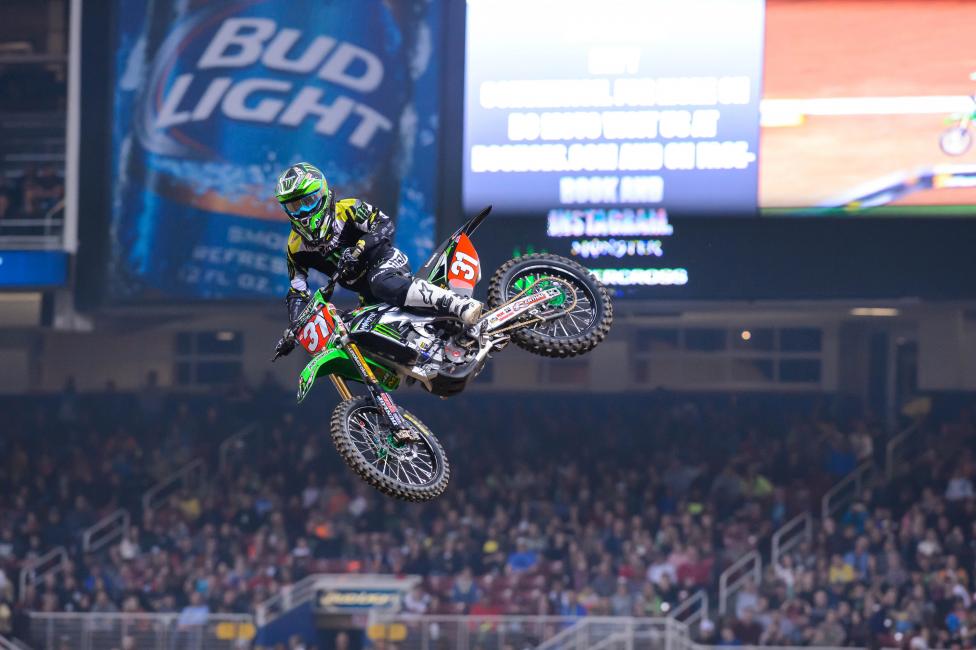 - Meanwhile, Metcalfe was seen working with Chad Reed's team, and all I can think is that he's running through some parts for when Reed gets back (Chad's going to be under the gun to be 100 percent ready for Glen Helen), which is a smart move by Reed, or he's also going to race Glen Helen for Discount Tire/Team 22 before he goes to Canada … unless of course he's riding for Monster Energy Kawasaki.
- Villopoto gets his teammate back this week as Jake Weimer returns to action after getting hurt at one of the Anaheims. Welcome back to the Jakester!
- With Baggett and Davalos sitting out the last two East Coast supercrosses, you know who has a very good shot at finishing third in the 250SX series? Factory Metal Works' Vince Friese, that's who! Yes, Freise needs 21 points in the next two rounds to get third behind Bogle and Davalos, and that's a pretty impressive season if he makes it happen. If he gets really nuts and gets a couple of podiums, he can even pass Davalos and finish second overall.
- Before I leave you, when I think of New York SX, I think of former factory Kawasaki rider Eddie Warren and how he got his one and only 450SX podium at the Meadowlands in 1987. Ah, Eddie, we hardly knew ya.
Some links:
The great Paul Buckley has allowed us access to his archives, and we're trying to get some subjects of these photos to tell us a story. This week it's Broc Glover talking about his later years at Yamaha.
Michael Byrne and Jason Weigandt joined me to talk about this weekend's race on the Fly Racing Moto:60 Show presented by N-Fab.
I'm rebuilding a 1990 KX250 for some reason, and it's not being put together and will be ready to ride soon. Read the third installment of #project90 is here.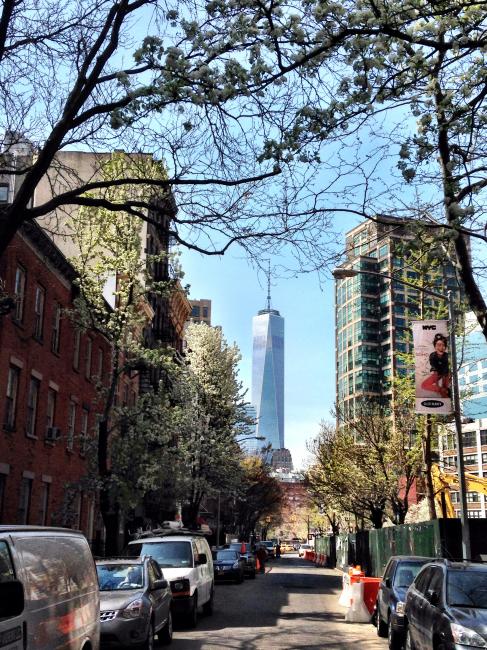 WHAT IT TAKES TO RACE HERE (Weege)
A few days ago I penned this tale about the first attempt at a NJ/NY supercross from 1987-1991. Back then the event could barely draw 30,000 fans, and with the extremely high cost of doing business anywhere in the Northeast—and the New York City region, especially—it just couldn't work, so the race went away.
So tomorrow night is the measuring stick. Has the sport grown enough over the last 20 years to draw enough fans to actually make the event work? Seems like it. I heard they had already sold 55,000 seats by yesterday afternoon, and the only seats left are into the upper tier of the building (the building has a seating capacity of just over 80,000). They expect 60,000 fans, easy, and I'd think 70,000 is doable. That's double what the race drew back in the 1980s, and a real sign of this sport's rising popularity, as well as the impressive marketing and sales work by the folks at Feld. They've really been pounding the pavement getting the visibility up for this race, and it worked.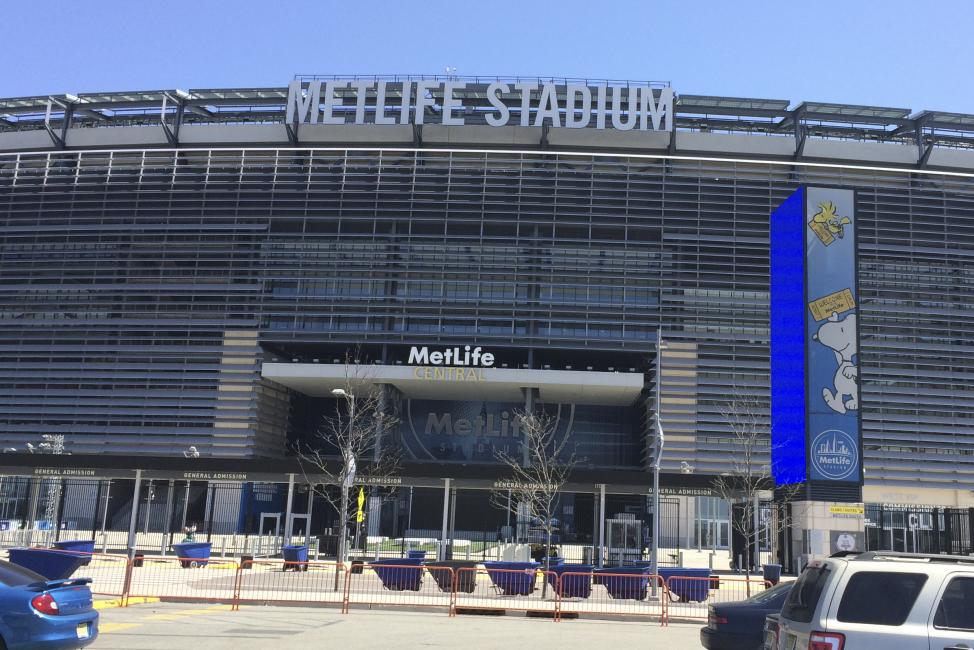 Still, it's expensive to do business here. I heard yesterday that this race costs three times more than the average supercross, and it's so expensive and requires so much promotion that it still probably won't be profitable, even with 60,000 fans. Feld could make much more money, I'd gather, just going back to New Orleans and spending 1/3rd the money to get 3/4 of the crowd. But this event is much more of an investment in the overall visibility of supercross as opposed to a profit center.
We got to see the track yesterday on press day, the dirt looked pretty hard and dry, but I think they were planning ahead just in case it rains. Tomorrow's forecast is clear but there's a slight chance of some rain today. Ryan Dungey commented in the press conference that the dirt was softer than he expected and he'd probably go with a soft terrain tire. There's also a cool rhythm lane that a few riders were quadding with a tabletop-single-tabletop combo. It was big, but Ryan Villopoto and Jake Weimer, amongst others, had it dialed.
In addition, it just happens to work out that Villopoto could wrap the title here, which gives the race a kind of grand-finale feeling even though it's the next-to-last round. No offense, but I've attended a championship celebration party at the former penultimate round, in Salt Lake City, and I'm going to guess that a celebration in New York will probably one up that.
CRUEL DAY (DC)
Martin Davalos wasn't the only one to be dealt a cruel blow this week. Four different Grand Prix racers—two of them moto winners already—went down hard while practicing earlier this week. Max Nagl, Todd Waters, MX2 title contender Glenn Coldenhof, and Mike Kras all crashed hard, albeit at two different racetracks, and the result was not pretty. Get week soon to all of those guys, plus the alarmingly long injury list here as well.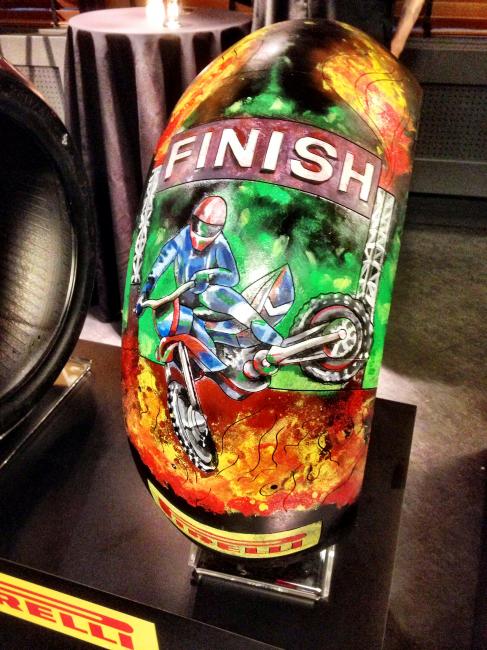 HEY, WATCH IT!
Ken Block vs. Neymar Jr.:
RANDOM NOTES
We got this note and the photos from longtime reader Billy "BDMX25" Disney:
"I have had this out in the barn for years, to the best of my knowledge it is a late '60s, early 70's 100cc Rockwell by Taka. From what I have been told Taka made the motorcycle and if you ordered X amount you could have your company name on them! But I have no idea if that is true or not... Anyway, I knew if anyone knew, it would be one of the Racerhead readers."
Okay, who can help Billy Disney figure this little minicycle mystery out? Letters@racerxonline.com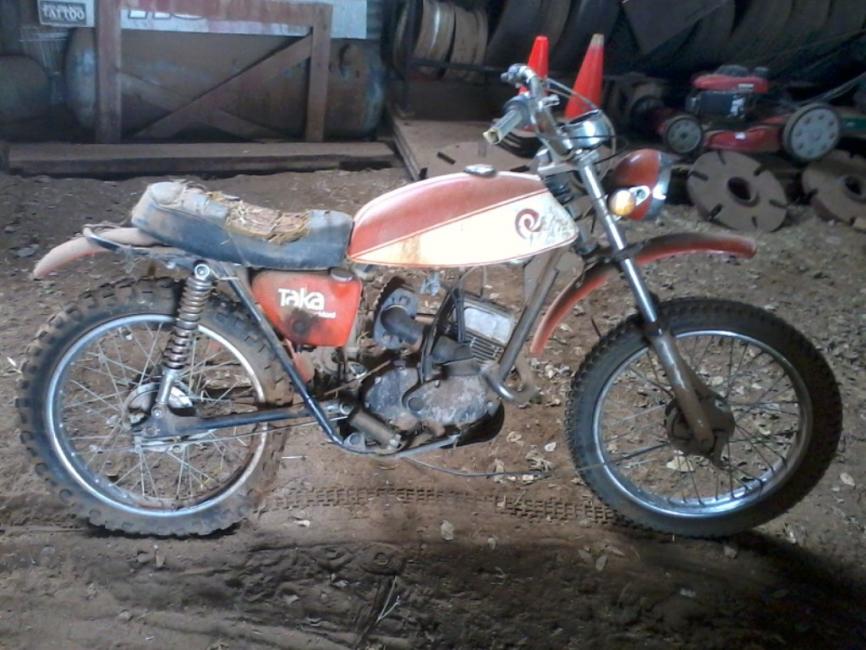 Remember Dangerous Joe Bonello? He's still around, and he's still one of the funniest, most entertaining people you will ever meet in the pits. Joe read my list of Americans who went to Europe and wanted to add some notes on some of the guys mentioned, and some overlooked:
"Billy Clements was the first American to actually score a GP point... Louie Franco rode in Europe for several years, but mainly International races etc. Mike Guerra was the last rider ever to win a GP on a Swedish built Husky (totally forgotten in MX history, Guerra that is). Mike Young rode a VOR , or a Vertamti in 500s and did pretty well, may have won a moto or two? Gary Semics rode a private CR500 for two years and got a couple of top fives or so, but the factory bikes were gone in front of him. Tom Carson rode a bunch of Board Cross, Internationals, etc., he was good rider. Mike Healey ALMOST won the world title, but Stanton beat him in the final GP in Japan and cost Healey the Championship! (two points I think?) Tallon Vohland actually led the GP Championship a couple of times, fast dude, Rodney Smith as well! Matt Goerke also rode a bunch of off-season races, several other Americans as well. And Mike Alessi rode two GPs a few years ago while staying with Carioli, I think he got a top three but no wins. There's a bunch more, but I'm too tired to remember, duh!"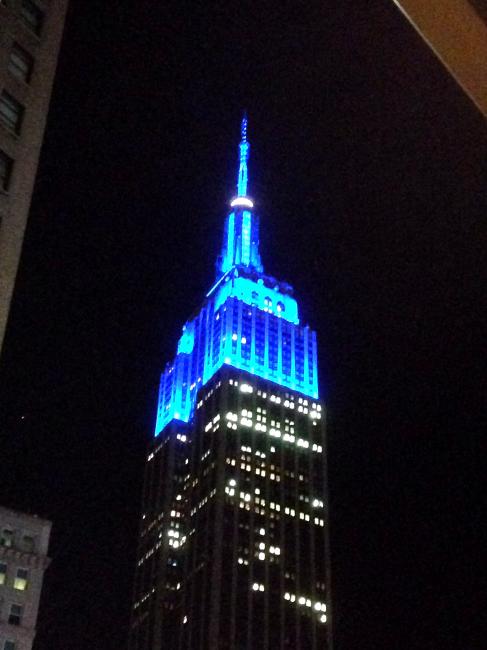 I should add that the Professor of Motocross himself, Gary Bailey, was awarded some trips across the Atlantic in the late sixties as the Top American of the pre-championship era and raced many times on the continent, but he did not actually race the FIM World Championship while he was over there. As I have said many times before about Barry Higgins, Gary Bailey was born way ahead of his time.
That's all we've got right now. Thanks for reading, and enjoy the return of Northeast supercross. See you at the races.