As we all are keenly aware of the Monster Energy/Pro Circuit Kawasaki Flying Ecuadorian who was full-on into the finest season of his decade-long career. So fine, in fact, that he was eight points clear of second place rider Justin Bogle and, well, on his way to MetLife Stadium in New Jersey to continue his charge at the 2014 AMA East Region Supercross Championship. But, that's not how it worked out as, on Tuesday morning at Milestone MX Park in Southern California, bad luck leaped up from the dirt and struck down Davalos, essentially ending his '14 campaign right on the spot
"I have pain, but to be honest, just not being able to race tomorrow night hurts even worse," sighed Davalos a few hours ago. "I feel pretty bad today. I'm just bummed because today, Friday, is usually my travel day to the races and I'm on my back right now."
To that end, we'll pick it up with Martin who, despite being a bit drowsy, took the time to let us, and more importantly, the fans, know just what happened at Milestone, the end result of the lower leg injuries and just where he will go from here. Read on.
Hey Martin. Well, my friend, I'm bummed I had to make this phone call…
Yeah, it's alright man. It's a tough sport that we choose. It is what it is.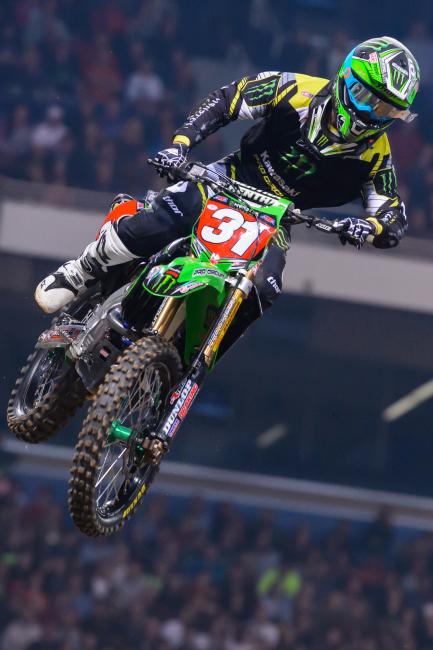 What are you up to today? I think you had to have surgery, correct?
Yeah, I had to have surgery on Tuesday night. I got out of surgery at 10 P.M. They kept me overnight. I don't know why, but they kept me overnight. I left the hospital around lunchtime, at 1 or 2 o'clock and I got home a few hours later. I'm just struggling a little bit with the pain. The pain medication isn't working the greatest for me. I'm just kind of annoyed with the pain, you know? I've been trying to get some sleep at night, but it's tough. I like moving around quite a bit and now I have to be on my back.
Wow. So you're literally on your back, huh?
Yeah, I'm on my back. What's tough, too, with the first X-ray they took on my left heel, they said it was cracked. I have a walker now and going to the bathroom is tough because I have to go on my tippy toes because that's all the pressure I can put on my foot because my heel can't handle all my weight yet.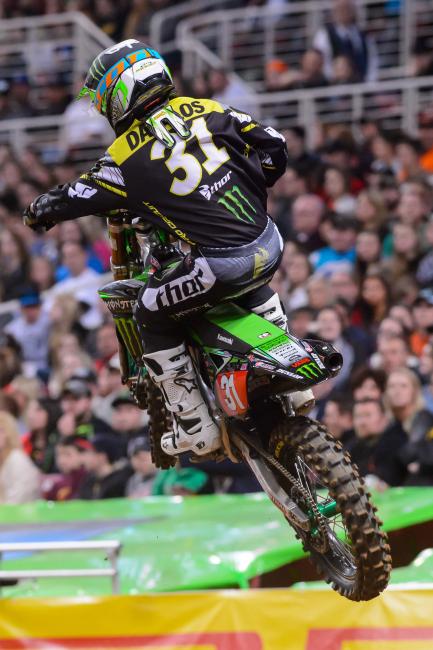 Just what injuries do you have?
I have a pretty badly bruised heel. It's almost cracked, I guess. It's real purple and everything. My right ankle also got dislocated and I also basically shattered a scaphoid in nine pieces. They basically had to put it all together and put in seven or eight screws. It makes it tough on me to walk around. It sucks.
Well, it sounds like you'll be watching the MetLife race on TV this weekend, huh?
Yeah, I mean you know that's all I can do. I just want to get through these next couple days that are the toughest with the pain and stuff. I want to try and be as positive as I can be. It's still hard to believe what happened to me. It's still hard to believe it happened the way it did. God has his reasons and I believe in him and he has a different path for me. What I experienced this year, and what the way everything was going for me, I would never take anything back and I don't regret anything. It's a bummer that it happened the way it did. I'm just going to watch the race. Hopefully, they have a good track and good racing and I wish I was there.
We've heard different things about what happened at Milestone. Do the best of your recollection, just what did happen at Milestone?
On Tuesday, we were thinking about riding at a couple of places but we decided to go to Milestone. Milestone's dirt is a little bit looser and I wanted to ride that. So we went to Milestone and I had a warm-up and then I had some motos to do. I had an eight-minute warm-up and on the last lap I came into a rhythm section. I came out of a 90-degree turn and went full throttle and went off a table top. Right when I was coming off, and right in the air, my bike just locked up. It almost seemed like it hit neutral. I thought, "There's just no possible way I hit neutral because I don't shift in this section." As soon as I flew off, I was pretty high. I came down to a dry landing with my feet. The first thing I told myself was, "Are you alright? Are you alright, bud?" I looked up and I saw the bike and saw that my chain was broken and thought, "Alright, I didn't hit neutral." Then I felt my ankle and thought, "No way, dude." So I took my boot off immediately because I didn't want it to swell up. I could feel the ankle and I knew something wasn't right. My trainer came over and my mechanic Dave came over and said, "Okay, we need to get going." We knew it was broke. I think that was the toughest part for me: I got so upset at the track. It was tough to believe. It was like a dream and I couldn't take it anymore. I was super-upset. I was tearing-up really badly. It was just a horrible feeling. It's hard to think about.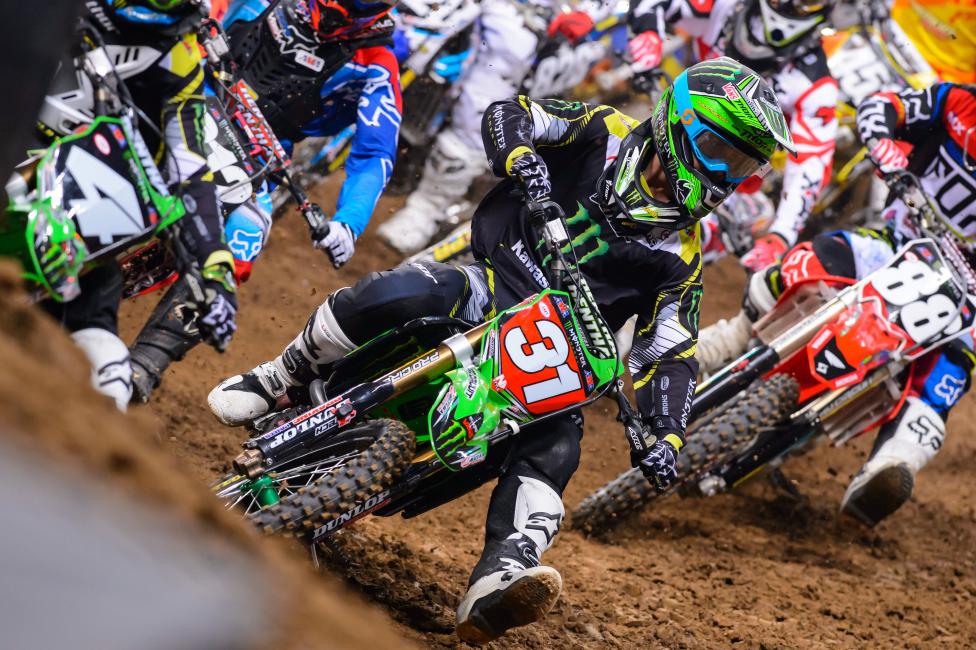 So you knew, almost immediately, that you had broken bones and that you may have just lost the championship?
I knew that my ankle was hurt pretty badly, but then I just kind of went into a positive mode and thought, "Okay, hopefully my ankle is just dislocated. Maybe we can put it together and shoot it with some pain medication and try and race." Then the doctors looked at all of my X-rays and saw that my scaphoid was shattered and there was no way for me to race like that. I told them I wanted to race with my ankle broken. I was going to try and deal with the pain, but they told me if I damaged it again, it might affect the way I walk for the rest of my life. I want to have kids and be able to run and play with them normally. I couldn't afford taking that risk of racing with a broken ankle and coming up short somewhere on the track.
Damn. You were on your way to a possible championship, and then in the span of less than a week, anything that could go wrong, goes wrong, huh?
Yeah, it's crazy, man. It was hard to believe that it was all happening, you know? I'm sure the whole team was really bummed. You know, I felt so good about myself this year. I felt good about what I accomplished and what I've done for myself. I worked so hard to accomplish my goals. I'm glad I was able to prove people wrong – the people that doubted me or maybe didn't care about me and all they did was say negative things about me. I'm glad I was able to come out and prove them wrong.
That you did. I guess if there is a silver lining to this whole deal it's the fact that you did prove some people wrong. You won two races and you hit the podium on six of seven occasions. It was a pretty damn good year for you, huh?
Yeah. I don't regret anything I did this year. I think I rode really well. I rode smart. I made a couple of mistakes in some main events and I think I could have polished that up. We prepared really hard for this season. We didn't leave anything out. We put everything together. We had a plan. It's been a great year to me. It kind of sucks that it had to end the way it did, but like I said, it's out of my hands. It's a tough sport and it's a sport where things change quickly. I'm glad the injury has been taken care of. The doctors were able to fix everything they had to. I'm just upset because I wanted to win that championship. I wanted to do it for the team and myself more than anything in the world.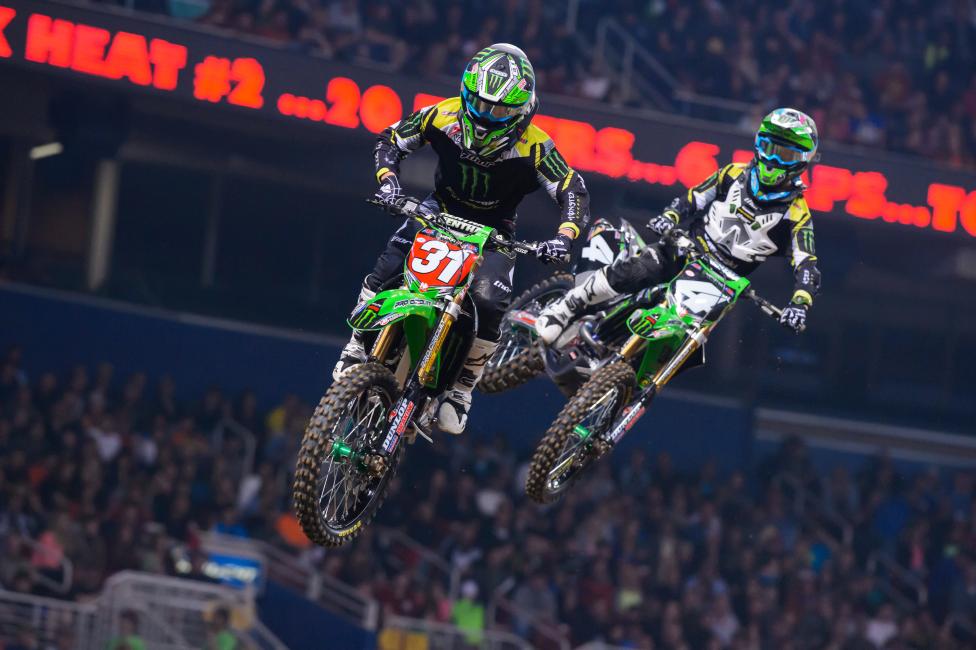 So what's the plan form here?
The plan for right now is to go see the doctor on Tuesday. We don't know exactly how long it's going to take, but I know I can't put any pressure on my right foot for six to eight weeks. The main goal right now is just to try and get healthy and to try and get my ankle as solid as I can get it. I'll see where that puts me. Obviously, I'm going to miss the first couple rounds of outdoors. My main goal right now is to just get back to where I need to be. If that leaves me with a couple of rounds left, I would love to come back and race. But I want to make sure I'm 100% because I want to feel the way I did before I got hurt. I don't want to come in sloppy for the end of the season. I'm just so glad I have the people who really care about me. I want to thank all those people who truly understand where I come from and who truly are the people who care about me. People like Mitch and Bones and my mechanic Dave and my trainers Ty and Brock and all the people at Monster Energy/Pro Circuit Kawasaki and Parts Unlimited and Thor, Scott, Alpinestars, Vans and Leatt Brace. Those are the people who I really appreciate me and they are the people who motivate me to keep working hard. It's been an awesome and I felt a lot of support this year and that, to me, means a lot.
Well, the way I see it is that you have a bright 2015 ahead of you. Fans may want to hear the answer to this question: will you stay with Monster Energy/Pro Circuit Kawasaki next year, or would you like to move up to the 450, or just wait and see how it all goes?
To be honest with you, I wanted to move up. I don't know. I haven't even thought about it. Obviously, I'm eligible to go for the championship again, I guess. But then a lot of people will have another reason to talk crap on me and I'm going to be disliked again if I do, but I really could care less what those people think. Right now, Eric, I just want to try and focus on my ankle and then see what opportunity I can get. At the end of the day, if Mitch decides to keep me for next year and give me another shot, I will consider it. I have to see what opportunities I can go for, you know?